There's something strangely exotic about visiting a place so close to one of the poles that the sun refuses to set for a chunk of the year. Each June 21 is the summer solstice in the Northern Hemisphere, and on that day everywhere north of the Arctic Circle experiences the phenomenon of the sun merely rotating around the sky. This is called the 'midnight sun' and it's a novelty and something of a tourist attraction for a handful of cities clustered near the top of the world.
If you want to witness this in person you've only got 8 countries from which to choose, and not as many planned festivals and activities as you might expect. If you merely want to visit a place where it's reasonably light all night in late June, you've got quite a few more options. According to the most recent person to edit the Wikipedia page, this lesser phenomenon is known as 'white night' and you only have to get past 60° latitude to be part of it. But to truly experience the 'midnight sun' you've got to cross over the 66° 33' 39" mark, and below are five of your options, more or less.

Hammerfest, Norway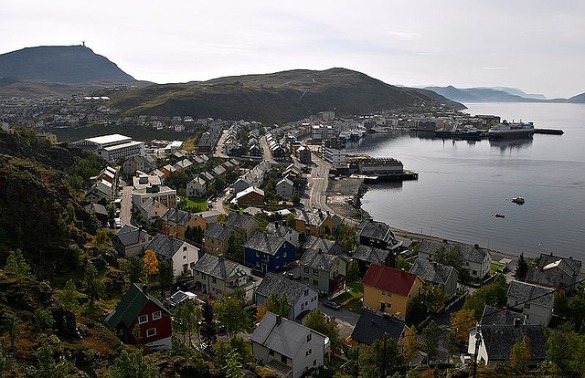 In addition to having a really cool-sounding name, Hammerfest and its population of just over 9,000 claim to be the "northernmost town in the world." There are no famous summer solstice blowouts up here, but there is plenty to keep visitors busy all summer in this harbor town that stays ice-free all year round. According to the official Hammerfest tourist board, you can take a Midnight Sun Cruise, on which guide Lars Bjørn will point out the best coastal features in this part of the Arctic Ocean.
The nearby city of Repparfjord also boasts the northernmost golf course in the world, which has 6 holes and is open 24 hours a day from June through August. What golfer could resist the novelty of a 1 a.m. tee time, or a 6-hole course in general? If all this isn't enough, Hammerfest is also known for an annual infestation of up to 3,000 reindeer who come to munch on the plants and grass all over the city each summer. A 12-kilometer perimeter fence was put up in 2006 in order to keep Rudolph and his gang of thugs out, but the crafty beasts continue to get through to create a reindeer problem that is likely far worse than the one where you live.
>> Find airfare to Oslo and read our Norway travel guide
Fairbanks, Alaska, USA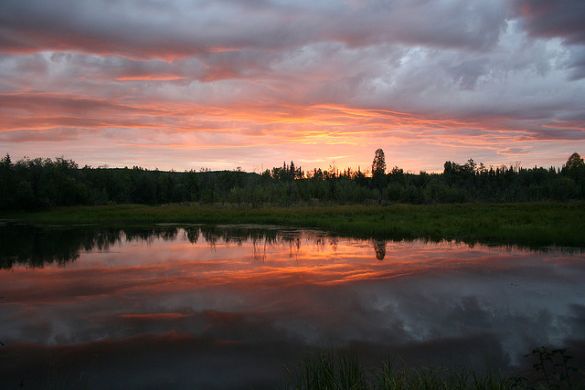 The northernmost of Alaska's "big cities" has a population of just over 30,000, and for a full week each summer the majority of them celebrate the solstice with a wide range of events including a midnight baseball game that's been played annually since 1906, a midnight fun run, and their Midnight Sun Festival that starts at noon on June 21 and goes well past midnight.
You can also play midnight golf at the 9-hole Fairbanks Golf & Country Club, which stays open 24 hours a day during most of June and July, as long as enough late-night duffers show interest. The sun technically dips below the horizon for just over 2 hours during the summer solstice in Fairbanks, but some locals make the 25-mile drive to Eagle Summit (elevation 3,624) to experience and photograph the real deal.
>> Read about Alaska cruises and book campgrounds in Alaska
Reykjavik, Iceland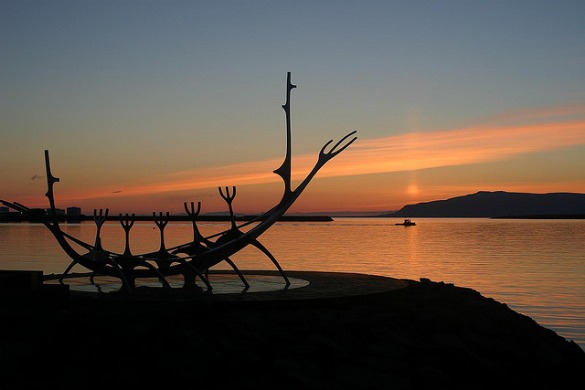 Iceland's largest city has a population of about 200,000 and is the northernmost national capital in the world. Reykjavik's Summer Solstice Festival on June 21 honors the Vikings, who used to make a big deal about the peak of sunlight way back when. These days, locals gather for various midnight events on the big day, and many of them do so in traditional Viking garb. There is singing, dancing, food, and drinks, but the younger generation also has the option of participating in the debauchery of Reykjavik's famous nightlife, with bars open until around 6 a.m. the next morning.
Local youths tend to combat the insanely high drink prices by starting early with their own stash, but by midnight the bars along Laugavegur Street in the city center are packed with revelers. But we aren't quite there yet because Reykjavik is still a bit below the Arctic Circle, so to truly experience the midnight sun you have to catch a boat to the island of Grimsey, which lies right on the circle boundary. The population of 150 on Grimsey hold down jobs that range from fishing to fish processing, but its location on the Arctic Circle has made it a novelty tourist attraction, and you'll be given a certificate just for coming.
>> Find flights to Iceland, book Iceland hotels and learn about visiting Iceland in summer
Murmansk, Russia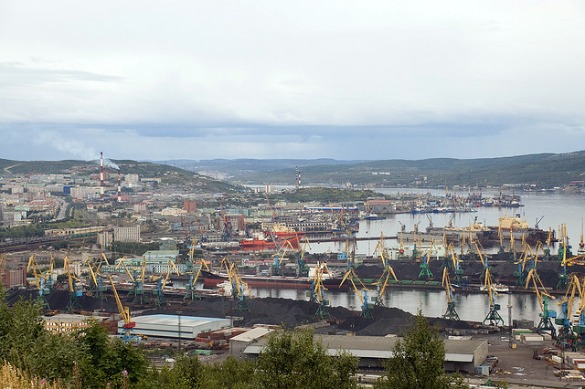 You no doubt immediately think of Murmansk as the home to the world's only fleet of nuclear powered icebreakers, but beyond that common trivia nugget, the over 300,000 residents of Murmansk also make this the largest city north of the Arctic Circle. Tracking down specific information on summer solstice parties here is difficult, but it would stand to reason that in a huge port city like this where the sun merely circles the sky for weeks instead of setting, there must be some hard drinking going on, probably involving more than a little vodka if stereotypes mean anything at all.
If you are still in town on July 7 you can celebrate Ivan Kupala Day with the locals, so be ready for flower garlands to be floated down rivers and children jumping over bonfires in purification rituals, or something like that.
>> Look for budget accommodation in Moscow and book domestic flights in Russia
Inuvik, Northwest Territories, Canada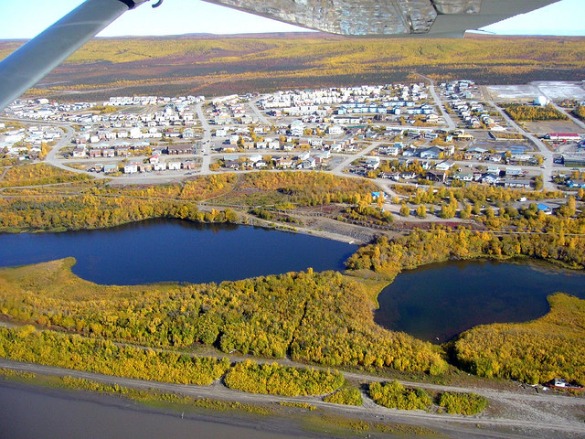 This metropolis of around 3,500 people is the northernmost city in Canada one can drive to in summer. With 56 straight days of sunlight during summer, there is no rush to get all the partying in on June 21. There's little question that Inuvik parties do erupt on June 21 itself, but visitors also have the option of the Midnight Sun Fun Run, which is held on the Saturday closest to the summer solstice. It claims to be the only 5km, 10km, and half-marathon run at midnight in the north, but this record might only stand on a technicality (and the people in Fairbanks might have something to say about it as well).
You may also want to stick around for the Great Northern Arts Festival, which runs from July 11 to 20 in 2008. Ever since 1989, up to 80 visual artists and 40 performers from all over the region, come together to celebrate the diversity of northern Canada through the arts. It claims to be "the premiere visual arts event North of 60°," but for all we know there are dozens of other visual arts events north of the 60° who find this claim to be as hilarious as it is insulting.
>> Book airfare to Canada and learn about train travel in Canada
Check out more unusual places around the world:
Photos by: Torbein, iconolith, sandy kemsley, Alessio Re, MedmoiselleT