With just a few weeks left in this year's ski season, you've probably still got some time off, but you might not want to empty out your savings on something extravagant at the moment. You might be on the hunt for travel deals to places that offer excellent skiing conditions.
Well, fear not, because even a wonderful ski vacation can be done on the cheap if you know where to look.
Here are 8 ski resorts to consider for a North American winter holiday that won't break the bank:
Snowbird Ski & Summer Resort, Utah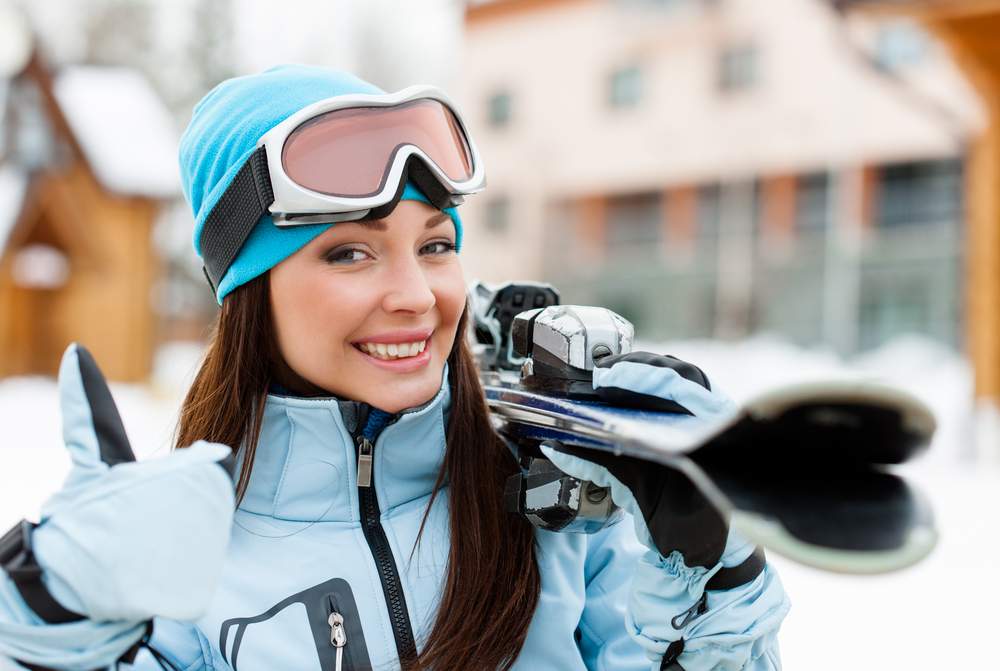 Recommended as one of the best ski resorts for families in North America, Snowbird offers terrain for all categories of skiers. There are 169 trails, and 11 lifts. Snowbird is one of the few resorts to be open all year round, though ski runs are usually closed for the much of the actual summer.
The all day adult pass starts at $69.99, and the youth (7-12) at $35.00 for mid week skiing. Kids 6 and under can ski for free. There are plenty of multi day passes available as well.
Within the resort there are five places to stay, all offering great facilities such as outdoor heated pool, restaurant, fitness rooms and more. The prices start at about $200 per night per room within the resort.
Getting there: Snowbird Ski Resort is only 30 miles from Salt Lake City, Utah, so it's quite easy to reach and flights are often cheap.
>> Find flights to Salt Lake City or book a hotel in Salt Lake City
Are you planning a RTW trip?
Boler Mountain, Ontario, Canada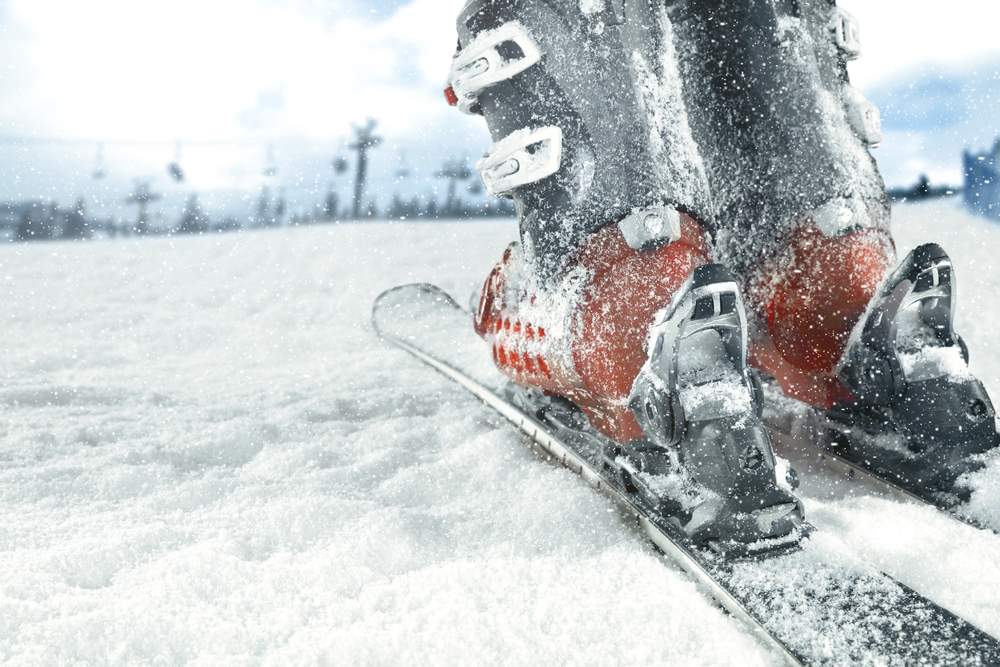 Compared to other resorts in North America, LSC is tiny but it's also one of the cheapest. The resort started to operate in 1949 as a not-for-profit skiing location, and that definitely explains the prices. Over the years, the resort expanded but is still small. There are 15 runs, a terrain park, a tube hill and 4 lifts. There is a ski school within the resort as well.
The daily lift ticket costs $39CAD for an adult and $36CAD for junior. Children five and under ski for $5CAD with a skiing adult. You cannot stay over night within the resort but there are plenty of places to stay in the cities located within short distance of the mountain. Prices average $120CAD per night per room in 2-3 star hotels or inns.
Getting there: Boler Mountain is midway between Detroit and Toronto, and about 120 miles from either.
Copper Mountain, Colorado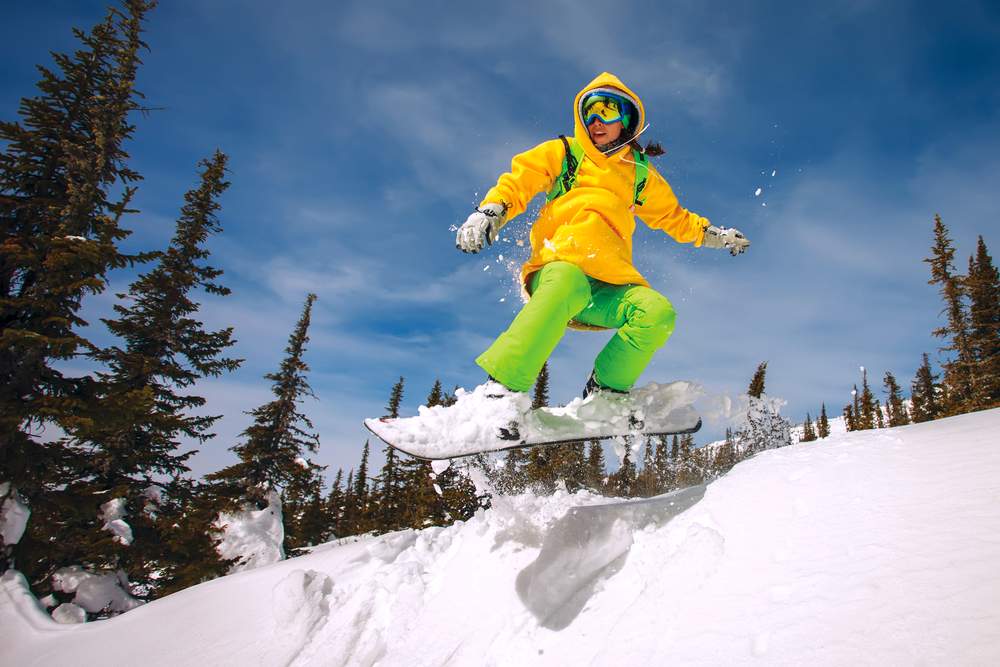 If you are planning a ski vacation rather than just a day or weekend on the slopes, then Copper Mountain is a great place to head. It might seem a bit expensive at first sight, but the packages and special deals available always cut costs.
The resort is enormous and offers 140 runs. There are 23 lifts. Snowboarding, ice-skating and snow-shoeing can also be practiced within the resort.
Lift tickets start at $102 for an adult this March. Prices are reduced significantly for skiing multiple days. The last week of March 2016, a 3-day ticket costs $240.
Special accommodation rates are available. For example, for the rest of the 2016 ski season they're running a 3rd night free promotion at the lodges on the hill. For four adults sharing a room it can be as little as $52 per person per night to stay right on the hill. Packages that include daily lift tickets are also available.
Getting there: Copper Mountain Resort is located about 75 miles west of Denver, making it another that is easy to reach paired with an affordable flight.
>> Find flights to Denver
Squaw Valley, Lake Tahoe, California
Squaw Valley is another ski resort suitable for longer vacations. Thanks to the deals offered, staying for couple of days here won't break your budget. This major resort located at the north end of Lake Tahoe offers varied terrain for all categories of skiers, although the intermediate and advanced skiers will be more pleased. With 5 terrain parks and more than 170 trails this hill will provide a challenge for skiers of all abilities. There are 29 lifts available.
If you plan to learn how to ski, take advantage of the special package: $79 per person which includes a beginner lift ticket, ski rental and lesson.
Otherwise, you can create your own ski package, or choose their currently advertised "Free Spring Skiing" promotion, or the Tahoe Super 4 which provides unlimited access to Squaw Valley and Alpine Meadows for less than $90 per day! Wow!
Getting there: Squaw Valley Ski Resort is located just northwest of Lake Tahoe, and is a short drive from either the Lake Tahoe Airport, or the airport in Reno, Nevada.
>> Find flights to Reno
Lake Louise, Banff National Park, Alberta, Canada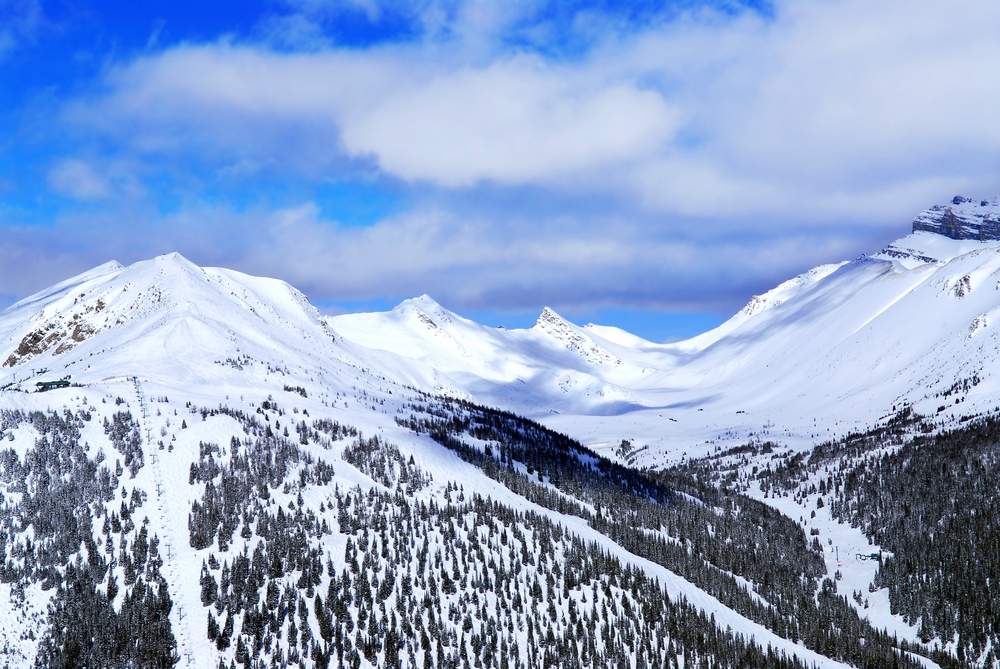 One of the largest ski areas in all of North America, and voted Canada's best ski resort, Lake Louise offers 4,200 skiable acres and 145 runs. There are plenty of gentle slopes, which make the area perfect for families and beginners. The ski season opens early each year and in mid-winter the temperatures can get downright frigid, so pack accordingly. However, if you want to experience five-star facilities at three-star prices, this is the place to come.
Hurry up and benefit from the early season prices. Discounts and special prices are also available for the Louise Card holders and those who have a season ski pass. The currently advertised mid week Spring Pass pays for itself in only four visits and is a bargain at $319 CAD
Château Lake Louise is huge, luxurious, and will set you back a pretty penny, but there are other places to stay as well. Expect to pay an average of $150 CAD per night in an inn located rather close to the ski area. The most affordable rooms are to be found in lodges and inns.

Getting there: The Lake Louise Ski Area is located in Banff National Park in Alberta, and is about 120 miles northwest of Calgary.
>> Search Alberta hotels
Whitefish Mountain Resort at Big Mountain, Montana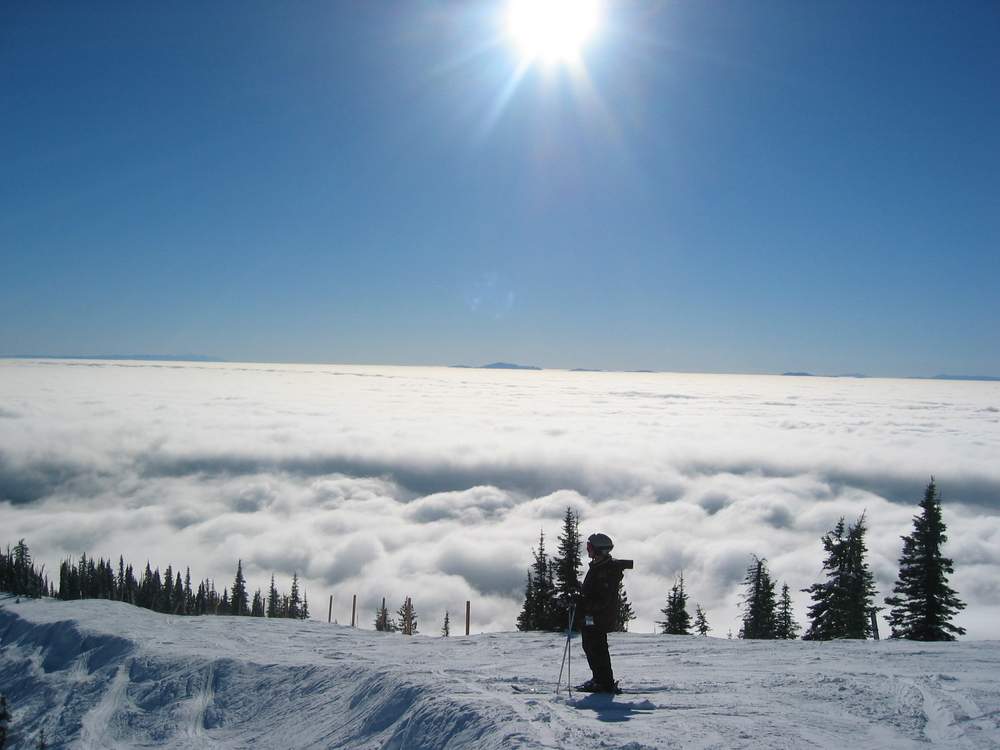 If you are looking for a place that is not crowded – except on holidays – and where you can ski at affordable prices, then head to Montana. The majority of runs are for intermediate (50%) and advanced (30%) skiers but the beginners can also enjoy a day skiing here. There are 3,000 acres of skiable terrain and 94 trails.
Special packages are available, which really makes a vacation affordable. The "Spring White Sale" package is an excellent deal: Buy two days of skiing and nights of lodging, get your third day and night free!
Otherwise, if you prefer to create your own ski package, the lift ticket costs $73 for an adult for a day. The ski and stay package is just about the cheapest way to stay on the hill: Advertised at $86 for your lift ticket, breakfast and hot tub access. Oh yeah!
Getting there: Whitefish Mountain Resort isn't near anything you've probably ever heard of, but it's only about 20 miles from Glacier Park International Airport, which has good regional service. You can also reach the resort by train, as the Empire Builder Amtrak route between Seattle and Chicago stops just minutes from the resort.
Red Mountain Resort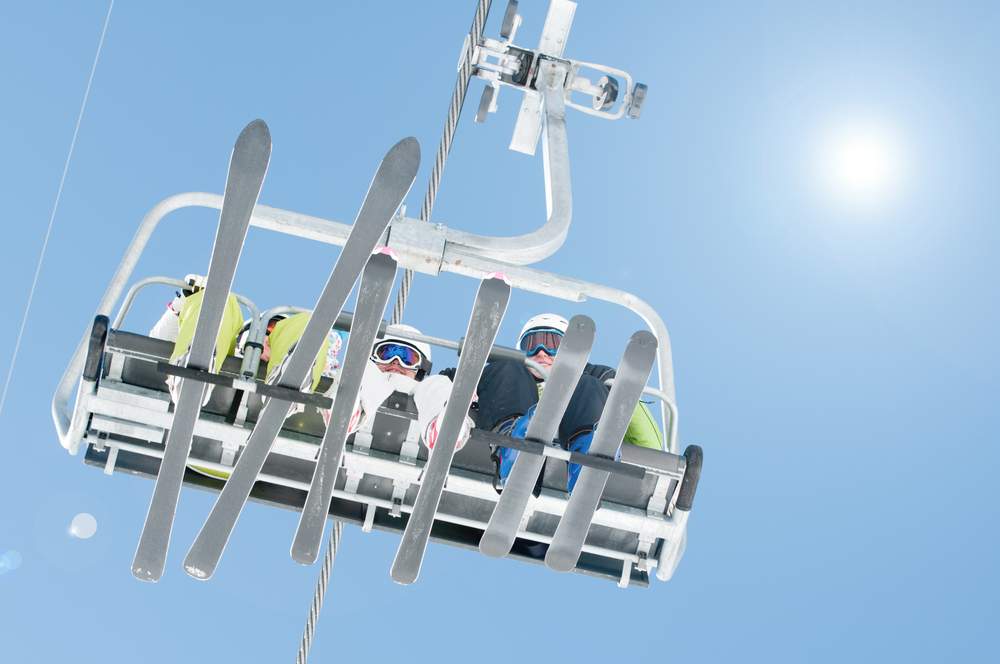 Red Mountain Resort is Canada's oldest ski resort, located in Rossland, BC, just 10 min drive from the US/Canadian border. There are more than 1,585 skiable acres, 110 runs and 7 lifts. The resort is suitable for all categories of skiers. Although having a reputation of a difficult mountain, there are enough wide spaces for the beginners as well.
The resort opens on December 5, for the regular season. There are discounts available for the multi-day passes. A daily pass costs $84 CAD for an adult and $42 for junior (7-12 years old). There are lots of discounts available for pre purchase.
The hot deal at the moment is their 40% off Easter Week skiing promotion. That's worth taking an extra day off of work for!
Getting there: The Red Mountain Resort is just over the US border into Canada, but it's still around 400 miles from either Vancouver, BC, or Seattle. It's only about 130 miles north of Spokane.
Bear Mountain, California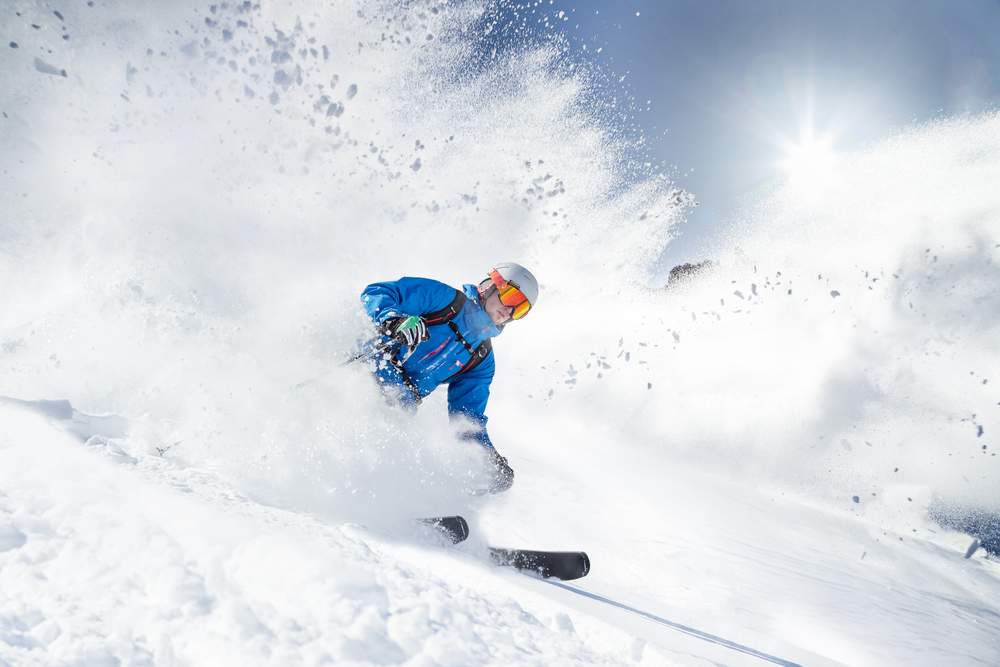 Spreading over four mountain peaks, Bear Mountain ski resort is a favorite location to go for all those located within driving distance, which is nearly everyone living in Southern California. There are a total of 749 skiable acres, 12 lifts and terrain for all categories of skiers, although the intermediate ones will be most pleased. Night skiing is permitted over the weekend and holidays.
The resort usually opens in mid or late November. The regular season daily ticket (during the day) costs $67 for an adult (22+), $58 for a young adult (13-21) and $35 for a child (over 5). Children under 5 years old ski for free. The holidays and peak weekend rates are a bit higher.
There aren't any hotels or inns within the resort but there are plenty of places to stay within short distance. Prices average about $150 per night per room.
Getting there: Bear Mountain is near Big Bear Lake, just above San Bernardino, California. It's about 100 miles from Los Angeles, and about 150 miles from San Diego, so in typical traffic conditions you can be there in under 8 hours from either city.
>> Book flights to Los Angeles
Planning a Gap Year? Including a USA road trip?
Read more about ski resorts around the world: