When I graduated from college, I wanted nothing more to pick up and travel for an extended period of time. With zero responsibilities in my life (no job, no mortgage, no one to look after besides myself), a burning desire for adventure and need to explore the world, it would have been the perfect time to pack it all up and hit the road.
Unfortunately, I was neither born with a trust fund nor did I have access to a stash of cash to fund this endeavor. Instead I was left with 15 bucks in my bank account and a heap of student loans, making the prospect of post-college travel looking rather improbable.
However, had I known about a working holiday visa, I may have just skipped the whole working at home part (and avoided 9 months of legal assistant hell) and headed straight for an international destination.
Australia recently opened up their working holiday visa program to U.S. citizens, which means young folk (18-30) can head Down Under, get a job and stay awhile. Forget stuffing envelopes or waiting tables back at home. If you are going to have a bad job, it may as well be overseas, right?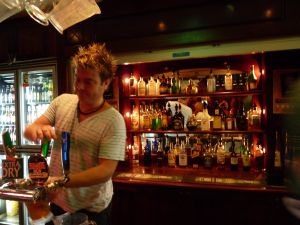 Especially for those who are trying to avoid being yet another causality to the poor economy, these working holiday visas could be the perfect way to sweat out the economic crisis and get in some traveling while you are at it.
With plenty of good paying jobs (mostly on farms or in the service/tourism industry), there are a ton of great opportunities for those looking to pick up some work to fund their adventures as they travel. In fact, with fruit picking jobs and the like offering nearly $17/hour, with just a few months of work with few living expenses could fund several more months of gallivanting around the islands off the Queensland coast, hoping over to New Zealand and getting into trouble all around Oz.
Why do a Working Holiday
When most people hear the word visa, they immediately think of endless paper work and battling through heaps bureaucratic b.s. However, applying for an Australian working holiday visa is super easy. After a few minutes of filling out a form and paying the relatively small fee (US$160) almost all candidates are accepted.
Robert Dalboc was working as a contract employee at Microsoft based in Reno, Nevada when he decided it was time to pack up and head out on an adventure in Australia. He and a friend applied for the working holiday visa and AU$195 and 24 hours later he was approved and starting to plan his trip Down Under.
Dalboc has quickly discovered the advantages to traveling in an English speaking country, where it is not only easy to travel and communicate, but where it is also easy to find work. Plus, with not many Americans yet taking advantage of the working holiday program, Dalboc has discovered he's a bit of a hot commodity.
"I've found they kinda like us," he said. "We speak the language, and they like our accent. There aren't many of us [Americans], so they are interested."
Davin Michael Titland, another young American spending about a year in Australia on the working Holiday visa, isn't new to the concept of working and traveling. He worked under the table in Portugal, but found that being off the books often meant less than stellar treatment. Working legally in Australia he's found much better luck and better treatment by his employers.
Aiming to avoid the tough physical labor involved with fruit picking or farm work (popular working holiday options), Titland worked on a dive boat before scoring a job at popular backpacker hangout The Woolshed in Cairns, Queensland. Unlike troubles he had trying to work as he traveled in other countries, he's found ample opportunities in Australia.
While you "don't get the culture shock aspect," in Australia, many Americans find the ease of traveling and working Down Under well worth the trade off—especially when they learn even the most lowly jobs pay more than twice the U.S. minimum wage.
>>Apply for your Australia Working Holiday Visa
The Basics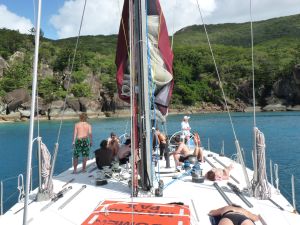 For the thousands who may have recently gotten laid off or for those recent college graduates unable to find a job, the prospect of an almost guaranteed job and time to travel one of the world's most beautiful countries is reason enough to get your passport ready and your visa application filled out. Working and saving for a few months and then taking off to travel for a few more sounds like an ideal way to spend time in between things.
While the concept of a gap year and taking time to travel is a foreign concept for many Americans, the lure of international travel and nearly guaranteed employment is coaxing more Americans to take advantage of the working holiday visa.
Who is this visa for?
The Australian government states:
The Work and Holiday visa is for tertiary educated* people aged 18 to 30 who want to travel and work for up to 12 months in Australia. This visa allows you to supplement the cost of your holiday through periods of temporary or casual employment. Most countries under this visa program have a limit on the number of Work and Holiday visas issued per year.
What does this visa let me do?
If you are granted a Work and Holiday visa you can:
* enter Australia at any time within 3 months of the visa grant date
* stay for up to 12 months in Australia
* leave and re–enter Australia any number of times in the 12 months from the date of first entry
* undertake temporary employment in Australia
* study for up to 4 months.
How much does it cost?
The working holiday visa fee is non-refundable and will not be returned in the case of an unapproved application (which I imagine would really only happen if you had an outstandings felony charge on your record or the like). It costs just $195 AUD (about $160 depending on the current exchange rate).
I spoke with one U.S. citizen who told me that his visa was approved in less than 24 hours, and the program is notorious for having a quick approval process.
Where can I apply?
It is easiest to apply online. For more detailed information and to fill out the application, visit the Australian Department of Immigration and Citizenship web site and learn more about the Working Holiday Visas.
>>Read the fine print about the Working Holiday Visa and fill out the application here
Types of Jobs you can get on a Working Holiday
While the visa allows young people to find any kind of employment they like, there are definitely certain fields in which it is much easier for international folks to get jobs. Because many of those on the working holiday visa are in search of super temporary work that will allow them to save for a few months before traveling, most of the best job opportunities for travelers tend to be either physical labor (fruit picking or farm work), or service/tourism industry jobs.
For those that want a little help finding a job for their working holiday before they leave home, there are a few programs that can help you find employment in Australia.
VisitOz
For those with farm experience or simply a desire to do farm work (or work in an outback pub), VisitOz guarantees work before you leave home. A friendly Scots couple who found themselves in Goomeri, Australia in the early nineties has been training and helping international young folks find jobs in Australia for well over a decade.
VisitOz guarantees well paid work, in rural and outback Australia for the whole of your working visa. Keep in mind that this work will not entail working on your tan or hanging out at the beach. In fact, VisitOz guarantees jobs in agriculture (horses, motorbikes, tractors, cattle, sheep), where the labor is certainly labor intensive, though there are some jobs available in hospitality (pubs, roadhouses, rural resorts, farm stays and museums).
While the program is not free (costs range from $800-$1000 and includes a 3-day trip to Rainbow Beach on Fraser Island and a 5-day training stint on the farm in Goomeri), it does help assure work and can teach you important skills for your stay.
The program attracts both those with an affinity or experience in agricultural work (du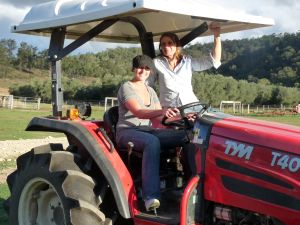 ring my day on the farm I met a two girls who had grown up showing cattle in Alberta and another who had worked on her family's cattle ranch in Oklahoma) and for those with enthusiasm and a desire to get down and dirty and learn about farm work. With a desire to get dirty and learn how to muster cattle, build fences or ride a motorbike, even those with no agricultural experience can still get a job (this includes me, whose city upbringing did not yield me much experience in the fields of agricultural work or cattle mustering).
Once the 5-day training at Springbook farm in Goomeri, Queensland is over (located about 300 km from Brisbane), young working holidayers are sent off to the job of their choice (many trainees field multiple offers).
If you want to be guaranteed you'll spend the least amount of money while saving, this is definite the way to go. Because almost all of the jobs through VisitOz are in remote Outback locations, working holidayers get room and board for free and have nowhere to spend the $250-$1000/week they'll be making. After just a few short months, most have enough to travel Australia for the remainder of their time in the country.
>>Read more about the VisitOz program and learn how to apply
Fruit Picking
Especially for those headed to tropical Queensland, there are ample opportunities to work on fruit farms. While fruit picking is certainly labor intensive, you can earn good money while slinging bananas or picking tangerines. In fact, most fruit picking jobs pay $16-$20/hour.
Much like the VisitOz agricultural work, fruit picking also tends to take place in more out of the way spots in Australia, meaning you'll be able to save most of what you are making on the farm. A few months of fruit picking can allow you to take off the rest of the year and see Australia, an opportunity that is probably worth picking bananas for a couple of months.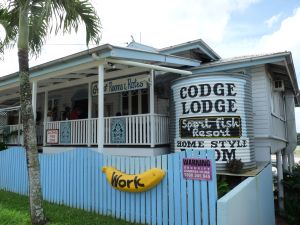 Plus, with tons of international young folk working on the fruit farms, you may even have some fun while working. I visited the Codge Lodge near Cairns, Queensland—a working hostel where young folks live and pick bananas at a nearby farm. The hostel was clean and had a fun atmosphere, complete with a pool and bar/restaurant featuring a brand new karaoke machine (which hostel and farm owner Mark was more than eager to show off by giving us his best rendition of Sweet Caroline).
I met Brits, French, Italians, Koreans, Norwegians, Danes and a slew of guests from all corners of the globe at Codge Lodge–showing an experience at one of these working hostels would be nothing short of international.
>>Read more about the Codge Lodge or find a fun place to stay in nearby Cairns by checking out the Party Hostels in Cairns
Hospitality/Tourism Jobs
Hostels, bars, restaurants and sail boats are also often looking for employees. If you are uneasy with the idea of mustering cattle on horseback and can't really imagine yourself picking bananas for several months, getting a job washing dishes, serving drinks, waiting tables or even cooking on a sail boat are all also options.
During my time in Australia, I met many international folks on working holiday visas who had managed to get jobs at bars, on boats and in restaurants. While these cushier jobs tend to be a little more elusive than fruit picking or farm labor, they nonetheless exist and serve as yet another option for those looking to extend their travels with a working holiday visa.
Read more about working in Australia and around the world: