Ah, Italy. Home to millions of friendly people, a country with a very rich history, and the origin of many delicious dishes. And although this is already a very good reason to visit this Mediterranean country, there are even many more reasons to do so. One of these reasons is the amazing Italian coast line, which has many faces, but all these faces are equally beautiful.

Rough & Rigid
Large parts of Italy's coast lines are covered with steep rocks, large caves and sharp edges. The Amalfi Coast, near the large city of Naples, is the perfect example of such a rough coast line, which sometimes even reminds of Norwegian Fjords.
Giant caves, which have been carved out from the rocks by Mother Nature, stand out high above the clear blue sea. The amazing views make the Amalfi Coast the perfect location to go hiking or mountain biking.
Another well known example of a rough coast line, is the region near Cinque Terre, where the Italians have shown that not even steep rocks can stop them. In the Luguria region, carefully built houses use the rocks as their foundation, while looking out over the sea. If you have visited the Cinque Terre, you'll know why it isn't strange that UNESCO declared the 'Five Countries' World Heritage.
Smooth & Sandy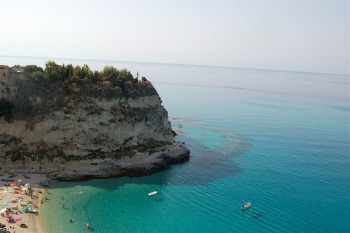 Just like any other country in the Mediterranean Sea, Italy also has many beautiful beaches. From the touristic Rimini in the North-East of Italy to the Calabrian beaches in the very South. However, the most amazing beaches -according to many international "studies"- can be found along the shores of the island Sardinia.
Pearly white beaches, a clear blue sea and a warm temperature are the perfect combination for a walk along the sea or a romantic sunset dinner. Sardinia is also an ideal location to go snorkeling, although you might want to avoid the touristic Costa Smeralda if you actually want to see some movement under water.
My personal favorite beach is Spiaggia della Pelosa, near the small town of Stintino and not far from Alghero airport, in the North-West of the island. It's near Asinara National Park, and especially outside the holiday season, the combination of a brilliant atmosphere and an ancient guard tower make you feel very relaxed.
Green & Glowing
Italy is well known for it's olives, and these olive trees add colour to large parts of the Italian coasts, too. When you look towards land from your boat in the sea near, let's say Peschici (Apulia region) or Pisciotta (Campania), you'll see nothing but green. Here, the smell of the millions of olive trees will make you actually taste Italy from the air.
Costa Verde, which means Green Coast, lays beautifully along the Westside of the island Sardinia. Junipers and pistacia lentiscus let the coast line bloom, resulting in stunning views. Whether you sail across the Mediterranean Sea, or hike through the Sardinian hills, Costa Verde definitely is a must-see for nature lovers.
Fierce & Volcanic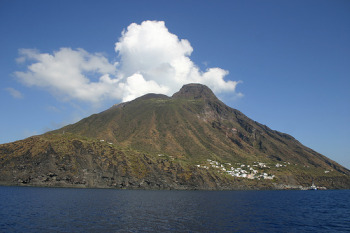 Iceland is not the only place in Europe where you can find volcanoes. Mount Vesuvius and Mount Etna are the most well known volcanoes in Italy, but there are many more.
A great example is Stromboli Island, a small volcanic island in the Tyrrhenian Sea just north of Sicily. This Aeolian island only measures 12.6 square kilometres and is nothing but volcano. Stromboli's peak is at 900 metres (or 2,950 ft.) above sea level, which ensures that you can see the island from far away. A funny detail is that Stromboli Island does have a beach, but the sand is black in stead of white.
Besides Stromboli Island, Italy has a few other volcanic islands, including Ischia and Procida.
As you can see, the Italian coast has many faces. No matter what you like or do not like, there will always be at least a few faces that you will absolutely love!
Photo by dominqueb, bartolomeo perotta