CLAIRE BEVILACQUA: THE SURF GYPSY WITH A PLAN
Claire Bevilacqua is the complete package—she's thoughtful, a ripping surfer and a true travel aficionado. The 2003 Australian Juniors champ made the jump to the pro circuit as a 22 year old and hasn't looked back since. "Bevo" is known for being feisty in the water—but when she travels she's all about connection. This week, she took a break from the hustle of the pro tour to chat with "How I Travel."
Read more to find out why Claire thinks meeting locals is the most important part of any travel experience, her thoughts on clothing and her road-dating philosophy.
---
My father is Italian and my parents are big travelers—since birth I've been accustomed to gypsy life.
I was alone most the time as a kid so I'm very comfortable being away from home and constantly moving.

I've seen so much and experienced so many different cultures and ways of life that I feel I have a very broad education.
I've grown to become extremely open minded, grateful and positive.
I like to have everything organized before I take off for an adventure.
I can adapt to changes of plan but I think you need to be prepared when you arrive at a new destination. It helps with avoiding stressful situations or getting into trouble.
I try to gain knowledge and inspiration from everyone around me.
Everyone has something to offer in life and can teach you how to live and travel better.
I don't really like wearing clothes.
I usually follow the summer and the warm weather. I'm always most happy when its stinking hot and I can play at the beach all day.

I don't mind so much how the waves are as long as the place is clean and unpolluted.
I definitely like to visit places that aren't so crowded, but they have to be safe, I value my safety a lot.
I am always ready to be versatile on the road but the world tour is on a strict schedule so I have to focus on that.
Because of my job, my main focus has to be on what will better my situation and increase my chances of winning.
I love trying new foods, and I always make a point of trying local dishes and doing things the way the locals do.
I like simple, conscious kinds of foods. Fresh fruit always. Loaves of bread, and olive oil are my other staples.
I am attracted to many kinds of humans on the road, but it's very hard to date on a consistent level when I'm in a new place every week.
I'm not promiscuous and have learned that one night flings usually leave you feeling empty. I have faith I will meet the right one along the way if I stay true to myself and what I want and deserve. Patience is the key.
I always research a place before I go there.
It's best to be prepared for anything and everything, know religious views and crime levels. No guidebooks for me though. The internet works best—good maps help too.

When I arrive at a new place I go for a run or walk around my area so I am familiar with my surroundings.
That way I won't get lost in the future.
I love trying new foods, and I always make a point of trying local dishes and doing things the way the locals do.
I have to avoid street food though—I have a sensitive stomach.
The key to travel is to make friends with the local people straight away.
When I land I like to go for a walk or run around the block, find a super market and try the local fruits and breads. You can't help but meet people that way.
I'll always try and stay with a family or local friends rather than a hotel or tourist accommodation.
It makes me feel more at home and gets you in the groove for that lifestyle, language and frame of mind.

I usually party or stay up late the night before I fly so I sleep the whole way to my next destination on the plane.
I never take sleeping aids… I think they're poison.
I always spend lots of time with the local people of the place I'm staying.
Making conversation and being friendly to others when you're a long way from home is always a good move in case you get in trouble. To connect with locals on the road I smile a lot and try to speak their language. Just saying "thank you" or "hello" is a simple way to put good vibes out in a new zone.
Folding is overrated.
When packing I just shove the bare necessities all into the bag.
I love camping in the northwest part of Australia.
You can live off the ocean, get wild and raw and connect with nature away from people and the city. A lover, a dog and a little food is all you need.
With plane tickets to anywhere in the world I would go to Hawaii.
I love it for the waves, weather and perfect landscape. My all-time favorite beach (away from home) is Pipeline on the North Shore of Oahu. It has the best waves and beach set up ever, you can really feel, taste and see the power of the waves and experience what the surfers feel even if you're not riding the waves yourself.
My favorite travel tip that isn't on the usual lists is to hand-wash your clothes.
And when I hand wash I use shampoo. Shampoo can clean anything.
I love how quick flying gets you to a place but I don't like to fly small planes.
In Indonesia, once my plane nearly crashed. Since then, little planes have always made me feel sick.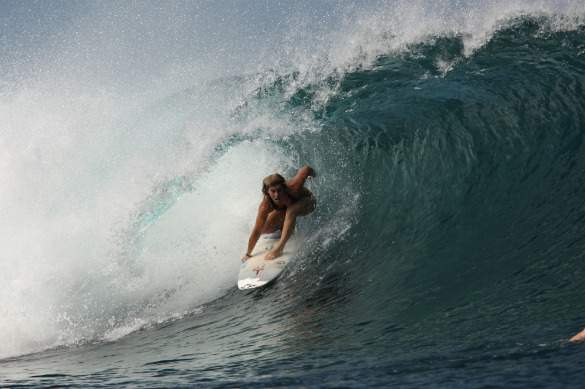 Travel has given me appreciation for how blessed I am for living in West Australia.
There's no place like home.
I'd say that Americans are the leaders in hospitality.
My home state of Western Australia deserves to be more popular with travelers than it is.
I wouldn't want to raise kids anywhere else.
When I'm away I miss the experience of my silent bedroom…
…while still knowing that my family is nearby.
I think travel has helped me grow into the open minded, grounded, grateful and independent person I had hoped to be as a kid.
Respect your surroundings.
Leave only footprints and good vibes behind.
I get lost all the time driving in new places.
Finding your way back home is the fun part.

I went to the Azores islands in Portugal this year and it was one of the most amazing places I have ever seen.
I had no expectations and no idea but I left with one of the best feelings I've ever had on the road.
Traveling is just so much fun and the best way to learn about the world.
It's the act of doing and living it rather than reading or talking about it. I love to travel because it teaches me the ways of the world.
Don't miss Claire's collection of articles and videos for Surfline.com and be sure to follow her Twitter feed.
"How I Travel" is a new BootsnAll series publishing every Tuesday in an effort to look at the unique and diverse travel habits of some of the world's most well known and proficient road warriors. Got ideas for who we should talk to? Drop us a note.
You'll find links to all the "How I Travel" articles on the How I Travel archive page, you can become a fan of "How I Travel" on Facebook, and you can follow the @howitravel profile on Twitter to get updates as soon as new features in this series are published.
all photographs provided by Claire Bevilacqua and may not be used without permission