Round-the-world and long-term travelers often boast about their abilities to pack several months' (or years') worth of clothes in a single bag (or even no bag!). The key to packing light, of course, is to pack sturdy items that can be worn in a variety of ways and that can easily be washed on the road. In that way, packing for a year really equates to packing for a few days. When you're traveling long term, you're generally staying longer in one place, which means more time to do the mundane chores like washing your clothes every few days.
But what about those of us who travel for business and also like to tack on some leisure travel at the end of a work trip? With such limited time on a trip, we don't want to waste precious seconds washing a pile of dirty clothes, but we still want to travel with less luggage. That's relatively easy if the trip takes us to a single climate or if we're going for a single purpose. But try to bookend a business trip to Japan with a week exploring Southeast Asia, or trip to South Africa with a few days layover in Europe, and the situation becomes infinitely more complicated.
Packing for two widely different destinations or trips with one bag can be done, but you'll have to scrutinize your itinerary, evaluate like an actuary, and cut like a surgeon. Here's how to do it.
Carry everything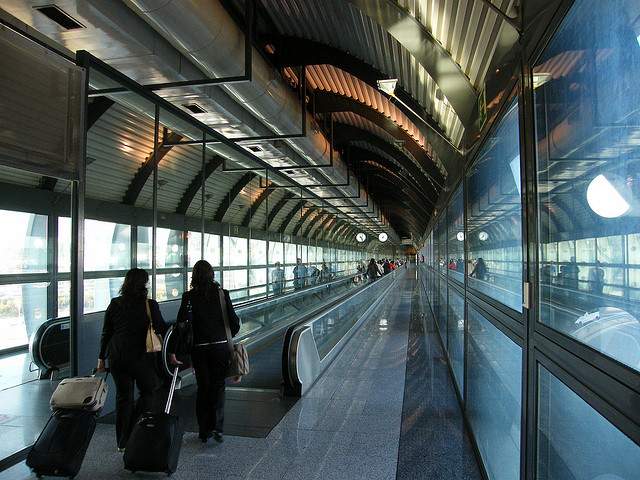 Use two vastly different carry-ons as your complete luggage set. Besides saving the killer fees per leg, there is no chance of lost luggage, theft, missing connections, and luggage-handling delays slowing you down. Don't waste your time and money checking bags.
Which bag?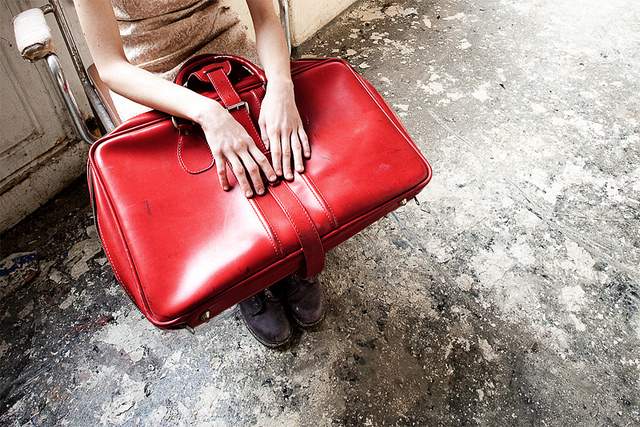 It begins with the bag. For your main carry-on, get a bag that travels as hard as you do. Look for something lightweight, durable, and easy to maneuver through the airport with a  maximum  length  of 21 to 22 inches (check with your carrier as limitations vary). You can find bags weighing in at just over two pounds but do not exceed a maximum of ten pounds. I found that the best materials are a 1000 Denier (tightness of weave) Cordura or a 2000 Dernier ballistic nylon, especially if you are a frequent traveler.  Some carry-on bags have a removable zippered external pouch you can use as a day bag.
A backpack with a telescoping handle and exterior lacing to grip additional gear or piggy-back a smaller bag is a great choice, too.  The Turbo Transit backpack by L.L. Bean is a good one to consider. Fred, friend of BootsnAll and founder of  Tortuga Backpack, designed his own pack for long-term travelers.
If you are not the backpack type, the larger bag should have multi-directional wheels and a long, fully retractable handle that the smaller "under the seat" bag can stack on top of as you wheel. Check that the ensemble fits your arm length comfortably at a full "running to the gate" roll. Tumi, Eagle Creek, and TravelPro all make good carry-on sized suitcases are a few to check out at the local luggage store .
For your second,  smaller "personal item" bag, look for an expandable piece with separate zippered compartments that fits under the seat in front of  you. This bag is up to you and what you carry;  PC or iPad and gadgets, camera, phone, charger, current adapter, neck pillow, snacks, baggie of liquids, jewelry, book, wallet, passport and dark glasses  should  fit into  this bag.
Where are you going?
A few weeks before the trip, research the destinations and weather forecasts via the Internet. If you have not been there before, look for dress cues in the city or country by visiting the tourism website or contacting your hotel's concierge. Business attire in Nairobi is not the same for business in Beijing.
Your signature look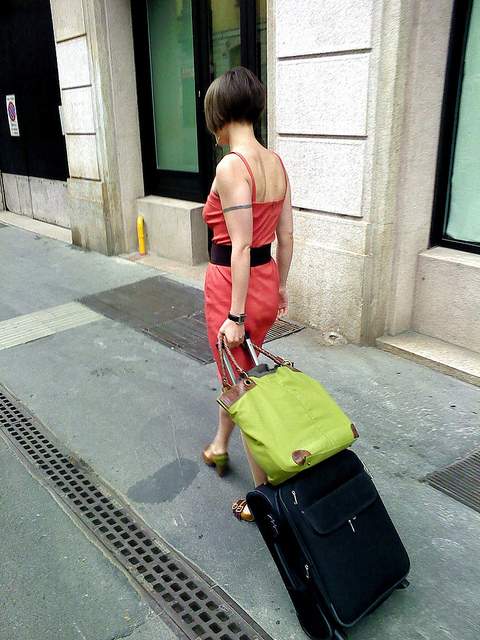 If you will be attending a business meeting in a large city, a trick from the owner of a professional shopping company will help you wrap your mind around the duo tomes "less is more" and "every piece has to work hard, twice." Traveling year-round from her apartment in Paris to meet with executives of large clothing stores in the US, she always wore a simple black dress or suit with heels, but she capped it with a fantastic coat. When she removed her statement coat, what she was wearing receded and her face and gestures became the focus. On the road most people will see you only once. Wear your signature look over and over again, just edit for the new audience, new location, and time of day.
No fantasies, just versatility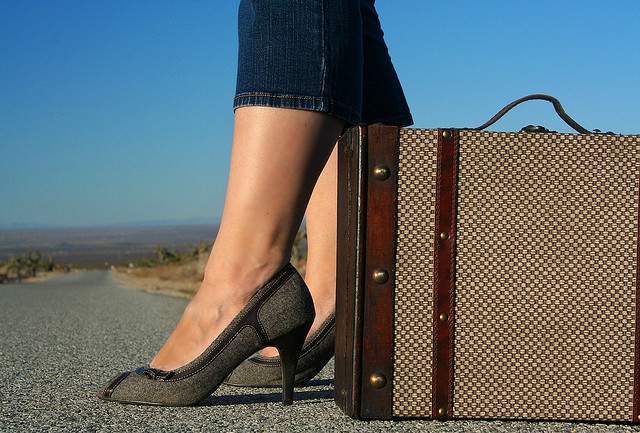 Because most of your luggage is the clothing you need to facilitate your adventures, excursions, or meetings, make an itinerary to organize the outfits needed for each activity. This will weed out the "need" from the "greed."
What is clothing greed?  Say you envision yourself traipsing down a grand stairway in the Casino de Monte-Carlo,  and as all eyes turn to look at you, finding sartorial perfection from your Gucci's or Manolos on up, you beam.  Save it for the Madison Avenue models. You need to detach yourself from all of your fantasy outfits and drill down to the necessities only.
Business, vacation, or sport activity, you have to pack for versatility. A snazzy top, perfect for dinner at the Four Seasons, in New York City can be a cover-up poolside at the  Mauna Kea in Hawaii or a robe at La Pensione in Taormina, Sicily. Do not include a piece of clothing in your luggage if it won't work in both locations, doesn't mix and match with other pieces, won't drip dry overnight in a pinch, or always look sharp.
The secret
Sport enthusiasts demand hi-tech durability, easy wear-ability, and  high style from sport clothing.  In your quest to pack for two destinations in one bag,  allow these features to be your secret weapons. Your clothing requirements are the same for short trips as for  long ; ditto for multiple destinations. The bottom line is that you'll want comfortable and functional clothes. For cooler climates layer; for warm, pack breathable fabrics.
One of my favorites is a lightweight, well tailored equestrian riding jacket of spandex and nylon that I use to keep the chill away in a plane cabin, add authority in the boardroom or to hike up a Swiss mountainside. For two-climate versatility I like Columbia Sportswear's Omni-Shade® line of hats, pants and tops. They protect from sun damage by blocking the harmful UVB and UVA rays and also work as layering pieces in the cold. They have the Skin Cancer Foundation's Seal of Recommendation for a minimum UPF of 30, are light and easy to pack.
My other go-to pieces are tops, slacks, shirts and pants with sweat wicking qualities, better quality yoga pants, undies of 95% cotton/ 5% spandex, socks that dry quickly, convertible travel pants and other items, all available from sportswear manufacturers. Tights are a fabulous space-saver for the ladies.  Add a  pair of leggings to that hot summer tunic dress and you are set  for cooler destinations. Recycled plastic bottles spun into fabric and edgy designs distinguish the wearable comfortable style at Nau that I like  to wear in  western Europe.
If your taste does not run to "le sportif," check out specialized travel wear in non-wrinkle fabrics that provide a more traditional look to men's dress shirts, slacks, and sport coats. For the ladies there are no-brainer three or four piece interchangeable tops, jackets, skirts, and pants.
Destination palette
Select a neutral palette that reflects your destination and the season . In New York City, it 's always ubiquitous black. Gray for spring reigns in San Francisco and navy is clothing culture for summer in Lisbon. Carry this color throughout to increase your options and brighten your neutral canvas with bold touches of color or shine. Adding a silver pin, belt, or watch can keep your simple silhouette from the mundane. A scarf, gloves or tie take only a minute bit of space in your bag and can be tucked into a shoe.
Comfortable shoes only
We travel to interface with the world. You will always be doing a lot of walking on a trip, and you'd better love the shoes you are wearing. My husband, a photojournalist, prefers Mephisto shoes, very European, sleekly-styled rubber soles with ventilated tops that keep feet cool and supported all day but don't have that "potato comfort shoe" look.
I  favor one color ballet flats with formed rubber soles that support my foot and make walking a breeze. You can find similar styles and brands from Naturalizer or  Clarks. Break them in before you travel and change your day shoes for another pair at night to give your traveling feet a rest.
Find a pair that works for both day and night, casual and dressy, and you'll be set. But if you can't limit yourself to two pairs, then wear the bulkier pair on the plane.
Get packing!
Select a few one-color key pieces in specialized fabrics like washable merino wool or wick-able fast dry items that you can mix and match and layer. Roll your clothes or use three-pocket organizers or compression bags in a well designed, light-weight carry on, and you'll be packing like a professional traveler.
Tips from travel experts: how those who travel for a living do it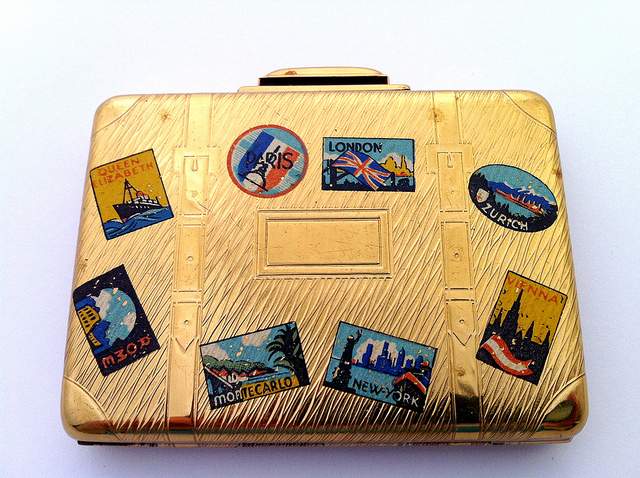 Amy E. Richard, Media and Communications Manager at Oregon Shakespeare Festival  in Ashland, Oregon says,  "When packing for a warm clime and cold clime, I've learned those light, thin down jackets (mine is a Marmot) are the best because they can be stuffed into very small bags."
Maralyn Hill, President of the International Food, Wine and Travel Writers Association shares, "I like to use vacuum bags to compact items. I'll usually take one or two for dirty clothes. If two, I'll have one for light and one for dark. If one, everything is mixed together, but still compacts enough to leave room for what I might acquire."
Colleen Friesen a cycling and outdoor adventure writer, shares her favorite tips:  "Unless I'm going somewhere tropical, I always pack my stuff-able down vest. It's actually Hollofil or something and it zips into a tiny pocket. It's a lovely base layer that works with my windbreaker."
Lena Katz worldwide travel journalist, Orbitz blogger, and travel book author who always looks L.A. cool says,  "I never pack close-toed dress-up shoes. They are impractical in the extreme. In cold weather your feet will freeze, in warm weather you'll sweat and get blisters. Nice boots are my go-to footwear. You can wear them with a dress in warm climates, with pants or over leggings in cold. I tend to go for dresses and leggings or tights instead of lots of pants/shirt combos. Wear the bulkiest stuff– jeans, jacket, giant clodhopper boots and  sweater to the airport. Even if you are flying out of Miami in summer. You're not going to be outdoors long enough to melt, and once you get in the airport and the plane, it will be air-conditioned and probably even a bit chilly, so you'll be glad of the warm clothes."
Adding stopovers to your trip
If you're a business traveler looking to add a leisure trip to your work trip, or if you're interested in maximizing your international flights, look into adding stopovers to your flight itinerary. Many airlines (like Iceland Air) offer free or cheap stopovers in a country on your way to or from your destination. It's a great way to see a new place without adding costs to your flights. It's also possible to add a free or cheap stopover to your multi-stop itinerary by employing these tactics. Sometimes you can even add an extra destination into your itinerary, and the price will go down!
What tips do you have for packing for two trips? Share them below.
Learn more about packing light:

Photos by:ro_bulk,  Ugg Boy Ugg Girl,  Siim Teller, Salina Canizales , Let Ideas Compete, ljcybergal