When you think of holidaying in the South of the United States, most people would consider a nice beach jaunt in Florida or somewhere along the Gulf of Mexico.  There's a lot of coastline in the south, but there's also a lot of gorgeous land, glorious big cities and quaint country towns that are often overlooked.
For this weekend getaway list, we've put together ideas for quick trips that can be taken from Atlanta – a popular, big-city hub in Georgia, and the heart of the South.
Savannah, GA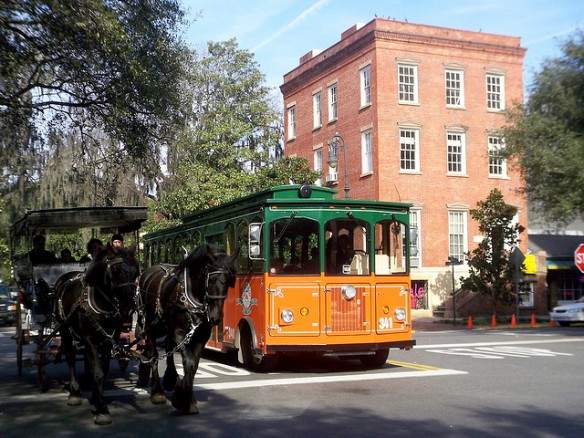 Being just a 4 hour drive from Atlanta, Savannah is the getaway that provides historical flair.  Known for being "The Hostess City of the South", the colonial architecture and large historic district dating back to 1773, along with some good old fashioned hospitality, will transport visitors back in time.
The recommendation for tourists is to hit the streets on foot to get the feel of the vibrant downtown area and get first-hand views of the historical landmarks spread about.  River Street makes for a great place to stroll, catch views of incoming ships and enjoy a number of cafes and restaurants.  The 22 squares are also more green places to chill out and catch some fresh air, but if you can't handle walking anymore then perhaps a ride on a carriage or trolley is in order.
Whether you fancy art, music, food or shopping, Savannah has you covered.  Ghost hunters may even find a nice tour or two to bring them face to face with a spirit of the past.  If city life gets a bit too stuffy, a quick trip east to Tybee Island, just 18 miles away, is perfect for the entire family.  It is here that you can rent kayaks or jet skis, enjoy 5 miles of beaches or climb to the top of the Tybee Light Station, otherwise known as the first in the South Atlantic Coast.
>> Find hotels in Savannah
>> More Savannah Activities
Chattanooga, TN
Chattanooga is just a quick 2 hour drive from Atlanta, and the opportunities that come from making it are plentiful and worthwhile.  Because of its positioning near both the Tennessee River and the Appalachian Mountains, Chattanooga is known as the Scenic City.
You most likely can't hear the name, Chattanooga, without thinking of that famous song, the Chattanooga Choo Choo.  And, when you visit Chattanooga, you can actually stay at the Chattanooga Choo Choo Hotel and Resort that was created in place of the abandoned Terminal Station.  Train lovers will enjoy this blast from the past, and they will also enjoy a ride on the Incline Railway up "America's Most Amazing Mile" to the top of Lookout Mountain.
Chattanooga city's attractions that shouldn't be missed include the Hunter Museum of American Art and the Tennessee Aquarium, but the river cruises – either casual on the Southern Belle Riverboat or high-speed on the River Gorge Explorer – could top to-do lists.  Outside of the city, however, nature lovers can have their fill of river rafting or just some relaxing fishing.
>> Read our Chattanooga travel guide
Macon, GA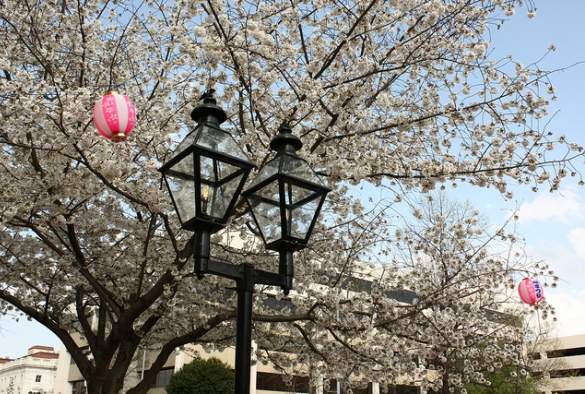 Did you know that Macon is home to over 300,000 Yoshino cherry trees?  Each year in March, this city holds a cherry blossom festival over 10 days to celebrate the blooming trees, those of which are the most in one area on Earth.  In fact, Macon is known as the "Cherry Blossom Capital of the World".
Besides the beauty of the cherry blossoms, Macon has a way of bringing music to your ears.  Macon has a rich musical heritage being the home of such music greats as Little Richard and Otis Redding, and this history can be discovered with a much-needed visit to the Georgia Music Hall of Fame.  Of course, live music runs rampant throughout the city, too.
Truly Macon is a city of history, and visitors wanting to get in touch with the past should plan for stops at Rose Hill Cemetery and the Tubman African American Museum.  However, if this sounds boring to you, then perhaps a couple of nights camping and water skiing on Lake Tobesofkee would be more suiting.
Macon lies just 1.5 hours south of Atlanta in Georgia, making this city a quick getaway option by car or bus.
Pine Mountain, GA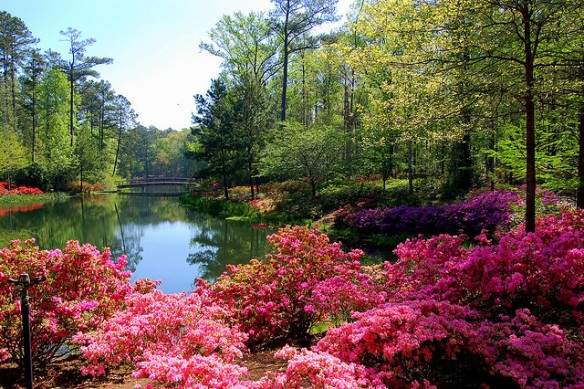 Outdoor lovers shouldn't miss visiting the small country town of Pine Mountain.  This truly quaint town, home to just 1,141 people, lies an hour southwest of Atlanta and provides a gateway to outdoor activities galore.
The town itself is home to village shops and homestyle cooking stops, but the real beauty lies in nearby nature reserves.  Whether it is trying your hand at horseback riding or hiking the 23 mile trail at F.D.R. State Park, activities that involve being out in nature will be the best additions to your itinerary.  One popular attraction is the Pine Mountain Wild Animal Safari where visitors are allowed to drive through an open park featuring animals from all over the world.
The 13,000 acre Callaway Gardens is one spectacular resort complex that houses hiking trails, a butterfly sanctuary, two golf courses, and a serene location to kick back and relax.
Birmingham, AL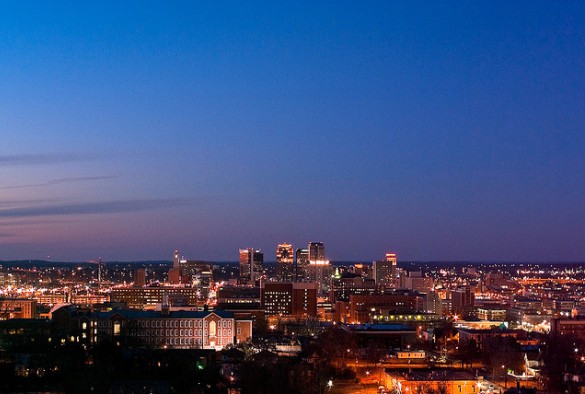 When nature isn't your cup of sweet tea, then a city getaway to Birmingham, the largest in Alabama, should be considered; it's less than 3 hours away from Atlanta by car.  Birmingham is known as a place of southern hospitality with loads of the good food and shopping (some southern barbecue goodness, anyone?) that great getaways are made of.
A trip to the top of the local Red Mountain gives access to the Vulcan Park and Museum, a place that harbors the largest cast iron statue in the world while also providing panoramic views of Birmingham city.  Another, and much different, view of the city can be gathered by having a stop at the Birmingham Civil Rights Institute for galleries of information involving black and white life throughout the years in Birmingham and the South.
Of course, there is always the Birmingham Zoo and the Birmingham Museum of Art to fill out a weekend itinerary, but the real thrill – and no visit to Birmingham should be without them – comes from a stop at the Talladega Superspeedway for some racing action, along with a stop at Dreamland Bar-B-Que for some southern style ribs for dinner.
>> Read about underrated US cities (including Birmingham) and why you should go
Dawsonville, GA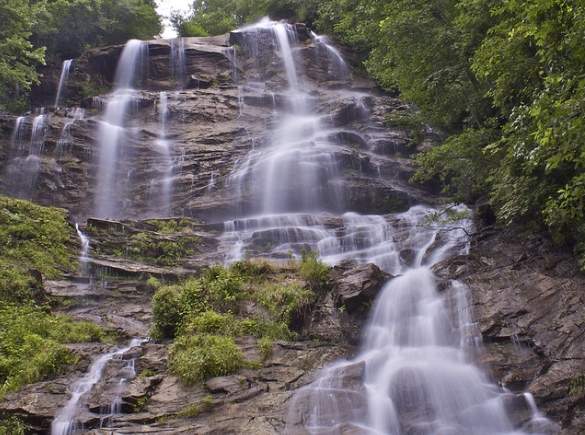 Dawsonville's tiny town atmosphere can be discovered just an hour north of Atlanta and about an hour south of the Chattahoochee National Forest.
Outdoor adventure lovers can use Dawsonville as a base point when wanting to experience the thrill of river rafting, hang gliding, hiking and fly fishing in the scenic land nearby.  Some points of interest include the Amicalola Falls State Park in the southern section of the Chattahoochee National Forest, and the Tullulah Gorge in the eastern section.  Both are known for excellent places to camp, to enjoy the beauty of natural waterfalls and to take part in outdoor adventure activities.
Closer to the town of Dawsonville lies a Kangaroo Conservation Center, which is home to the largest mob of kangaroos outside of Australia.  However, being a conservation area, they have currently closed their visitor access in 2011 as they work on their conservation practice.  Still, it is good to keep this location in mind for when they open again in the future.
>> Discover the best US cities for National Parks lovers
Jekyll Island, GA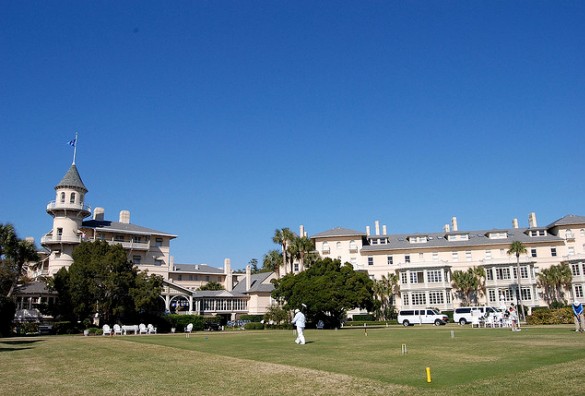 Nothing beats island life for a weekend getaway, and Jekyll Island is both beautiful and close enough to become an option.  It takes just around 5 hours to drive to Jekyll Island from Atlanta, and yes, you can actually drive onto the island itself.  If that is a bit too long, then a regional flight to Brunswick with a rental car waiting can save time.
Jekyll Island was originally purchased as a resort getaway for the select few Americans that could afford that luxury in the late 1800s, so today, it not only makes for a serene getaway but also a chance to learn a bit about history through visits to the Horton House and the National Historic Landmark District.
Of course, there are the stunning beaches that cover 10 miles of the coast to visit.  Two known for special beauty are Driftwood Beach and Glory Beach, the latter coming into fame while being used in the film, "Glory".  More water-based fun can be had at the Summer Waves Water Park that covers a good 11 acres of Jekyll Island and is perfect for families and the young at heart.
Hotels and cottages are a comfortable retreat on Jekyll Island, but the campgrounds are very much full-service to those looking to do a bit of "glamping" instead of roughing it on their weekend getaway.
>> Read about other lesser known islands around the world
Read more about weekend getaways: