One of the main sacrifices that Round the World travelers have to make when planning and saving is bypassing purchasing new and fun toys. Saving money for something huge like a RTW trip takes a lot of hard work and discipline, so nights out at the mall or shopping for new stuff are few and far between.
With the holidays coming up soon, finding that perfect gift for the travel lover in you life can be difficult. There's so much stuff out there that it's hard to decide what's best. Whether you have a world traveler close to you in your life or you are one, you should check out the following gift ideas that would be welcome by any travel lover. They will make travel just a tad bit easier for the round-the-world traveler.
Backpacks
Backpacks are a huge part of the RTW traveler's life and are one of the most crucial pieces of gear. Chances are the traveler will want to pick out his or her own pack, so they can try it on and make sure it fits and feels good. If you're planning a trip and in need of a pack, consider the following. The first two are both small enough to fit in a carry-on if you're a light enough packer, but they are big enough to fit everything you need. The third one, the Gregory backpack, is too big to carry-on, but not too massive that you're going to fall over backwards when putting it on. It's great for multi-day treks as well. I've had the Gregory pack since 2002, and it is the one that accompanied me on my RTW trip in 2008-2009. It's still going strong, and I'd be surprised if it didn't last another 10 years.
Travel hammocks

Travel hammocks are incredibly lightweight, durable, and easy to rig up. A travel hammock is just as good as carrying a tent, but better since they are lighter and take up less room in your pack. You always have a place to call it a night if need be and you can always put one up for an afternoon siesta. They're also good friend-makers; put one up and I guarantee people will be drawn to you.
Compression sacks
Don't know how you are going to fit all the clothes you need for your yearlong trip into that teeny tiny backpack? Easy, compression sacks. By squeezing all the air out of your clothes with compression straps, compression sacks pack clothes down to next to nothing and maximize the amount of space in your backpack. They are also great for keeping your gear organized and separating your clean from your dirties. The Sea To Summit Ultra-Sil Compression Sacks are extremely lightweight, durable, water resistant, and available in many sizes and colors.
Packing cubes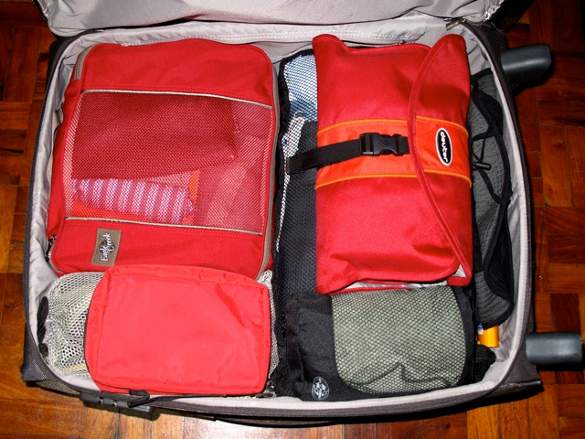 An alternative or supplement for compression sacks that keeps everything nice, neat, and organized is to put everything in packing cubes. Eagle Creek is the leader in packing cubes, as they have everything from packing envelopes, which are great for keeping those clothes neatly folded without wrinkles, to regular size and half size packing cubes. You will never have to tear through your messy pack again with these bad boys.
Hand bag
There are thousands upon thousands of hand bags that are good for taking out with you as you traverse a new city.  Some just like small backpacks.  Some like a purse of some kind.  If possible, my wife and I like to bring only one bag with us when we head out for the day, and this Pacsafe unisex hand bag makes for the perfect day bag and a great way to travel around with your most valuable items.  We took it on our RTW world trip, and it now accompanies us on any trip we take.
The wire mesh throughout the interior of the bag makes it slash proof, so carrying it around a crowded city can give you a peace of mind, even if you have a small laptop, expensive camera, or if you decide to bring your cash, credit cards, or passport with you. There is also zipper security and a lock strap hook to give you double protection. It won't fit a laptop over 13 inches, but it's perfect for a netbook, iPad, or a small DSLR camera plus whatever else you need to carry with you during a day out in the city. This bag is also nice for overland travel as you can secure it to your seat without having to worry about it getting cut open.
Travel clothing with lots of pockets
If Rolf Potts can make it around the world without carrying a single piece of luggage, you may want to reevaluate how much gear you're taking on your trip. Potts did it by carrying all his necessities in ScottEVest apparel, super lightweight and wrinkle-free travel clothing with multiple pockets to hold all your travel accessories and gear. With 14 pockets in the ScottEVest's Ultimate Cargo Pants and 18 pockets in the ScottEVest's Tropical Jacket/Vest, you won't need one of those annoying money belts and you might even be able to get away with a smaller pack.  While all this stuff is quite practical, it's not going to win you any fashion awards, if that's what you're into.
A good pair of flip flops
RTW travelers agonize over how many and which types of shoes to bring, but one thing is pretty constant – sandals or flip flops. Nearly all long term travelers bring a pair of sandals or flip flops with them for showering and beach purposes. If you're one of those people who lives in your sandals at home during the summer months like I do, then it pays to buck up for a nicer, more durable pair of flip flops for your trip. I bought a pair of Chaco flip flops halfway through my RTW in 2008-2009, and despite wearing them every single day for 6 months throughout Southeast Asia and India and being home for over 3 years now, I am just now needing to replace them before next summer. They are nice and durable, and while they can be worn in hostel showers and at the beach, they're also plenty comfortable to walk around cities.
Travel towel
Towels are necessary when you are traveling. Though you may not shower quite as often as when you're at home, you will shower at some point (hopefully). If you're going to be hosteling it, you're going to need a towel as many hostels do not provide them. Carrying a big, heavy towel that you would use at home just doesn't make sense, with the weight and time it takes to dry, so that's why they make light-weight, travel size towels. Eagle Creek makes a travel towel in many different sizes, made of super absorbent, quick drying fabric, making it a great addition for the RTW traveler's backpack.
Travel tripod

Want to capture all those spectacular sunrises you will be seeing all over the world? No matter how hard you try to keep still during those low lighting shots, the results will most often be shaky. The Joby Gorillapod Flexible Tripod weighs only 1.6 ounces and literally monkeys its way around any object or surface to get you the perfect shot. Unlike regular tripods, the Gorillapod doesn't need a flat surface, but bends and rotates to create a level surface. It then folds up nicely to stow in your purse or cargo vest.
Headlamp
Even if you're not the hiking type of traveler, it's always good to have a flashlight of some sort during your travels. If you stay in hostels, it's nice to have a light for those middle of the night bathroom breaks. If you do a lot of overland travel, you never know when you're going to need to find your iPod or book that fell under your seat once that sun goes down. Though you may not look super stylish, this Petzl headlamp makes for a fantastic flashlights as it keeps you hands free to look for whatever it is you lost or wherever it is that you're going.
Moleskin travel journal
Even if you're planning on blogging quite a bit from the road, there are going to be plenty of times when you don't have your laptop right in front of you to record your thoughts. A moleskin journal works great for those times when you just need to jot a few thoughts down. Or if you need to record an address, name, email address, or restaurant or hostel recommendation. Sure, you could use a regular old notebook, but after a few weeks on the road, they get pretty beat up and start falling apart. Moleskin journals certainly cost a bit more, but they are extremely durable and fit perfectly in your pocket for times when you don't want to bring a bag out with you.
Travel water purifier
A SteriPEN Traveler Mini may be the best travel insurance you can buy. Worried about water quality during your travels?  Just zap it with your SteriPEN and then drink worry free. Like all other SteriPEN water purifiers, the Traveler Mini uses UV light to destroy more than 99% of harmful organisms. In addition to knowing that your water is safe to drink, purifying water as you go eases the conscious since you won't be contributing to all that disposable water bottle waste.
Sleep sack
A sleep sack will prove invaluable when you find yourself in questionable bedding situations in hostels and hotels round the world. The Hammock Bliss Sleep Sack is incredibly lightweight at only 11 ounces and protects your skin from unknown hazards. The sleep sack also packs up into an attached pouch, which doubles as a travel pillow great for train and bus rides.  Or if you have an awesome mother-in-law like I do who is handy with a sewing machine, maybe you can talk her into making one out of silk sheets.  One of the best things I brought on my RTW trip.
iPad
I have to admit that I am the furthest thing from an Apple fanboy. Up until a few months ago, the only Apple product I have ever owned was an iPod. I vowed never to purchase an iPhone because of the pompous "If you don't have an iPhone…" commercials that were running a few years back.
But a few months ago I broke down. At the suggestion of some of my travel friends, I bought an iPad right before our latest international trip, and I have to admit that I am officially sold. Yes, if you are just buying it for use at home, it is what amounts to an overpriced toy (an awesome toy, but a toy nonetheless). But if you're a traveler, there aren't many things better and more useful. Unless you need to work while on your RTW or are really planning on running a serious blog, an iPad is world's better than bringing a laptop. It's small, durable, lightweight, the battery lasts forever, and it has so many incredible travel apps it's ridiculous. While they are expensive, I can't think of a better travel companion for your RTW trip.
Point and shoot camera
Not every RTW traveler is a photographer-wanna-be, but I'm going to assume all RTW travelers like to have photographic memories of their adventures. If you're not big into photography, there's simply no reason to lug a big DSLR around with you. The advancement of point and shoots over the last half decade has been astounding. We have carried around a small Canon for years now, and we love it (though you can always find a good point and shoot of any brand/model).  The Canon PowerShot ELPH make for great little travel cameras. It is super small and lightweight, easily fitting into your pocket, and with 12.1 MP and video capabilities, you'll never miss a memorable moment.
e-Reader
Even if you're not typically an avid reader, there is a lot of down time when on a RTW trip. Sometimes it's nice to just sit in the hostel common room or in the middle of a park on a nice sunny day with a good book. But books get heavy, and since you can get an e-Reader like a Kindle for as low as $69US, it's almost a no-brainer to pick up the e-Reader of your choice before taking off. You can even buy your guide books, and even better yet, chapters of guide books, saving you tons of space and weight in your pack.
Portable external hard drive

You can never backup your computer too much, especially when you are traveling, so a portable external hard drive makes a great gift for the techie traveler. The Toshiba Canvio is just a little bigger than an iPod Touch and holds up to 1TB of your files, music, and photos. The pocket sized hard drive has a shock sensor to protect your contents on the road. Just make sure to store the external drive in a different location than your laptop so you don't get both of them ripped off in case your bag got stolen.
4-port USB charger
Outlets can sometimes be scarce on the road, and that is why a 4-port USB charger that charges up to four mobile devices at the same time is a godsend for world travelers. Charge your smart phone, iPod, and tablet all at the same time with just one charger. The Kensington 4-Port USB Charger eliminates the need to carry multiple wall chargers, plus it keeps all your devices in the same locale when charging.
Portable iPod speakers
If you're like me and can't go a day without listening to music, then you're going to need something other than your headphones to listen. I know that I love to have some music playing in my room while I'm showering, getting ready, or just chilling. There are all types of different speakers on the market, but travelers need something small and lightweight to justify bringing it. Enter the Sony Clock Radio for iPod and iPhone. Not only is it really small and lightweight, it also doubles as a clock and an alarm, both of which you're going to need on a RTW trip.
Travel movies and documentaries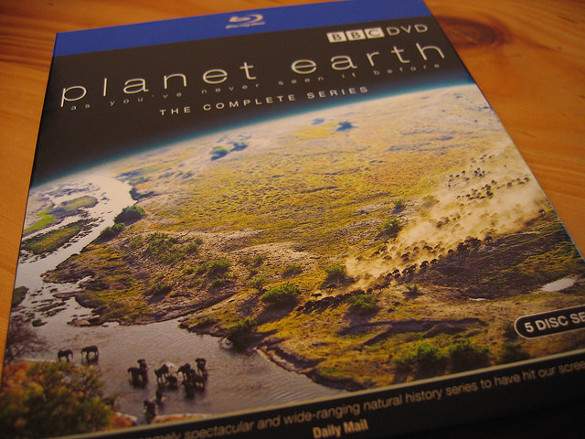 RTW travelers who are still in the dreaming or planning stage love to gobble up anything travel related, so consider putting the following movies, documentaries, and travel related DVD's on your gift wish list:
Travel books
RTW travelers love to read all they can about traveling, and there's all types of books out there geared towards those who love long-term travel.
Leatherman or Swiss Army Knife multitool
The RTW traveler has to be like a boyscout, prepared for any situation. The only problem is that it's impossible to carry all those pesky just-in-case items with you. One thing you should never leave at home is a multi-tool of some sorts. Whether it's a Swiss Army Knife or a Leatherman, don't leave home without your trusty tool. You never know when you're going to need one.
Pocket corkscrew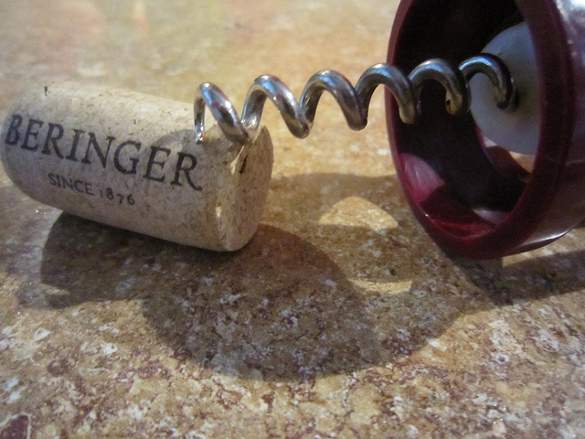 Even if you're a super light traveler, you have to have your priorities in line. Never in a million years would I have thought I needed a corkscrew, but that was before I got to Bolivia. After buying a bottle of wine to enjoy on our balcony overlooking Lake Titicaca, we thought it would be simple to get it opened in the restaurant of our hostel. Not so, so we spent the next half hour trying to open a bottle of wine with our leatherman, which eventually worked, but not well. We got a little cork with each sip of wine, and we would have been saved had we thought about bringing a pocket corkscrew. Never again will we forget this trusty little piece of necessary equipment. If you know a traveler who is also a drinker (and let's face it, most of us are), then this is great little stocking-stuffer.
Travel underwear and socks
I have never been particular about socks or underwear until I took a long trip and only had a few pairs of each for an entire year.  Everyone has a favorite brand when it comes to socks.  The most important thing you should be looking for is to get away from cotton.  Wool of some sort that is moisture wicking and absorbant is the way to go.  I am particular about Smartwool, but there are many brands out there to try.
When it comes to underwear, though, particularly for men, it really doesn't get any better than Exofficio underwear.  They wick moisture and dry quickly after sink laundering, and they do a great job of dealing with that oh-so-uncomfortable chaffing after traipsing around a city like Bangkok all day long.  Every traveler needs at least one pair of these, oh and they make great stocking stuffers for travelers too (editor's note: I brought 4 pairs of these bad boys on my RTW trip with me, and they were the only underwear I had.  Not only did they last the entire trip, but they lasted another 18 months after I returned.  Seriously bad ass underwear).
High-tech bandanas
When packing for a round-the-world trip, you're going to want to make sure that everything in your pack serves multiple purposes and Buffs do just that. Buff UV Bandanas act like a scarf, cap, headband, ski mask, neck gaiter, or dust screen. Printed in plenty of fun designs, the Buff bandanas are made from 100% polyester microfiber and protect you from the sun and the inevitable bad hair days caused by life on the road.
Get more tips on RTW travel gear: 


Adam Seper and his wife, Megan, decided that 50+ hour workweeks with 2 weeks of vacation a year simply wasn't going to cut it.  So they decided to take a leap of faith and put The American Dream on hold.  In October 2008, they took off on an epic, year-long adventure, traversing the globe and traveling to 89 cities and 11 countries across 4 continents, never to be the same again.
Now Adam is going to tell you how you can plan your own epic adventure. Every week, on "Round the World Wednesday" he'll share tips for planning, budgeting and selecting a route, plus advice on where to go and what to see and do all around the world.