Christmas Markets are maybe the most beautiful German tradition, dating from 1400, and spread all over the world. Little fairytale villages, traditional food, amazing Christmas decorations, merchandisers selling pieces of wonders in their stylish wood stalls –are all part of this European concept. Entire cities are dressed in lights, wearing a sweet cinnamon fragrance, designed to instill the Christmas spirit and to bring smiles and cheerfulness in our souls.
Europe, with its old fashioned spirit, is the land where everything began, where traditions are preserved and where time stops once in a while, reminding us who we are and where we came from. The best Christmas Markets are happening here, on the old continent but it would be a shame not to mention the way they have expanded how they have changed and covered the entire planet because this is part of our evolution. Here are some great Christmas markets to check out around the world.
Germany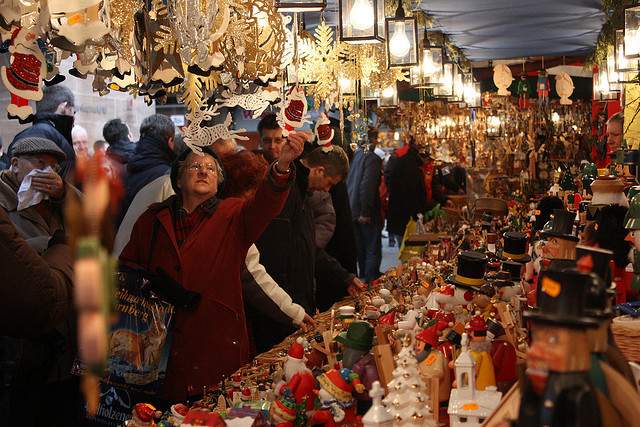 Traditional Christmas Markets are casting more and more visitors every year. People from all over the planet are finding them a great reason to travel during the months of November and December. This magical fairs are taking place all over the country-in the big cities, coquet towns and villages full of emotional charge.
Starting with the last week of November, the entire territory is adorned with beautiful and unique Christmas Markets, running until Christmas Eve. It's hard to make a selection with the best, especially when each of them is unique and has its own charm, borrowing traditions of the place where it belongs.
Berlin, the capital of German Christmas Markets is one of the best choices for this time of the year. Living the vibe and the history of a lost and reestablish city, poured over sixty different Christmas Markets, will be an unforgettable experience. Wood carvers, stonemasons, handicrafts, roasted almonds, mulled wine, traditional delicacies, amazing Christmas decorations, unique gifts, Advent landscapes and memorable fragments of Christmas scenes welcomes visitors this year like they always did, in Berlin.
From nostalgia to romance, from history to heaven, from traditions to contemporary, allow yourself a journey back in time, let the lights and the well-known flavor of cinnamon to bring at life the childhood's sweetest memory.
The gigantic Christmas tree in Dortmund, the magic land of Europa Park Christmas Market, the old Frankfurt Christmas Fair, Düsseldorf's ginger bread houses and the 7 themed Christmas Markets from this year, the unique "Nicholas Market" in Munich, the charm brought by the "Christmas Angel" in Nuremberg, the romantic Reiterlesmarkt in Rothemburg and the most beautiful Christmas celebration in Europe – Stuttgart Christmas Market, are just a few pieces that Germany has to offer in the honor of Christmas.
United Kingdom
The Germans have started it but British are maybe the greatest fans of this Christmas tradition.
25 years ago, Lincoln was the first city in UK hosting a traditional Christmas Market and the place from where the German tradition has spread itself throughout the kingdom.
With more than 5 different Christmas Markets, Manchester promises to be the highest this year and London's Regent Street dresses up the Christmas suit in November.
The UNESCO World Heritage city of Bath hosts one of the most beautiful Christmas Markets with more than 130 wooden chalets filled with unique handmade items, traditional goodies and Christmas decorations.
Edinburgh will welcome you with 3 different Christmas Markets: a German one with merchandisers from Frankfurt, The Ethical Christmas Fair where you can find the most elegant and original presents between 12 December and 22 December, the Traditional Highland Village Market featuring the best of Scotland, from whisky to cheese and the Dickens Christmas Market at Rochester Castle which will offer over 300 gift chalets between Scrooge, Pip, Oliver Twist and other Dickensian characters.
Winchester, Oxford and Leeds are as well great destinations for great Christmas shopping if you are in UK this year.
The Nordic Countries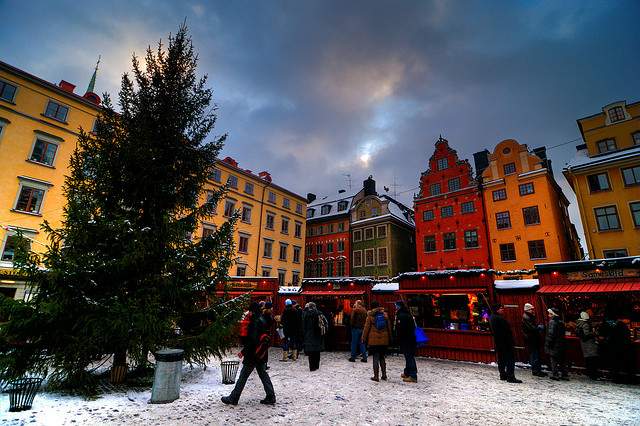 Scandinavia hosts an abundance of Christmas Markets from mid-November to Christmas which is exclusively celebrated here on 24thDecember.
The North is beautiful during the winter period, when everything is covered with snow, when husky dogs and reindeers are carrying their sleighs over the wild lands and the miracle called "Northern lights" is revealed.
The Tivoli Gardens in Copenhagen are sheltering every year a beautiful Christmas Market where everybody can taste the great Danish food, buy exceptional gifts and enjoy the amusement park in a spectacular yuletide atmosphere, until midnight.
Sweden boasts several Christmas Markets like Stockholm's Old Town Christmas Fair with its traditional Swedish Glogg and Lisenberg Christmas Market in Gothemburg -the biggest amusement park in Scandinavia and the most impressive decoration of lights.
Finland's best Christmas Markets are St. Thomas, Esplanade Park and The Old Student House-all situated in Helsinki, on a Finnish enchanted winter display.
Oslo is likewise a prestigious home of quite a few lovely Christmas Markets, while in Lapland is raising a dream at the Arctic Circle of Rovaniemi, under the most beautiful sky, called Santa Claus Village which looks exactly like a perfect Christmas card, but alive.
France
Christmas Markets, also called "Marche de Noel" are extremely beautiful in France and have so much to offer from sweet carols and delicate Nativity figurines to Teutonic traditions around Notre-Dame Cathedral, where lies the best and the oldest Christmas Market of France (441 years), from the dazzling range of Christmas Markets on Champs Elysees with a Santa's Village, traditional crafts and many surprises to the colorful and fairylike atmosphere of Lille and Bethune.
Switzerland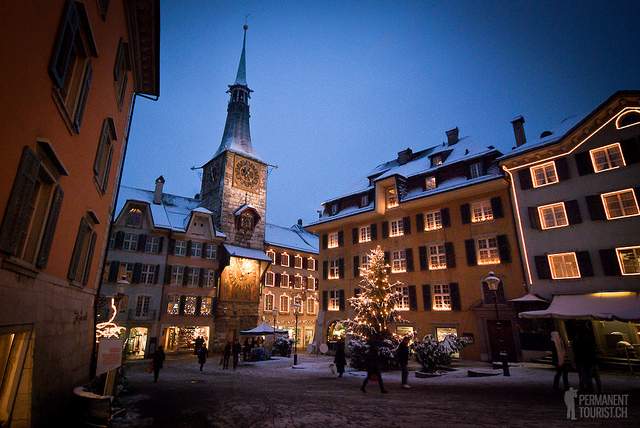 Swiss Christmas Markets are charismatics, full of stalls that sell quality merchandises.
From Basel, where lies the most famous Xmas Market of Switzerland, to the beautiful Advent concerts in Zurich Christmas Market, there is a great cheerful atmosphere with celebration lights all over.
Traditional stands bursting with toys, trendy accessories, classy Christmas decorations and culinary delights can be also found in Lucerne, Bern, Rapperswil and Montreux.
Belgium
"Winter Wonders"- the best Christmas Market in Belgium takes place in Brussels and it was chosen by British as "Europe's most original Christmas Market".
This tradition is very popular around Belgium which offers a great Christmas shopping in a fanciful atmosphere especially if you chose Liege, Bruges or Ypres as main destinations.
As you can imagine, all the Christmas Markets in Belgium are sweetened by the best chocolate.
Holland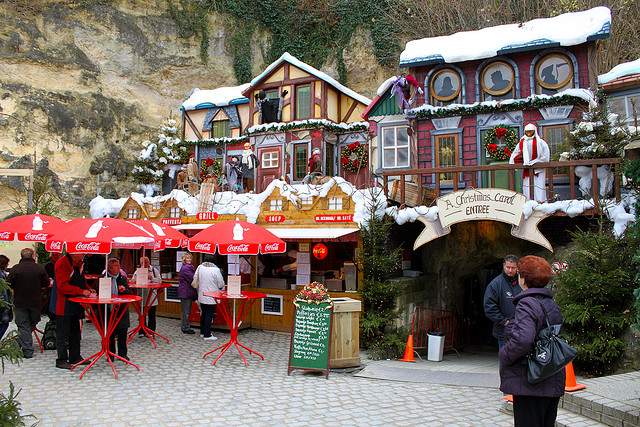 Christmas Market Valkenburg aan de Geul is the largest and the oldest underground Christmas Market of Europe.
Taking place in the Velvet Cave between 18 November and 23 December, this market will be an unforgettable experience for the entire family with beautiful Christmas gifts and ornaments, music and food in an exclusive décor, not to mention that this year the theme will be Santa Claus.
The best Christmas Markets destinations in Holland are: Deventer, Valkenburg and Winterland in Maastrich.
Italy
The Roman spirit and the Italian cakes are transforming Piazza Navona into a special Christmas fair.
"Mercatino di Natale" is definitely an unforgettable experience especially in the North (Trento and Bolzano) where the mountains are creating a beautiful background.
The romance of Verona is covering more than 300 stalls and Campo Santo Stefano develops a Christmas Village with excellent Venetian handicrafts and regional music food and drinks.
Others popular Christmas Markets are taking place in Trieste, Naples, Sorrento and in the beautiful Florence.
Austria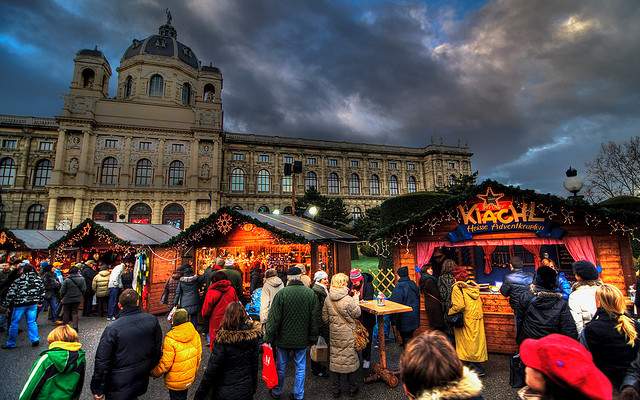 All over the beautiful country can be found many kinds of Christmas Markets, from coquet and traditional fairs in every town and village to the most famous fairgrounds in Vienna, Innsbruck, Salzburg and Graz.
"The December Market" is the oldest of Vienna, holding its existence from 1290 along with another 24 Christmas Markets where Austrian artifacts, roasted treats, fresh baked pastries original decorations and the magic of Advent are creating some of the most beautiful Christmas Markets in the world on a unique baroque background.
The Old Town of Innsbruck, the highlights of Graz and Salzburg-the city of Mozart are also picturesque backgrounds of charming Christmas Markets.
Eastern Europe
Maybe the Christmas Markets in Eastern Europe are not so popular like those in the center but they are as beautiful and distinct as are their host countries.
Prague ensures two of Europe's best Christmas Markets: The Old Town Square and Wenceslas Square which are always starting four Saturdays before Christmas Eve and end in the first days of January. Here, in the golden city, where the traditions are still alive, the Christmas Markets have something special besides hand-crafted gifts, bohemian crystals, classic Czech Marionettes, fresh food and warm drinks, they have a unique and real Christmas atmosphere with a medieval twist.
Sibiu – a little Romanian city, a Capital of Culture and a medieval poem surrounded by mountains, offers a stylish Christmas Market in the main square called "Piata mare", where merchandisers barter their goods in a dramatic scene of history.
Others delightful Christmas fairs take place in Budapest, Ljubljana, Tallinn, Bratislava and Riga-where the Christmas tree tradition has started long time ago, in the Middle Ages.
Spain
It might be hard to believe but Spain has an abundance of Christmas Markets. The best are: Plaza Mayor Market in Madrid, Santa Lucia in Barcelona, Granada's traditional Market and Seville Christmas market.
For almost 150 years, Plaza Mayor has been decorated with hundreds stalls full of Christmas items, statues, Christmas trees and "Belen" (the Spanish nativity scene) pieces, keeping alive the Latin spirit.
Santa Lucia Christmas Market is a beautiful event despite its unusual mild climate. The Catalan traditions are going hand in hand with the Christmas feeling, enchanting any visitor.
Outside Europe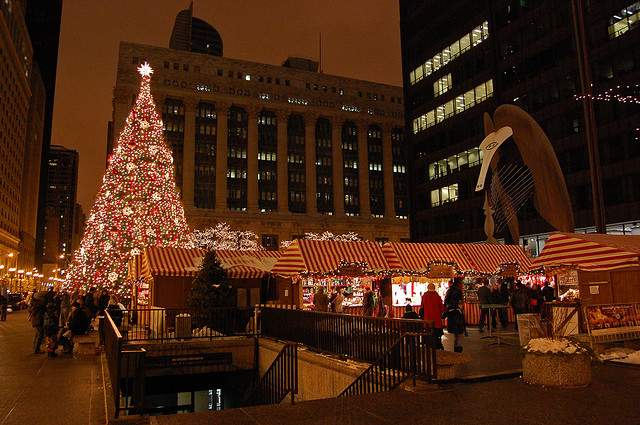 Vancouver, Toronto and Quebec are providing great traditional Christmas Markets mixed with a cosmopolitan flavor. Beneath explosive lights and soft snowflakes, Canada looks amazing and so its elegant Christmas Markets.
New York, one of the most beautiful cities in the world becomes a romance during this time of the year. The Holiday Market at Columbus Circle turns into a spectacle between 2nd and 24th December, smelling like Christmas cakes, sounding like a carol and offering special Christmas products from all over the world.
Chicago holds the largest German Christmas Market in United States – Christkindlmarket. And who said that a Christmas Market could not be exotic? Dee Why Christmas Market is more than unusual since is held on the beach in Sydney, Australia.
Mexico City hosts some interesting Christmas Markets like: Grand Bazaar Navideo and Lazaro Cardenas Market, where the paper marche and the colorful decorations are the major points of interest. Japan also boasts a superb German Christmas Market on the island of Sapporo. The mix between Munich traditional crafts and dishes and the elaborated scene of Sapporo White Illumination event are creating a one of a kind spectacle, symbolizing the affiliation of almost 40 years between the two cities.
South Africa's Christmas Markets are a strange combination between Christmas and the summer flavor but the city of Cape Town is filled with numerous fairs where merchants are selling original handmade objects, Christmas decorations, delicacies and where the carols are creating the most peaceful ambience. Christmas Markets in Cape Town are so diverse-some of them have a traditional German flavor, others are just for kids and others are organic. Surprisingly, Guatemala has to offer a unique array of Christmas Markets. Besides their impressive art of handmade which can be admired in its entire splendor, Guatemalan people know how to transform Christmas into a spectacle using natural products, colors, textures, aromas, Nativity scenes and a lot of imagination.
The most beautiful thing about Christmas Markets is that, no matter the place where they happen or the merchants' language, they will always bring back our best moments, too soon gone.
Photos by sciascia, -12C,  Mark Howells-Mead,  chris friese,  -12C,  Tom Gill