Four hours from Warsaw, six hours from Prague, and six hours from Berlin, the Lower Silesian region of Poland butts up against Germany and the Czech Republic and is literally at the center of Central Europe. Medieval market squares, Renaissance castles, and mountain spas dominate the region. While most visitors to Poland tend to gravitate toward its two major cities, Warsaw and Krakow, Lower Silesia is a great place to visit for history buffs and outdoor enthusiasts alike.
The history of Lower Silesia is marked with border changes and identity shifts. Subsumed first under the Austrian-Hungarian Empire and then the Prussian one, Lower Silesia was German in ethnicity and demographic until WWII. After the war, the German border was pushed further west and Lower Silesia became part of the Polish nation.
Lower Silesia today is undergoing rapid development, drawing on national momentum from Poland's recent stint as the EU Council President, as well as on regional momentum from foreign investment. In addition to hosting the 2012 EuroCup Football Tournament, the Lower Silesian capital city – Wroclaw – has also been chosen as the 2016 European Capital of Culture.
Lower Silesia is easily accessible by train from the major European capitals, and the cities and towns within the region are connected by bus. Biking and hiking trails link many of the smaller villages.
Though May to September are the best months to visit Lower Silesia if you want to avoid snow, there are festivals and events to draw interested visitors year-round. Wroclaw hosts the New Horizons Film Festival every July, one of Europe's largest independent film screenings. There's also the Buskerbus International Festival of Street Art which travels throughout the region in September, and a range of music festivals throughout the year. And if you happen to land in Lower Silesia during December, be sure to check out the Christmas Markets held in the centers of the towns.
Wroclaw
[indieometeroverimage location_id=1744559]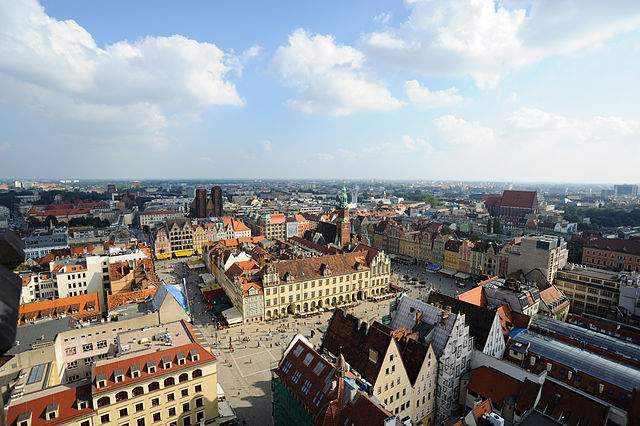 The best place to start a stay in Lower Silesia is Wroclaw, and the best time is now. City developers and visionaries are rounding the finish line in a sprint to modernize the city, a process that began in post-WWII rubble. It has unfolded slowly over the last decades of the 20th century toward the current goal: the EuroCup 2012. Thousands of visitors are expected in the city this summer to watch the European Football Championships.
Wroclaw was rebuilt with one eye on the city's past and one eye on the present. The Rynek, Wroclaw's medieval market square, has been restored to its colorful glory, with facades ranging in style from the Gothic and the Baroque to the Renaissance. Outdoor cafes, coffee shops, university bars, and clothing boutiques surround the square, creating a lively atmosphere.
Dissected by the schizophrenic branches of the Odra River and linked back together again by dozens of bridges, Wroclaw is known as the "Venice of the East". The oldest section of the city, just north of the Rynek, is an island. Heavy with gothic church foundations that speak to Wroclaw's roots as a medieval religious center, the pointed spires are some of the city's highest points. The best time to walk across the island is around noon on a Sunday, when the cathedral bells ring loudly enough to resonate in your chest.
If you go:
There are a range of accommodation options in Wroclaw. Hotels and boutique B&Bs range from $50 – $150USD/night. Hostels are also plentiful, and can be as low as $20USD/night. Stay close to the Rynek, which has the most concentrated choice of restaurants, cafes, and bars.
Check for budget accommodation in Wroclaw
Swidnica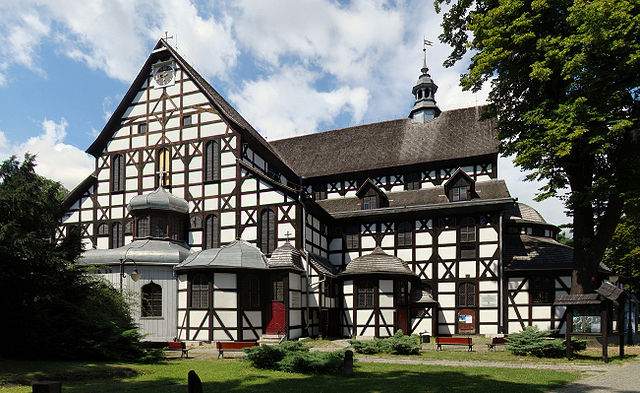 About an hour west of Wroclaw, near the point where the Polish, Czech, and German borders converge, is Swidnica. Unlike Wroclaw, the town was largely undestroyed during the war, and its side streets are lined with gently crumbling architecture. A walk through Swidnica's streets, which splay outwards in all four directions from the central square, provides an insightful glance into daily provincial life in Poland. Stop into a piekarnia, or bakery, for a fresh loaf of bread, or a cukarnia, or sweet shop, for a rich piece of cake.
Swidnica is a good town to get a sense of Lower Silesia's deep and complex past, which is more identity crisis than history. During the 16th century, Swidnica became the prize in a tug-of-war struggle between the Austrian Hapsburg (and Catholic) empire and the Prussian (and Protestant) one. Prussia eventually won and, like the rest of Lower Silesia, Swidnica was German for centuries.
The Church of Peace, a massively impressive 17th-century wooden church and UNESCO Heritage Site, is located in Swidnica's northern corner. Embodying the city's past better than a history book, the church was built during a few years of between-battle calm and was intended to symbolize Protestant and Catholic co-existence. Its seemingly neglected German cemetery distinctly marks the point when Swidnica shifted from Germany to Poland after the war.
If you go:
As Swidnica is only an hour away from Wroclaw, it makes for a nice day-trip. Buses run nearly every hour and cost around $5USD/one way. There are a few hotel options in Swidnica averaging around $50USD/night. Learn a bit of Polish before you check-in, as English is not as wide-spread or common as it will be in Wroclaw.
Check out our adventure trips in Poland
Boleslawiec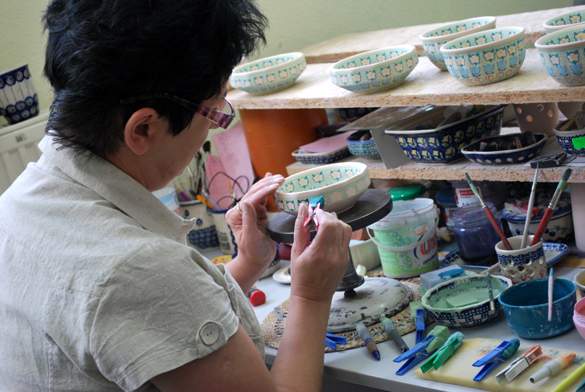 While Swidnica is significant to Lower Silesia's religious past, Boleslawiec is central to its artistic one. A pottery-making tradition extending back to the town's medieval times is still active today, with the distinct cobolt blue pottery sold on the international market.
Founded on a history of German pottery schools and later continued by professional Polish artisans, all of the pottery in Boleslawiec is made by hand in assembly-line fashion. The complex, painted patterns are meticulously crafted with foam stamps, and each of the town's pottery factories markets its own distinct patterns.
Don't forget to stop and have a photo taken in front of the life-sized pitcher and cup on the side of the road leading into town!
If you go:
Each pottery factory has its own associated outlet store, and pottery prices are 2-3 times less expensive than buying pieces that have been imported. Manufaktura is a good place to start, as they offer tours through the factory. Zaklady Ceramiczne is another option. If you go to Boleslawiec in August, be sure to time your trip with the annual Polish Pottery Festival.
Search for a hostel in Boleslawiec
Klodzko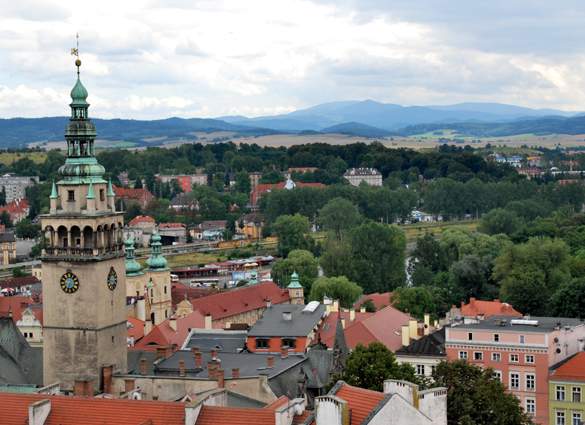 While Wroclaw is known as a second Venice, Klodzko has been dubbed as a second Prague. With Baroque-era churches rising above gothic, statue-lined bridges and plenty of uphill walking, it's easy to see the comparison. Klodzko's renovated market square is surrounded with outdoor cafes and ice cream bars.
A 17th-century fortress sits above the city. Initially built by the Prussian army and later utilized by the Nazis, the fortress is comprised of a labyrinth of mazes, both above ground and below. Views from the top overlook the Klodzko Valley and surrounding mountains.
If you go:
The fortress is open from 9am – 6pm during the summer and 9am – 3pm during the off-season. Tickets cost around $6USD. There are a few hotels in Klodzko that average $50 – $70USD/night, and buses make the 2-hour trip from Wroclaw consistently and frequently throughout the day.
Check out our Poland Travel Guide
Polanica Zdroj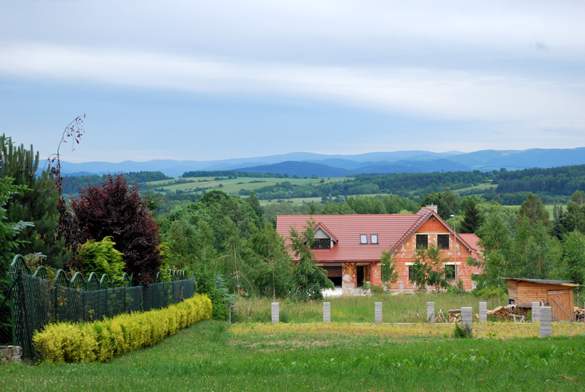 Surrounding Klodzko and scattered throughout the region's low-lying mountains are dozens of towns with the word "zdroj" in the name. Zdroj in Polish means health, and each town is designated as a health spa. Polish health spas; however, defy the image of cucumber masks and manicures. Built on the network of underground mountain rivers that bubble with mineral water springs, the goal of these health spas is to heal illness, promote health, and rejuvenate the body.
The centerpiece of Polanica Zdroj is its drinking room, where mountain mineral water is consumed straight from its source. Tinged with a sulfur-like smell that corroborates its authenticity, the water is said to treat conditions from high blood pressure to digestive problems.
While many visitors come to a health spa for an extended stay on doctor's orders, towns like Polanica Zdroj are also great weekend stays. Laced with hiking and biking trails that link small Polish and Czech towns and villages across the mountains, the region is best explored by foot or on bike.
If you go:
A comfortable and reasonably-priced accommodation option is a pensjonat, which is a small hotel with around a dozen rooms on offer. In Polanica Zdroj, many pensjonat are located in restored turn-of-the-century homes, and even offer their own range of spa services on site. Prices range from $40 – $80USD/night.
Kliczkow
A region with strong medieval roots, it would be expected that castles abound in Lower Silesia. And they do. Over a dozen medieval and Renaissance residencies, in varying states of decay and refurbishment, exist.
The castle in Kliczkow is one of the most elaborate and functional castles in Lower Silesia. The once-private noble residence has been renovated into a hotel and spa, its rooms creatively transformed to meld the 17th century with the modern day. The castle's dark, underground wine cellar, for example, has become a spa, with massage tables fitted into the stone-arched nooks and crannies. The old horse stable has been transformed into a swimming pool. And the interior, mahogany-walled chapel a bar.
The pleasantly walk-able castle grounds expand toward the Bory Dolnoslaskie forest, and it's possible to rent a bike and cycle to the surrounding villages.
If you go:
It's possible to walk around the grounds of Kliczkow Castle for free, but to enter you must take a tour (around $7USD), offered on weekends or by request. Booking a room starts at $100USD/night.
Photo credits:  Manuamador, Wisniowy, all other photos courtesy of the author and may not be used without permission.