After a harrowing week of pre-tournament voting, or what we like to call the conference tournaments, the final field of 64 is set.
Here are the breakdowns and voting pages for each region.
The Americas region is perhaps the second strongest overall region in the Indie Travel Takedown Tournament. Peru, the #1 seed in the Americas and #2 overall seed in the tournament, had a strong showing in its conference tournament, and it could be the one cutting down the nets on April 2nd. Be sure to vote using the indie travel rating boxes by clicking on "Rate It" to help your favorite country move on to the Final Four.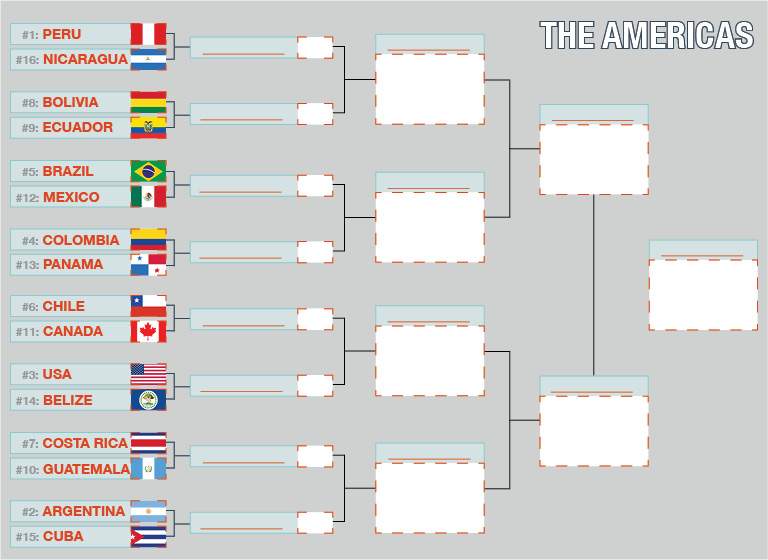 #1 Peru vs. #16 Nicaragua
| | | |
| --- | --- | --- |
| | vs | |
Peru is one of the best of the places in the world for indie travel, with all types of adventure and cultural activities available throughout the country. But Nicaragua is perhaps the strongest 16 seed we've seen in recent years. The Land of Lakes and Volcanoes could score a massive upset in this one.
#8 Bolivia vs. #9 Ecuador
| | | |
| --- | --- | --- |
| | vs | |
The #8 vs. #9 match-ups are always the most interesting of the first round, and this one will be no different. Bolivia is a haven for indie travelers and those with a sense of adventure – offering some of the most dramatic landscapes in the entire world. But Ecuador is no slouch either, with the world famous Galapagos Islands, snow-capped mountains, cloud forests, and jungles for the indie traveler to explore.
#5 Brazil vs. #12 Mexico
| | | |
| --- | --- | --- |
| | vs | |
The #5 vs. #12 match-up is always ripe for an upset, and while Brazil is a strong contender to go all the way to the Final Four, they'll have to get past a tough 1st round bout with Mexico. While Mexico is a polarizing country right now, it's still a fantastic place for indie travelers, and a major upset could happen here.
#4 Colombia vs. #13 Panama
| | | |
| --- | --- | --- |
| | vs | |
In the battle of up-and-coming mid-majors, this one could get interesting. The selection committee always likes to thrown these types of match-ups into the first round. Colombia and Panama are both countries that have overcome adversity over the past few decades to become hot travel spots. Which one will prevail here?
#6 Chile vs. #11 Canada
| | | |
| --- | --- | --- |
| | vs | |
Canada needed a push at the end to even make the tournament, but they're here now, and they could do some damage. Not exactly known as a hot-bed of indie travel, Canada could have its hands full with the diversity that a country like Chile offers. Mountains, glaciers, volcanoes, deserts, and over 2500 miles of coastline may be too much for Canada to handle.
#3 USA vs. #14 Belize
| | | |
| --- | --- | --- |
| | vs | |
The United States surprised fans with a #3 seed while there have been whispers of favoritism in regards to the selection committee. A country as large as the US with limited public transport options isn't usually known for its indie travel prowess, but the size and diversity it offers appealed to the selection committee, which didn't do America any favors by matching it up with small but strong Belize. Belize offers some great indie travel opportunities, and if you're a fan of the water and all the activities it offers, there aren't many better places than Belize.
#7 Costa Rica vs. #10 Guatemala
| | | |
| --- | --- | --- |
| | vs | |
In this battle of Central American powerhouses, it's tough to call who will come out on top. Costa Rica is one of the most popular destinations in the region, and with good reason as it is a lovely country with a wide range of activities on offer. That popularity could work against it when it comes to indie travel though, as with popularity comes large crowds and higher prices, something that many indie travelers shy away from. Guatemala has a great chance to move on with its combination of friendly people, smoldering volcanoes, and ancient Mayan ruins.
#2 Argentina vs. #15 Cuba
| | | |
| --- | --- | --- |
| | vs | |
Very few countries in the world offer the size, laid back nature of the locals, and diversity of landscape than Argentina, which is why it's quite deserving of the #2 seed in the region. But don't sleep on Cuba. This little Caribbean country is quickly moving up in the travel world, and don't be surprised to see it with a much higher seed in future tournaments. While Cuba is clearly overmatched here, they still have a chance to pull off a monumental upset.
The Schedule
Voting begins again today in the Americas Region and the Africa/Middle East region. Simply click on the "Rate It" button to give your Indie Travel Rating next to each country above to vote for the winner in each match-up. The country with the highest indie travel rating at the end of the round moves on. Voting for this round ends this Sunday, March 18 at 11:59pm PST. Come back tomorrow for the breakdown of the Europe and Asia/Oceania region.