After a harrowing week of pre-tournament voting, or what we like to call the conference tournaments, the final field of 64 is set.
Here are the breakdowns and voting pages for each region.
The Europe region should be an interesting one to follow during the Indie Travel Takedown tournament. It has the surprising #1 overall seed in the tournament, Italy, who blew away the competition in preliminary voting during last week's conference tournaments. I'm also curious to see the battle between Eastern and Western European countries play out. Which is better for independent travelers? We'll soon find out as voting is open and ends this Sunday, March 18 at 11:59pm PST. Be sure to click on "Rate It" to help your favorite country move on to the Final Four.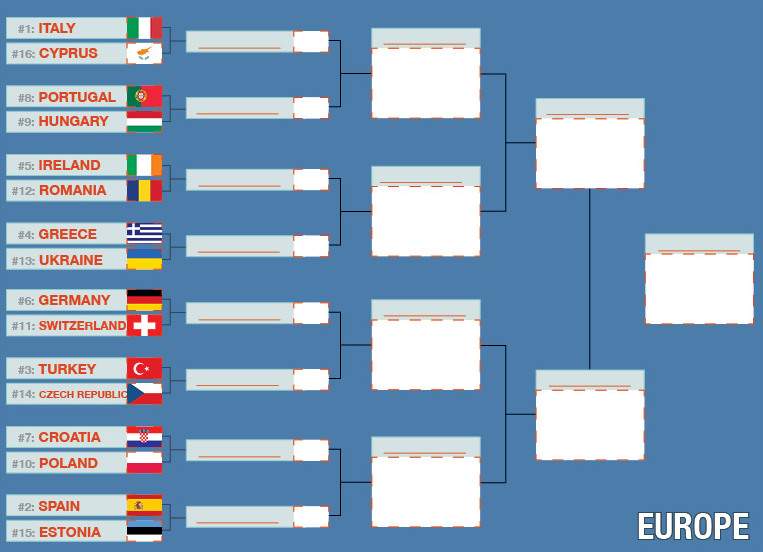 #1 Italy vs. #16 Cyprus
| | | |
| --- | --- | --- |
| | vs | |
Italy is a country chock full of indie travel possibilities. While there are always going to be plenty of tourists around, there's a reason for it. The #1 overall seed in the tournament has history, food, drink, culture, and plenty of sites to see. The #16 seed, the small island of Cyprus, could have its hands full in this match-up. This unique little country in the middle of the Mediterranean has plenty of culture with its proximity to Europe, Asia, and Africa. Cyprus has its work cut out for it if it's going to pull the upset in this one.
#8 Portugal vs. #9 Hungary
| | | |
| --- | --- | --- |
| | vs | |
Whichever country survives this match-up could give the #1 seed Italy some problems in the next round. In the first match-up of Eastern and Western European powers, this could set the table for the rest of the region. Arguments are sure to start in this battle of indie travel destinations. Will Portugal, once a well-kept secret that has become more and more popular, prevail? Or will Hungary get Eastern Europe's momentum rolling?
#5 Ireland vs. #12 Romania
| | | |
| --- | --- | --- |
| | vs | |
We all know that this has been the traditional spot for an upset in the first round, and Romania has plenty of ammunition to knock off popular Ireland. While Romania might not be the most popular destination in the region, it has tons to offer indie travelers and is a stunningly beautiful country. Ireland is no stranger to beauty itself, and though some independent travelers might turn their noses up at an English speaking country that is easy to get around (both traits don't always appeal to the indie traveler), Ireland is a great place to explore on your own. It has a mix of both indie and non-indie travel opportunities, and it will be interesting to see another East vs. West battle in the first round.
#4 Greece vs. #13 Ukraine
| | | |
| --- | --- | --- |
| | vs | |
The selection committee must want to see early who has the upper hand when it comes to Eastern vs. Western Europe. These two countries couldn't be more different, and this match-up should give us a glimpse into what it is that indie travelers like most. Is it beaches, nice weather, and beautiful scenery? Or is it this former part of the Soviet Union who will score the upset to move on?
#6 Germany vs. #11 Switzerland
| | | |
| --- | --- | --- |
| | vs | |
A battle of neighbors. A battle of Western Europe. A battle pitting the large powerhouse of Germany vs. the smaller, neutral country of Switzerland. They both have plenty of remarkable landscapes to take in, that's for sure. But will the high costs of traveling around Switzerland doom it in this battle of indie supremacy? Only you can decide.
#3 Turkey vs. #14 Czech Republic
| | | |
| --- | --- | --- |
| | vs | |
An interesting match-up here as many fans feel the Czech Republic deserved a much higher seeding than #14. Prague, while an amazing city, is one of the most touristy cities in all of Europe, which could have hurt its indie potential, though anyone with knowledge of the country knows there's much more to the Czech Republic than Prague. Turkey has the stuff to go all the way and possibly win the whole thing. With its unique mix of European and Asian cultures coupled with low prices and variety of travel possibilities, we may see Turkey still alive in the tournament come early April.
#7 Croatia vs. #10 Poland
| | | |
| --- | --- | --- |
| | vs | |
Croatia has been an up-and-coming travel destination for a while now. It has amazing beaches, over 1000 islands off the coast, and great architecture and culture. Popularity is starting to soar, which can be good or bad depending on how you look at it. Croatia draws a tough first-round match-up in Poland, an underrated, possible sleeper in the Europe region. It's a great mix of old and new, and the changes made over the last decade could catapult Poland deeper into the tournament than many think.
#2 Spain vs. #15 Estonia
| | | |
| --- | --- | --- |
| | vs | |
The #2 seed Spain is hoping for a deep tournament run this year. Super popular destinations like Barcelona and Madrid still offer plenty of indie travel opportunities, and if you add in all the beaches and mountain activities, plus the friendly, laid-back, party culture, and then the food, then it's no wonder Spain is a favorite to win the whole thing. But it first has to get by Estonia, which was once a well-kept secret in Europe. It has culture. It has history. It has castles. It has islands. And it has an amazing city in Tallinn. Could Estonia knock off a giant in Spain? We'll have to see.
The Schedule
Voting begins again today in the Europe region and the Asia/Oceania region. Voting began yesterday in the Americas Region and the Africa/Middle East region. Simply click on the "Rate It" button to give your Indie Travel Rating next to each country to vote for the winner in each match-up. The country with the highest indie travel rating at the end of the round moves on. Voting for this round ends this Sunday, March 18 at 11:59pm PST.