I'm honored and humbled to have an opportunity to write the RTW Wednesday article this week. This series has connected me and BootsnAll with even more folks who are thinking and doing this sort of travel. When I went to study in Australia in 1996, my idea of travel was limited to a vacation and one week. Anything close to taking a year to go around the world before I was 65 was not in my paradigm.

The travelers I met at a Brisbane hostel before I found a place to live exposed me to a way of learning and seeing the world that still drives me today. Long-term Indie Travel, RTW Travel, Vagabonding, Career Breaks, whatever you call it, is perhaps the best way to give yourself an education. Mark Twain said something like…don't let school get in the way of a good education. I couldn't agree more.
So what is the Around the World Airfare Report?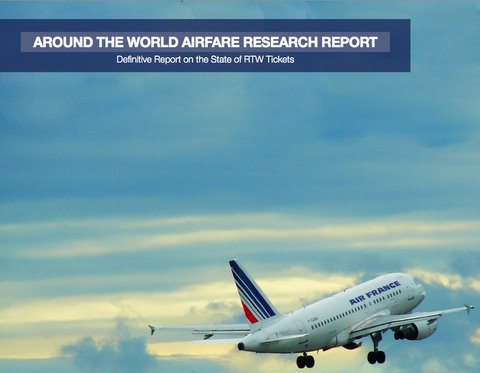 What is it:  It is the result of months of research to evaluate all the different options for Around the World Tickets (Multi-Stop International Airfare as well if your trip doesn't take you exactly RTW)
We researched 3 types of RTW trips:
Basic Itinerary
Moderate Itinerary
Complex Itinerary
And we researched each of the above 3 starting from 5 different cities:
New York
London
Sydney
LA
Chicago
We then ran these trips through 8 of the top RTW companies in the world as well as checking prices for the Do It Yourself (DIY) method to find out who is the best at what and for what. (Price, search options, customer service, date flexibility, and route flexibility)
Confused yet?
We were, too.  The world has around 200+ international airlines that are members of IATA.  Stringing together an itinerary, via a company that specializes in it, or figuring it out on your own can be a mind bending experience.  If you have done any research into it already, you'll know what we mean.  We spent months digging into the small print and talking to these companies (we talked to them as customers – not reporters – so they did not know we were doing this research or that we were from BootsnAll) to figure out what they are good at and and what they are not as good at.
Even though we have been building and updating our Around the World Travel Guide since 1998, we learned a ton from this research.  If you are planning or dreaming of a RTW trip, this report will save you DAYS of time and research.    The end result is that each company has its specialty and reason for being.  There is not a one-size fits all flight option for RTW travelers.  I've read hundreds of blog posts and articles about why this company is the best or this alliance is the way to go.  The facts show that depending on what your style is, what you are looking for, and where you are going, each company can be a good fit for you.
By the way, we are giving this report away for free.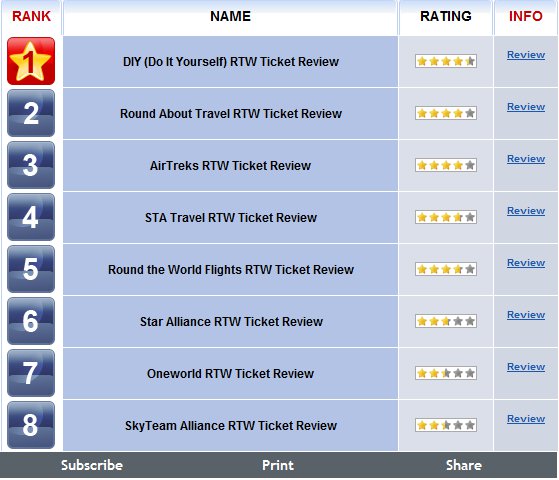 All of the companies we reviewed are now listed on our site RoundtheWorldTicket.com (publishing since 2001 on this site!).  If you have taken or used one of these companies, we'd love to see you submit your review as well.
In the next few months, we will be updating this research.  Our goal is to update it three or four times per year.  Prices and policies do change.  Companies go out of business.  New services, routes, and products start.
That's the what.
Now what's the why?
To start, RTW Travel is my favorite type of travel.  It's often the most epic Indie Travel trip a traveler can do.  I've heard a RTW is to what Indie Travel is in the same way that going to Mecca is for our Muslim brothers/sisters.  You don't have to go to Mecca to be a Muslim – but it's strongly encouraged.  I'd agree with that for Indie Traveler wannabes.  Taking at least three months, preferably a year, or more to do a RTW is the most life altering thing you can do in your life.
The RTW Air Ticket is one of the biggest barriers for folks going on this trip.  This research report breaks down which companies are good at what, and our goal was to make it easy vs. the mind bending experience I mentioned above.
We launched the Indie Travel Manifesto in February as you may or may not know.  An Around the World trip is a way to connect to the values inside the Manifesto.  We are so busy running around, checking our digital devices and keeping up in the rat race, that it often takes something like a RTW trip to open our eyes to what the world is really like.  It's another chance, if you never loved school, to love learning.  You can explore whatever it is that you love in this world, but you can do it in an intensive way among people that you did not grow up with or work with.
In the spirit of Round the World Wednesday, we did the research and created this report as another way to help get you on the road. That's the purpose and idea behind this column. We want to not only show that you can do it, but we also want to help you do it and give you all the tools necessary that will make this experience easier and more fun.
So download the report, read through it, check out the reviews over on Round the World Ticket, contribute your own reviews if you've used one of these companies, and start planning an epic adventure of your own.
As stated, we plan on updating this report three to four times a year, so we'd love to hear your feedback.  Comment below to share what you thought about this report (both good and bad) and what you'd like to see included on the next report.

Every week, on "Round the World Wednesday" we share tips for planning, budgeting and selecting a route, plus advice on where to go and what to see and do all around the world.