There's nothing for a moment of clarity like standing over a casket. My grandmother's in this case. For one eternal moment there was no one in the universe but her and me, and in that moment everything became crystal clear: "The old woman is not in the box. Her stuff is not in the box. Her names, her accolades, her accomplishments, her houses, cars, and businesses: not in the box.  No one knows for sure what, if anything, we take out of this world, but at best, it's our relationships and our memories. Nothing more."
A year into planning our major life change, if I needed a shot in the arm, that was it. I kissed her wrinkled hands, closed the lid, and walked away.Once upon a time, not so very long ago, my husband had a six figure job with a company you've heard of. We lived in a four story castle of a house tucked into a mountain forest, drove two cars, had four kids in 6 years and a quiet little existence. We loved every minute of it because we knew it was just one chapter of an epic life. Brewing beneath the surface of cookie baking and sand piles, fort building and remodeling projects was our big dream: Open-ended world travel with our kids.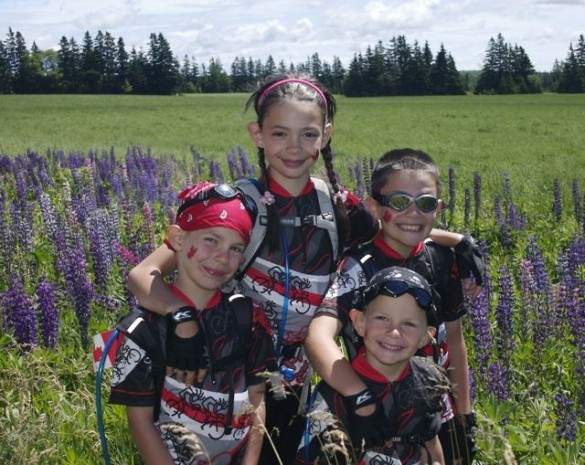 There's something you should know about me. I'm second generation crazy. My parents were backpacking all over multiple continents in their twenties. My mom's OB for me was in Guatemala City. I didn't attend third grade, or eighth, because my parents threw my brother and I into the back of a 1964 Ford Econoline van and we spent winters exploring Central America. The idea of selling a perfectly good house, quitting a better than average job, and trading mini-vans for bicycles and the open road made perfect sense to my side of the family. Why wouldn't we walk our kids through the great big world for a while?
It started with the dream to take a year off and ride our bicycles from London, England, to Tunisia, and back. For my husband, who'd traveled very little outside the corporate world, it was a leap of faith. He knew he wanted to do something extraordinary, to travel in a big way, but he didn't know how. He'd long had a dream of riding his bicycle across the USA, and that was the seed of the dream for our trip around Europe and N. Africa. The children, ever ready adventurers, were instantly on board. Their biggest concern was whether or not they could box and save their favorite toys for some future date. Of course they could. The more we thought about it, planned for it, and took test rides for weekends around New England, the more excited we got. One year before our projected launch we took a 500 mile "sanity check" ride through the Maritime Provinces of Canada to test our gear and our mettle. We were solidly out of the closet with our plan by this point. We were gearing up for the launch of our lives.
Our friends humored us. My in-laws were worried. The great grandmothers thought we were downright crazy. The kids were wildly excited. There are no words for the euphoria of pushing off on that first day's ride, of the prescience in one of hundreds of moments that first year when we realized that our dream was now our life. Logging 80 km our best day with the wind at our back on the North Sea route from the Netherlands into Belgium. Camped in "himbeer valley" in nowhere Germany. Standing with one foot on either side of the iron curtain between Austria and the Czech. Staring at the shadow my body cast on the floor of the original Roman Senate. Hearing my children hoot and holler atop camels on Christmas day on the Sahara. It truly is the stuff dreams are made of.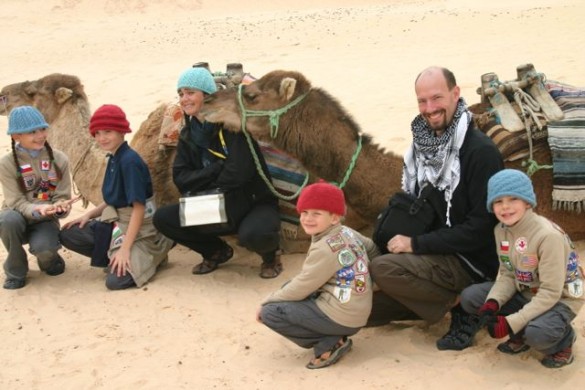 And then, there are the nightmares. We planned for two years, saved for two years, worked for two years, to make our one year trip a reality. Then, one night, camped quietly on the top of the highest sea cliff on the Adriatic coast of Italy, among fig and olive trees, with the sound of waves crashing hundreds of feet below: the stock market crashed. Overnight our money was gone. All of it. And we faced some very tough choices.
At the time, it was terrifying. We felt adrift in the world with no anchor and four kids with trusting eyes waiting to be fed, clothed, and housed with no respect to continent or economic crisis. In retrospect, it was probably the best thing that could have happened to us. It forced us to really evaluate our dream, ourselves, our life, and our potential. Would we keep traveling, or pack it in and go "home" and get jobs and a "real life?" Would we trade our dream for "reality?" Or would we push hard against the odds one more time and create another new path for ourselves and our dream?
We took a deep breath and peddled forward, bending our plans for Greece and Turkey toward Tunisia instead. It was a cheap, warm place to winter, and in addition to giving our children a few months to become comfortable in a Muslim culture, it provided a place to hunker down and work hard toward creating new income streams over the winter. I worked hard at developing online writing contacts. Tony taught himself iOS programming and put out his first few Apps. We started a company and began trolling for clients. It was from the fine sand of the Sahara that we sifted the grit to create location independent careers and support ourselves as we traveled. Of course at the time, nothing was clear. Everything was scary. We did the best with what we had. We put one foot in front of the other. We kept pedaling.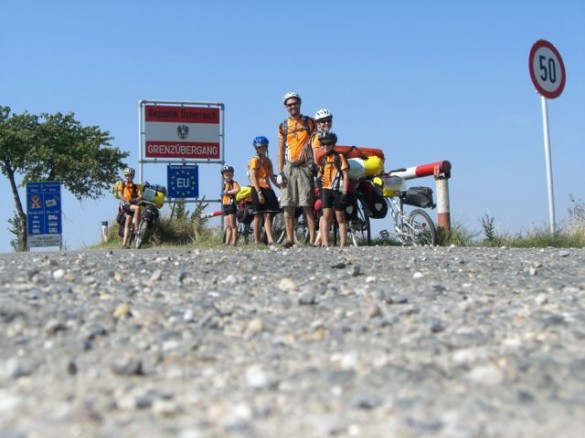 It was in the spring of that year, walking along the rive gauche of the Seine, hand in hand, on a day that the cherry blossoms were just beginning to test the spring air with swelling buds that our lives changed forever. That was the moment when my non-traveling husband, who'd taken a frightening leap outside of his gene pool and experience to travel for a year, looked at me, with plane tickets in his pocket, and said, "I don't' want to go home." Neither did I. Neither did the kids. So we didn't.
We returned to the States for the summer, but immediately planned for the next adventure. The thing we'd learned on that high sea cliff in Italy and in the months that followed was that security isn't found in the number of zeros behind a particular number in your bank account, and quality of life isn't dependent upon whether or not you have a "home" to call home. For us, home became synonymous with relationships and people. We've found we have several "homes" around the world. And after the economic crash when so many of our friends lost much more than we did and were caught in upside down mortgages, jobless, we realized that our lack of security, and our freedom was, in the end, our salvation.
We can live and work anywhere. Making first world money while living and spending in second or third world places affords us a lifestyle we'd be hard pressed to maintain had we kept our house and real jobs. In the end, what we discovered was that living our dream was really the only way to live; not just for a year, but for as long as it remains our dream. There were some in our circles who didn't understand that, who wanted us to "settle down" and "get back to normal." But the people who know us best saw it coming and weren't suprised when we took off a few months later for a long road trip through Central America.
Somewhere in the highlands of Guatemala a certain lago stole our hearts. That fall, we returned with boots and backpacks and settled into a lemon yellow house in a garden dripping with orchids to spend six months learning Spanish and going deep instead of wide for a while. Then, there was the cross country road trip with our kids' best friends: two mamas, eleven kids, and eight weeks of adventures from sea to shining sea.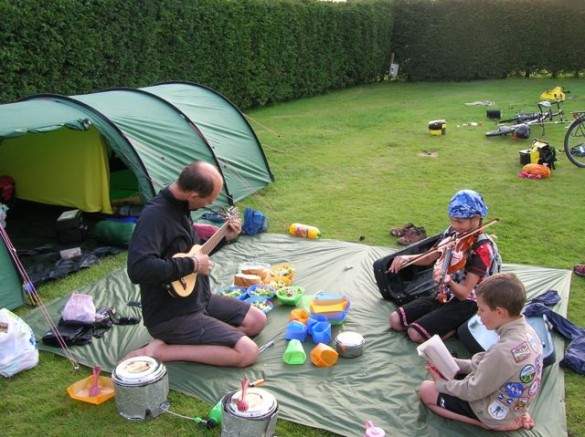 In just a few weeks we're leaving for Thailand, planning a year or two in South East Asia. The kids are dreaming of elephants and SCUBA certification in the crystal blue waters of the Andaman Sea. The past four years have evaporated before our very eyes. Our family has traded toddlers for teenagers and bike trailers for guitar cases. There was a time when the thought of raising my kids to be members of the "Wal-mart generation" made me break out in a cold sweat. I needn't have worried. My nine year old has tried to negotiate the price in a Wal-mart with consternation, not understanding why his mercado tactics don't work in the first world. What they have learned in hostel common rooms, playing soccer in Amsterdam, around drum circles in Central America, from our Muslim neighbours in Hammam-Sousse and from the endless parade of dinner guests who keep me cooking for a crowd, is priceless.
We're well into our goal of touching their feet to each continent before we release them to their own paths, but we're no where near the end of the journey. As long as there are dreams to chase, we'll be chasing them. That is, perhaps, the greatest lesson of all for the children: that a life of dreams is not only possible, it's the expected norm. They know how to dream, but more importantly, they know how to work hard to manifest those dreams. They know how to do hard things. They aren't afraid of themselves, or the world.
I stood on the balcony of our second story apartment over looking the Mediterranean Sea and watched the sun dissolve into a fiery soup one evening. The muezzin was calling evening prayers, and the kids were playing in the street below with an Arab boy they'd befriended across the language gap. It was one of those perfect moments where time slows, and for just a second you're really you and really in a moment. When I dropped my eyes I gasped and then smiled. There was my grandmother, perfectly embodied in my hands, folded just like hers had been a million times before, over my balcony railing. Genetically, I'm just like her. I remembered our good-bye and the last lesson she taught me as I folded our hands and thanked her again for the gift of life and the confidence to go against the flow, do hard things and dream big dreams, all of which are part of her legacy.

To read more about family travel, check out the following articles:
All photos belong to the author and may not be used without permission.