When traveling the world on a budget, the most common accommodation option is a hostel.  They are like your home away from home.
There are so many hostels out there these days, and it's not always easy to find one that you feel comfortable at and where you get your money's worth. Bad hostels can ruin your time in a place, and good hostels can make everything perfect, even if you don't enjoy much outside the hostel walls.
I would guess that I have stayed in about 100 different hostels around the world, especially in Southeast Asia, Central America, and Europe. There weren't many that really did it for me. I'd say I remember 5 of the best and 5 of the worst. The ones in between? Lost and gone.
When I think of the five good ones stuck in my memory, I think of a few things they did right that really made a difference to my experience.
In essence, the following should tell you what to look out for when choosing and booking hostels around the world. The more of the following points apply the better.
At the end, you never know what you get until you find out, but experience does help. And online booking and review sites simplify your decision making process and at least put you on the right track. If you're traveling long-term, you can always wait until you arrive in a new place to find somewhere to stay, then see these places in person. But you have to know what to look for. Here is some help.
1. Comfortable and inviting common areas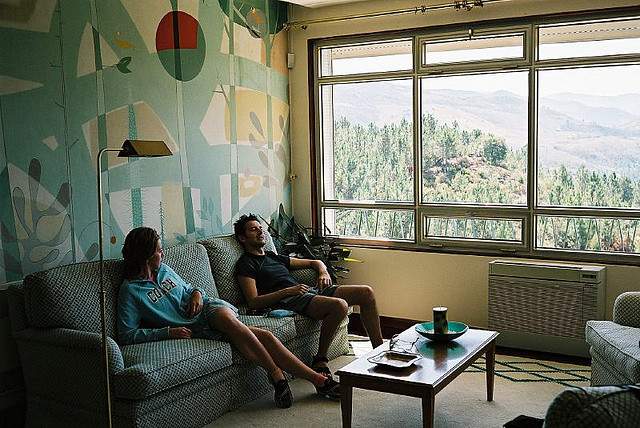 Most of us stay at hostels because they are cheap, but also because we want to meet other travelers, hang out, have a good time, and exchange travel stories and tips. This is done best in a comfy and cozy environment that invites travelers to hang out and mingle. If a hostel doesn't have a common room, I doubt it actually wants to be a hostel. They facilitate interaction and also makes it easier for solo travelers to meet other people. Some of the best hostels I've ever stayed at always had at least one really cool common area.
2. Plenty of clean, functional bathrooms
Sharing bathroom facilities is never anyone's ultimate dream, but when they are clean and nice, we don't necessarily mind. Having to wait in line in the mornings however is a big turn-off, and so are mixed facilities for boys and girls.
3. Fun staff that gets involved with the guests.
Staff makes or breaks a hostel in some hostels. Some of the best hostels I have stayed at had amazing and fun people working there. They mingled with the travelers, were friendly, helpful, and up for jokes. They were knowledgable about the area, didn't get annoyed with annoying travelers, and were often times travelers themselves. In some cases, when the staff is super cool, they can make up for other grave shortcomings.
4. Good location or well connected to public transport
You don't want to be at the other end of where you want to be. And you shouldn't have to take three buses to get there either. Usually, the cheaper, the further away from the center of action. Ideally, you have some affordable restaurants and bars nearby, public transport not more than a five to ten minute walk away.
5. Not too many rules and notes about them everywhere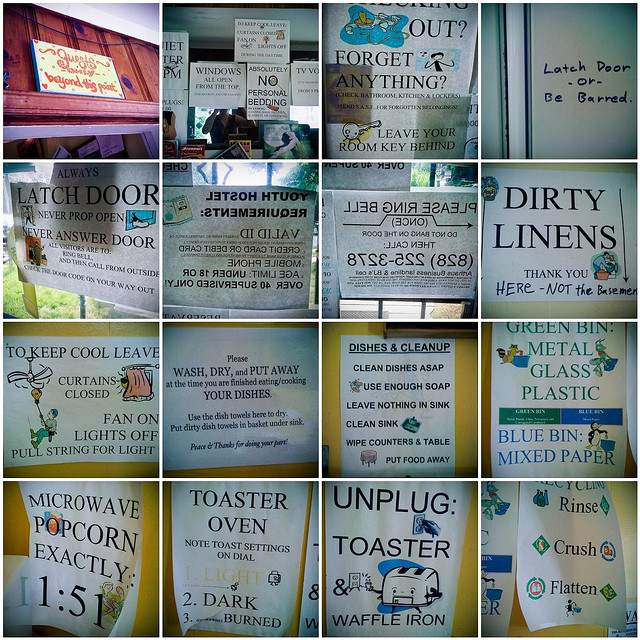 I stayed in a hostel once where the walls and doors were wallpapered with notes about hostel rules. Not very fun. Obviously, there are certain rules that need to be posted, but the hostels that assumed that their guests used their common sense and just accepted that some don't are by far the best. No one wants to feel like they are back in summer camp, right?
6. Free breakfast
Fact: Budget travelers love free stuff. For breakfast this goes beyond just toast and coffee. A bit of effort surely can't hurt. Backpacker friendly breakfast times are also a plus, so any "free" breakfast that is off the table at 10 am feels like taking the piss, as if they don't really want people to have breakfast anyway. An alternative to providing a "made" breakfast is supplying pancake mix and bananas for people to make themselves.
7. Free Wi-Fi
We're in 2013, right? Any real hostel without Internet really shouldn't exist. And one that charges for Wi-Fi is just not being nice. Good hostels have plenty of Internet terminals that are actually usable and include their expenses for Wi-Fi in the prices you pay for your bed (if they have to).
8. Book exchanges
Good books can be a very valuable commodity among travelers, especially in places where they are hard to get or cost more than three days of food. The best book exchanges are somewhat under the hostels control to maintain a decent level of quality.
10. Not too big
Smaller hostels usually have a more familiar atmosphere and make it easier to meet other travelers and make friends. Big hostels can feel very impersonal and often times have zero vibe. So chose wisely.
11. Lockers
We're all a bit worried about our valuables on the road. Hostels can  also be breeding grounds for theft as some of us think that their budget is even tighter than everyone else's. Not providing personal lockers for you to leave your stuff in is like sort of like a dorm room with no beds, a bit useless. At best, the lockers can fit your entire backpack.
12. Well-stocked kitchen facilities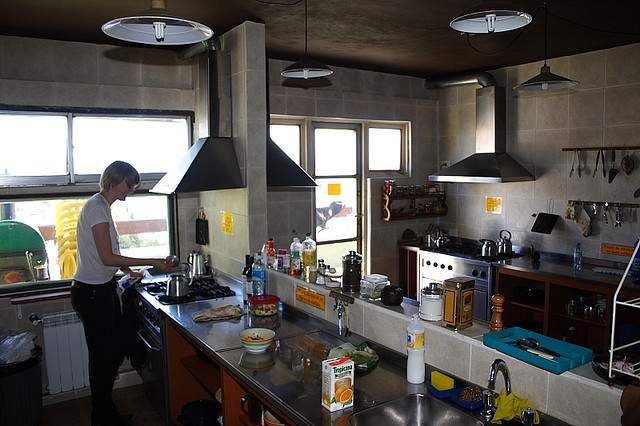 The necessity for kitchens depends on the world region you find yourself in. The wealthier and more expensive the country, the more you're going to try to save money and the more you will use a kitchen. In places like India or Cambodia, you probably wouldn't even think of cooking yourself. But countries like Australia or France will make you poor very quickly if you eat out every meal. Hostels in affluent Western countries without kitchens should be a no-go.
13. Hostel events and activities
Organized activities and events are great fun and perfect to connect with other travelers and hostel staff. Community dinners, city walks, and organised tours  with cool people can be memorable and super awesome. I'd stay away from massive pub crawls in big groups, but don't say no to a fun night out with some lovely people.
14. Bar & cafe with cheap drinks and some snacks
Really good full-service hostels sell food and drinks. Really fun hostels have bars with good music (or at least sell cheap alcoholic beverages). The latter might not be for everyone, especially those looking for a more quiet place to stay. But party hostels are definitely worth the experience once and can end up in once-in-a-lifetime nights.
15. Laundry facilities or service
The more services a hostel offers, the more convenient your travel life can be. It's nice to just drop of your laundry bag at the reception instead of having to search for a laundry place. In more expensive countries, good hostels have laundry facilities where you can take care of your own washing.
Bonus: 16. Pool
Obviously, this one doesn't come with many hostel, but in tropical places like Bangkok, Bali, or San Jose (Costa Rica) it's definitely a nice perk. Community pools make for a good vibe and a lovely way to chill out.
Conni is a minimalist world & life adventurer, traveling scuba dive instructor, and online writer. She started her nomadic lifestyle at the age of 15, and has since been living, working and traveling around the world. Check out her blog A Life of Blue, where she writes about strategies for unconventional, simplistic and nomadic lifestyle designs to help you break free and live anywhere.
Photos by: Kat…B, filipeb, abbyladybug, aokettun, .::danka::.