BootsnAll, in association with Global Basecamps is proud to present Green Week. A week long tribute to sustainable travel, social responsibility and ecotourism. Global Basecamps is a specialty travel company that helps independent travelers research and book locally owned boutique hotels, off-the-beaten path lodges and multi-day excursions all over the world. Whether hiking the Inca Trail, experiencing a traditional Japanese Ryokan, or relaxing on the beaches of Thailand, Global Basecamps specializes in designing completely customized itineraries to meet each travelers specific priorities and match their travel style.
---
So, you've cycled the ambled hills of Southern France and pedaled your way along the American coastline and are looking for something a bit more challenging? These 6 cycling trails will have you plummeting down cliff edges, flying over potholes, and skidding around hairpin bends, all in the name of an adrenaline kick.
1. "The Road of Death," Bolivia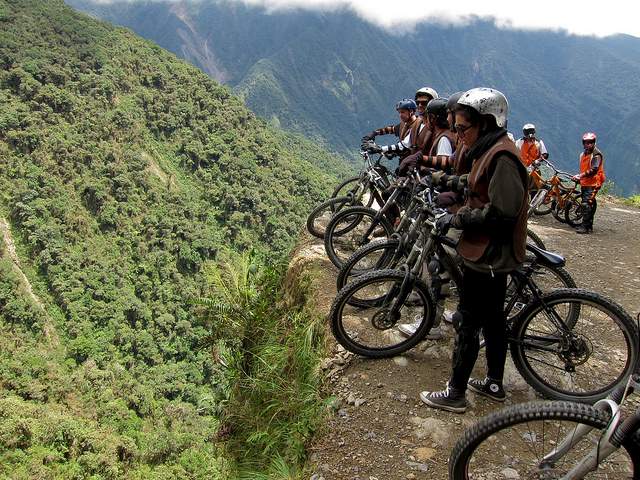 With a nickname like "El Camino de la Muerte" or "The Road of Death," it's not hard to understand why Bolivia's North Yungas Road is commonly believed to be the most dangerous road in the world.  With an estimated 200-300 unfortunate travelers falling victim to road accidents each year, it's a plausible claim. The 22 mile (35km) highway runs between La Paz and Coroico, winding through the Andes Mountains and featuring hairpin bends, 3000 feet (900m) sheer drops and narrow cliff-hugging sections, all completely absent of guardrails. What better place to take part in some gravity-assisted mountain biking? Yes, the debris-littered, badly paved roads have become a huge attraction for thrill-seekers, with numerous companies offering the chance to brave the descent from La Cumbre Pass at 15,400 feet (4,700m). Just make sure you go with a reputable company and get a sturdy, well-serviced bike – 18 cyclist deaths have already been recorded this year.
Browse our Bolivia Adventure Trips and read The Most Dangerous Road in the World
2. Cancha Carrera, Chile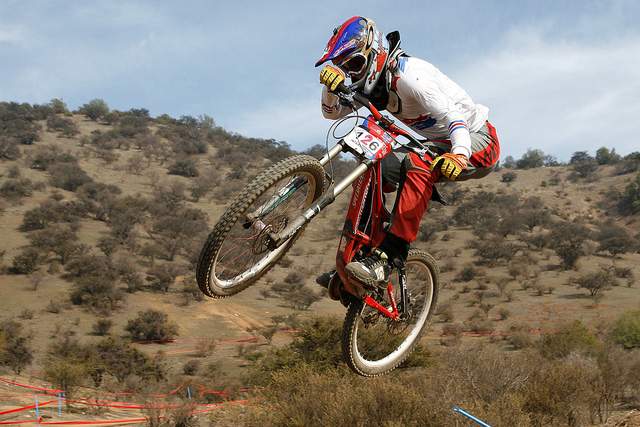 Advanced cyclists only should attempt Chile's most challenging downhill trail, running down through the Andes over a tough mix of terrains. Loose rocks, zigzagging pathways, gaps to jump, and sharp turns – this trail circuit has all the necessary assets to challenge the ability and perseverance of the most experienced mountain bikers. If you can manage to take your eyes off the ground ahead, you'll be rewarded with some incredible views unfolding over the vast Chilean mountain ranges. Take care to stay on track, though– the road is notoriously laced with tricky turn-offs, dead end streets, and blink-and-you'll-miss-it signposts. Well, they aren't going to make it easy for you, are they?
Catch a flight to Chile and check out our Chile Indie Travel Guide
3. La Farola, Cuba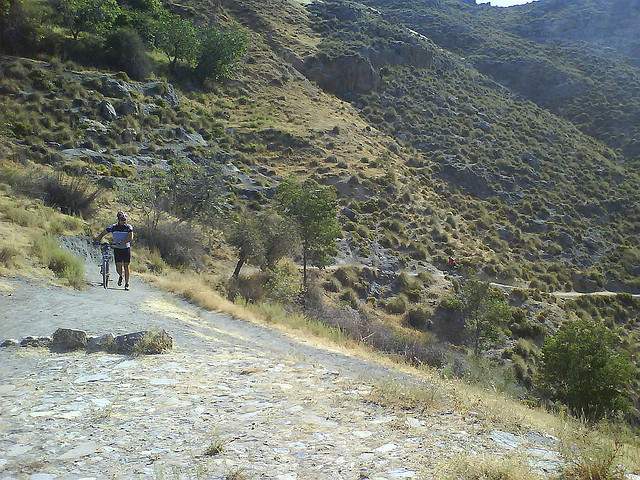 Once referred to as "landscape on steroids," the La Farola Highway covers an incredible stretch of topography, with rolling beaches, mountain landscapes, and cathedral spires marking out the distant city skylines. The cycle route runs for 5.5 miles (9km) from the tip of the Baracoa Mountains, spinning down limestone ledges, and skimming dead-end drops with the expanse of the ocean hitting you at every turn. The route is the first stage of the Vuelta Ciclista Cuba (a Cuban version of the Tour de France), and though the edges are lined with guardrails, the metal fencing does little to stop you from feeling like you're flying off the edge of the world as the descent speeds up.
Read The Top 10 Destinations for Indie Travelers in 2012 and 10 Difficult-to-Visit-Places and How to Get There
4. Cliffs of Moher, Ireland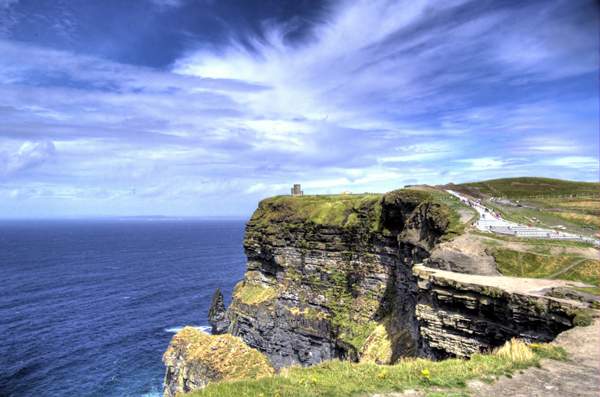 There's little margin for error on these gravity-defying coastal roads, with the narrow pathways hugging the cliff edges so closely it feels like you might be swept over the edge with one wobble of a tire.
Soaring up to 700 feet (214m) above the Atlantic ocean in County Clare, Ireland, the majestic Cliffs of Moher are an impressive fete of nature, made all the more menacing by Ireland's typically inclement weather. High winds, thick mist, and slippery surfaces are common occurrences in these parts, but it's the rush of coastal winds and the breathtaking vistas that entice thousands of cyclists to attempt the route each year.
Check out flight prices to Ireland and read 10 Experiences All Travelers Should Have in Ireland
5. Karakoram Highway, China-Pakistan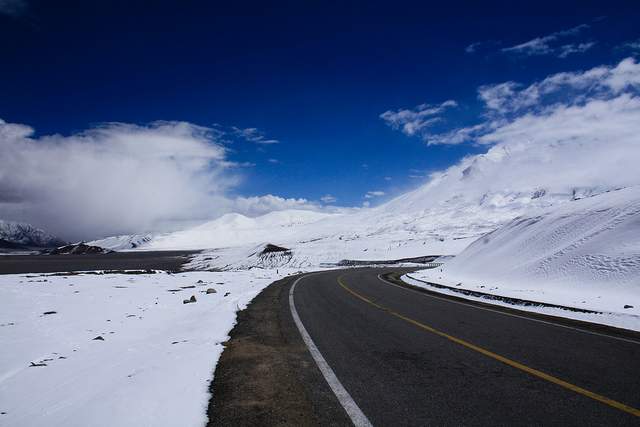 While it's hardly a traditional cycle route, those with a taste for adventure will be challenged by the 800-mile (1290 km) Karakoram Highway, running from Pakistan to China along the remains of the old Silk Road. Not only is it the world's highest international road, gaining some 15, 400 feet (4,700m), but its vast stretches of unpaved roads, uneven gravel tracks, and gaping potholes make it treacherous territory for cars, let alone bicycles.  However, the route has been achieved on a humble bicycle, and you'll be hard pressed to find a more interesting route, with the highway passing lively villages, glacial passes, vast mountainous scenery, and beautiful lakes. The final 9 miles (15km) descent swirls through the mountains in a series of hairpin bends with the snow-capped Karakoram Mountains looming in the distance. Just make sure you take plenty of supplies with you – this is a tough place to get a puncture.
Read Asia's Most Incredible Treks
6. Lysebotn Road, Norway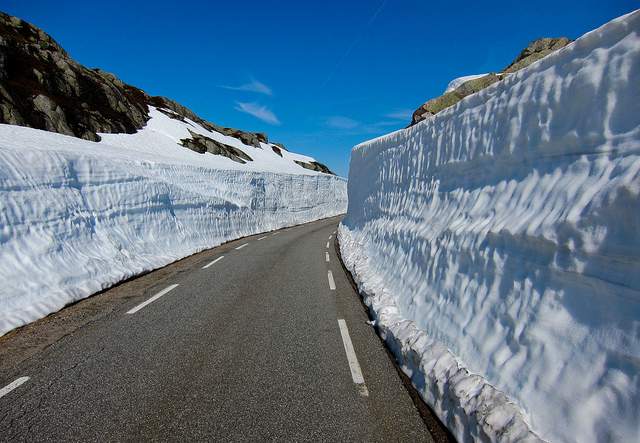 With 27 switchbacks, numerous dangerously fast downhill plummets, and 3/4 mile (1.1km) tunnel to traverse through the cliffside, it's clear that Norway's most popular mountain biking destination is no lazy pedal through the hills. The Lysebotn Road starts out at Lysefjord and is reachable by the ferry from Stavanger. It's an active route, with plenty of ups and downs and twists and turns, culminating in a hairpin serpentine than descends some 2000 feet (600m) into Lysebotn. The views, especially in the cooler months when the roads are trimmed in snow, are spectacular, and the smooth surfaces make for perfect cycling conditions, although you'd be well advised not to take your eyes off the road.
Find a flight to Norway and check out our adventure trips in Norway
Read more about ecotourism around the world:

---
Wherever you travel, there is likely a bike path or cycling tour in the immediate vicinity. Cycling is one of the best ways to see as much of a place as possible, while maintaining a connection to where you are. There are few better ways to experience a cultural Japan tour than on two wheels. Riding passed rice fields and fishing boats during a tour of Vietnam will likely be the highlight experience of your trip. Global Basecamps, along plenty of other tours, has a full portfolio of cycling tours all around the world to fit into your custom trip!
Photo credits: Chris Streeter, diego martin, Nauj27, slinky2000 , iamuday, Yodod