Great beaches, simple restaurants, and a laid-back mentality make for a country that – while not always child-equipped – is certainly child-friendly
Let's be honest, taking a family vacation can sometimes be a far cry from the relaxing getaway beach adventure you'd hoped, especially if you opt to travel independently. There's no babysitting service, and all the things you do at home (including laundry) still need to get done.
Don't be put off by the relatives and friends; however, who suggest that once you've got kids, you need to have a charter firm take care of it all. Routine is fine for 11 months of the year, but kids thrive on novelty and react badly to someone else's rigid guidelines. Finding a country you all like, one where there's room to accommodate everyone's wishes, can make all the difference. For our family, we found that in Croatia.
While English-speaking travelers have been slower to learn the charms of this Baltic country, German, Slovenian, Austrian, and Italian visitors have been coming in increasing numbers every summer since the war ended. With a warm Mediterranean climate, great resorts and beaches, a clear blue sea, beautiful islands, and rough, dramatic landscapes, Croatia can rival its Mediterranean neighbors as a top destination.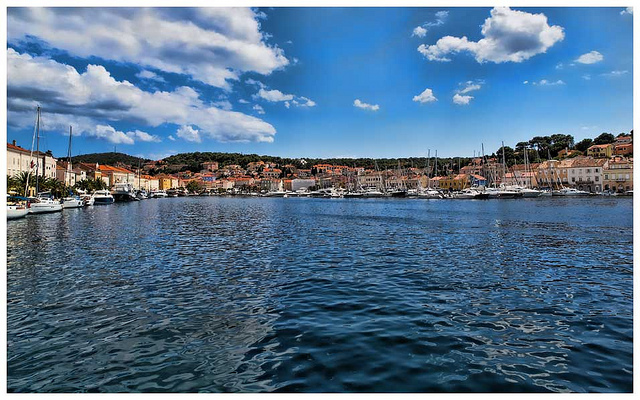 Child-friendly
As a child-friendly destination, it excels, though it should be noted that Croatia is child-friendly rather than child-equipped. While you might be given a high chair in a restaurant, baby travel beds are few and far between (and often retro communist in style) and changing facilities almost non-existent, but you'll get by just fine without these things, spurred on by the warm welcome your children receive.
Traveling with four kids, we found Croatia's Catholic heritage worked for us, particularly with the older generation, who were pleased to see the visible promotion of large families. At a gourmet restaurant in Stari Grad, the husband-and-wife kitchen team had our children crawling across the 500-year-old stone flagged floor with their own kids, while a gently teasing waiter's jokes never seemed to get old even on the third occasion we dined there. Let your kids find their own "funny man" waiter, and they'll want to eat in the same konoba every night.
Public beaches
In some countries, the term 'public beach' often refers to a place you'd want to avoid. In Croatia's neighbor country Italy, for example, almost all the decent beaches seem to be attached to hotels. Not so in Croatia, with its communist legacy, where land is rarely privately owned. These wonderful, public beaches, often sheltered by the islands of the Adriatic, rarely face open sea, and the shallow water is great for smaller kids to paddle in. On islands like Losinj and Hvar, natural shade is provided by pine forests stretching right down to the bay, and the walk back to the house is accompanied by the chirping of cicadas and the sweet scent of pine cones.
Dining out is simple
Eating out is easy in Croatia, even with kids, and fairly cheap. Most towns, even the smallest ones, will have a broad sweep of outside cafes and restaurants, usually along the riva waterfront or in small, ancient squares. Groups of kids playing boisterously while their parents finish eating are a common sight.
The food meanwhile, is great for kids.  Try them on one of the country's specialties, cevapcicis – lightly-spiced meat sticks that all children seem to love. Pljeskavica meanwhile is similar to a burger, while raznijici are bite-sized pieces of pork meat on skewers.  And don't forget the old stand-by served in almost every restaurant – pizza!
One word of warning about cafe prices.  While beer and wine may be cheap, soft drinks and juices can get expensive when you're buying a family round. If you can, encourage your kids to drink water, bottled or tap (either is perfectly safe to drink).
Indie heritage
Despite its upward mobility within Europe, Croatia still retains that wonderful, Slavic devil-may-care attitude, an East-European scruffiness that makes it great for independent travel. The Croatian culture is one of finding a way to do it yourself, and what's great is that although it is still a fairly poor nation, it's one that embraced the Internet very early on, and when it comes to broadband, Croatia is very well connected. Those looking for a WiFi connection will find one in most hostels and hotels and many cafes.
Ice cream parlors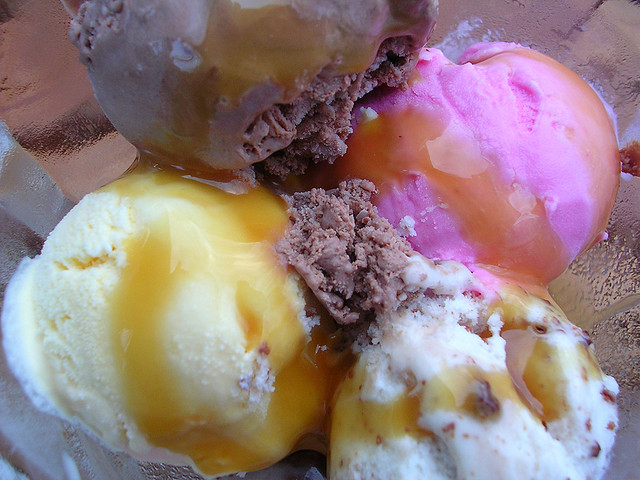 Give the generic, overpriced supermarket ice creams a miss and treat your kids at a slasticarna, or ice cream parlor, at least one of which can be found in every town. Croatia excels in cheap, wonderful Italian-style gelato ice cream – and free entertainment from those who serve it. In Supetar, the man tossing his ice cream into the air and catching it in the middle of the road had my kids enthralled and in fits of laughter when he missed.
When to go: If you can, try to come a little off-season. The intense heat of August can be too much for smaller children, and the crowds can make moving around harder. In June, for example, restaurants are much friendlier and beaches less busy.
Find a flight to Croatia and read The Amazing Coastal Towns of Croatia
Photo credits:  Sobrecroacia.com, lilivanili