Company Name: AFAR Media
Official Website: http://www.afar.com/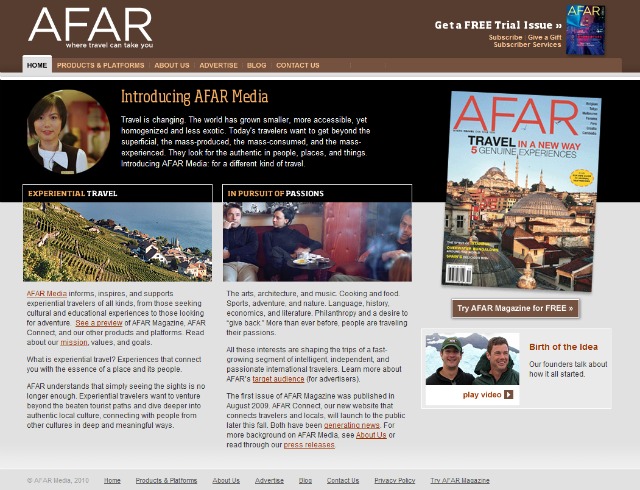 What do they do? AFAR Media is a travel media company focused on "experiential travel," and the product line consists of AFAR Magazine as well as the AFAR Foundation (designed to help students who wouldn't otherwise be able to afford it have study abroad and cultural exchange experiences) and a soon-to-be-launched website called AFAR Connect (intended to help travelers connect with similar people on the road).
Are they a business-to-business (B2B) company, or business-to-consumer (B2C)? B2C
Founder(s): Greg Sullivan and Joe Diaz; Greg is a former corporate securities attorney and investment banker turned entrepreneur, and Joe is a former teacher and real estate investor.
Date Founded: 2009
Presentation Notes: AFAR was presenting AFAR Connect at the conference, which they described as "eHarmony meets TripAdvisor." Rather than a new source of travel information, the goal of AFAR Connect is to be a new way to sort that information so that you only see what's relevant to you. AFAR Connect asks members to fill out a profile and they are then assigned to one of 30 different travel profiles within the system. Connecting with other people in your same profile allows you to find like-minded travelers to share information and travel tips with. You can follow other members who share your interests, so you can keep up to date with what they're doing. You can also earn badges for helping other AFAR Connect members. The system looks almost identical to Facebook, and incorporates some Facebook information, so it's easy for most people to understand. AFAR believes that facilitating this kind of travel allows for authentic tailored experiences you can't find in a guidebook or a review site – a richer experience that's more local.
Why should/shouldn't travelers care? The concept behind AFAR Connect – helping you learn from people who you don't know but perhaps that you should know based on similar interests or travel styles – is one BootsnAll appreciates, since it's along the lines of our very own BootsnAll Travel Connect Facebook app – but although we like the idea, we struggled to understand what would motivate travelers to sign up for yet another social network site. We also questioned the 30 travel profiles in AFAR Connect – many of us could easily fit into multiple categories when we travel, so it feels limiting to get assigned to only one at a time. We think many travelers, including BootsnAll's audience, would like the idea of AFAR Connect but might like it better if it were part of a social network they're already using.