Company Name: Hipmunk
Official Website: http://www.hipmunk.com/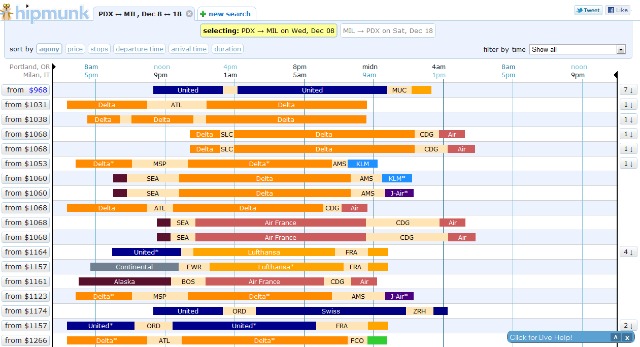 What do they do? Hipmunk is an airfare search tool that provides results in a way unlike other search sites. It'd designed to make the airfare selection process faster for the traveler. Flights are then booked through Orbitz.
Are they a business-to-business (B2B) company, or business-to-consumer (B2C)? B2C
Founder(s): The founders of Hipmunk are Steve Huffman (co-founder of Reddit) and Adam Goldstein (co-founder of BookTour).
Date Founded: 2010
Presentation Notes: Hipmunk is a new flight metasearch site. Existing problems of other search sites include too many results to digest, deceptive pricing, and sponsored search "results" – Hipmunk's goal is to eliminate all of those issues. The Hipmunk page uses 80% of the screen for search results by filtering out most of the results by default. You can choose to show them, but options that are considered "worse" are hidden by default on the results page. Flight options are represented graphically with colored bars to make it easy to distinguish different characteristics of each option. Users can sort by price, like other search tools, but they can also sort by "agony" – which combines price with things like the number of layovers that are required. Sliders on the results page allow users to eliminate flights before or after certain times of the day instantly, right on the same page. You can open multiple tabs within the same window to compare different dates or airports for the same trip, or compare different trips altogether. Hipmunk just signed an agreement with ITA Software. They currently allow people to book using Orbitz, but are pursuing partnerships with as many airfare providers (including direct partnerships with airlines) in order to have the most data possible to pull from.
Why should/shouldn't travelers care? In Hipmunk's three months in existence, they've already developed fans – and it's not just because of the cute logo. The search results page alone is so unlike what's currently available – that alone is interesting. Personally, I found just playing with the search tool to be fun in a way that airfare search doesn't tend to be. One limitation is the connection solely to Orbitz, it seems; while travelers may not want to see the whole mess of data behind the scenes, they're likely to feel more confident in the options that are presented if they know the search tool they're using is pulling information from more than just one source. That said, assuming Hipmunk can deliver similar results to what people are already used to getting online – but in a way that's easier to understand and digest – they'll build their fanbase easily.