Company Name: Stash Hotel Rewards
Official Website: http://www.stashrewards.com/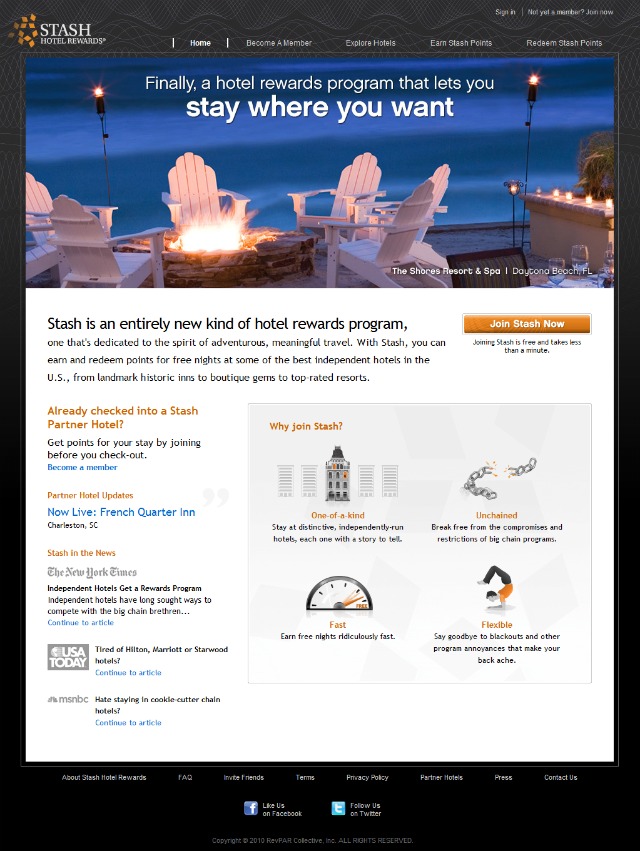 What do they do? Stash is a hotel rewards program that's designed to let travelers use the rewards points they earn at independently-run hotels in the United States. This gives travelers the ability to book more unique hotels while still earning rewards points.
Are they a business-to-business (B2B) company, or business-to-consumer (B2C)? B2C
Founder(s): Jeff Low is the founder of Stash, and serves as the company's CEO. Prior to founding Stash, Low created and ran Expedia's ThankYou program and created the Expedia credit card.
Date Founded: 2010
Presentation Notes: Stash is a new way to connect independent hotels via a rewards currency program in a similar way that chain hotel rewards programs have and that doesn't currently exist. With chain hotel rewards programs, it's always the same number of points that a traveler would be "charged" for a room, regardless of the time of year – so hotel chains just black out the more expensive dates. With Stash, hoteliers are able to change the number of points required for a room at different times of year, so there aren't any blackout dates. Stash also gets travelers to free rooms more quickly than chain hotel programs. There are currently 100 hotels in the program, with 125 more in the pipeline. Jeff Low, founder and CEO, says "these are hotels that people just like more" than chains.
Why should/shouldn't travelers care? For a certain group of travelers, Stash will be incredibly appealing – the ability to stay in potentially more interesting hotels and still earn points toward free rooms on future trips is an easy sell to many people. There's also a huge number of people for whom McDonald's is a default food option even while traveling outside their home country because they know exactly what they'll get. Stash won't be for everyone, but for the independent traveler it might be quite a big hit.