Company Name: TripAlertz
Official Website: http://www.tripalertz.com/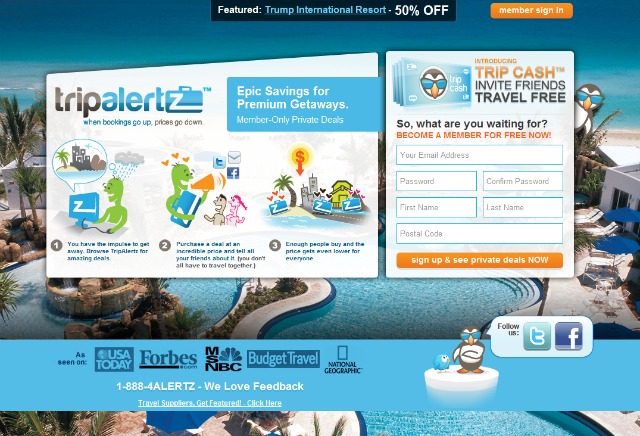 What do they do? TripAlertz is a private, members-only site where prices on hotels and resorts are driven down by the number of people who buy a given deal. Budget Travel called TripAlertz "Groupon for travel."
Are they a business-to-business (B2B) company, or business-to-consumer (B2C)? B2C
Founder(s): Brendan Murphy is the founder, and is a former VP of Sales and Marketing for American Express Travel Affiliate. The Executive Chairman is Mark Donohue.
Date Founded: 2009
Presentation Notes: TripAlertz is based on the concept of viral marketing. Since the price on a deal goes down as the number of bookings go up, users will be motivated to share deals with their friends and family to get them to book. Each time the price on a deal you've already booked goes down, you'll get a text message telling you that you just saved more money – and you'll also be told about opportunities to apply your savings to additional activities on that trip. TripAlertz is not like similar existing sites (JetSetter and Excursionist) because these aren't big two-week trips or even luxury resorts necessarily, they're more average places that most Americans book when taking shorter trips. There's only a 2-night minimum stay as opposed to a longer stay required. Starting in January, if users motivate 3 friends to book any trip on the site within a specific window of time, they'll earn a free trip. (Getting 2 friends to book will mean a 50% discount, and 1 friend will mean a 25% discount.) TripAlertz believes that "free travel is the ultimate viral marketing incentive" – the motivation is for users to do the marketing work via peer to peer social networks.
Why should/shouldn't travelers care? The discounts available through TripAlertz look great (20-40% savings over regular sites like Expedia, etc.) – and travelers who are already really engaged in social media may like this new way to save money on a trip. But how much of this will turn into you spamming your friends and family on Facebook, pressuring them into booking a trip so you can save money or get a trip for free?