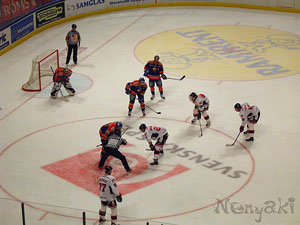 Malmö Redhawks vs. Timrå at Malmö Ice Stadion. It's my first live Swedish top league ice hockey game ever. A feat I think I share with all the members of our little party of five. I know the game well though; growing up in Sweden entails cheering for the Swedish national team every winter when the big tournaments come on television. A reason to party, to get some entertainment, to feel the national pride increase by a few hundred percent until the tournament is over, and a reason not to go outside.
I'm not sure to what extent my fellow hockey-goers are familiar with the sport. The Finn definitely knows the game like the back of his hand. The German and the Swiss have probably come across a broadcast or two at some point. To the Belgian this is probably something exotic, something the strange northerners do to stay warm in the winter.
The event is professionally arranged. It kicks off with the national anthem of Sweden. Just in case we don't know the lyrics, they are displayed on a little TV screen hanging from the ceiling. National anthem karaoke…But for whom? If you want to experience a moment of patriotism, blasting out the national anthem off the top of your lungs in public, would you not make the effort of learning the words for these two verses? And if you're a foreigner, why would you care? Fair enough though; if anything, it's the Russian/Soviet national anthem that is perpetually burned into the memory of Swedish hockey fans. Before the disintegration of the Soviet Union, the "Red Army" was virtually unbeatable, resulting in this brilliant tune being played more frequently than any other national anthem on the international scene of ice hockey.
The song ends, and we get down to business. Faceoff, and the game starts. It's not a very exciting game though, and the final score is 7-0 in the favor of the home team – a walk in the park. Afterwards we get to meet one of the away team players; a Finnish guy, number 4 in Timrå. According to him, the majority of the players of the visiting team were infected by a virus, which seriously impacted their game. Lame excuse.
We leave the venue. Not with a lasting memory of the venue itself; a worn-down arena that was possibly raised before the last Ice Age. Definitely not with a lasting impression of the one-sided game. But, freshly educated in the modern art approach of performing the national anthem at public events.
Christian Celind at Malmö Ice Stadium, Malmö, Sweden, October 2002 – travel@celind.com
Photo by Nenyaki on Flickr