Italy is my great love and I always long to travel there.  But when I can't get to Italy, there are other areas scattered around the United States that are rich in Italian-American culture and offer a slice of Italian lifestyle, without a trip across the pond.  These areas, known as Little Italy, are often chock full of authentic family-owned restaurants, cafes, and shops that carry Italian products, which is another tasty reason to seek them out.  So the next time you are craving an Italian experience, head to one of these Little Italy neighborhoods. Andiamo!

New York City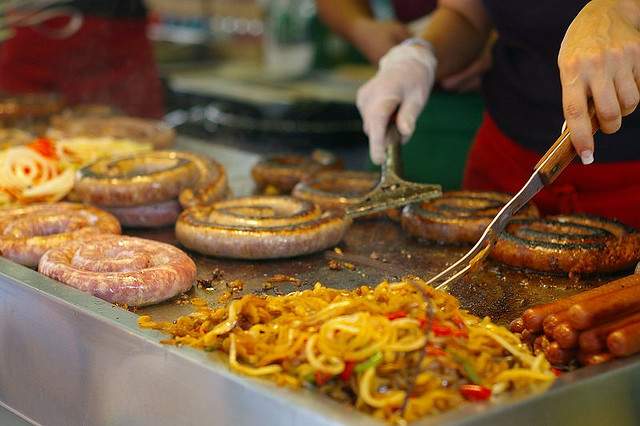 Perhaps the most famous Little Italy is the one in New York City. Though once much larger, the encroachment of both Chinatown and NoLiTa has now diminished the neighborhood to only about four city blocks, but that shouldn't dissuade you from visiting.
Walk down the areas of Mulberry and Mott Streets to find shops selling fine Italian food products, ceramics, over two-dozen restaurants and cafes, and Saint Patrick's Old Cathedral.
One of the most popular times to visit is the last two-weeks of September when over a million people crowd the streets to pay tribute to the Patron Saint of Naples during the annual Feast of San Gennaro. The celebration is marked by vendors selling Italian food from the surrounding businesses, music, two parades, and even a cannoli-eating contest.
But don't discount a visit at any other time of year. A must-see is the historic Ferrara Caffé, billed as America's first espresso bar.  Ferrara, a fifth generation family-owned business has been serving up Italian pastries, cookies, cannoli, sfogliatelle, and cappuccino since 1892.
Check out flights to New York City, find a hotel in New York, and read our New York City Travel Guide
Boston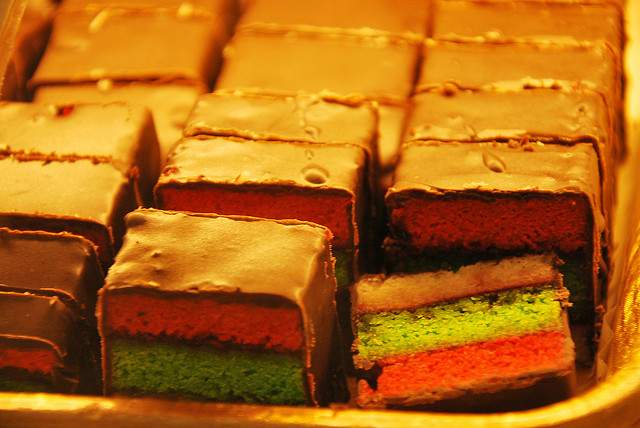 Boston's Little Italy, which encompasses about two square miles, is located in the North End.  Since the early 1900's Italians have flocked to this area, which was previously inhabited by Irish and Jewish immigrants.
It claims to be the center of both the American Revolution and the center of Italian culture and cuisine, which can be proven in the fact that both Paul Revere and the Prince Spaghetti Company are native to the area.
Today, though there are over 80 restaurants, cafes, and bakeries, yet the area still retains its old-world charm. This is evident in the narrow, cobblestone streets, hearing Italian spoken, and the delicious smells wafting through the air.  The Caffé dello Sport, founded by a group of Italians over 60 years ago, is one of the oldest in the neighborhood. Locals come to watch live soccer games on two wide-screen TVs.
For authentic Italian foods, don't miss the 40 year old Salumeria Italiana. North End festivals like the Fishermans Feast, Feast of Saint Joseph, and Feast of Saint Anthony keep the Italian spirit alive throughout the year.
Book a flight to Boston and check out our Boston Travel Guide
San Diego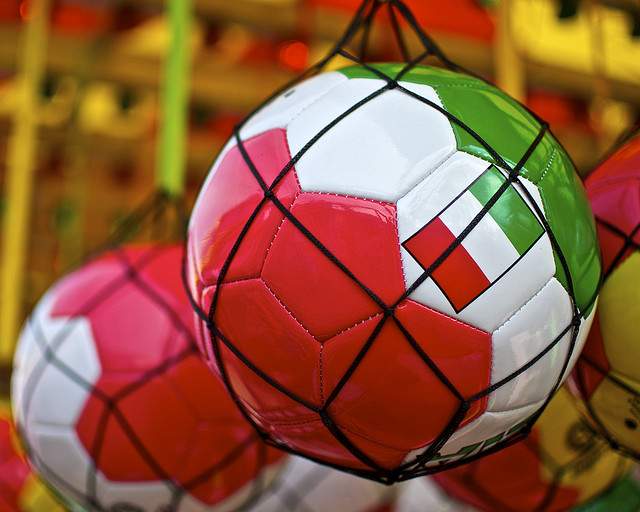 The Little Italy section of San Diego came to be in the 1920's because of the large influx of Italian immigrants hoping to make a living in the tuna-fishing industry.  After suffering about 30 years of decline, it has recently made a comeback, thanks in part to the Little Italy Neighborhood Association.
Though the old world-charm has gone (it has been replaced by a mix of modern restaurants, shops and galleries) you can still find the Italian spirit living on.  Places like Assenti's Pasta Company, Fillipi's Pizza Grotto and Mona Lisa Italian Foods are staples which survived the downturn.
Every Saturday you can visit the year-round Italian Farmer's Market, known as Mercato. Sponsored events like the Venetian-style Carnivale in February, a Sicilian Festival in May, and the Precious Festa every October have helped the area thrive in recent years.
Find a cheap flight to San Diego and read our indie travel tips for visiting San Diego
South Philadelphia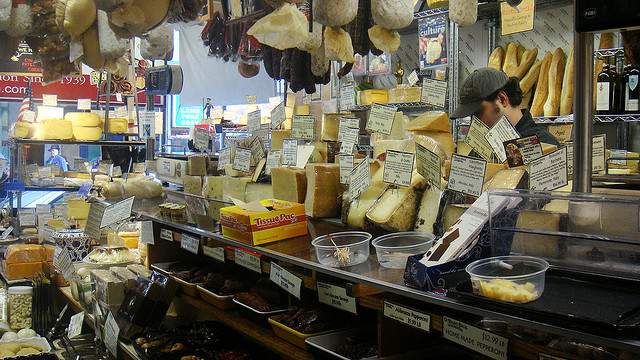 South Philly boasts a large Italian-American population and a booming Little Italy neighborhood. At the heart of the area is the Italian Market district, located on 9th Street between Wharton and Fitzwater.
The outdoor market claims to be the largest and oldest in America and features many groceries, cafes, bakeries, butcher shops, and restaurants that resemble those in Italy.  However, in recent years, the market has gained more of an international flavor, which has breathed some new life into the area.
Restaurants like Dante & Luigi's, Villa di Roma, and Ralph's have been serving up classic Italian cuisine for over a century. And though not Italian per se, the market is also home to the famous Philly Cheesesteak, which isn't to be missed! Visit in May and attend two popular events – the Annual Italian Festival and the Procession of the Saints.
Find a flight to Philadelphia and read 11 Great American Sandwiches Worth the Trip
Chicago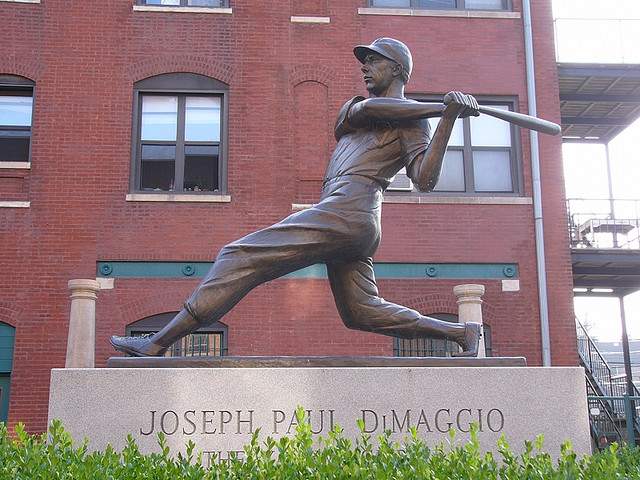 There are several Italian neighborhoods in Chicago, but the most popular section, the one actually known as 'Little Italy' is the area southwest of the Loop around Taylor Street. Although not as exclusively Italian as it was in the past, it still offers up a healthy dose of Italian culture and cuisine to both locals and visitors.
The area is lined with everything from bakeries to sandwhich shops to spots for fine-dining. Pompeii, named for its close proximity to the church of the same name, serves up hand made pizzas and pastas based on three generations of Sicilian family recipes.
Landmarks like the National Italian American Sports Hall of Fame and the Piazza DiMaggio (anchored with a bronze statue of Dimaggio himself) are tributes to the Italian American culture, which began to develop here in the late 1800's. In early August, the community comes together for a weekend celebration known as the Taylor Street Festa Italiana, which attracts over 25,000 people and includes food, music, bocce ball courts, and Italian street performers.
Book a hostel in Chicago and read these indie travel tips for Chicago
Cleveland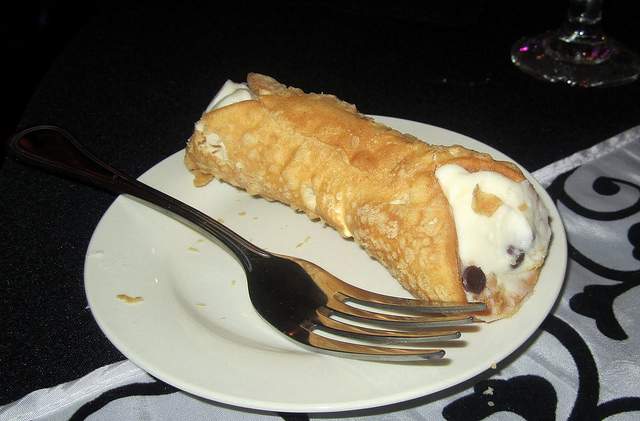 Cleveland's Little Italy is located on Mayfield Road, in the Murray Hill section of the city.  Its origin stems from the many Italians who flocked to the area to work as stone-cutters for a nearby cemetery. At the heart of the area are the Holy Rosary Church, established in 1892 and the Little Italy Heritage Museum, which houses a collection of photographs which depict the history of the neighborhood.
Notable culinary greats, Chef Hector Boiardi (aka Chef Boyardee) and Angelo Vitantonio, the man who invented the first pasta machine, both hail from the area.
In the last 20 years the area has become a bit more trendy and has seen the addition of galleries and shops selling local artisan ceramics, glass, pottery, and photography. But the old cobblestone streets and locals chatting outside at cafe tables help it to retain much of its Italian charm.  There are many popular family-owned bakeries and restaurants which have been around for generations.  Two bakeries still in operation are Corbo's Dolceria and Presti's Bakery, which serve up authentic Italian bread and sweets like cannoli, cassata cake, and cookies. For those who like Southern Italian cuisine, visit Guarino's, established in 1918; it holds the honor of being Cleveland's oldest Italian restaurant.
Though there are year-round events like art walks that promote the area, and the most popular occurs in the summer.  In mid- August, Little Italy hosts over 100,000 visitors for the Feast of the Assumption – a four-day celebration complete with a parade, Italian food vendors, live music, carnival rides, fireworks, and other festivities.
Find a cheap hotel in Cleveland
Read more of Robin Locker's BootsnAll articles, and find out more about Robin in her bio.
Photos by:  AlphaTangoBravo, maywong_photos, stevelyon, pink.polka, Catchpenny, nataliedado