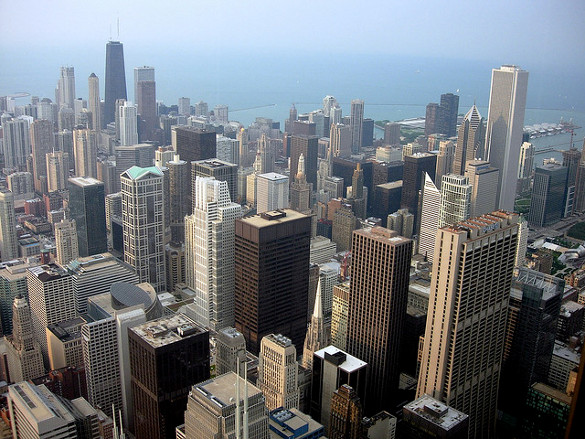 Budget Scale: 1-5
1-least expensive; 5-most expensive
4 – Chicago isn't quite on par with the Los Angeles', New York's, and London's of the world, but it's not too far behind. Food and accommodations are going to be your biggest expenses, with cheap eats and inexpensive places to crash being the exception rather than the norm. Though Chicago can be pricey, there are a lot of great things to do for little or no money. Simply wandering around the city and checking out the amazing architecture, strolling along Lake Michigan, and browsing the shops along Michigan Avenue (without actually shopping) can certainly make your trip to Chicago a bit easier on the wallet.
Indie Travel Scale: 1-5
1-not a good Indie Travel destination; 5-a great Indie Travel destination
3 – Chicago is pretty expensive and really touristy in certain areas, but like New York, it's easy to get out of those touristy areas and hang out with the locals. One of the cool things about Chicago is the different neighborhoods in the city. For example, the North Side is a great place to go for the young (and young at heart), with lots of great restaurants and bars and a young, vibrant vibe all around.
Indie Travel Tips
Even though places like the Sears Tower, the Navy Pier, and Michigan Avenue are high on the tourist radar, they are all still very cool sites and worth checking out. But if you're looking to have more of an indie travel experience in Chicago, check out the following places.
Chicago's chock full of awesome museums, but popular, quality museums in big cities usually mean large crowds and high entrance fees. Check out the Chicago Cultural Center as a free alternative (this is also home to the Chicago Visitor Center.
There's plenty of beaches along Lake Michigan in Chicago to choose from. If you're looking for crowded and active, go to North Avenue Beach. But if you're looking for nice, green space, a place to grill and have a picnic, and plenty of amenities, then consider going to Montrose Harbor Beach. Parking is free, too!
If you want to know what's going on in the music and arts scene in Chicago, make sure you pick up The Reader to find out what's going on when you're there. Tons of great local recommendations.
Chicago can be extremely cold in the winter, so if you find yourself there during the frigid months, head on over to the Garfield Park Conservatory, a massive greenhouse that is referred to as "landscape art under glass."
Chicago has some great architecture and neighborhoods in and around the city. If the weather is nice, get out of the downtown area and explore Logan Square, Chinatown, Lakeview, and Uptown.
Why you should add Chicago to your RTW travel list
Deep-dish pizza.
Cheer for the Cubs in the right field bleachers of historic Wrigley Field.
This is the home of the blues.
Great public transport options
Deep dish pizza.
Incredible architecture in the downtown loop.
Shop till you drop on Michigan Avenue, the Magnificent Mile.
See some of the best museums in the world on free days.
Rollerblade or cycle along the banks of Lake Michigan.
Stuff yourself silly at the taste of Chicago.
Tailgate party!… then freeze your butt off at a Bears game in January.
Friendly people, especially compared to the citizens of other large cities in the US.
Did we mention deep dish pizza?
Why you should not add Chicago to your RTW travel list
It's expensive
It's in the middle of the country, making travel to other popular US destinations expensive
The winters are absolutely freezing with a lot of snow
Are you heading to New York Chicago? What do you need to do?