In many parts of the world, summer vacation season starts winding down at the end of August. Beach trips come to a halt as people start getting back to the daily grind for the push toward Christmas. However, just because summer might be ending in parts of the world, such as the U.S., it doesn't mean it's not beach season somewhere else. Just like it's always 5 o'clock somewhere for happy hour, similarly it's always beach season somewhere in the world. Below you'll find a compiled list of some of the best beaches around the world and when they can be enjoyed.
December – Krabi Beach, Thailand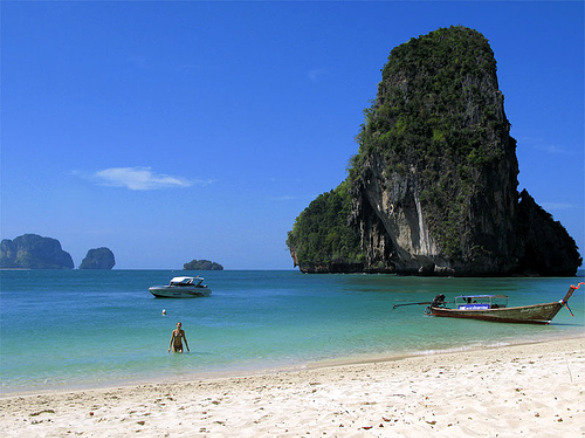 While most of the world is making snow angels, drinking egg nog and celebrating the holidays, travelers to Krabi have their feet kicked up on the beach, drinking a Pina Colada. Krabi features multiple tranquil beaches that offer the type of ambiance you'd expect in the Caribbean, but on the other side of the world and often with fewer people. Most of the villas and hotels are located on the waterfront and travelers don't typically need to have their own transportation, such as a motorbike, unless they are taking an extended vacation and wanting to see some of the outlying areas. Kayaking, rock climbing and snorkeling are all popular activities at Krabi Beach.
>>  Find hostels in Thailand, book flights to Thailand and read about the best beach towns in Thailand

January – Wineglass Bay, Tasmania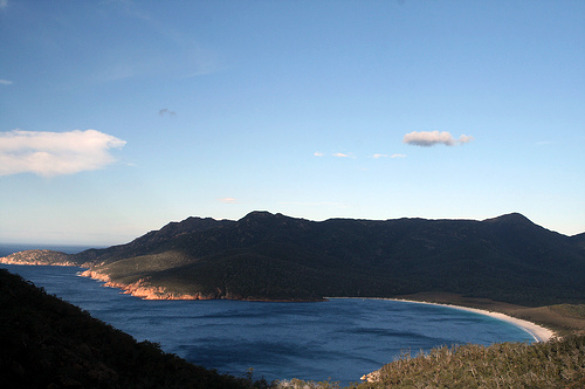 What better way to kick off a new year than on sandy beaches? Wineglass Bay in Tasmania is one of the best to do so with its secluded location among a pristine wilderness. Located in Freycinet National Park on Tasmania's east coast, Wineglass Bay is in the midst of thick forests and large, overwhelming rocky mountains. Because it's so secluded, lodging is few and far between, though most travelers stay at the Freycinet Lodge inside the national park.
Bushwalking is a popular activity just off the beach, with many visitors hiking to the top of the hilltops to get a 360-degree view of the bay and forest and water. Taking a Wineglass Bay cruise in January offers one of the best times of year to see orcas swimming in the bay.
>> Find airfare to Tasmania and read about things to do in Hobart
February - Punta Uva, Costa Rica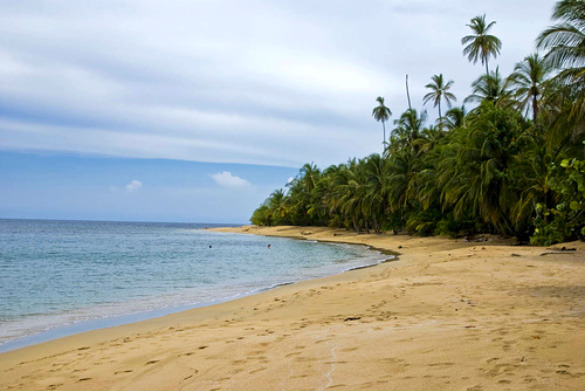 Punta Uva, in the Limon Province, has quickly risen to be one of the best beaches in Costa Rica, if not the entire Caribbean. Located along Costa Rica's live coral reef, Punta Uva features one of the best diving and snorkeling centers. Punta Uva Dive Center accommodates both experienced and novice divers, offering both first-time and advanced diving lessons. February is perfect for Punta Uva, as it's when the rainy season is ending and crowds are typically smaller, and with its location on the edge of the jungle, it's not unlikely to have the beach all to yourself some afternoons.
>> Search for airfare to San Jose and read about water sports to enjoy in Costa Rica
March – Mui Ne Beach, Vietnam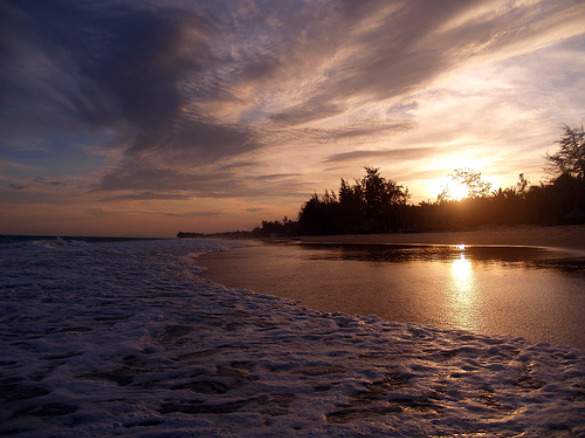 When you think of long, white sandy tropical beaches, you probably don't think about Vietnam. However, this line of sandy shores has boomed over the last few years as a popular resort beach in Vietnam. Located on the southeast shore of the country, the beaches are lined with hotels, mostly along a 5-10 mile stretch of road. Though it's warm and dry year-round, March is the tail-end of the peak season.
Becoming known for its large waves, Mui Nealso attracts wind and kite surfers from around the world. Though it's one of the most high-profile spots in Vietnam, Mui Ne Beach holds onto much of that small, fishing village charm.
>> Cheap flights to Vietnam and look for adventure tours in Vietnam
April – Copacabana, Brazil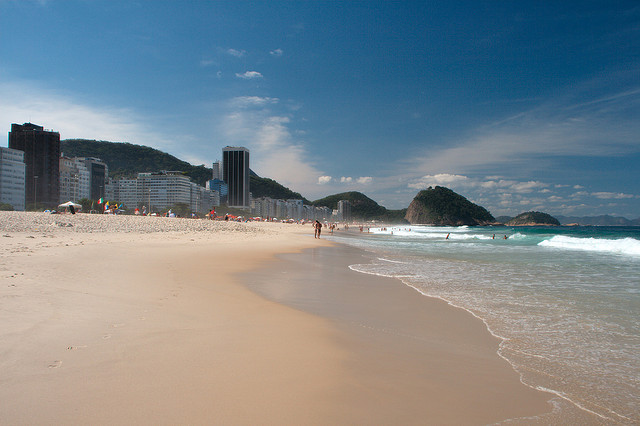 Rio de Janeiro's Copacabana Beach is easily one of the most famous beaches in the world, mixing a beautiful beach with a large metropolis and vibrant nightlife, and visiting in April puts visitors right in between the peak beach seasons.Beach soccer is a popular event at Copacabana Beach, as the FIFA Beach Soccer World Cup has been held here in the past, though tournaments occur throughout the year.
Located along the famous Avenue Atlantica, the beach is a short walk from Rio de Janeiro's best restaurants and nightlife, with many beach bars even staying open 24 hours a day. Though most of the action takes place on the beach, Rio de Janeiro offers a wide-range of activities beyond the water. The famous and grandiose Christ the Redeemer Statue is a must see, as it's a hallmark of Brazil and one of the most photographed statues in the world.
>> Find cheap flights to Brazil and find hostels in Brazil
May – Cane Bay Beach, Saint Croix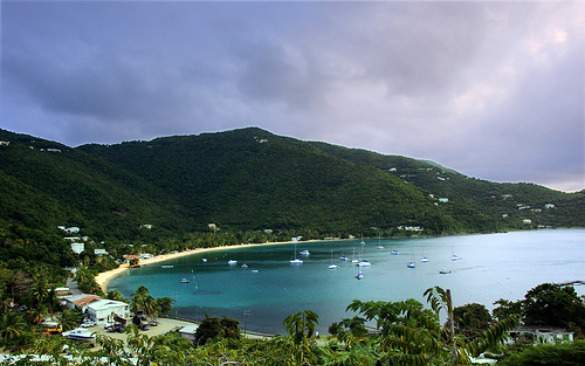 Located in the U.S. Virgin Islands, St. Croix's Cane Bay Beach offers long sandy beaches, a backdrop of rolling hills and plenty of water activities. One of the more kid-friendly beaches in the Caribbean, the secluded beach is ideal for a quiet place to lay in the sun and swim the clear waters. Of course St. Croix is renowned for its world class diving, and Cane Bay Beach is no exception to that. The Cane Bay Wall is world famous, as the ocean floor plummets 10,000 feet in just a few yards.
Sunsets and sky watching are popular activities, and it's not unusual on a clear evening in May to be able to spot the planet Mars in the distance.
>> Find hotels in the Virgin Islands and find out which Virgin Island is right for you
June -  Marina Piccola, Capri, Italy
Marina Piccola is a beach steeped in beautiful scenery and history. Featuring an Italian setting that you're just not going to find at many tropical beaches, it may be a little off the beaten path, but offers unrivaled crystal clear blue waters. Marina Piccola is the setting of one of Homer's greatest characters, Ulysses.
The beach is characterized by its unique rock formations that both line the shore and rise out of the water. Although many people enjoy simply taken advantage of the many public beaches, sailing in and around the rock formations is prevalent at Marina Piccola.
>> Find cheap hostels in Capri and read about Italy's best beaches
July -  Easton Beach, Newport, Rhode Island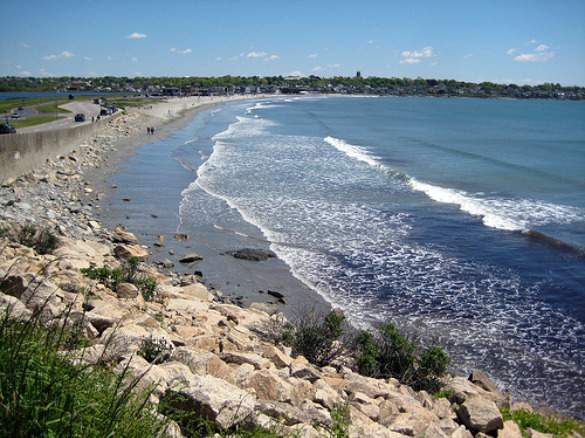 While most travelers are going south toward blistering hot summer days in July, head north to Newport, Rhode Island to Easton Beach. It's a great beach for families and the weather is pleasant enough on July summer days that you don't have to take a dip in the water every 30 minutes to cool down.
Along with sunning and swimming in the ocean, there's also a nearby skate park and playground for kids and teenagers. With its location in Newport, there are also a lot of nearby attractions off the beach. Some of these include a carousel, aquarium, cliff walk and the Belcourt Castle. Newport's only ocean beach, Easton Beach features weekly outdoor concerts throughout the month of July.
>> Find cheap hotels in Rhode Island and look for flights to Providence
August – Stinson Beach, California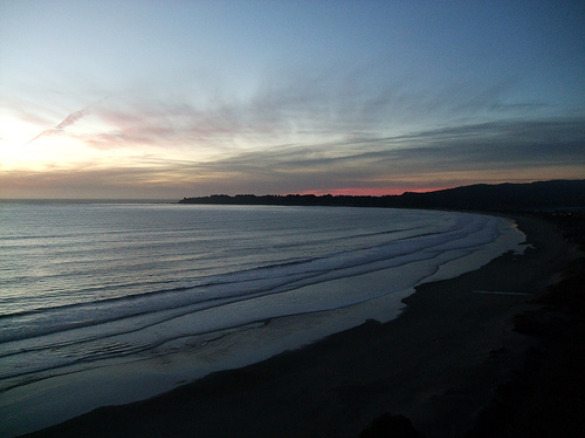 When you think of beaches in California, Venice is typically what first comes to mind. However, take a short trip north out from San Francisco and you'll find Stinson Beach, located in the Golden Gate National Recreation. Quaint is an understatement as the population of the unincorporated town doesn't even surpass 1,000 people.
Unlike many of the area's rocky beaches, Stinson is one of the sandiest beaches. Since the town is so small, most visitors rent a cabin near the beach. Nearby attractions off of Stinson Beach include hiking in Muir Woods, and the Golden Gate Bridge is a 35-mile drive away.
>> Book flights to San Francisco and find affordable hotels in San Francisco
September – Kiawah Island, South Carolina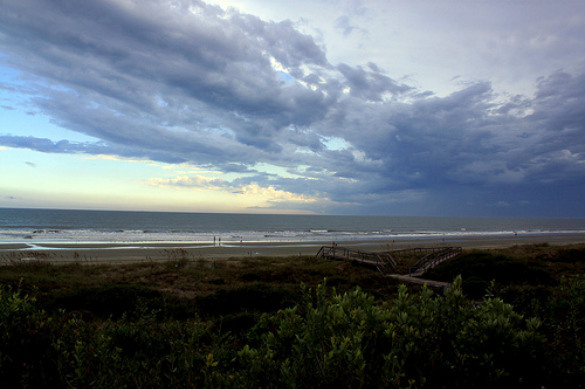 Quickly becoming known as one of the best islands in the U.S., the award-winning Kiawah Island is a gem of the southeastern coast. Only in the last few years, with the addition of the Sanctuary Hotel and Resort, has the island begun to receive recognition. It's heaven for golfers, especially with the island's Ocean Course, which was home to the 1991 PGA Ryder Cup and the upcoming 2012 PGA Championship.
Since the island consists only of the Sanctuary Hotel and island vacation rentals, there are few crowds on the wide, sandy beaches. September is the most pleasant time of year to visit. The summer heat and humidity are falling off and the summer vacation season has come to an end so you may find yourself completely alone on the beach.
>> Look for flights to South Carolina and book hotels near Myrtle Beach
October – Clifton Beach, South Africa
In one of the most beautiful cities in the world, lies arguably one of the most beautiful beaches in the world – Cape Town's Clifton Beach. The chic and upscale beach is actually not one, but four beaches. Each beach offers a distinction that's set apart from each other, though the fourth beach is the most popular.
Though people often do swim at Clifton Beach, it's much more typical to find people walking down the shore, throwing Frisbees and laying out in the sun. Overlooking the beach, there are a number of swanky restaurants and bars, which are hopping most nights of the week. The thrill seeker might try kloofing, which is a combination of outdoor activities, like canyoning, bouldering and swimming, that take place on land and in the water.
>> Book hostels in Cape Town and learn more about Clifton Beach
November – Reduit Beach, St. Lucia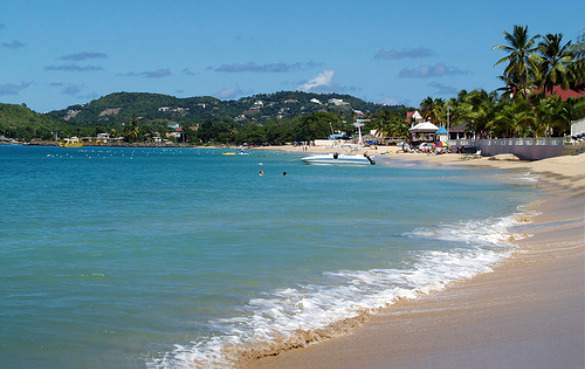 Located in St. Lucia's lively Rodney Bay area, Reduit Beach is where most visitors to St. Lucia come for fun in the sun. For a small beach, Reduit offers everything you would expect and want from a large beach. As soon as you walk onto Reduit, you'll find outside bars lining the beach where you can order a drink and take it to your beach chair. Locals walk up and down the beach offering jet ski and parasailing rides.
Late afternoon is the best time to head to the beach when the crowd thins out and many of the beach bars offer happy hour specials. When the sun goes down, there are several restaurants and nightclubs that are within walking distance, and most of Rodney Bay's hotels are also just a few blocks from Reduit Beach.
>> Find flights to St. Lucia and learn more in our St. Lucia travel guide
Spend a little more time in the sun with these other beach article:
Photos by: flydime, toobagooba, cstrom, gardawind, Rodrigo_Soldon, bvi4092, pedro prats, erik jaeger, mager leagues, jrm353, warrenski, SDFlip