Traveling on India's railway system is one of the cheapest, most authentic, and, with the right advice, one of the most enjoyable ways to see this majestic country.  India's railway is the fourth largest in the world and arguably larger when you consider the amount of passenger travel (between 18 and 25 million people daily) that it ferries throughout the country.   Traveling by train in India gives you a window into the daily life of Indian families who you will travel alongside on your journey.  Much like the rest of this frenetic, chaotic, beautiful, and sometimes baffling country, it is important to be knowledgeable and prepared for the journey.  Check out these tips on five aspects of train travel to ensure a safe and enjoyable trip.
1. Booking your ticket
Booking online.  The most surefire and hassle-free way to secure your train ticket is to book online as far in advance as possible.  Tickets go on sale online 90 days before a train's departure date.  If you book far enough in advance through online sites such as:  www.yatra.com, www.mustseeindia.com, www.irctc.co.in, or www.cleartrip.com, you can rest assured knowing you will get on the specific train you want on the specific date.  Yatra asks for local information such as address, which may complicate reservations for those with a foreign credit card. Cleartrip does not.
In case of cancellation, fees are minimal (from 20 – 70 RS, depending on advanced notice, train distance etc.) and if booked online, money will be refunded to your card.  Note that you should always cancel more than 24 hours in advance to avoid being charged a high percentage of the ticket price.
Booking at the station. Depending on the season, the amount of time before a trip, and the flexibility of travel dates, you can always go down to the station and book your ticket.  Generally, I find it is much easier to deal with online booking websites and the fluent English telephone support that they offer, rather than struggling to understand railway clerks whose English may be sub-par.  It is quite an experience; however, worth trying at least once, to throw yourself in with the fray of people who generally rush the ticket counter to book trains at the station.
What are RAC and waitlisted tickets? Tickets can sell out fast online, but this does not mean you won't be able to travel on your desired date because cancellations are common. For precisely this reason, the Indian Railways sells tickets in three categories – confirmed ticket, RAC waitlist, and waitlist. If searching online, you will see one of these ticket categories come up next to the results.  If you do not see any confirmed tickets available on the train you want, never fear. The RAC (reservation against cancellation) waitlist guarantees that you get on the train.
Waitlist tickets are not guaranteed boarding but generally low numbers are moved up to RAC status.  If you do not get on the train because your waitlist number is too high, your money is refunded.
>> Read about how planned or open ended you should leave your RTW trip
2. Choosing your class
There are five different classes on most Indian trains.  The class hierarchy of the trains mirrors the juxtaposition of classes that you will see in the rest of India.  All different sectors of the population travel in the same vehicle within feet of one another with comforts ranging from non-existent to luxurious.  The main differences found between the different classes both on and off the train fall into three different categories: personal space, temperature, and food preparation.
Second Class.  Second class is the cheapest class where the rules that govern other classes of the train do not apply.  The cars are packed with as many people as can fit, and seats are not assigned but rather snatched on a first-come first-serve basis.  For longer, overnight journeys there is no berth to pull down to sleep horizontally, you must sleep sitting upright in a seat (if you are lucky enough to get one).  In this class you can expect your personal space will be compromised by people leaning on your seat, shoving parcels under your feet, and pushing in as tight as is necessary.  These factors will contribute to the heat of the non-AC car, and you should be cautious about the food sold by vendors as it may be prepared for the stronger stomachs of locals rather than tourists.
Sleeper Class.   Sleeper class allows you to experience the minimal comforts necessary over a long journey, such as stretching out on a berth overnight, while it does not isolate you from the rest of the train.  The vast majority of cars on a typical Indian train are labeled sleeper, which will ensure that you are traveling the way most people do throughout India. Traffic of vendors and people is minimal between AC cars and non-AC, while it is more free-flowing between second class and sleeper.  Here you can sit back and watch the microcosm of India unfold before your eyes.  You may chat with some younger students, have a mimed conversation with an old granny, and smile and wave warmly to a fascinated child.
In this class seats and berths are assigned to the six passengers traveling together in a car.  Sleeper class does not have AC.  However, since there are fewer people in each compartment and the train is moving, the breeze can be enough to cool off the passengers.  Food is typically sold by vendors who travel between trains  — you alone know what your stomach can handle, but it is probably good to continue to exercise caution to avoid getting sick in the heavily used train restrooms.
AC Tiers 1 – 3.  Want privacy in India? Then you are going to have to pay for it. This is what AC symbolizes.  AC tiers can be lumped together by imagining varying degrees of segregation and some service comforts (such as complimentary bed rolls) on a sliding scale going up from the lowest, 3rd tier, to the highest, 1st tier.These cars also tend to be segregated from the rest of the bustle of the train with first class being the most private and third being the least.  You will find food similar to the rest of the train with perhaps more variety offered in the highest classes. It depends on the train, but if a meal is served, the train will ask for your preference (vegetarian or non-veg) when you book your ticket online.
3. Keeping yourself and your stuff safe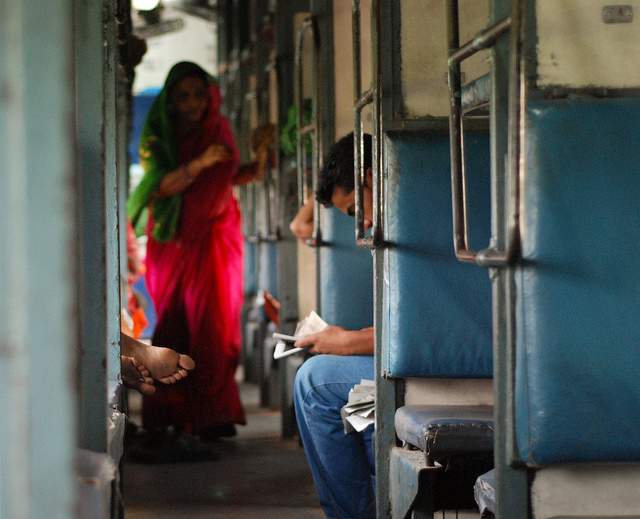 Unless you are traveling on the Palace on Wheels or another segregated luxury train, it is important to consider your security first off.  Violent incidents are rare but petty theft can be a major hassle of train travel in India.
Get a lock for luggage.  It is very easy and usually cheap to find a padlock and chain to secure a backpack to the foot of a bed in a sleeper compartment. If your bag is chained to the train, you can rest easy knowing that no one will make off with your luggage in the middle of the night!  Not only should you padlock the entire bag to a bolted down surface, but you should get small locks to secure any zippers closed so that no one can rummage through your things.
Keep your most important items with you and out of sight at all times.  It may be wise to get a money belt or a little pouch to keep on you with money, credit cards, passport etc.  You can even sleep with your most valuable items stashed in your pillow.  While a lock on backpack zippers should ensure that your belongings are safe, there are instances of luggage being cut open.  It is better to keep your most valuable possessions close to your person while sleeping on an overnight train.
Do not be overly worried about security. You may hear horror stories about train travel or feel uneasy at the initial shock of traveling in an open-compartment and sleeping amongst strangers, but do not let this get to you. One of the activities I enjoyed the most was traveling between the cars and looking out the open windows. While this may not be the safest way to see the sights along the way, I felt comfortable and did not let the warnings of overly cautious and meddlesome travelers discourage me from taking in the sights I wanted to see.
>> Get tips for coping when things go wrong on a trip
4. Packing for a smooth trip
One of the pleasures of train travel is reaching your destination in real time, passing through the villages along the way, stopping at small town railway outposts, and watching out the window as the terrain morphs from lush green jungle to sandy, arid desert.   Train travel allows you to appreciate the real length of a journey as you wind through the vast countryside that separates your destination from the starting point.  That being said, you can only look out the window for so long without going crazy from boredom.
Be prepared for the long hours en route with a number of distractions to pass the time. Some useful items to carry along are: cards, a book, a journal, a camera, or a book on learning Hindi (you will probably get a free tutorial from the person sitting next to you).  In addition, some must-have items for convenience sake are: toilet paper and tissue, hand sanitizer, a fork and bowl, water bottle, snack/energy bars, sheet/sarong for sleeping in berth, and a generous supply of pain-killers and Pepto-Bismol, just in case.
>> Get tips for packing light and read The Ultimate Guide to Packing for a RTW Trip
5. Where to go
No journey is too far or too long for the Indian Railway system.  For this reason, you may even decide to plan your destinations around some of the most famous train routes.  The country's longest route runs from the southern-most tip, Kanyakumari, all the way North to Jammu Tawi, in the state of Kashmir.  Crossing the country from the southeast coast to the southwest coast with the famous lush green beach state of Goa as a destination, allows you to experience the laid back South.   Passing through the Thar desert in Rajasthan along the route of the Delhi – Jaisalmer Express should not be missed by travelers in the North. Mumbai to Goa is one of the most popular tourist lines, and you can see the terrain change drastically while you travel north from Goa to Delhi.
My most memorable moment traveling in India was waking up to the whistle on a Delhi bound train at 4:30 am and realizing we were nearing Agra.  I decided to collect my things and hop off early to catch sight of the Taj Mahal as soon as it opened at 6:00AM.  The photos from that visit are a rare relic from a sight that is impressive even when it is swarmed with thousands of tourists, and captivating when it is taken in practically alone, in its silent, empty beauty.  The choices are endless.  The decision is up to you where you will board and where this feat of human engineering will take you.
>> Read about the best ways to experience India
Check out the following articles and resources about traveling in India and rail travel:

Photos by mingtong, zippaparazza!, Daniele Sartori, Benjamins Litchwerk, funtastica