New Zealand may be the only place in the world where you can lay on the beach, climb a glacier, and hike through a rainforest all between breakfast and dinner.  Maybe it's no surprise then, that a country with such diversity of landscape would also have a wide array of wine regions.
Thanks to differences in climate and terrain, each of the country's nine wine regions offers a completely different experience.  With specialties as diverse as spicy reds from Hawkes Bay to the famously flavorful sauvignon blancs of Marlborough, wine lovers are near guaranteed to swoon over the abundance of fine varietals within reach.
New Zealand is as much a can't-miss for casual wine tasters as it is for connoisseurs.  Wine tourism takes visitors past ample opportunities for hiking, museum-hopping, swimming with dolphins, bungee jumping, and general sightseeing.  Whether you're looking for a wine-tasting destination with a healthy side dish of adventures, or a great vacation with a few vineyards thrown in for good measure, take a look at nine New Zealand wine regions to visit below.
Plan a RTW trip around wine tasting
New Zealand is one of many countries with an abundance of wine regions. Check out this multi-stop trip that's built for the wine connoisseur, and become a BootsnAll member to build, price, and book your own big trip!
Northland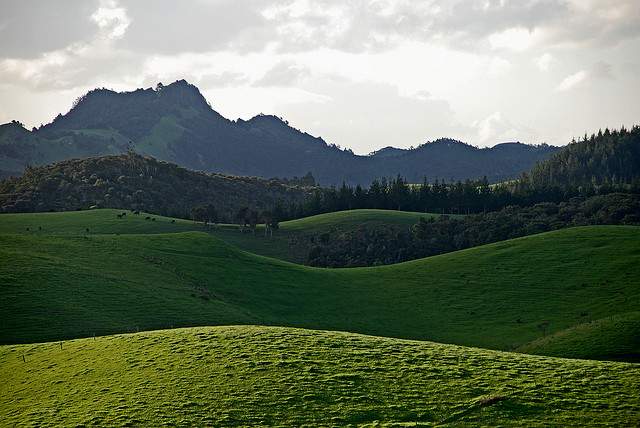 A skinny finger of a peninsula, Northland makes up the very top of New Zealand.  Sub-tropical weather, pristine South Pacific beaches, and ancient kauri forests (be sure to check out Tane Mahuta—New Zealand's oldest tree) make this a popular kiwi holiday destination.
The area also happens to play an important role in New Zealand's history: it was here that the first Maori settlers landed, followed by the first European settlers (check out New Zealand oldest colonial buildings: the Stone Store and Kemp House in Kerikeri).  Just to consolidate its claim as "Birthplace of the Nation," Northland was also the site of the signing of the Treaty of Waitangi, considered to be New Zealand's founding document.
Add this to the list of Northland's historic firsts: New Zealand's first grape vines were planted here, way back in 1819.  The wine scene has grown since then, with over 50 vineyards producing some promising Chardonnays and Pinot Gris.  Most wineries are scattered along the east coast between Whangarei and Kaitaia.
It may have been the first, but Northland is still the smallest wine region in New Zealand.  The sub-tropical climate is touch on vintners, and it seems that only the strong survive.  Many of the vineyards are also capitalizing on Northland's abundance of fresh produce and seafood and operate fantastic restaurants.
With the exception of a few small clusters, Northland's wineries are not centrally located the way they are in many other regions.  To get the most of a wine tour here, adopt the laid-back attitude of Northlanders and take it slow—stretch the trip across a few days and pencil in some time for boating and beaching.
Practical information
The Northland region is just north of Auckland, and this big city is the easiest way to get to it.  From Auckland, drive north on SH1—you'll be in Whangarei within 2.5 hours.  There is good, budget accommodation available in Whangarei and Paihia.
There aren't many companies offering wine tours of the region, but Pukekiwi VIP Tours can put something together for you.  Otherwise, the self-drive option is your best bet.  You can download a wine trail map from the Northland Winegrowers Association website.
Check out this New Zealand adventure trip 
Auckland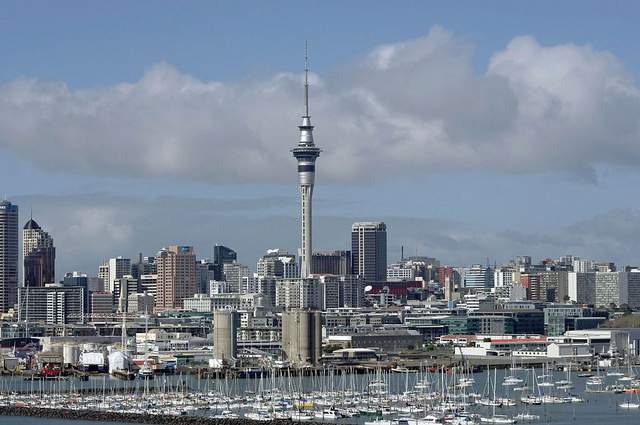 Auckland is almost every international visitor's port of entry. Home to almost a third of the country's people, it's fair to wonder where on earth they fit the vineyards in.  The answer is suburbs: most of the wineries are located to the west, south, and southeast of the city as well as on Waiheke Island, just a quick ferry ride from downtown.
Just like the city itself, the wine region is populated and diverse.  To the north, Kumeu has been producing high quality Chardonnay, Merlot, and Cabernet Sauvignon wines since Croatian immigrants started planting grapes in the 1940s.  In the 1980s, vintners started to take an interest in Waiheke Island—and once the ferry system improved between the island and Auckland, so did tourists.  To the south, bucolic Clevedon didn't start planting commercially until the 1990s, only really grabbing attention in recent years.
If you only have a few days in Auckland, it's easy to pick an area and spend an afternoon sampling a few wineries. If you have longer, there's more to be explored.
Practical Information
Getting to Auckland doesn't seem to be a problem for most people, since AKL tends to feature prominently on most airline tickets in and out of the country.  Look for affordable accommodation in downtown Auckland, Mt. Eden or Ponsonby.
NZWINEPRO and Auckland Wine Trail Tours offer tours of the area.  Waiheke Island Wine Tours offers wine tours of, you guessed it, Waiheke Island.
Check out our Auckland Travel Guide and book a flight to Auckland
Gisborne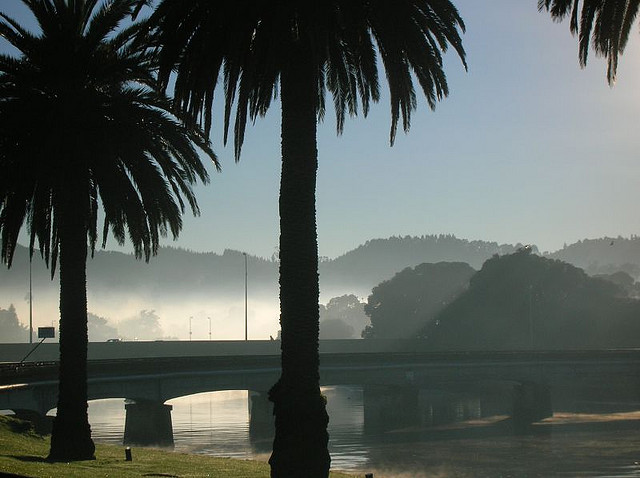 The East Cape area sticks out of the North Island and stretches into the Pacific Ocean, towards the rising sun.  Famous as the first city in the world to see the dawn of the new day, Gisborne also manages to boast some of the most light in the country.
Through the magic of photosynthesis, Gisborne's sunshine gets transformed into plump wine grapes that make for drinkable, fruity white wines.  Gisborne's Chardonnay has long been the regional star, though the up-and-coming Gewürztraminer is also worth noting.
Gisborne's wineries are fairly close together, and it shouldn't take more than a day to thoroughly explore the area.  If you're in a hurry though, the Gisborne Wine Center (a walkable distance from town) offers one-stop tastings from a selection of Gisborne wineries.
Practical Information
All of the wineries in this area are easily reachable by car or bicycle from Gisborne.  Unfortunately, Gisborne doesn't offer a wide range budget accommodation.  Try the YHA hostel or Flying Nun Backpackers, or head further south down SH2 for camping.
The Gisbourne Wine Center runs tours of the area.  A wine map can be downloaded from the Gisborne Wine website.
Browse through campervan rental options in New Zealand
Hawke's Bay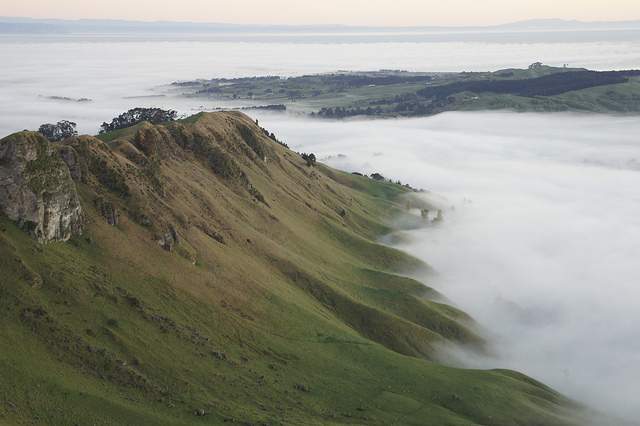 Thanks to long sunshine hours and warm temperatures, Hawke's Bay is ideal for growing red wine grapes.  The weather also attracts vacationers, most of whom head for the seaside town of Napier.  In 1931, Napier was devastated by an earthquake and was rebuilt almost entirely in the art deco style that was popular at the time.  A perfect example of that old proverb about clouds and silver linings, Napier's architecture has turned it into a major attraction.
Hawke's Bay is New Zealand's second largest wine-producing region (after Marlborough) and one of the oldest in the country, with wineries dating back to the 19th century.  Thanks to a whole lot of sunshine, the region specializes in late-ripening varieties like Cabernet Sauvignon, Merlot, Cabernet France, and Shiraz.
Hawke's Bay vintners have been producing wine for over one hundred years, and you'll find a few history lessons given with tastings.  Mission Estate Winery, New Zealand's oldest winery, offers tastings and tours with a focus on the history of the estate, while ancient winemaking artifacts are housed in the Wine Museum below Church Road Winery.
Practical Information
A number of wineries are clustered to the west of Hastings, and the town has affordable accommodation options.  However, with both plentiful accommodation and art deco architecture to gawk at, nearby Napier is a more appealing base.
There are a number of wine tour operators.  Bay Winery Tours and Grape Escape will take you around.  On Yer Bike and Bike D'Vine offer wine tours by bicycle.  A wine trail map can be downloaded from the Wine Hawkes Bay website.
Search for a hostel in Napier
Wairarapa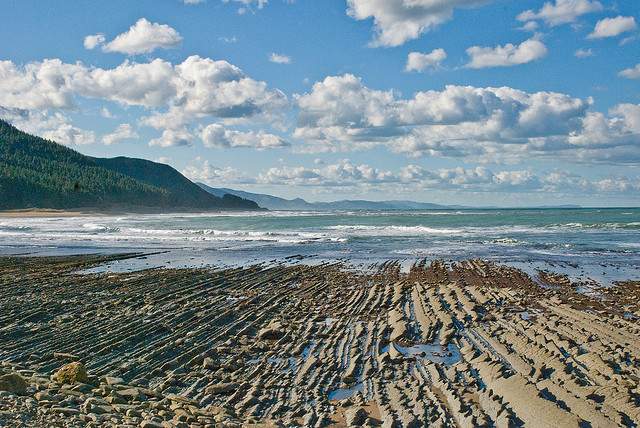 Already a popular destination for Wellingtonian weekenders, Wairarapa is starting to attract tourists from far and wide.  And the town of Martinborough has developed into a charming hub of boutique cafes and cottage industries.
In keeping with the sweet, small-town vibe of Martinborough, Wairarapa's wine industry is compact and specialized.  Try the Pinot Noir varietals—a notoriously tricky grape that Wairarapa has put its own signature on.
From Martinborough, it's easy to give your designated driver a break and walk to a number of wineries.  A quicker alternative is to rent bikes and pedal your way around.  No matter how you travel, Martinborough is the hub of Wairapa wine country and you'll be sure to have a pleasant meal and some unique souvenir shopping in between tastings.
Practical Information
From Wellington, Wairarapa is just a short drive east.  You can easily see the wine region on a day trip, though if you want to spend the night, you're best bet for budget-friendly accommodation is in Greytown or Masterton.
Martinborough Wine Tours runs wine tours of the region, and Zest Food Tours combine wine and food for a unique trip around Wairarapa.  For a self-guided tour, the Martinborough Wine Center rents bicycles for half-day or full-day use.  You can pick up a wine trail map from the i-Site in Martinborough.
Find a flight to Wellington
Marlborough
Without a doubt, Marlborough is the juggernaut of New Zealand wine production.  The entire province seems to be carpeted with rows of grapes.  Sauvignon Blanc reigns supreme in Marlborough, though you'll also find some great Chardonnay and Pinot Gris.
The wine industry here is far more developed than anywhere else in New Zealand, and there is plenty of infrastructure set up for wine-lovers.  From boutique accommodation among the vines to myriad wine tours to restaurants featuring the region's best, the local economy has a distinct flavor.
If you need a break from the carefully cultivated landscape, check out the Marlborough Sounds, north of Blenheim.  There are ample opportunities for boating, dolphin watching, diving, hiking, and camping in the picturesque sounds, full of inlets and islets just waiting to be explored.
Practical Information
Blenheim is the epicenter of all things wine in Marlborough.  Most wine tour operators will offer pick-up and drop-off at your hotel in Blenheim, which is an added incentive for staying in town.
Options abound for guided wine tours in Marlborough.  Rental Cars New Zealand has put together a good summary of what's available.  Wine Tours By Bike sets you up for self-guided cycling wine tours.  You can find a wine trail map from Love Marlborough.
Nelson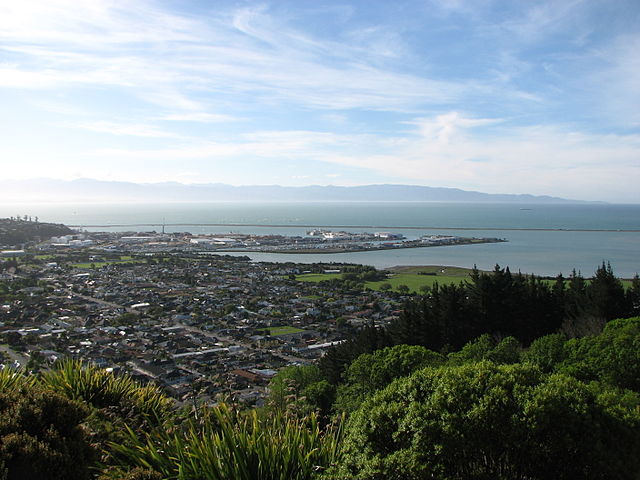 The Nelson region, at the top of the South Island, has more resident artists per capita than anywhere else in New Zealand.  It makes sense—between the mild weather, golden bays and thick forests it's hard not to be inspired.
Though Nelson's wine scene lacks the international recognition of neighboring Marlborough, the region is practically swimming in award-winning vineyards.  In fact, if you consider awards won per acre of vines, Nelson is the most acclaimed wine region in New Zealand.  Pay close attention to the region's Chardonnays, Sauvignon Blancs, Pinot Noirs, and Reislings.
Art, food, and wine blend seamlessly together in Nelson, and you'll find a lot of well-decorated, award-winning vineyards with worthy restaurants attached.  The area is also the capital of craft beer in New Zealand, so be sure to toss a few brewery tours into your itinerary.
Practical Information
Nelson has plenty of affordable accommodation to house the tide of visitors coming for wine, weather, and art.  Check out the backpackers and hostels downtown for some good deals.
Bay Tours Nelson and JJ's Quality Tours can take you around.  Wine trail maps can be downloaded from Nelson WineArt.
Search for a hostel in Blenheim
Waipara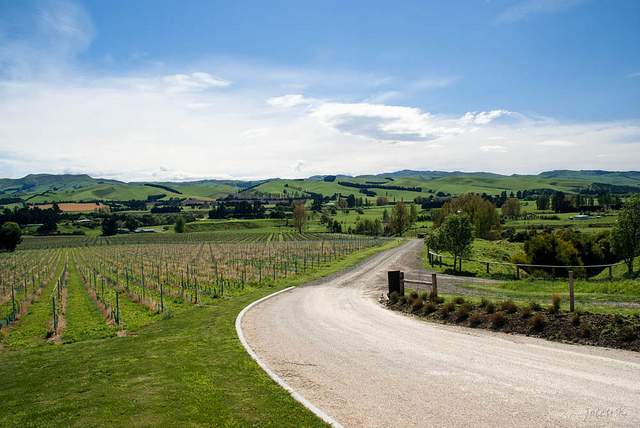 Stretched out between Kaikoura and Christchurch along the east coast of the South Island is Waipara Valley.  The sunny valley is New Zealand's fastest growing wine region, with special attention given to its Reisling and Pinot Noir wines.
As in Marlborough, wine is the focus of most visits.  With a population of 258 people though, this region has a noticeably sleepier feel to it than Marlborough.  Wine grapes weren't planted here until the 1980's, and though the industry is promising in Waipara, a culture of weekenders and tour guides has yet to overtake what has been farm country for over one hundred years.
Interrupt the day of driving with a few stops to explore historical sites like the Weka Pass Railway and the Hurunui Hotel that remain from pioneering days.  There are also tiny farm towns and empty beaches to be visited.
Practical Information
Christchurch is the most convenient place to base yourself for a tour of the Waipara—look in the up-and-coming suburb of Addington for affordable lodging.
Discovery Travel and Waipara Wine Tours offer guided wine tours of the region, but if you prefer a self-drive option you can download a wine trail map from Waipara Wine.  Along the road, you can pick up information on local wineries at Pukeko Junction Cafe off SH1 in Leithfield.
Central Otago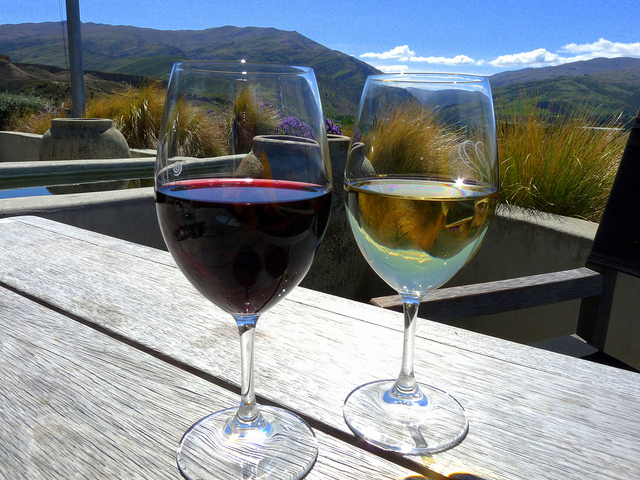 Central Otago looks like nowhere else in New Zealand.  Rocky, dry terrain is hemmed in by snow-capped mountains and spotted with deep lakes.  The rugged landscape looks more suited to cowboys than to vintners, which is exactly why it wasn't until the mid-1990's that a wine industry started to grow out of here.
The Central Otago wine region might be New Zealand's most promising up-and-comer.  There is nowhere else this far south that produces wine, but thanks to a continental microclimate (hot, dry summers and cold, snowy winters) that is unusual in the southern hemisphere, Pinot Noirs have been able to come out of this region.
Pinot noir is the masochist of the grape world, preferring cold nights and arid soil to sunshine and spring showers.  This quality means that it is the only grape that really thrives in Central Otago's rough landscape, and it makes up about 70% of the vines here.
Practical Information
Cromwell is probably the most convenient place to stay if you are planning a wine tour of Central Otago, though Wanaka and Queenstown are each a 40-minute drive away and have more to offer visitors.
There are only a few guided wine tours of the region (try Queenstown Wine Trail) and most people choose to self-drive.  You can download a wine trail map from Otago Wine.

Photo credits: PhillipC, possumgirl2, kjohn493, Rexness, Markus Koljonen, itravelnz, Josey K, PhillipC, Kiwi Mikex, megoizzy, all other images owned by author and may not be used without permission.