While travel is about exploration, adaptation, and growth, even the most seasoned traveler sometimes craves a taste of home. Sometimes a small pause in the overwhelming stimulation of an unfamiliar environment can help you reset. A moment of familiarity and comfort helps you enjoy your new surroundings even more. If you're staying in a hostel, a batch of chocolate chip cookies in the oven of a communal kitchen is a sure way to make friends quickly. And getting comfortable with some quick and easy travel recipes can cut down significantly on eating expenses for those staying on home exchanges or who like to take travel a little more slowly.
Food is, in many ways, a cultural ambassador. Some of my favorite recipes have come from friends abroad.
As you travel, foods from foreign lands may become incorporated into your repertoire, and you may learn how to adapt foreign tastes to recipes from home. Food is, in many ways, a cultural ambassador. Some of my favorite recipes have come from friends abroad – having kaffee und kutchen (coffee and cake) with my German friend, or exchanging treats with the South African family down the hall. With them, I share my favorite versions of American food – biscuits and gravy, carnitas, pico de gallo, shrimp etouffee, chocolate chip cookies. In fact, my biggest frustration was the pat dismissal of American food as nothing but boring hamburgers. Come prepared with a few simple meals, and you'll blow everyone away.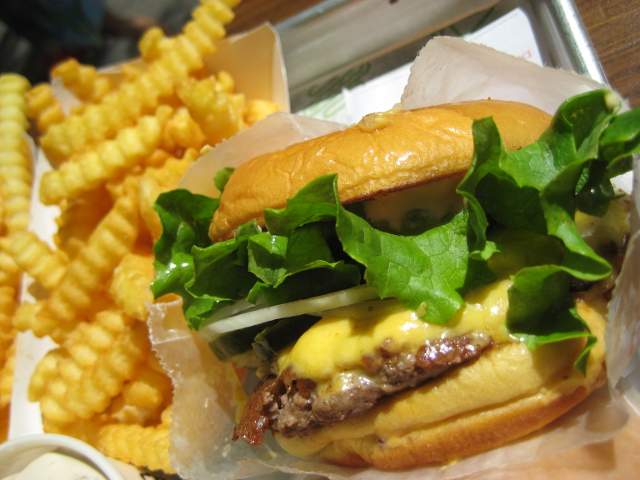 If you're really serious about baking & cooking while traveling, you may find it worth your time to invest in a small kitchen scale like this one.
You will also find it convenient to memorize, or have a handy way to look up, metric to US units. A measuring cup like this one is my best friend. It shows ounces, cups, tsp and Tbsp.
A good pair of sturdy tongs can be used for everything from serving salad to flipping bacon. I love this pair, made by Rosle, which can be locked and unlocked with one hand. In fact, I accidentally left my first pair in a dishwasher in Spain, but promptly replaced it when I got home.
Finally, a couple of baggies of bulk spices from home doesn't take up too much room, but are a great way to bring the taste of home with you. I carried chili powder, Italian seasoning blend, and ranch dip mix. And although you may be able to find them abroad, there aren't really any chocolate chips like Nestle chocolate chips. Plus the cookie recipe is written right on the bag! I loved bringing butterscotch chips abroad as well, because everyone I met was amazed and wondered what butterscotch was. This made me realize that I didn't really know, myself!
Here are some of my favorite recipes for cooking abroad. They aren't meant to be cookbook recipes, with precise directions and measurements, but more guidelines to help travelers with ideas when dealing with foreign ingredients.
Pasta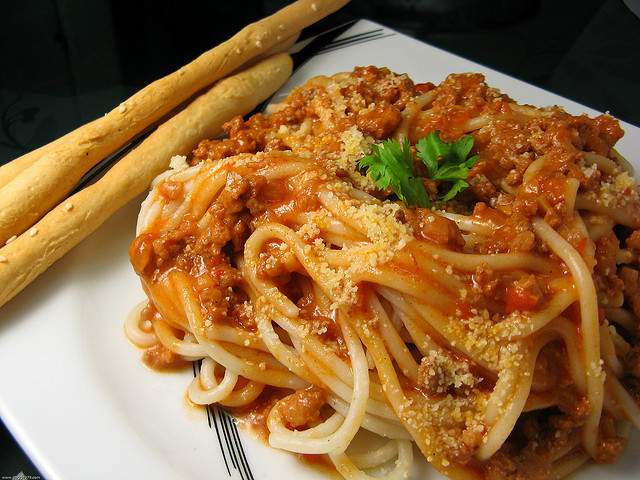 Pasta is my go-to easy meal. For an easy dinner, roughly chop an assortment of veggies, toss them in oil, salt & pepper, and roast in a medium oven (350 to 400 degrees Fahrenheit) until soft and brown around the edges. (Eat one if you're not sure if they're done!) Toss with cooked pasta and serve hot or warm. If you don't have an oven, you can get much of the same effect by sautéing in a pan.
Here are some combinations to try:
Tomatoes & onions, with chopped black olives added with the pasta
Broccoli, with grated parmesan and a generous squeeze of lemon added to the pasta
Asparagus, with chopped cooked bacon or pancetta and a dash of balsamic vinegar
Butternut squash and onion, topped with chopped walnuts
Of course, there's the classic Italian-American meat sauce. Brown a pound of ground meat – preferably beef – in a large pan. Add chopped onions, carrots (this may sound weird, but trust me), garlic, and herbs, if desired. Add a splash of red wine. Save the rest for the chef. You can use fresh or canned tomatoes, but if you get canned, buy the whole tomatoes, not pre-chopped or pureed. You'll get a better tomato flavor that way (and I actually prefer canned so I don't have to chop and peel fresh ones). Either way, remove all the peel and crush the tomatoes with your hands. Add them to the pot with all the juice from the can. Cover, and cook over medium-low heat for several hours – the sauce should bubble but not boil over. It's done when the tomatoes have softened significantly and the sauce is, well, "saucy".
Sopa de fideos is one of my favorite easy things for a cold day. It's usually made with fideos, which are short, thin noodles, but you can substitute any tiny pasta or simply break up spaghetti into inch long segments. Pop a tomato, skin and all, into a pot of chicken broth. Simmer until the tomato begins to fall apart. Add noodles and cook until done. Serve with lots of noodles and some bits of tomato in each bowl.
Meat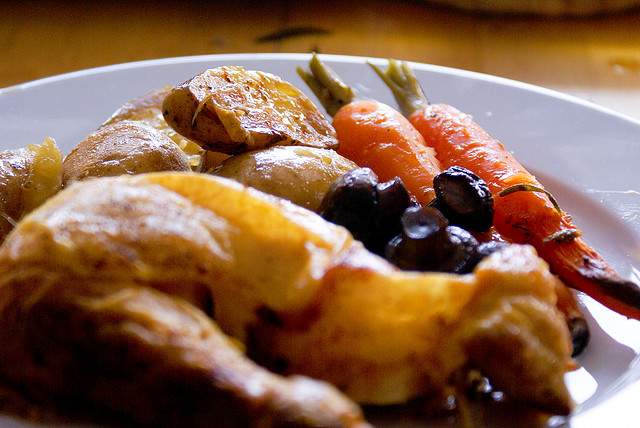 Pork butt, or shoulder (both terms for the same cut of meat), is one of my favorite cuts of meat. It is usually pretty cheap, easy to cook, and delicious. Because it's fatty, long and slow cooking turns it into fall apart pieces, which can be shred with a fork, and a little goes a long way. Wrap it in warm flour tortillas with fresh tomato salsa, or make pulled pork sandwiches. Shred it onto rice or warm, smashed potatoes. It's easy, full of flavor, and a true crowd pleaser.
Tip: if you're going to be buying meat in a foreign country, it may be helpful to bring a little butchering diagram of cows, pigs, etc. Otherwise, you're going to be doing some interesting pantomime to convey the parts of the animal you want to buy. I tend to stay away from things like steak or tenderloin when abroad, since both the cuts and the flavor/marbling of the animals will be different than you expect in the U.S., and our usual cooking techniques may not work as well. Ground meat and cuts for slow cooking (think roasts, stews, braises) are safer bets.
A basic guide for cooking pork butt is to combine the pork, a liquid, a roughly chopped onion, and heat of some kind, if you wish. You can use whole jalapenos, canned chipotles, or even green pepper for the heat. For the liquid, you can use beer, cider, stock, orange juice, or even soda. Pour in enough to mostly cover the meat. You can leave the meat whole, or cut it into strips, chunks, or cubes. Either way works, but I prefer cutting it into rather large chunks, which helps it cook more quickly.
A pork butt is best smoked, but travelers typically don't have access to a grill, so cooking in the oven, on low heat (250-300 degrees Farenheit until the internal temperature is 190 degrees). Pork butt can also be braised on the stovetop. If you do it on a stovetop, be prepared to check the meat often once most of the liquid has evaporated to keep it from completely sticking to and burning the bottom of your pot. You can leave some liquid for a saucier dish, or let most of it evaporate, if you like crunchy bits and pieces mixed in with the rest of the meat. Expect chunks to take about 3 hours and a whole butt to take up to 6.
A couple of baggies of bulk spices from home doesn't take up too much room, but are a great way to bring the taste of home with you.
You might notice that I've mentioned the use of an oven quite often. The reason is that I find oven cooking to be more forgiving than stovetop, which can be a blessing when dealing with an unfamiliar kitchen. Also, you can bake or roast in pretty much any oven safe vessel, or even on foil in a pinch, without worrying about having the right pots and pans.
Turkey might be hard to come by overseas- at least the huge Thanksgiving birds we're used to over here – but you can always roast a chicken and have a veritable feast. Wash the bird and take out an extra flaps of skin, gizzards, etc. Salt and pepper thoroughly inside and out, and stuff some herbs under the skin if you wish.
Prep some veggies if you want to roast them with your chicken. Roughly chopped onion, carrots, parsnips, and celery are all good. Toss them in a little oil, salt and pepper, and layer them on the bottom of your roasting vessel.
Turn the oven on hot – about 450 to 500 degrees Fahrenheit- and have some foil ready in case the skin starts to blister. Prick a lemon or orange all over with a sharp knife and if you can, microwave it for 15 seconds. Stuff the lemon or orange into the chicken. Place the chicken on the veggies, breast side up. Keep an eye on your chicken, and if the skin starts to burn, make a little tent out of the foil and drape it over the breast, legs, and wing tips. After 20 minutes, flip the chicken and roast for another 20 minutes. Flip it back over for the last 10. Your chicken is done, and your veggies should be as well. They can go back into the oven if necessary for 10-15 more minutes while the chicken rests and you carve it.
Veggies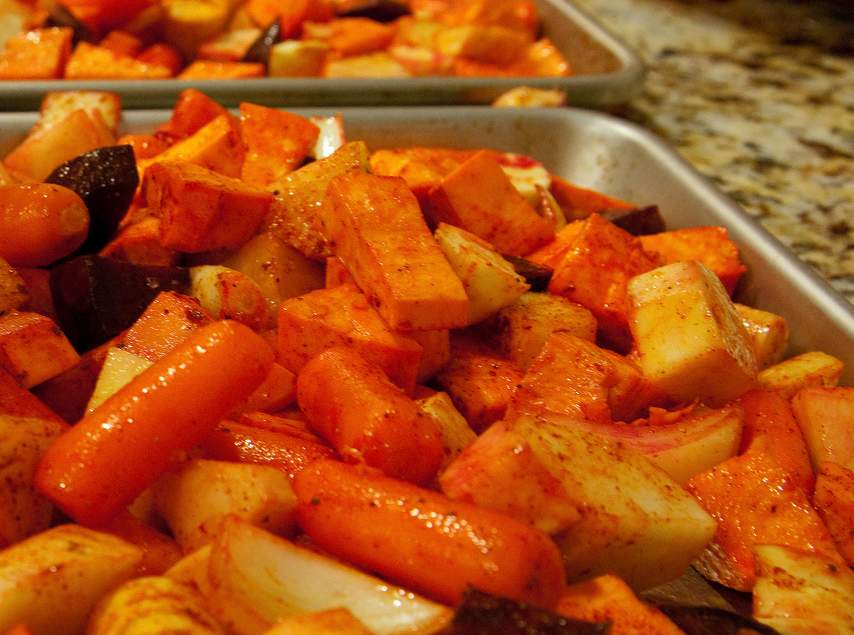 A great way to get your fresh veggies, especially with the roast pork above, is to make some fresh tomato salsa. Chop half an onion about as small as you can, and add the juice of half a lime. Chop and seed several tomatoes (a pound or so) into medium dice. Mix with the onion and plenty of salt. Use to top tortillas, dip chips, or even straight out of the bowl.
Your basic vinaigrette salad dressing can be "dressed up" in endless ways. Mix 1 cup oil with ½ cup vinegar or lemon juice. Shake vigorously in a jar to combine. Add salt, pepper, and any of the following (listed from most to least in amount to add; adjust to your taste):
Several cloves of garlic, roasted in their skins until soft
Coarsely crumbled blue cheese, parsley
Equal parts mustard and honey
Sugar, basil, oregano, and parsley
I love to take the leftover salad and layer the wilted greens on crusty bread the next day, letting the dressing soak into the bread. Add cheeses, roasted veggies, and/or lunchmeat for an easy and delicious leftover salad sandwich.
Did you know there are over 70 articles about food around the world on BootsnAll?

Beans
They say beans are the budget cook's best friend. Besides filling you up, they provide a ton of good nutrients and are usually pretty inexpensive. But I never thought I'd find myself craving lentils until my friend Joni shared her recipe with me. I've been preaching the lentil gospel ever since. Even better: this dish can totally be made with different kinds of beans, and to turn it into a soup, simply by increasing the amount of liquid.
In a large pot, cook some chopped carrots and onions with either chopped up pieces of bacon, or, for a vegetarian version, the fat of your choice. Add a generous pinch of thyme. Add a pound of dried lentils and 4 cups of chicken (or vegetable) broth. Bring to a boil, reduce heat, and simmer until tender, about an hour, depending on your water hardness. Most bags of dried beans will have recommended cooking times on the side of the bag. Don't forget to soak other, larger beans ahead of time. Serve on rice, with a fried egg or a side of sweet potatoes. Delicious!
What are some of your favorite travel recipes and must have tools? Comment below, so we can do a follow up article with a collection of travel recipes.
To read more about food and cooking while on the road, check out the following articles and resources:

Photo credits:  dbgg1979, vauvau, lablascovegmenu, ErinKPhoto, Vegan Feast Catering