A Swiss-based organization called New7Wonders has nominated 28 of the most physically sublime and ecologically important locations on our planet to be one of the New Seven Natural Wonders of the World. Their mission is to create a "Global Memory" of earth's most beautiful assets through documentation and 3D virtual recordings of the final seven.
A global election is being held until November 11, 2011, and of course, among the 28 nominations are 'Seven Wonders' shoe-ins like the Grand Canyon or Great Barrier Reef, though virtually unknown underdogs like Poland's Masurian Lake District or South Korea's Jeju Island are lobbying for a Cinderella story. But before you click over to the site and cast your bids, here are ten of the lesser-known New Seven Natural Wonders candidates and why you should think twice before leaving their box blank.
Jeju Island, South Korea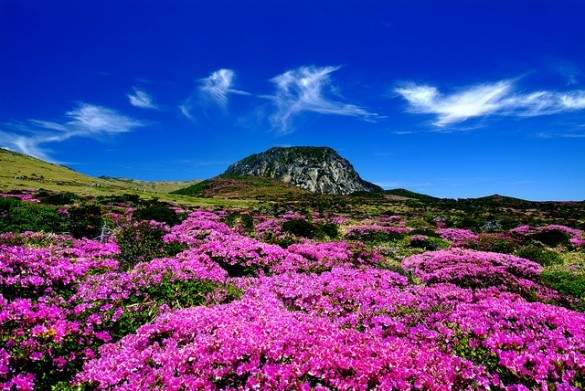 Located off the southern coast of the South Korean peninsula, the volcanic island of Jeju is referred to as Korea's Hawaii. Though its soft, powdery coastline and sunglasses summer climate aren't the primary reason Jeju made the cut.
Rising 1,950 meters above sea level, Halla Mountain is the highest point in South Korea. In addition to offering four distinct ecological zones, Halla boasts excellent hiking trails to its crater peak, which holds the only natural lake in the entire country. Lava that once flowed from the crater 100,000 to 300,000 years ago formed the Geomunoreum lava tube system. Given their length, frequency, and beautiful crystal formations, these lava tubes are regarded as the best in the world. And east of Halla Mountain is 5,000 year old Seongsan Ilchul-bong, the grandest of 360 parasitic lava cones formed by underwater volcanic eruptions on the island. A march to the verdant peak for sunrise is a life-changing pilgrimage for many Koreans.
Jeju is easily accessed by air from eleven mainland cities, as well as several in China and Japan, or by ferry from six Korean ports, the most popular being Mokpo, Busan and Incheon.
Campaign platform: This semi-tropical vacation destination offers enough unique geological features to lure even the most dedicated sunbather off the beach.
>> Book flights to South Korea or read about other lesser known islands
Bu Tinah Island, UAE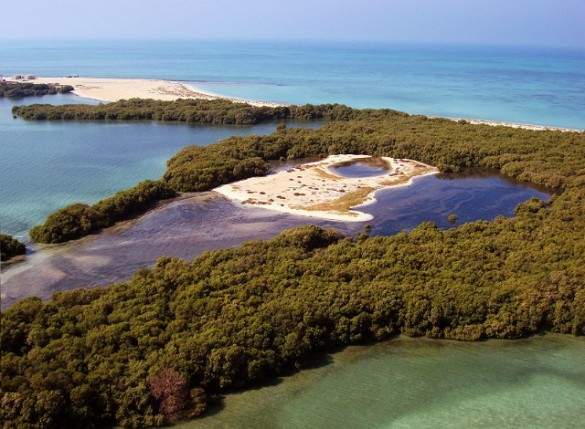 Facing off against ecological behemoths, the Maldives and the Galapagos, is the tiny United Arab Emirates archipelago of Bu Tinah. Giving the island its underdog hopes are its 16 species of coral that survive in temperature and salinity levels that would kill in other parts of the world.  The shallow waters and grassy seabed also host around 600 endangered dugongs, as well as the hawksbill turtle, which is one of the most threatened of any endangered species. And if that's not enough, the combination of Bu Tinah's location and low-lying dimensions, only reaching two to three meters above sea level, make it an important area for climate change research.
In the Primaries: Bu Tinah campaigned hard against other bio-diverse islands and ultimately made the ballot on the shoulders of its private and protected nature reserve status. The island is staffed with local marine rangers who ensure that no one visits, fishes, or collects turtle eggs except for approved scientists. So as Laila Yousef Al Hassan, a representative of the Abu Dhabi Environment Agency, states, "This isn't just a vote for Bu Tinah, it's a vote for conservation."
>> Find flights to Abu Dhabi and learn about places to see before they disappear
Black Forest, Germany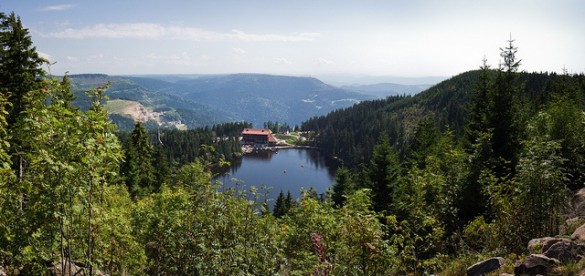 Grandfather evergreens coddle stout Hansel and Gretel cottages. Plump hills adorned with harvest-colored leaves inhale the cold and clean autumn breeze and breathe quiet ripples on a forgotten lake. This is a place of tranquility and intrigue. This is Germany's Black Forest.
The Schwarzwald derived its name from the Romans who called it Silva Nigra, or Black Forest, because of the thick conifer canopy that allowed little light to reach the forest floor. The region encompasses 12,000 square kilometers in southwestern Germany and is one of the country's top tourist destinations.
Perhaps the best way to experience the forest is by foot. Hiking trails of any level abound, but for a true Black Forest experience, try one of the long distance footpaths. The longest east-west trail starts in Frieberg and crosses 180 kilometers of forest to Lake Constance, the third largest lake in Central Europe. For the more adventurous, a 285 kilometer north-south trail starts in Pforzheim, includes the regions highest peak, Feldberg (1,493 meters), and ends at Basel; taking in the Swiss border and numerous villages along the way.
Potentially incriminating past: This forest from a fairy-tail is the evolutionary workshop for the cuckoo clock, but throughout history has also sheltered werewolves, witches, disguised devils and dwarves.
>> Search for the best fares to Germany or learn about traveling like a local in Bavaria
[social]
The Sunderbans, Bangladesh and India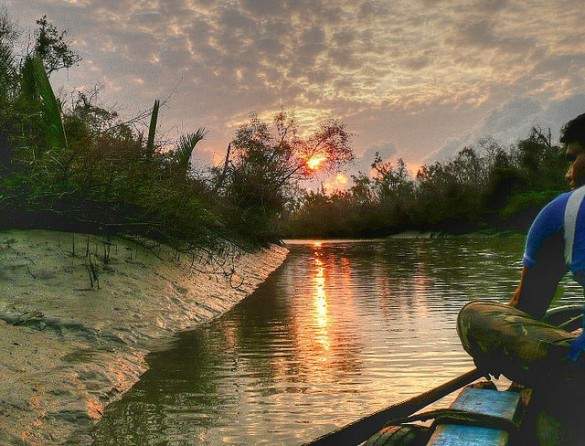 The Sundarbans is the largest mangrove forest in the world. This 4,110 square kilometer 'beautiful jungle' is traversed by a tightly woven vein system of rivers and tributaries that have created beaches, estuaries, swamps, tidal flats, dunes and levees. 150 species of fishes, 270 birds, 42 mammals, 35 reptiles and eight amphibians call the Sundarbans home, making wildlife the primary draw for visitors.
The only way to explore the mangroves is by boat, which can be arranged locally or booked with more luxury liners. The starting point and significant wildlife observatory in Bangladesh is a town called Hiron Point. In India there are more options for access to the rivers, all reachable by road from Kolkata.
Campaign support: Several high profile endangered species have pledged their support for the Sundarbans, such as the Estuarine Crocodile and Gangetic Dolphin. But the greatest contributor has been the Royal Bengal Tiger. Only about 270 of the tigers remain, who are best viewed sunbathing on the riverbanks between November and February.
>> Get tips for traveling around India by train or learn about the cheapest places to see wildlife
Jeita Grotto, Lebanon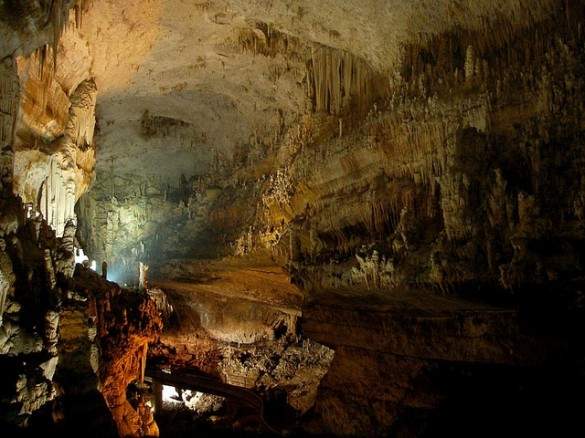 Jeita Grotto is the longest cave complex in the Middle East, and one of the most beautiful in the world with its dramatic crystallized limestone formations creating a creepy, Martian underworld cathedral.
Jeita is five kilometers from the Mediterranean coastline and 18 kilometers from Lebanon's capital, Beirut. The complex consists of two levels. The lower cavern is 6,200 meters long and traversed by a river that supplies fresh drinking water to 1.5 million inhabitants of Beirut. The upper level, 60 meters above, extends for 2,130 meters and is known for its internationally impressive stalactites, stalagmites, columns, mushrooms, ponds, curtains and draperies. Both caves are accessible through a two-hour tour, including a boat ride in the lower galleries and a walk through the upper.
Election promise: All 8.2 meters of the world's longest stalactite.
>> Find flights to Lebanon and get tips for traveling to hard-to-visit countries
Mud Volcanoes, Azerbaijan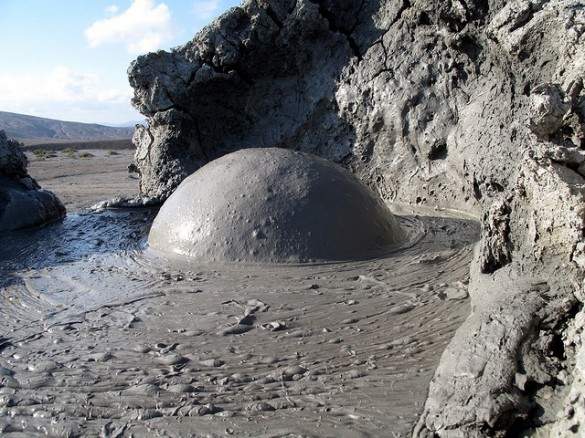 Mud volcanoes are formed when cold mud, gas and water from kilometers below the earth's crust are forced upward and expelled into cone shaped mounds on the surface. Of the 700 mud volcanoes identified on land, 400 are located along the Caspian coastline in Azerbaijan, where the typical mud volcano is about four meters in height, though the largest can reach up to 700 meters. And although the tepid globular emission is significantly less molten then their larger erupting volcanic cousins, mud volcanoes can still offer a theatrical performance.
In 2001, a mud volcano erupted, shooting flames 15-20 meters into the air, then calming down a bit and burning for three days.  Yanardagh, on the Absheron Peninsula in Azerbaijan, burns perpetually, spitting fire for the gawking tourists and sheep who come to witness the spiritually of a literal eternal flame. Many of these mud volcanoes are close to Azerbaijan's capital, Baku, including those at Alyat and Gobustan, and almost all are safe to approach; slowly bubbling out a relatively small amount of ambient temperature mud that is actually considered therapeutic for the skin.
Controversial citizenship: Rumors (though false) have surfaced, fueled by a counterfeit birth certificate, that Azerbaijan's mud volcanoes may not be from the this world, as the bland, gray Azerbaijan topography interrupted often by dusty hills and gurgling mud pools is reminiscent of a lunar landscape. And in fact, mud volcanoes are suspected to exist on Mars, making this one of the few, eerie places on earth where you may actually feel like you're on another planet.
>> Check out more up and coming backpacking destinations
Masurian Lake District, Poland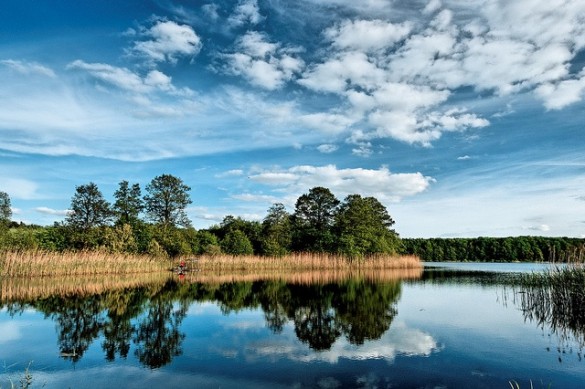 The Masurian Lake District is a 52,000 square kilometer region of over 2,000 lakes in northeastern Poland, extending from the Vistula River to the border with Lithuania. The area holds Poland's largest lake, Sniardwy at 286 square kilometers, and a third of it is pristine, postcard-worthy forest inhabited by moose, wolves, eagles and owls.
Water sports like kayaking, canoeing and fishing are popular amongst visitors. But the most popular leisure activity takes advantage of one of Europe's longest inland sailing routes. There are several popular legs that can be sailed solely, or combined for a 93-kilometer weeklong Pisz – Mikolajki – Gizycko – Wegorzewo tour of the region. Many side trips are viable from this route, including the Lake Uuknajno Reserve, which has the largest Central European breading ground of 2,000 wild swans.
Nearby international airports are Warsaw, Gdansk and Vilnius, Lithuania. Masuria can be reached by train from any of these major cities, and by bus from much of Poland. The main transport hub in the region is Elk.
Loyal voting base: The Lakeland was formed when glaciers carved through the rocky landscape and eventually melted, leaving the more than 2,000 lakes in Masuria interconnected to each other. That's the kind of unity and single-mindedness that most Natural Wonders candidates can only dream of in their constituents.
>> Find flights to Poland or read our Poland travel guide
El Yunque National Forest, Puerto Rico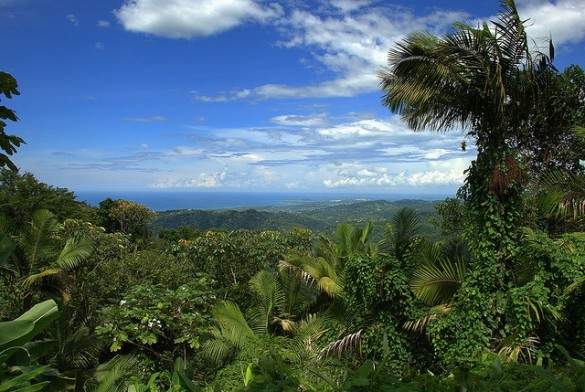 28,000 square kilometer El Yunque National Forest is the only tropical rain forest in the United States National Forest System, and its year round tropical climate makes it one of the most bio-diverse as well. With an average annual rainfall of over 200 inches, El Yunque supports thousands of plant species, including 240 trees, 80 of which are endemic or threatened, and 23 that can only be found in the forest.
Persistent and strong trade winds from the Atlantic Ocean blow violently into the Sierra de Luquillo Mountains that comprise the forest and create an excess of precipitation and cloud cover at higher altitudes. This intense environment has created a unique type of Dwarf Forest that is only found in Puerto Rico, characterized by stunted, windswept trees with wide bases and lower leaf-counts on the branches. That, combined with the high acidity and poor runoff qualities of the soil has made the El Yunque Dwarf Forest an important research opportunity for how ecosystems can thrive in extreme environments.
Rain Forest tours with a ranger leave from the Palo Colorado Visitor Center every half hour from 10:30-2:30. They are led along the two easiest trails for one hour, and then more intrepid hikers are unleashed unto greater challenges. Camping is legal anywhere in the park provided you follow some simple restrictions, mainly regarding distances from roads and trails. The North side has most of the amenities while the South side provides more solitude.
Party affiliation: El Yunque is listed on the ballot as an Independent, perhaps being surreptitiously supported by Amazon Rainforest opponents who are trying to draw votes away from the heavy favorite.
>> Search flights to Puerto Rico
Yushan, Taiwan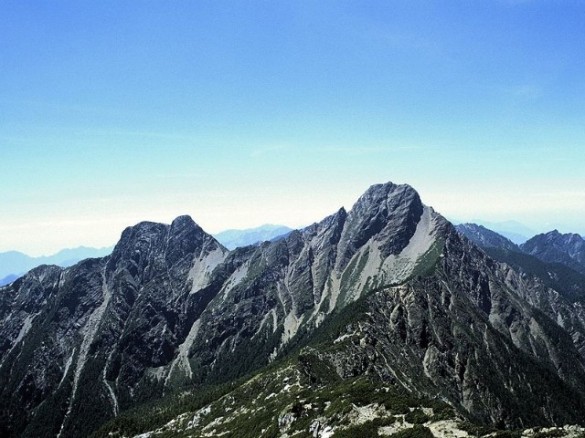 At 3,952 meters, Yushan is the highest peak in the Yushan Range in Taiwan, which has over thirty 3,000 plus meter peaks formed by the collision of the Philippine and Eurasian tectonic plates. It is also the highest mountain in East Asia, and even more impressive, the peak actually rises 8,000 meters from its base at the bottom of the Pacific in only about 100 kilometers. Yushan is nicknamed 'the ark' by scientists, as it is an important habitat for a third of Taiwan's endemic species, including the Formosan Black Bear, Blue Magpie and Rock Macaque.
The range has five main peaks, and to climb all of them takes about five days. The shortest route to only the main peak starts from the Yushan National Park Tatachia Visitor's Center. It is 10.2 kilometers, the first 8.5 being class 2 and the last bit being a tougher class 3 push to the apex. Often hikers will spend the night at the Paiyun Hut at 3,402 meters for screen-saver views and a chance to reach the peak for sunrise the next morning.
You need two permits to summit Yushan: a park entry permit from park authorities and a climbing permit from the police. The former can be obtained from the Yushan National Park website. The latter must be procured from a mountain club. Reputedly, the Chinese Taipei Alpine Association works well and has English-speaking staff.
Also on the ticket: Yushan plans a bit of honorary cronyism if elected, appointing Kota Kinabalu in Bali and Fujisan in Japan to its tight knit cabinet. Mountain climbers will often fit all three peaks into one trip to the East for an 'Asian Trilogy'.
>> Search airfare to Taiwan and read about iconic mountains you can climb
Puerto Princesa Underground River, Philippines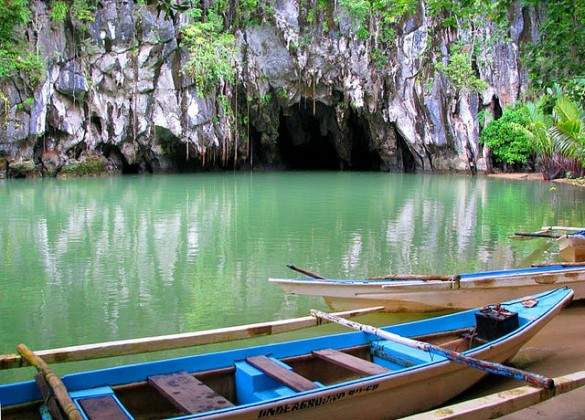 The Puerto Princesa Subterranean River in the Philippines flows through a spooky cave of stalactites and stalagmites, bats and spiders, before spilling into the South China Sea. It also supports the Palawan Moist Forest, considered to have the most diverse tree flora in Asia. All 8.2 kilometers of this underworld waterway meander through a complete mountain-to-sea ecosystem and flow by or below eight of the 13 forest types found in tropical Asia. These forests hold over 800 plant species and at least 295 species of trees.
Though not the longest underground river in the world, Puerto Princesa does happen to be the longest navigable underground river, and is one of a relatively small number that are easily accessible to the public. It is located 50 kilometers north of the city of Puerto Princesa, in Palawan, Philippines. From the small town of Sabang, it is a short hike to the entrance of the cave. Park staff offer guided tours on paddle boats that can easily reach 4.3 kilometers into the cave.
Former office: In the past, Puerto Princesa received consistent nominations and elections to the post of world's longest underground river. But in 2007, a newcomer to the political scene, a reportedly 153 kilometer long underground river discovered in Mexico's Yucatan Peninsula, defeated the incumbent. After four years away from the grind to reanalyze its natural wonder aspirations, Puerto Princesa is back and pursuing its former glory by running for a higher office in 2011.
 >> Book flights to Manila
Read more about natural wonders around the world:
Photos by: KOREA.NET, Aenaon, Yaisog Bonegnasher, joiseyshowaa, kcakduman, peretzp, gibffe, Sushant Jadhav, Kailing3, Storm Crypt