The world's seas hold so many mysteries, most notably the massive inhabitants that overwhelm our senses; the odd-looking ones that make us scratch our heads; and the vividly-painted creatures that we can't stop staring at.
You'd probably love to know which marine areas are teeming with healthy sea life. But equally important: how do you learn a bit more about the animals that strike your fancy without having to digest a dense textbook or sit through lectures that are a snore.
These are the 12 best places in the world where you can almost become a mini-marine biologist, of sorts, for a week or a weekend. And you'll never have to look at your watch wondering when class will be over.
Sea of Cortez, Mexico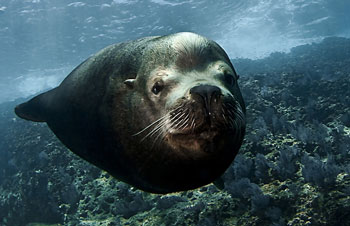 Sheltered between Mexico's west coast and the long Baja peninsula protruding off of Southern California, the Sea of Cortez is aptly referred to as the "world's aquarium." Its attractive sea life even enticed author John Steinbeck who penned the book "Sea of Cortez" after his travels here.
More than a dozen species of whales visit this relatively shallow sea. Schools of spinner dolphins, hammerhead sharks, eagle rays and sea lions all swim through this watery world that's named for the Spanish conquistador. Among the curious tropical fish is one found only here: the browncheek blenny, a long-bodied creature that takes up residence in tubes that other invertebrates abandon.
Baja Expeditions leads diving, snorkeling and kayaking journeys where you're bound to interact with playful sea lion pups. Just don't get too complacent with all the cavorting and approach the females. The male bulls can become quite aggressive.
>>book a flight to Mexico and read about the Best Beaches in Mexico
[social]
Utila Island, Honduras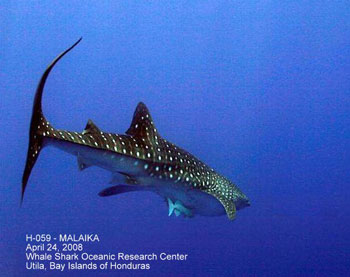 Sitting on the edge of the continental shelf, just about 30 miles from the mainland of Honduras, Utila Island attracts many a snorkeler and diver who come to spot the largest fish in the sea, the giant whale shark. Though they can grow to be 40-feeet long, it's more likely that you'll find 20-30-foot-long specimens in these waters. After just one day, it's not unusual to see a handful of these gargantuan but gentle plankton eaters coursing along the north side of the island.
As one of the only places on earth where these fish cruise close to the shoreline, the island is home to the Utila Lodge that works hand-in-hand with the authority on this creature: the Whale Shark and the Oceanic Research Center (WSORC). Guests will come away with the ability to identify reef fish they'll spot on their dives, learn about whale shark research, and snorkel with these creatures when they're feeding.
>>book Honduras Airfare and read our Honduras Travel Guide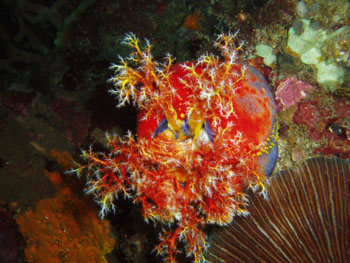 Some 230 miles east of Bali, the Komodo region (that includes Komodo and other volcanic islands) may be renowned for the land-based eponymous eight-foot-long dragon, the largest lizard in the world, but the marine life is equally startling.
Luckily, most of this spectacular region is in a national park and UNESCO World Heritage site that protects its distinctive creatures, such as the dugong, a manatee-like animal; skeleton shrimp; pygmy sea horses; and the boldly-hued sea apple. This vivid invertebrate, a relative of the sea star, attaches to coral or rocks while using its tentacles to feed on plankton. In fact, the marine life is so diverse that some have been known to refer to the area as the "Galapagos of the Asia-Pacific."
DiveKomodo, a company that plays an active conservation role in the national park, assures that all their trips have a natural history component and also makes available an extensive DVD library as well as marine life presentations.
>>look for flights to Indonesia and read about Eight of the Best Smaller Islands in Indonesia
Galapagos, Ecuador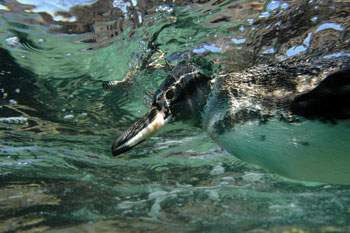 The Galapagos, a volcanic archipelago of 19 main islands and dozens of islets, sits on the equator, some 600 miles from the coast of Ecuador. You can't say Galapagos without thinking of Charles Darwin, the father of natural selection who wrote "The Origin of the Species" based on his observations in this archipelago. And, though it's the finches, giant tortoises and other land-based creatures that get so much attention, Darwin also loved and studied the marine life (coral, barnacles, and such).
During your forays in the water, don't be surprised if you're approached by an inquisitive shark species that's named for this island group where it was first recorded. The Galapagos also has the only iguana type that feeds in the sea. And the Galapagos penguins are the only such birds to live outside Antarctica. Snorkel with Galapagos Adventures and you'll notice that the penguins become aerodynamic projectiles when swimming underwater. Even while sitting in a boat or paddling a kayak, visitors have close contact with large marine life, from sea lions to dolphins.

>>book Ecuador Airfare and read our Ecuador Travel Guide
Beqa, Fiji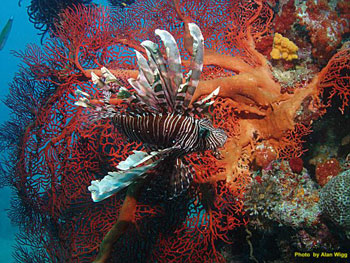 Nicknamed the "world's soft coral capital," the Fiji Islands are strung like an exotic necklace in the South Pacific. Among these, Beqa provides placid diving just off the coast of one of the two major islands, Viti Levu. The reefs surrounding Beqa and its sheltered lagoon provide abundant opportunities to scope out the colorful corals as well as sponges, clown fish and several different shark species.
The boldly-colored blue ribbon eel is a prominent resident that's hard to miss, thanks to its brilliant yellow fins set onto a sapphire blue body. Another signature creature, the striking zebra-striped lionfish, is characterized by its spiky dorsal fins that deliver venom when the fish feels threatened. The dive masters at the Beqa Lagoon Resort have been exploring these waters since their youth. So anyone snorkeling offshore or diving among the coral-coated pinnacles and tunnels will be treated to plenty of information on the sea life.
>>read our Fiji Travel Guide
Palau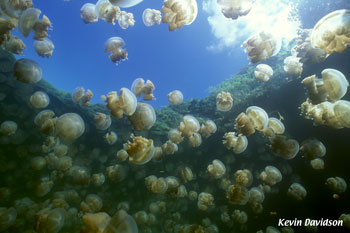 When you've got an island group, like Palau, that stretches across a zone where the Philippine Sea and the Pacific Ocean meet, it's no wonder the waters around the more than 300 islands pack in some of the greatest number of different marine species in the world, including more than 1,300 fish species and hundreds of different types of coral.
Sure, the reefs are a real attraction, especially because you can reach their surface just by diving down 100 feet. But one of the most curious marine venues is in the interior of Ali-Malik Island. There, a vibrant blue salt-water lake is chock full of jellyfish that once floated in the open ocean. With no predators, they have long lost their ability to sting.
Sam's Tours Palau, an eco-adventure company, offers diving and kayak tours in the archipelago as well as snorkel trips to Jellyfish Lake. You'll be surrounded by masses of these unique invertebrates that formed an interesting relationship with micro-algae that provide them with food while the jellyfish transport and care for them.
>>read our Palau Travel Guide
Visayas, Philippines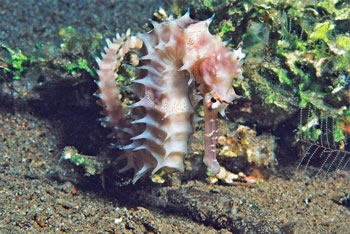 Known for its tranquil waters, the Visayas are an expanse of thousands of islands smack in the middle of the Philippines. Garden and moray eels, barrel sponges, black coral and schools of snappers are just a sampling of the rich diversity of marine creatures found here.
Celebrating its 20th anniversary this year, Sea Explorers focuses its dives in this island group that features five different species of seahorses (such as the thorny seahorse) curious fish that behave like no other: they swim vertically and the males are the ones who give birth. The equally odd Atlantic stargazer is a bottom-dwelling fish that burrows so thoroughly in the mud or sand that you'll only spot their eyes. A novel feature is their appendage that resembles a fishing line, luring prey into its mouth. Sea Explorers use local dive guides that are thoroughly familiar with the rich underwater world of the Vasayas.
>>book Philippines Airfare and read our Philippines Travel Guide
Belize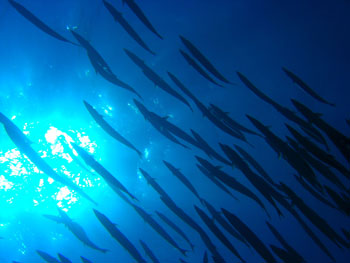 Edging the Western Caribbean and neighboring Mexico and Guatemala, Belize is home to an expansive coral reef that stretches 180-some miles, making it the second longest barrier reef in the world. On the southern tip of the Belize Barrier Reef, the protected Sapodilla Cayes Marine Park is a protected area that's home to an exceptionally healthy coral population.
Reef Conservation International provides an array of diving expeditions inside and outside this reserve where guests can combine a marine conservation project with a dive package. Lobster, conch and reef check surveys are some of the eco projects you can become involved in.
In the reserve, Hunting Caye, a coral sand beach, is a favored dive site where you'll likely encounter barracuda. (They may be plenty intimidating but they rarely attack divers.) Sapodilla also lends itself to snorkel and canoe trips where anything from sea turtles to dolphins will make an appearance.
>>book a flight to Belize and read our Belize Travel Guide
Channel Islands National Park, California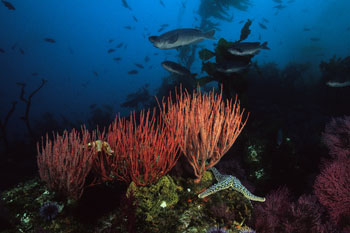 The five islands making up California's Channel Islands National Park are off the coast of the Santa Barbara and Ventura. But they seem worlds away. Dark sea caves, dense kelp forests, narrow basalt tunnels and stony arches all characterize these crystal clear waters that are part of the National Marine Sanctuary.
Island Kayaking schedules guided one-day and multi-day trips where your explorations among the coves and caves may include memorable sightings of at least a few dolphins, whales, sea lions or seals. Four species of seals and sea lions frequent the area. In fact, it's common for thousands to pass through during breeding season.
Gray and sometimes blue whales and several other species also make appearances here. Abundant spiny lobsters, large abalone, rock scallops all call these waters home. Striking sea fans, such as the red gorgonian, filter feed on plankton that rush past in the current. Both snorkelers and divers alike can depend on an array of creature interactions during their journey, though it's the towering kelp, some reaching heights over 100 feet, that makes for the most unique experience.

>>look for cheap flights to California and book a cheap hotel in California
Maldives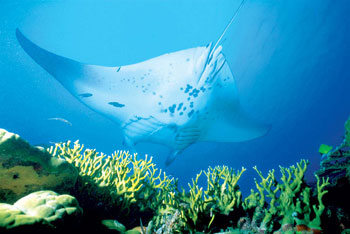 Set some 400 miles off the coast of India, the Republic of the Maldives is a lengthy chain of coral islands and islets. With strong currents and a relatively isolated locale in the Indian Ocean, the waters are exploding with marine life, including sea sponges, brightly-hued soft corals, multi-colored anemones, as well as a seemingly cornucopia of tropical fish. But, among the larger sea inhabitants, it's the massive manta ray, the biggest of the rays, which may be most impressive as it sweeps through the waters with its wingspan stretching up to 12 feet.
Interestingly, the Maldives just created new areas to protect the manta rays as well as the whale sharks. If you dive with Zegrahm and Eco Expeditions, you'll come away with plenty of practical lessons in natural history. Their trips navigate through several protected marine areas in the North and South Male Islands where a series of grottoes and caves are coated with multi-hued coral, and both big and small fish species abound. They'll guide you to a particularly interesting site where manta rays glide into what's referred to as a cleaning station. At this reef-side venue, wrasse fish remove parasites from their bodies.

>>book a flight to the Maldives and read our Maldives Travel Guide
Brothers Islands, Red Sea, Egypt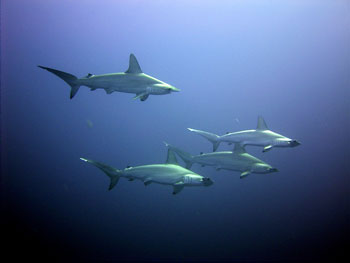 The Brothers, tiny twin islands, sit 30-some miles off the coast of El Quseir in the Red Sea. These remote steep-sided rocks — really remnants of underwater volcanic mountains — are part of the Marine Park Island's National Park that protects these waters and the inhabitants. And, though the vibrant soft coral and sea fan forests are signature kaleidoscopic attractions, it's the sharks: thrasher, hammerhead, gray reef and the occasional oceanic white-tip — named for its white-tipped fins — that provide a real thrill.
Visitors who sign up with Sinai Divers can explore a variety of dive sites in the Red Sea, including Big and Little Brother, which are about half-a-mile apart. This operator plays an active role in environmental issues, partnering up with the Red Sea Environmental Centre (RSEC). At the Dahab Diving Center, Sinai Divers holds seminars and reef biology courses that can be combined with both snorkeling and diving packages.
>>book Egypt Airfare and read our Egypt Travel Guide
Heron Island, The Great Barrier Reef, Australia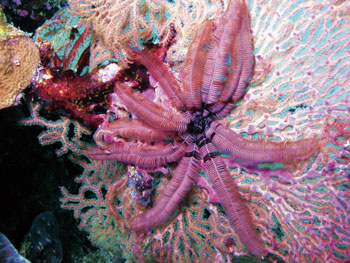 Australia's Great Barrier Reef couldn't be more aptly named. As the world's longest reef system — it's spread over about 1,400 miles, paralleling the coast of Queensland — this coral reef is even visible from space. Sitting on its southern section, Heron Island, located in the UNESCO World Heritage site, is so perfectly located that all it takes to check out the coral gardens is to swim off the beach.
Snorkelers can float beside loggerhead turtles, and stingrays, batfish and other marine life are regularly found near the harbor. Voyages Heron Island Resort, an accommodation that's involved with a program that monitors the quality of the reef waters, gives diving and snorkeling excursions as well as coral viewing cruises. Large sea fans, soft coral-type creatures, are key players that lend brilliant colors to the rainbow palette of the underwater world.
>>book a cheap flight to Australia and read about the Free Things to Do in Australia
Read more about:
Photo credits: 1. Baja — Thomas Vignaud, 2. Honduras – WSORC, 3. Komodo – DiveKomodo, 4. Galapagos — Steven Rosenberg, 5. Fiji — William Kritzberg, 6. Palau — Kevin Davidson, 7. Philippines — Rolf Muehlemann, 8. Belize — Polly Wood/Reef Conservation International, 9. Channel Islands — Courtesty of Aquasports-by Kathy DeWet, 10. Maldives — Zegrahm Expeditions, 11. Red Sea — Nina Eschner, 12. Cruise Whitsundays