It's the midst of winter in the Northern Hemisphere, and perhaps you're staring out at the snow-covered landscape, dreaming of an escape to someplace just a little warmer. And really, what better way to spend a luxurious day in the sun than lounging around the pool? Whether you prefer to make a splash, lounge in a chair and read, or simply soak while enjoying a beautiful view, the perfect pool can take your vacation from average to unforgettable.
Today we take you to another 12 of the world's most amazing pools. See our original list of 12 Most Amazing Pools to see if your favorite made the cut. Know of a world-class pool that we've missed? Let us know in the comments!
1. Heritance Kandalama, Sri Lanka
Stunning natural beauty of the jungle surrounds you in the infinity pool at Heritance Kandalama, yet the hotel itself boasts a luxurious feel.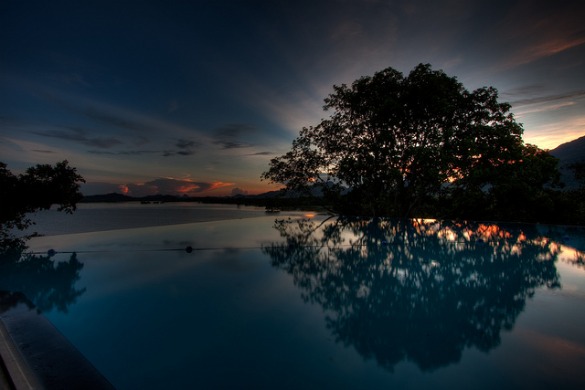 2. The SkyPark at the Marina Bay Sands, Singapore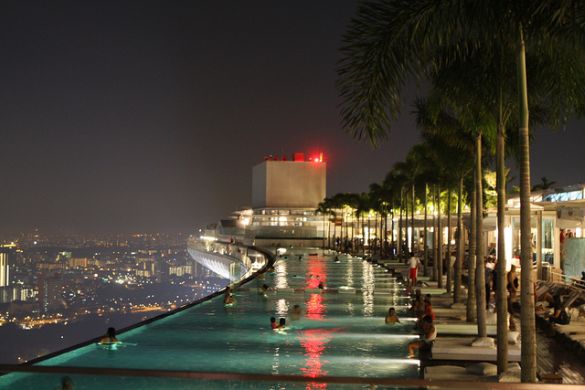 With amazing views of the Singapore skyline from 200m high, this Singapore hotel and casino offers a truly a unique swim!
3. Jade Mountain, St. Lucia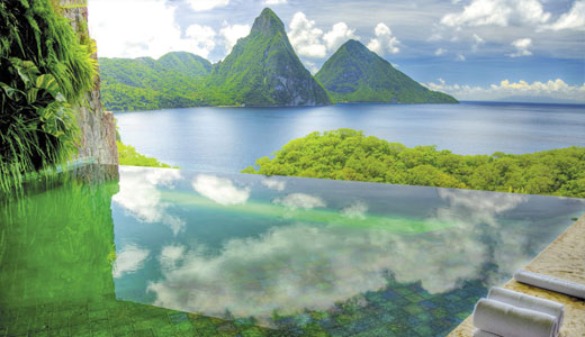 For the utmost in luxury, check out the individually designed infinity pools in each suite or sanctuary at Jade Mountain in St. Lucia. Each pool's color and design was specifically chosen to create a sensory experience for the guest.
4. W Hotels, Fesdu Island, Maldives

The guest suites at the W Hotels on Fesdu Island all have an ocean feel incorporated to their design. It's like being on your own private island.
5. Bora Bora Nui Hilton, Tahiti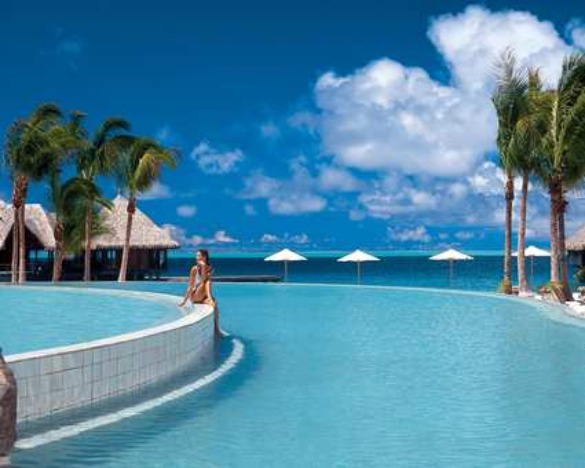 Considering that each bungalow is perched atop a lagoon, I don't know why you'd really need to spend time by the pool, although this is a beautiful option.
6. Fasano Hotel, Rio de Janiero, Brazil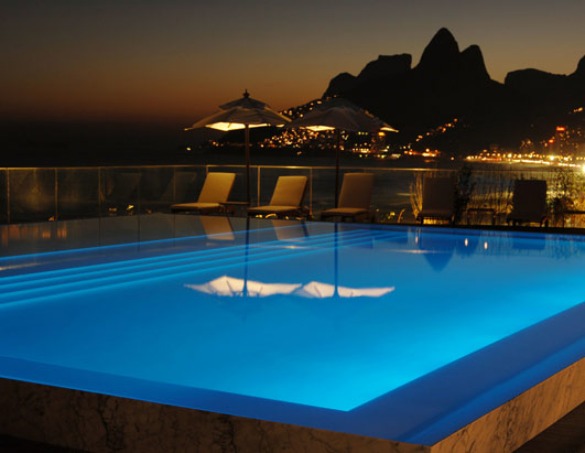 Throw on your best Brazilian bikini and watch the beautiful people mingle at the upscale Fasano Hotel, which overlooks Ipanema Beach
>> Fasano Hotel
7. Le Palais de la Méditerranée, Nice, France
Reopened in 2004, Le Palais de la Méditerranée is every bit as glamorous as you'd expect a hotel on the Promenade des Anglais to be.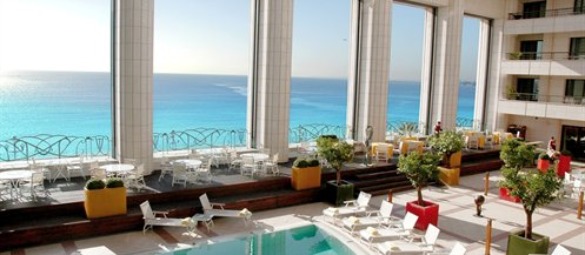 >> Le Palais de la Mediterranee
8. Park Hyatt Hotel, Tokyo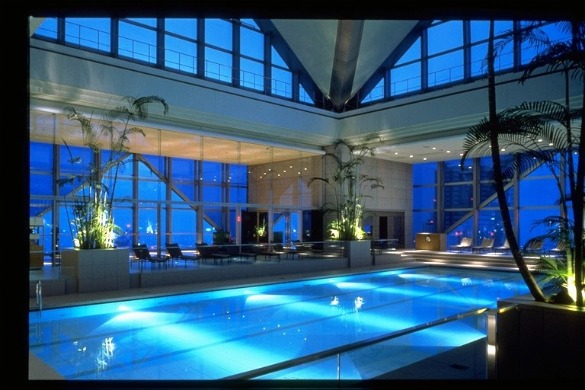 Fans of Lost in Translation will instantly recognize this 47th floor swimming pool, but even those who aren't will appreciate the glass roof and luxury amenities.
9. Peace Laguna Resort, Thailand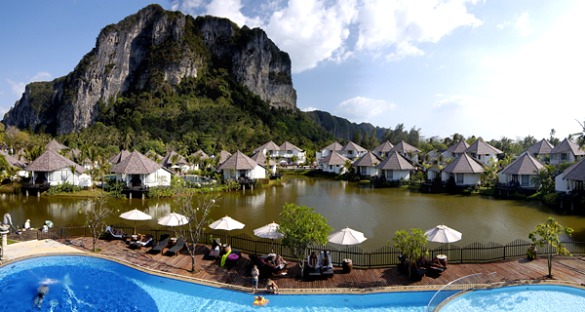 This resort in Krabi, Thailand is nestled into the side of a dramatic limestone cliff and features a natural lake right on the property.
10. Le Meridian Makadi Bay, Egypt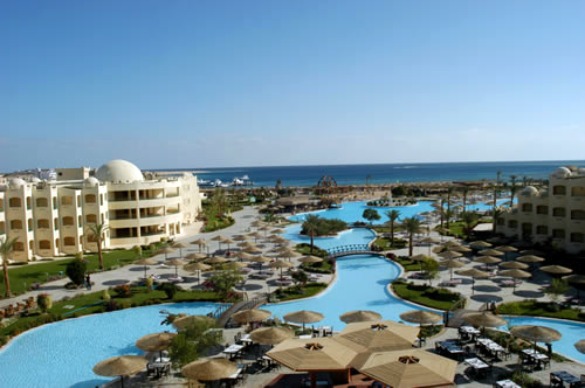 An oasis in the middle of the Red Sea, this huge outdoor pool is over 64,000 sq meters of fun in the sun.
11. Nemo 33, Brussels, Belgium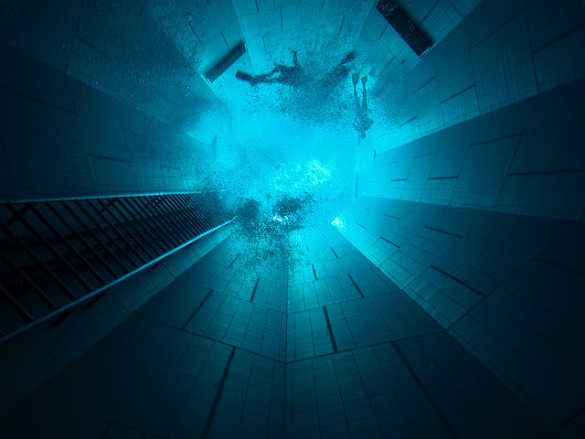 The deepest indoor swimming pool in the world at 33 meters (105 feet), you can get a variety of scuba certifications at this amazing, solar-heated pool. Plus, the water is so warm you don't need a wetsuit!
12. Sheraton Waikiki, Hawaii, USA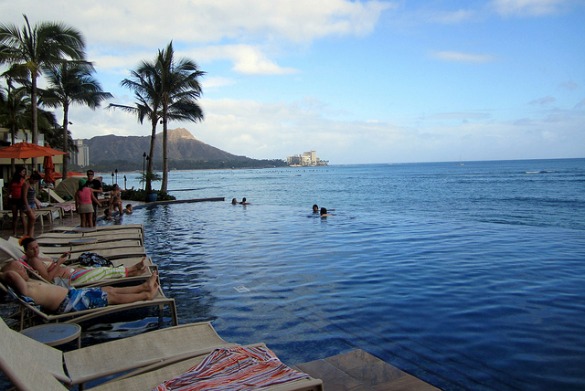 The newly remodeled Sheraton Waikiki's infinity pool overlooks the blue Hawaiian waters with Diamond Head as a beautiful backdrop. Perfect for sipping a cocktail at sunset.
Photos provided by the individual hotel properties, except: 1 – Sri Lanka by Adam Brill; 2 – Singapore by green_kermit; 11 – Nemo 33 by Eric Burgers; 12 – Sheraton Waikiki by wallyg