When you're on vacation, great wine tastes even better. You don't need to worry about when to get up the next day, and can fully savor your drink along with a gourmet meal. Travel operators have long become aware of this trend, and an entire industry has developed around wine travel. Now you can not only visit a vineyard, but at many of them, you can stay the night, too. Here are twenty luxurious wineries and wine hotels worldwide that have opened their doors for you to experience their creations to the fullest.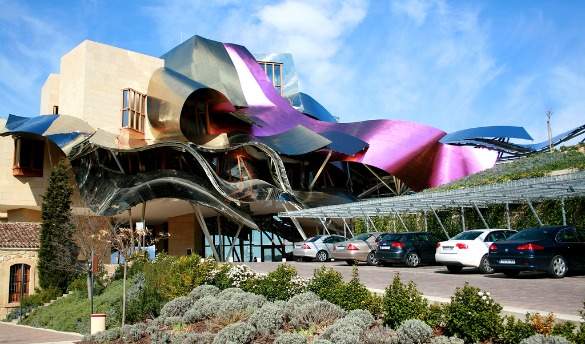 The beginning of this winery dates back to 1858, when Marqués de Riscal Don Guillermo Hurtado de Amézaga, a resident of Bordeaux since 1836, was asked by the Diputación Foral de Álava to hire a French wine expert to train local producers in the winemaking processes used in the Médoc, a region in western France notorious for exquisite wine. Since then, the winery has won numerous awards for its creations and prides itself on the manual selection benches for grapes, implemented in 1995.
The exclusivity of the winery's creations is reflected in the Hotel Marqués de Riscal itself. A spectacular building constructed by none other than Frank Gehry, the hotel embodies true modernity and innovation, set against the backdrop of an old, traditional winery. The 43 rooms have the most luxurious amenities, and you can book a tour of the winery, a wine tasting or even a horse ride through the vineyards along with your hotel reservation.
>> Read about wine tasting in Rioja or find hostels in Logorono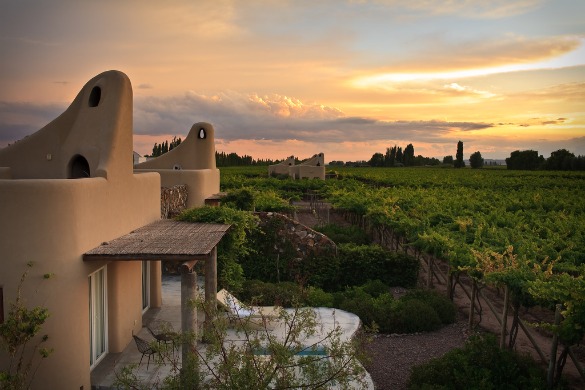 With only fourteen rooms, the Cavas Wine Lodge is the most exclusive (and expensive) hotel in the Mendoza area. In fact, guests don't occupy a room; they each get a private cabaña with its own roof deck. From here, you can look out onto the Andes mountain range and enjoy true tranquility.
In terms of wine, the specialty is the Malbec, a red wine made from a purple grape that originated in France and whose Argentinean version is attracting more and more wine lovers. At Cavas, you can enjoy a bottle as you look straight out onto the vineyards or relish in one of the spa's "vinotherapy" treatments using wine-infused massage oils, wine baths and grape seed exfoliations. Immerse yourself in Malbec all around.
>> Find flights to Mendoza or discover reasons to visit Argentina now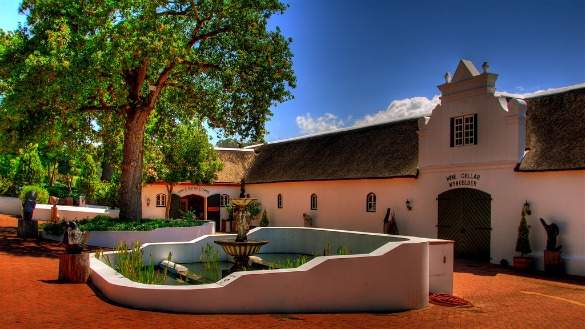 In the midst of the Stellenbosch Winelands lies the Alluvia Specialist winery. It is an award-winning wine estate coupled with luxury accommodation, a combination that the owners call the "vineyard lifestyle." You can choose between five luxury suites or two self-catering houses. From all of them, you can look out at the Banhoek Valley and the Table Mountains, which with their sandstone and granite provide a perfect platform to produce wines of integrity.
Specifically, Alluvia has been honored for its "ilka" Cabernet Sauvignon, awarded a Decanter World wine award, and the "lisa" Cabernet Franc, nominated by Wine Magazine as the top Cabernet Franc in South Africa. In addition to great wine, guests can enjoy golf tours, fly-fishing, hiking, mountain biking and scenic flights.
>> Find flights to South Africa or read more about South Africa's winelands
Chateau Chantal, Traverse City, Michigan, United States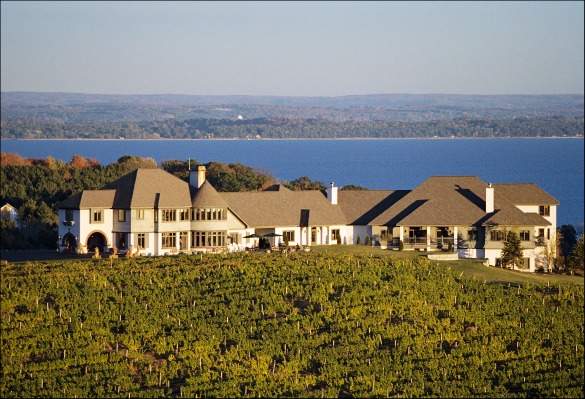 It had always been Robert Begin's dream to build a European style winery chateau. After marrying his current wife Nadine, the couple opened the French style three-room B&B, winery and vineyard estates in 1993. Located on a 65-acre estate on Old Mission Peninsula, the B&B has now expanded to eleven rooms from whose windows you can admire the East and West Grand Traverse Bays, the Power Islands and rolling vineyards on all sides.
Chateau Chantal offers a wide variety of Michigan wines, including Riesling, Chardonnay, Pinot Grigio, Pinot Noir, Merlot, and Cabernet Franc, amongst others. In addition, the family owns a 55-acre vineyard in Mendoza, Argentina, where they produce a rich Malbec red wine. You can savor them all right at Chateau Chantal.
>> Book a flight to Traverse City or learn more about staying at Chateau Chantal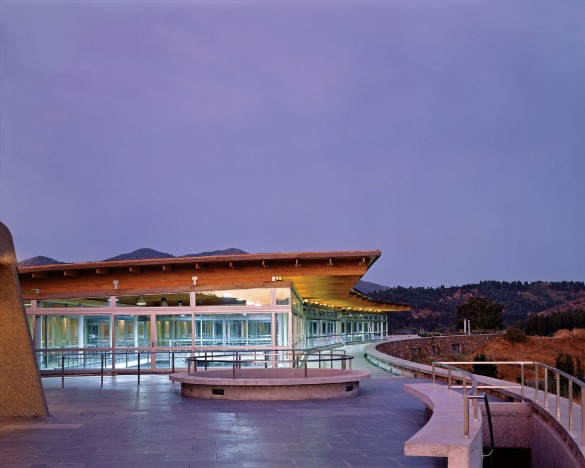 At this state-of-the-art winery, harmony is reached between the organic agricultural practices and the valley's natural landscape. Here, visitors can take a tour to find more about the 300 thousand-liter capacity winery, which relies on gravitational-flow design to optimize the processing of grapes.
Accommodation can be found at La Casona, which has seven large rooms, each with a private terrace. These provide the ideal opportunity to relax while tasting the winery's EQ Syrah, judged one of the top 100 wines by Wine Spectator in 2006.
>> Find airfare to Chile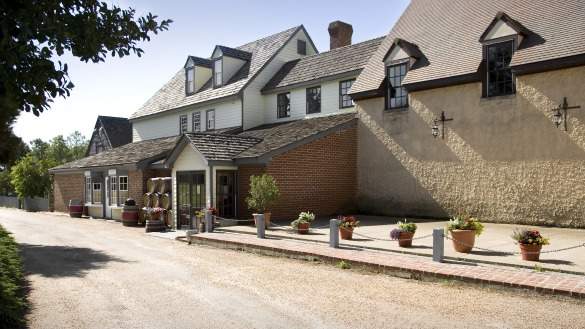 The Wedmore Place spans a 300-acre farm acquired by the Duffeler family in 1983. Here, they constructed the hotel with its 28 European-inspired rooms. Two years later, the Williamsburg Winery was founded, which is now Virgina's largest winery with an annual production of between 55,000-60,000 cases – almost 20% of Virginia's total wine production. The wines are still made by members of the Duffeler family, and can be bought both online and on-site.
>> Read our Virginia travel guide

Spanning over 500 hectares, Tenuta La Badiola is a former home and hunting ground of the Great Duke of Tuscany. Inside the estate you find two hotels (L'Andana and Casa Badiola), the winery Tenuta La Badiola, the 1 Michelin star restaurant "Trattoria Toscana" and a golf driving range. While the Western vineyard is home to white grapes that produce the Acquadoro and Acquagiusta Bianco wines, the Eastern vineyard produces Acquagiusta rosato. On a tour, you can try all three of them, as well as the estate's very own extra virgin olive oil.
>> Learn more about Tuscany or read about vineyards in Italy
Hastings House, Salt Spring Island, British Colombia, Canada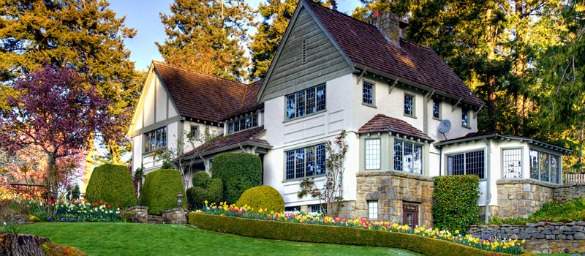 The Hastings House may not be an official winery, but with its award-winning wine selection, it ranks among the top destinations for wine lovers visiting British Colombia. The hotel's extensive cellar prides itself on offering an excellent selection of the top B.C. wines, in addition to first growth Bordeaux, iconic Aussie Shiraz, California Cabernet, Italian Super Tuscan or delicate German Riesling.
Specifically, the hotel offers creations from three wineries from the Salt Spring Island: Garry Oaks Winery, Mistaken Identity Vineyards and Salt Springs Vineyards. If you can't afford the more expensive rates of the Hastings House, you can consider staying at the Salt Springs Vineyards' Bed and Breakfast.
>> Book a flight to Vancouver, British Columbia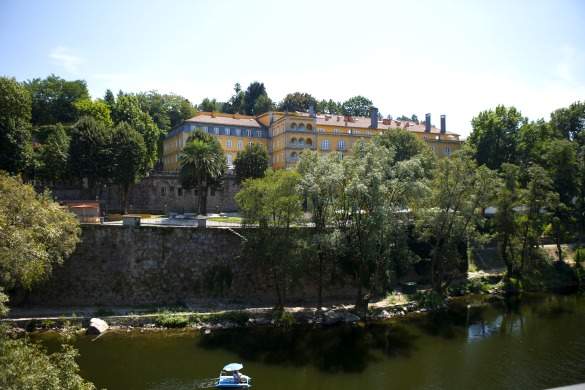 Situated between Oporto and the Douro Valley, Casa da Calçada is a luxury boutique hotel and a member of the Relais & Châteaux exceptional hotels chain. The luxury rooms and suites are housed in an exquisite manor, which moreover boasts an award-winning restaurant. Here you can try the Portuguese wines of the Quinta da Calçada, which are produced across fifteen acres of the Green wine region.
The exclusive nature of these wines is highlighted by the fact that the Alto Duoro Wine Growing Region was named a UNESCO World Heritage Site in 2001. During your stay, you can tour this region, and visit several further World Heritage Sites, including pre-historic cave paintings, ancient roman cities and the historic centers of Oporto and Amarante.
>> Find airfare to Lisbon and read about what to drink in Portugal
L'Acadie, Nova Scotia, Canada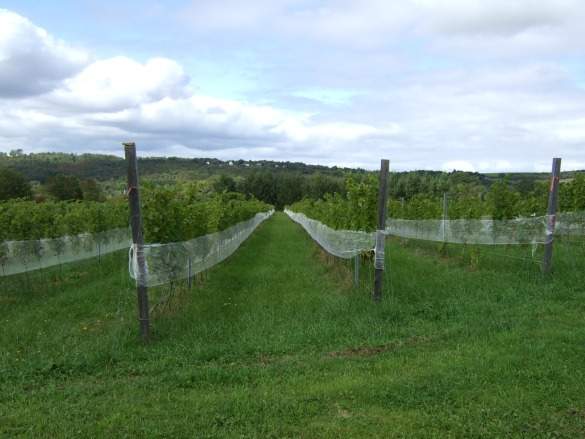 L'Acadie Vineyards is the premier producer of Traditional Method Sparkling Nova Scotia wine, a process that relies on natural bottle fermentation and aging in the same bottle that the wine is sold in. Traditional Method Sparkling wine is characterized by fine persistent bubbles, along with yeast aromas and flavors. All the wines of L'Acadie are certified organic, and you can visit the geothermal winery and tasting bar, both with stunning views of the Gaspereau Valley.
Vineyard-side are several guest cottages, including three two-bedrooms and a couple self-catering houses. They can serve as your starting point to visit five other wineries in the area, as well as local attractions such as the Grand Pré National Park.
>> Find flights to Halifax or learn more about wine tasting in Nova Scotia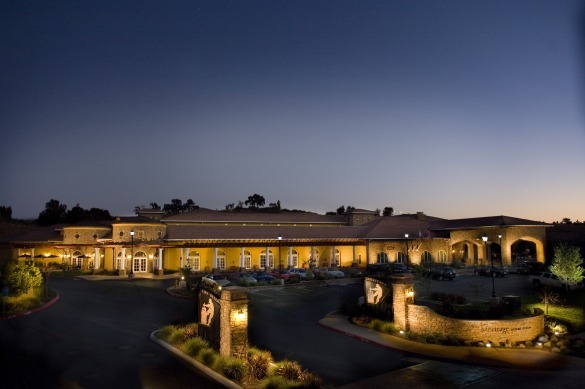 The Meritage Resort and Spa is an idyllic Napa Valley luxury hotel with its own private vineyards. Guests can experience Napa Valley wine tasting on the premises in the hotel's very own wine tasting room, located in the Estate Caves. Up to 200 guests can be seated comfortably here, enveloped by beautiful stone and dark woods. The Tuscan inspired guestrooms and luxury suites are equally elegant, and after a relaxing session at Spa terra, you can dine at the seasonal farm-to-table restaurant called Siena. "We are Napa," is the slogan.
>> Book flights to San Francisco or learn about planning a budget trip to Napa Valley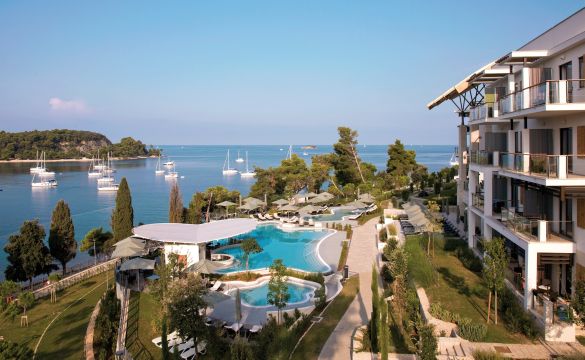 Located in the south of Rovinj, in the century-old Zlatni rt park forest and right next to the sea in Lone bay, the Hotel Monte Mulini is a boutique hotel in unparalleled surroundings. All 99 rooms and 14 suites have their own balconies with panoramic views of the picturesque cove and protected park. The furniture is custom-made and paired with high-tech amenities, including walk-in "tropical rain" showers.
One of the hotel's two restaurants, aptly called "Wine Vault," is presided over by the internationally acclaimed sommelier Emil Perdec. The Wine Vault combines traditional design with contemporary art details, creating an intimate wine cellar experience. Here, you can choose from up to 500 Croatian and imported wines, which complement the French cuisine.
>> Buy tickets to Croatia or check out our Croatia travel guide

The Inn at Red Hills, Willamette Valley, Oregon, United States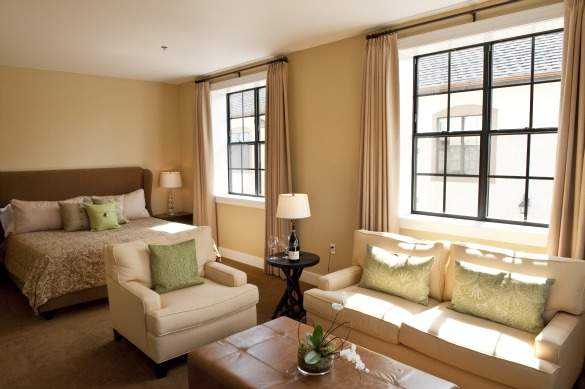 The Inn at Red Hills is Oregon Wine Country's first full-service boutique hotel. As such, it offers 20 unique rooms in two free-standing buildings with a charming stone courtyard in between. Wines can be tried either directly at the wine bar, "Press," or with a meal at the "Farm to Fork" restaurant. The specialties include rare, small-lot Oregon wines. Moreover, the Inn regularly hosts winemakers on-site, so be sure to check out the calendar of events here. If you can't make it to Oregon, you can also order the wines from the Press Wine Bar online.
>> Find flights to Portland and learn more about Oregon wineries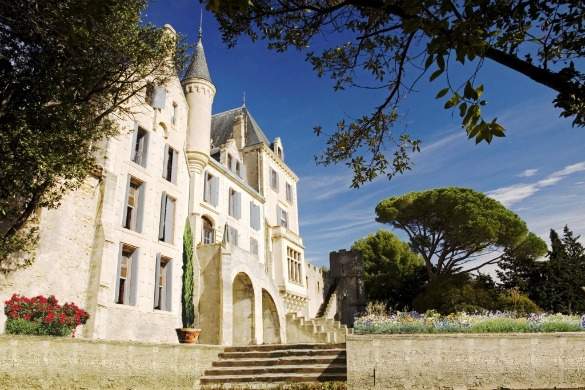 Opening in July 2011, Château Les Carrasses is a 19th century castle in the Languedoc in southern France. It has been extensively restored as a boutique winery, luxury hotel and villa estate. You can choose from 28 suites, apartments and villas, most of which have panoramic views, private gardens and a pool. All of them are in the style of 19th century buildings, and can suit up to 8 people.
The last wine bottling at the Château was in 1988. September 2011 will see the first vintage of the Château's "terroir" wines, and throughout the summer of 2011, the winery will host a series of wine tastings and events. The latter mirror the exclusivity of the accommodation and are limited to small groups so that each participant experiences the people, places and history behind the wines first-hand.
>> Learn more about the Langeudoc and discover the other wine regions of France
La Toscana Winery, Leavenworth, Washington, United States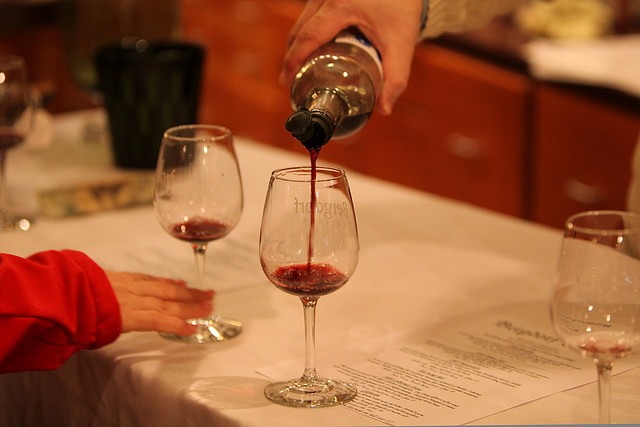 Nestled in the foothills of Washington's Cascade Mountains, La Toscana is a small, family-style winery just east of Leavenworth. The owners Julie and Warren Moyles lived in Italy for two years, and then returned to the United States to open a winery based on what they had admired in Europe. As the name "La Toscana" suggests, the wines are crafted in the Old-World tradition using artisan techniques. You can taste both red and white wines here, but be aware that stock for both is limited.
Accommodation, too, should be reserved in advance since there is only one suite, which can house up to five people. Those who do stay here are sure not to be disappointed; the Siena suite has a Tuscan-style antique décor, beamed cathedral ceiling, three propane fireplaces, and all the new world amenities, including a fully equipped kitchen and a Jacuzzi. A complimentary wine tasting is included.
>> Book flights to Seattle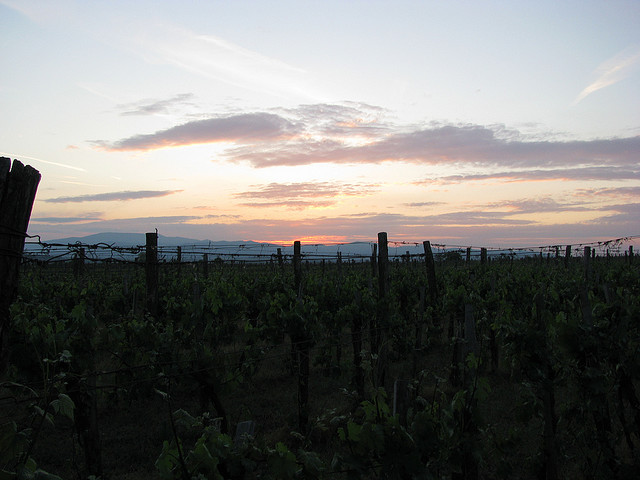 The region of Villány is known for producing some of Hungary's best wines, and the owners of the Crocus Gere Bor Hotel – Wine Spa have long ranked in the top red wine cultivators. The luxurious 4- star establishment provides a unique starting point for exploring the area's vineyards and learning about the wine production process. In town, there is even a wine museum, which showcases the traditional methods of winemaking, including old tools. After a long day, you can continue reveling in the wine culture with a grape and/or wine-based spa treatment.
>> Book flights to Budapest and check out things to do in Budapest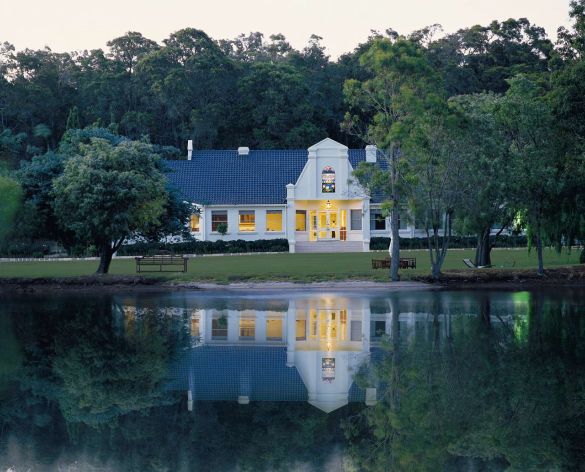 Located on its own secluded vineyard in the heart of the Margaret River Wine Country, the Cape Lodge is one of Australia's finest small vineyard hotels. It was voted Luxury Travel Magazine's Best Boutique Hotel in Australia and moreover listed in the Condé Nast Traveller's Gold List 2011. Pristine beaches and the coastline of the Indian Ocean are only minutes away, and the lodge itself is surrounding by forest, lake and park scenery.
The lodge has 22 rooms and suites, as well as the executive five-bedroom Private Residence. Guests can furthermore enjoy an all-weather tennis court and a swimming pool. Those who come to wine and dine will be thrilled to know that the hotel's most recent addition has been a Gourmet Retreat and Cooking School.
>> Find flights to Australia and learn more about wine country in Australia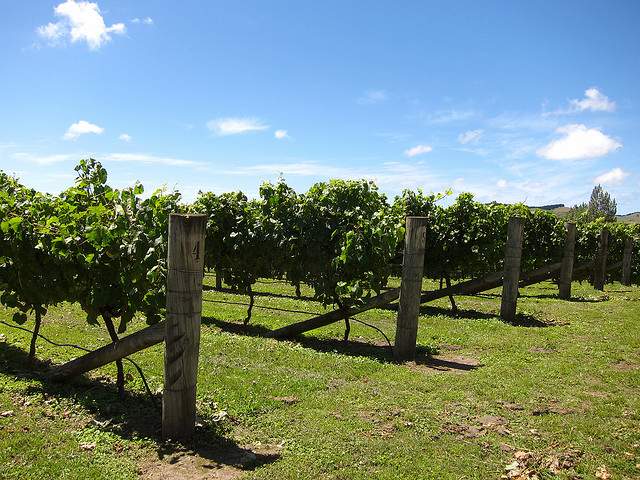 "Come and be spoilt," reads this hotel's slogan. The 18 luxury rooms and suites are equipped with the most advanced gadgets, including electric blankets and 26-inch flat screen LCD TVs. Should you ever want to leave your room, you can book a personalized wine country tour. You will be chauffeured around in the County Hotel's Royal Daimler, which used to be reserved for Queen Elizabeth to visit Hawke's Bay's favorite wineries and vineyards.
Directly opposite the County Hotel stands The New Zealand Wine Center, where novices and connoisseurs can savor the ultimate wine experience. The Wine Center offers an interactive wine tasting adventure, several aroma awareness rooms, a wine school, a museum and a specialist shop. There's not much else a wine lover might ask for.
>> Book flights to New Zealand
Belhurst Castle, Finger Lakes, New York, United States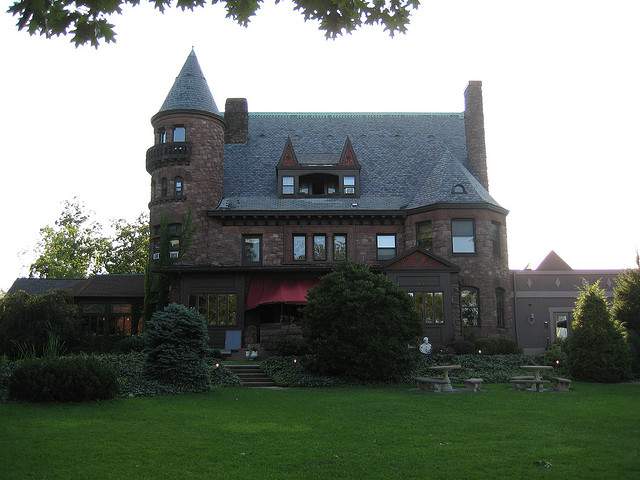 Located in Geneva, Upstate New York, Belhurst Castle has been listed on the National Register of Historic Places. Belhurst provides three hotels to choose from: Chambers in the Castle, Historic White Springs Manor, and the Luxurious Vinifera Inn. While the first two delight visitors with their historical décor, – Chambers is a 17th century castle and Historic White Springs is a Georgian Revival Mansion, – the Vinifera Inn attracts travelers for its lake views. From here, you can visit the Belhurst Estate Winery, which has won over 100 medals for its wine, lauded as being as unique as the castle itself.
>> Book flights to New York
Hotel Anker, Marktheidenfeld, Germany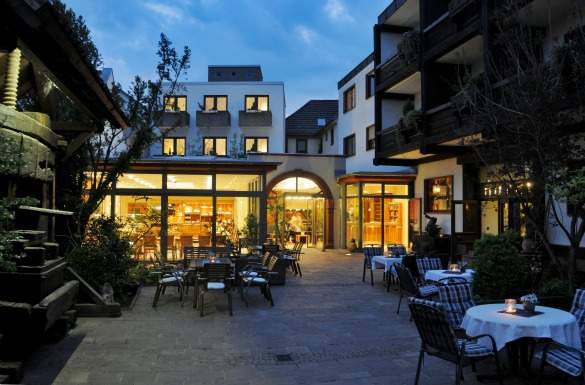 Under the motto of "Franconia full of life," the owners of Hotel Anker want their guests to enjoy every aspect of their stay in Franconia. To do so, you can choose from 39 rooms in the 4-star establishment, which is bordered by the ancient city wall. Underneath the hotel lies the 400-year old historic winery that still preserves the family Anker's old wooden barrels. On a sunny day, you can enjoy the outdoor seating. If it does get a little chilly, head for the wine cellar called the "Holzfasskeller."
>> Book flights to Germany and read about where to drink in Germany

Read more about wine travel:
Photos by: El Tecnorrante, Ben Oh, slack12, Brian Confer (Courtesy of Chateau Chantal), Viña Matetic, Matt Silk (Wedmore Place), Oliviero Toscani Studio (Tenuta La Badiola), John Cameron (Hastings House), Hotel Casa da Calçada Relais & Chateaux, L'Acadie Vineyards, Gaspereau Valley, NS, Rex Gelert (Meritage Resort and Spa), Cat Vinton (Monte Mulini), Andrea Johnson Photography (Inn at Red Hills), Chateau Les Carrasses by Bryan Lancaster at Brylliant Images, Dick_Morgan,  Yossarian42, Tony Harrison (Cape Lodge), kara brugman, Cyberlemur, Hotel & Weinhaus Anker, Marktheidenfeld.