Over the past decade, Palawan, Philippines has steadily grown into a top Asian destination for beach lovers and eco-adventurists. With nearby attractions including El Nido, Honda Bay, and the Subterranean River National Park, it's no wonder that this beautiful region is also known as one of the world's last natural frontiers.
The old port and fishing city of Puerto Princesa is Palawan's commercial hub and gatekeeper to this beautiful region. Visitors, in their haste to reach the region's renowned natural wonders, often overlook this clean, green, and eco-friendly city.
Travelers wanting to learn more about the region's exotic history and colorful history will find that the city and its surrounding area have a surplus of exciting activities from top-notch dive sites, beaches, and nature trails to fine dining restaurants and charming garden-side pensions.
8:00 am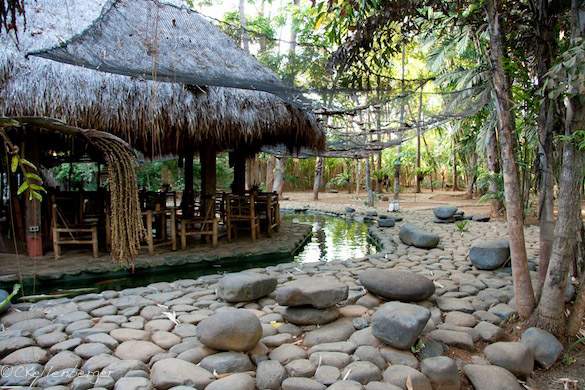 Start your morning off at Kamarikutan Kapi at Galeri. This coffee house and art gallery, located just 100 meters east of the airport on Rizal Avenue, is set in the heart of a bamboo grove. The grounds include pebbled walking trails and a gently flowing stream, which offer a serene atmosphere for breakfast and a cup of coffee or a refreshing fruit shake. In the art gallery, you'll find paintings by local artists, handmade jewelry, and handcrafted bamboo furniture.
9:00 am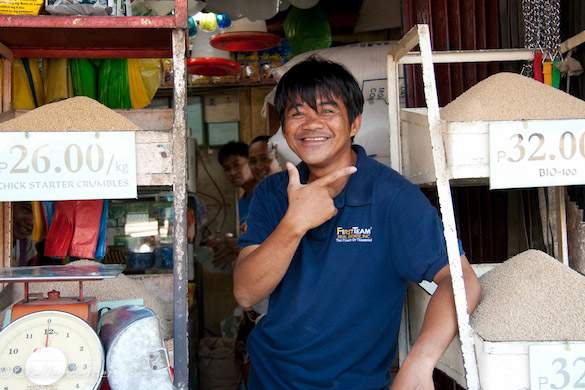 Hire a tricycle and head for the old Public Market in downtown Puerto Princesa to shop for souvenirs. This jam-packed traditional market is a hive of activity in the morning, brimming with fresh produce, the freshest seafood of the day, clothing, house wares, and souvenirs. Traditional Filipino hospitality, politeness, and dedication to service are all on display and you'll find plenty of great photo opportunities here. Friendly smiles and waves are free.
10:00 am
Heading west on Rizal Avenue towards the city port, you can't miss the blue and white spires of Immaculate Conception Cathedral towering above Rizal Avenue. To date, the Philippines have the largest Catholic population in Asia. The Spanish proclaimed the Immaculate Conception of Mary the patroness of Puerto Princesa in 1872. Just across the street from the cathedral, Plaza Cuartel Park is also worth a visit.  This tiny park commemorates the lives of 143 American POW soldiers who lost their lives during World War II. The park overlooks the Baywalk and fishermen's village.
12:00 pm
Feast on a sumptuous seafood meal at Kalui. The menu isn't extensive, but we promise you'll love the set meals featuring the freshest seafood catches of the day, and the fresh fruit salad served in a half coconut shell and sprinkled liberally with brown sugar is out of this world. The restaurant is set in a garden and boasts fine handmade furniture and beautiful paintings from local artists. This stunning seafood restaurant gets quite busy at night, so consider stopping by for lunch to avoid the crowds.
1:30pm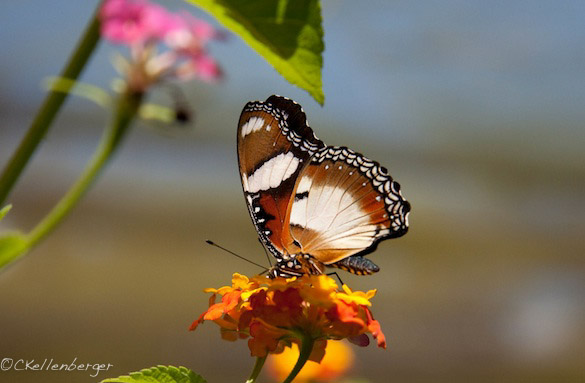 Hire a trishaw to take you to the Butterfly Garden located 20 minutes south of the city center. At the back of this tiny cottage there is an enclosed garden full of shrubs, walkways, and dozens of brightly colored species of butterflies and moths that are native to the island of Palawan and other parts of Southeast Asia.
2:30pm
Baker's Hill, a beautiful little bakery situated on a hilltop on Millionaire's Row, offers a jaw-dropping view of Puerto Princesa and Honda Bay. This kid-friendly establishment not only has yummy pastries and baked snacks for sale, but also boasts a mini-zoo, playground, a stunning garden, and a number of charming cartoon statues for your amusement.
6pm
Wander down to the Baywalk to watch the sun descend into the horizon as night falls on the city of Puerto Princesa. This popular local hangout comes alive with colorful neon light displays, and there is a nice sea wall where you can watch the boats entering the port area while enjoying the fresh sea air.
7pm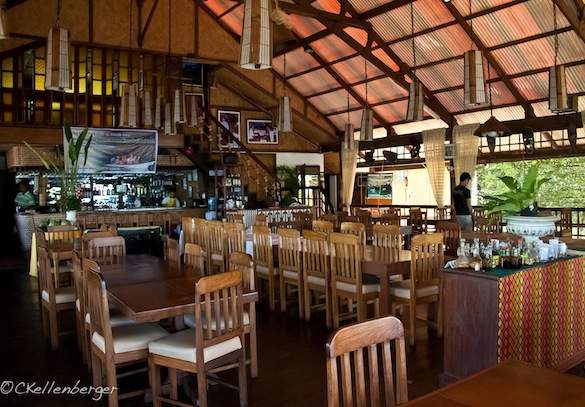 When nighttime arrives, the city takes on a different appearance. For truly great food, drinks, and entertainment go to Kinabuch's Restaurant and Grill. Firefly lights, giant flat screen televisions mounted in every corner, outdoor pool tables, and a great sound system make this restaurant the most popular evening hangout in town. The restaurant seats more than 200 guests, but you'll want to get there early because it fills up fast. We recommend trying the fresh grilled blue marlin steak or the baby back ribs, washed down with an ice-cold San Miguel.
Where to stay:
Even the most budget-minded traveler will find good value for their money in Puerto Princesa. The best hotels and resorts start at around $100US a night, while budget accommodations go for less than $30US a night.
The Legend has some nice options for travelers looking for mid-range and budget accommodations. There are several types of rooms available at the Legend, but the most recent addition, the Pads, particularly impressed us as being well suited to solo travelers. Starting at P800 per room per night with breakfast included, the Pads offer a hip, cozy alternative for solo flash packers.
Budget travelers should check out the garden-side accommodations on offer at RAQ Pension for P800 pesos for a double room, including breakfast for two. Rooms here are basic, but clean. Call ahead and arrange free pickup and drop-off from the airport.
Local Tips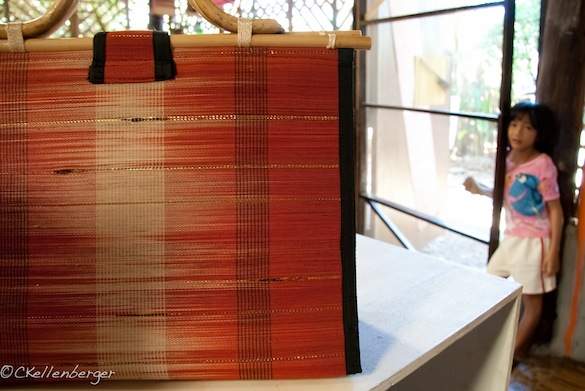 Jun Landicho, Puerto Princesa Trishaw Driver
"Puerto Princesa is paradise," Jun Landicho replied when I asked why he likes living in Puerto Princesa City. "There's virtually no crime here, no drugs, the work is good, and it's clean. Puerto Princesa is a safe place for me and my family."
Jun recommends Binuatan Creations for unique souvenirs. The family-owned weaving business creates handmade placemats, table runners, and handbags in a delightful assortment of colors for fraction of what you would pay in Manila. The owner also offers tours of the tiny factory, a chance to meet the artists, and a quick lesson on how to operate the looms.
"Check out Badjao Seafront Restaurant for truly memorable dining experience," adds June. The restaurant, which is built on stilts and suspended over the mangroves, has an extensive seafood menu. By day, you can sit and watch fisherman wandering around the mangroves, and by night, the restaurant is transformed into a place of romance complete with soft music, fairy lights, and a firefly show.
"If you're a morning person, head down to the Baywalk around 5 or 6am to watch the fishermen bringing in their fresh catches of the day," adds June. "Morning in Puerto Princesa is my favorite time of the day!"
Stephen and Marianne Yee, RAQ Pension
Stephen and his wife Marianne own RAQ Pension on Malvar Street. "Most visitors seem to enjoy dining out in Puerto Princesa because the seafood is superb," says Marianne. She recommends Kalui Restaurant on Rizal Avenue for its fine seafood fare.
When asked what makes Puerto Princesa special, Stephen replied, "Puerto Princesa really is your gateway to the last frontier. It is an exciting place to be. Don't miss our city's pride and joy, the Subterranean River National Park," he adds. The 8.2km underground river winds through a spectacular cavern that flows directly into the sea. The entrance to the cave lies in an aquamarine lagoon that is surrounded by lush vegetation, monitor lizards, monkeys, and colorful birds.
Travel writer and photographer Carrie Kellenberger has been living in Asia since 2003. For more information please visit Carrie's personal travel site My Several Worlds, which features information and photography on Asian destinations, lifestyles, and cultures. Connect with Carrie on Facebook, on Twitter@globetrotteri, and on Google+.
» Further reading:
* Boracay: Sandcastle High Street
* Calaguas: A DIY Trip to Paradise