While Phil Collins had a "groovy kind of love" and Elvis believed in a "hunka hunka love," Perry Como knew that "love makes the world go round." Most people will agree with the Supremes that "you can't hurry love," yet when it comes to celebrating love this Valentine's Day, you won't find a better refuge than a romantic country inn or B&B. While a getaway to any inn or B&B focuses on romantic time together in well-appointed and amenity filled surroundings, the inns on this list promise special memories or romance and quality time spent together.  So sojourn to these sanctuaries for romance, and if you can't make it on Valentine's Day, fear-not – each of these promise to be a great place to snuggle at any time of year.
The Swag, Waynesville, NC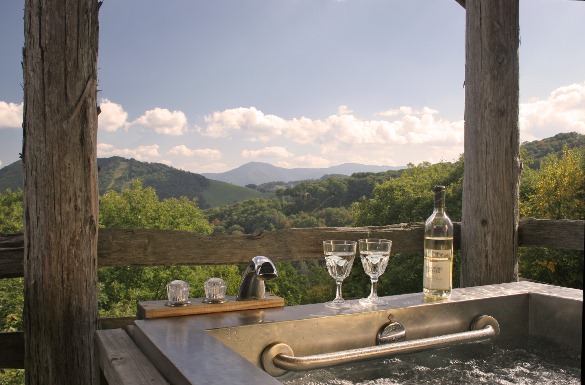 Located less than an hour from Asheville, NC, this special B&B resort (which is open from April to October) describes itself as remote, rustic, refined and remarkable.  We think they left out the fifth 'R' – romantic. When the gates open at the bottom of the mountain, journey 1000 feet up and prepare to be wowed. Once here, there's no need to leave; all meals are provided and there is world class hiking just outside your door.

Located in a quintessentially romantic and historic neighborhood of Charleston and offering beautiful river views, this inn romances from the moment you enter. Take a step back in time to enjoy guest rooms with canopy beds, window seats built into the turrets, Tiffany stained-glass windows and innkeepers who double as tour guides.  Explore the waterfront and battery then return to enjoy the river views from the porch and rekindle the romance of the gentile south. Another equally grand choice in Charleston is The Governor's House, within easy walking distance of the shops and restaurants in the historic downtown.

A touch of French romanticism in Virginia, this inn will feature a lovers' tasting menu for Valentine's Day.  Beyond that, the food will bring out the lover in anyone who comes any time of the year. Set in Shenandoah Valley's beauty, in-room massages, silk rose petals, and chilled champagne toast increase the intimate ambiance here.
Winvian, Litchfield Hills, CT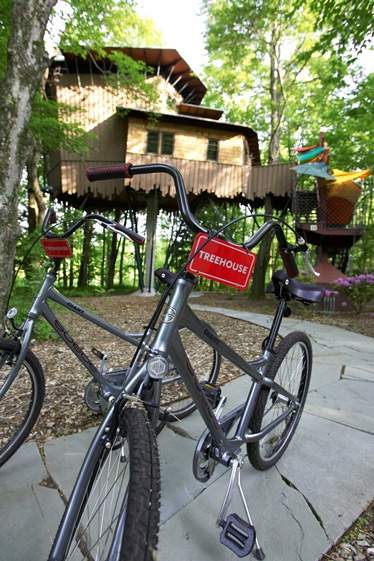 Country inn? Resort?  It's a combination of both and the Relais & Chateau affiliation means it's magnificent. Eighteen cottages offer haute hospitality in individually themed and decorated settings.  Sleep in a converted and luxuriously appointed helicopter hanger,  greenhouse or stable.  Challenge your mate to a putting contest in the living room of the Golf cottage or create your own masterpiece in the Artist Bungalow. Five-star dining, a sizable spa and bikes for year-round exploring , plus stocked wet bars and plenty of one-on-one attention by gregarious concierge add to the romance here.  Surrounded by a 4,000 acre wildlife preserve, enjoy cross-country skiing or a quiet winter walk in the woods.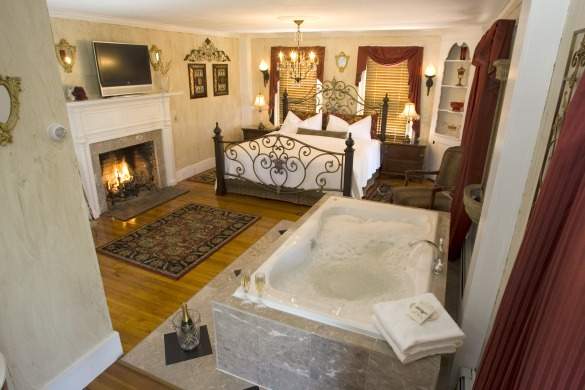 Technically in Massachusetts, this former hunt club is just five minutes outside Providence.  Palatial rooms, pool and ping pong, welcome wine and cheese and all the amenities for the perfect romantic getaway. Best of all, kick back from the moment you arrive; innkeepers meet you at the car to carry in your luggage.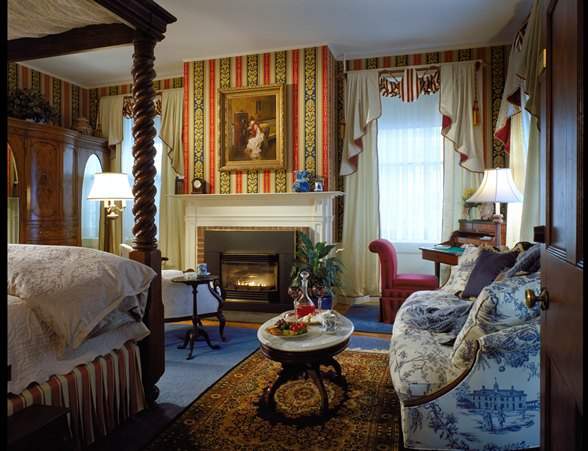 Add huge helpings of romantic amenities to the February special offered throughout the month for a romantic getaway worth the escape. The February is for Lovers special includes a bottle of sparkling wine, chocolate truffles, a welcome gift and fortune cookies with a surprise where each guest has a chance of winning a prize, ranging from $10 discount off their current stay to a complimentary massage, or night at the mansion next February. Add that to sumptuous breakfasts and fireside chats in the parlor for the ideal romantic escape.
The views of Moosehead Lake from the dining room set with a five course dinner make this inn exceptional, along with heart-warming hospitality from friendly and engaging innkeepers.  It's a place where you feel good being together. Bring or rent snowmobiles and cross-country skis and explore moose country in February.  Two other great romantic choices in Greenville are the Greenville Inn and the Lodge at Moosehead Lake both offering fine dining with nice views too.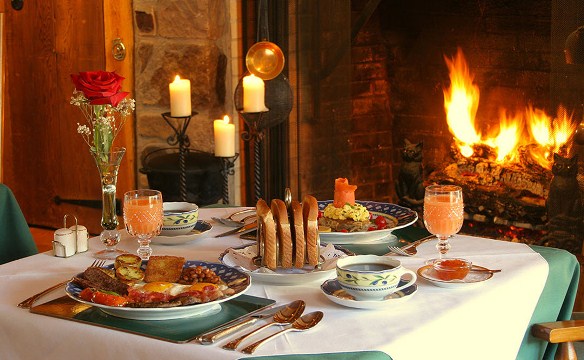 Fall in to king-sized featherbeds with fine linens as fireplaces flicker.  Fresh flowers, Italian tile and travertine bathrooms, and heated whirlpools for two combine to offer a total retreat for romance this Valentine's Day.  Linger over breakfast before the open hearth, or choose to enjoy your fist meal of the day in the privacy of your room.

Chocolate-town and all its kisses may be nearby, but you'll feel worlds apart on this working horse and llama farm when you enjoy your own kiss.  Highlights for couples include suites with bubbly whirlpools and fireplaces, a generous afternoon refreshment spread plus plenty of extra goodies available 24-7. Expansive common areas mean plenty of room to enjoy time alone or to meet other couples.
Steps from Newport's captivating harbor and shopping district, this inn offers a quiet refuge for couples who love a historic setting with modern amenities.  Start with the lavish afternoon tea, then retire to guest rooms offering details to make you feel special, like fresh flowers, free wi-fi, wood burning fireplaces and more.  Enjoy a sumptuous dinner at one of Newport's many great restaurants, then return to sleep in commanding beds, some requiring step stools.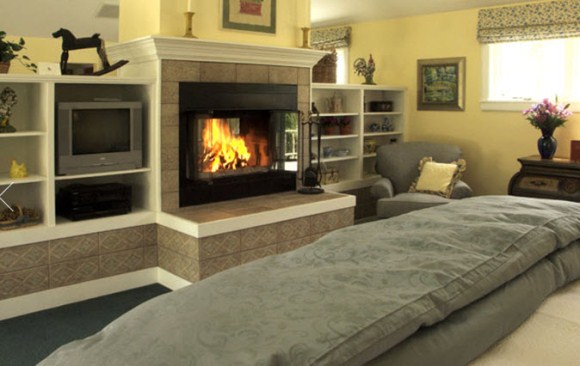 Located near the base of Mount Equinox, this inn is a collection of twenty suites situated between three buildings, forming a compound overlooking the village of Manchester. A dining room, tavern, patio and extensive landscaped gardens and grounds offer an impressive oasis for romantic trysts — from weddings and celebrations to getaways and more. Guest rooms are uniquely decorated, and offer lavish amenities from deep double whirlpool tubs to fireplaces (some rooms have two) and living rooms; everything you need for relaxing and romantic getaways is right here.

Walk to renowned Park City slopes or restaurants and shops from this former school turned luxury inn.  Guest suites include feather beds with puffy comforters and flat-screen TVs with an extensive DVD library; guests are served a lavish spread of afternoon refreshments each winter in the evening.  Start there then enjoy one of the many great Park City restaurants within walking distance.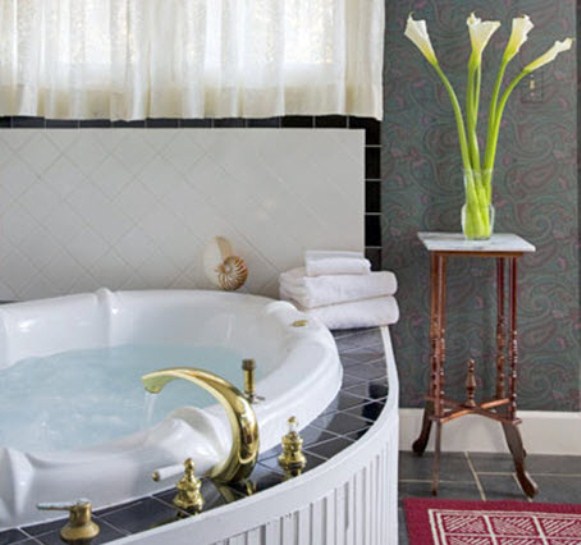 From its eco-friendly attitude to the peaceful labyrinth and friendly innkeeeprs, couples come to enjoy time alone in guest rooms with commanding views of Lake Hamilton with the Ouachita Mountains in the distance.  Purpose-built as an inn, this distinctive B&B offers an ideal location for outdoor recreation together with one you love. Another great choice in Eureka Springs, Arkansas is Arsenic and Old Lace.  Built into the hill, just like everything else in this vertical town, it offers a Treetop Suite here with top to bottom windows, and inviting whirlpool tub.  Visit the funky shops together or stroll up and down the streets of Eureka Springs taking in Ozark sights and sounds.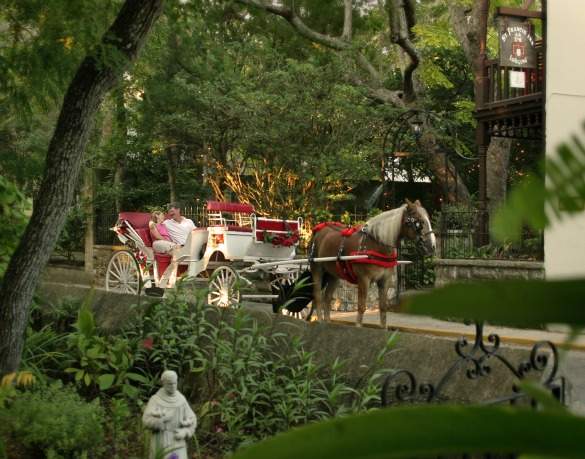 This is an inn where all the extras add up to one romantic getaway.  Guest rooms feature everything you'd want for a romantic escape including balconies and private decks, deep whirlpool tubs and even though it's Florida, there are fireplaces too.  Add to that lavish breakfasts, a mimosa and bloody Mary bar for Sunday brunch, fabulous desserts and an afternoon social hour where you can mix and mingle with others or enjoy a private tete-a-tete with a complimentary glass of wine or soft drinks.  All you need to refresh the romance through both the heart and the stomach here, plus the romantic attractions of one of Florida's oldest cities.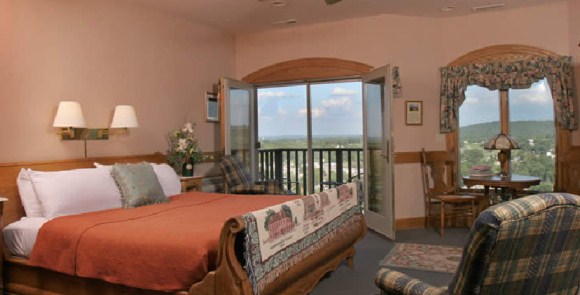 Discover Missouri wine country with the one you love from private balconies or patios overlooking views of the inn's private vineyard.  Couples have two options here – choose from suites in the inn or private amenity-filled cottages high on a bluff overlooking the Missouri River.  Spend the day in one of the country's oldest wine producing regions and shop at unique boutiques with a German flair.  Return to your room or cottage to enjoy double whirlpool tubs then warm cookies and ice cream topped with the inn's signature port wine raspberry chocolate sauce delivered to your room nightly.   Another great Missouri choice is Garth Woodside Mansion, former vacation home for Mark Twain in Hannibal, offering everything from llamas to Victorian inn rooms, spacious cottages filled with amenities and fine dining featuring local ingredients.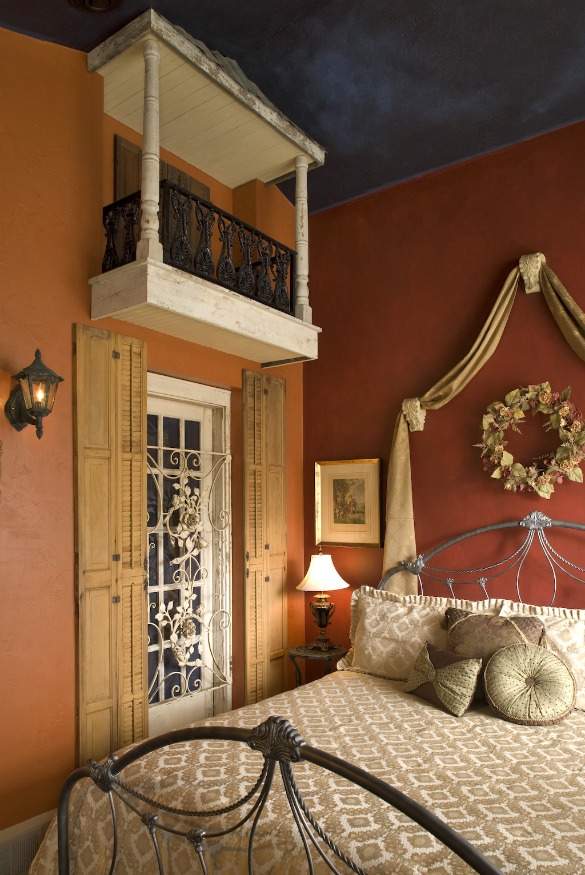 What could be more romantic than staying in the Romeo and Juliet room, complete with a balcony under which to steal a kiss?  Two buildings offer classic elegance and themed rooms, each with its own romantic décor.  Package options include plenty of romantic activities like sleigh rides, couples massages and a taste of the bubbly.  Take advantage of complimentary snowshoes and explore the inn's private trails with a treat-filled basket for a winter picnic in the woods or roast marshmallows over the fire pit by moonlight.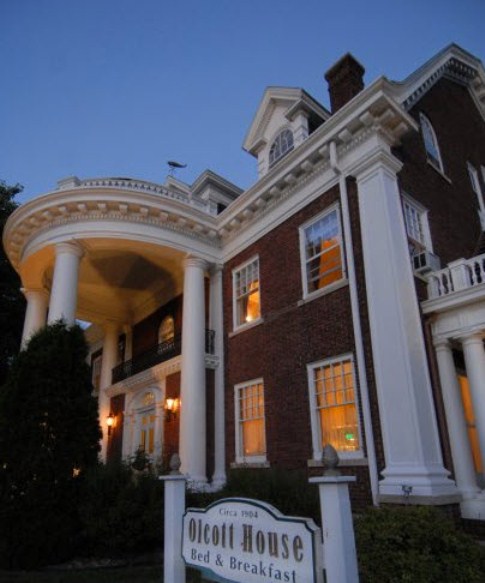 Duluth was once home to millionaires but now anyone can enjoy a romantic escape to the Olcott House for a surprisingly affordable price and still feel like the richest person in the world. This 1904 Georgian Colonial mansion and carriage house offers six luxurious and romantic suites with working fireplaces and private baths with clawfoot or soaking tubs, perfect for romantic getaways and honeymoons. A full candlelight breakfast served in the dining room along with gorgeous lake views. Superbly preserved architecture and impressive antiques add up to create dreamy memories together here. Cap off your day with the inn's complimentary afternoon wine, cheeses, meats, and other delicious offerings.
Hot air ballooning, haute hospitality, romantic chauffeured wine tasting itineraries, and amenity-laden guest rooms are just a few of the reasons this is one of Napa's most romantic choices and a bucket-list inn.  Add the inn's signature decadent five-layer chocolate cake, a guest pantry filled with delicious offerings including afternoon hors d'oeuvres, a pool to cool off in together, and you've just found the perfect way to enjoy your honey through both his or her stomach and heart.

As if Hawaii isn't romantic enough, add a B&B located on a Kona Coffee Estate on the Big Island with restored original Eucalyptus floors in guest rooms and plenty of fresh air, high thread count sheets and luxury linens, and a pool with a view out over the ocean, and you're in for a romantic treat.  There's also a lavish breakfast of tropical treats and afternoon refreshments, then a tour through the coffee plantation hand in hand. This B&B offers an authentic Hawaiian vacation minus the commercialism of larger hotels.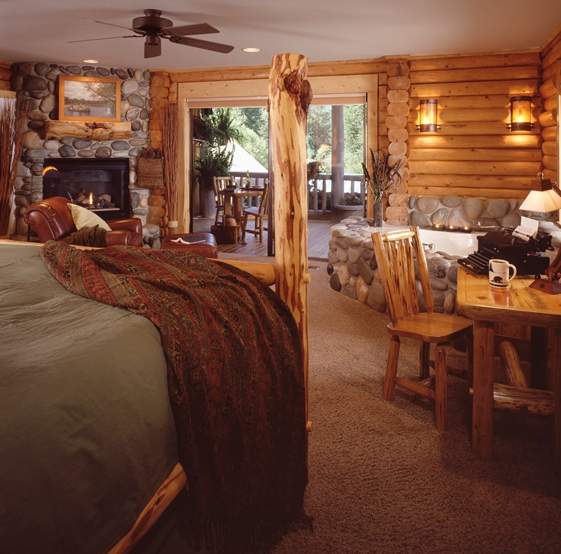 Guest rooms here are referred to as adventure suites, as they are filled with everything you need for a romantic getaway.  The "regally rustic" theme extends beyond the log-hewn beds, whirlpool tubs made of river rock and plenty of cleverly recycled wood from hooks to towel racks.  Add a riverside location, tons of nearby adventure in Washington's Cascade Mountains, complimentary snowshoes, and great restaurants in nearby Leavenworth, and you have the ideal spot for lovers who love the outdoors.
Each room comes equipped with a balcony and twin rockers with views of Texas Hill Country to rock the cares away together.  Palatial baths including some "loos with a view" offer sunset views from the showers. Enjoy romantic dinners in rustic sophistication, with the city of Austin only a 35 minute drive.

Rather shop around?
Any of these consortiums will reveal a host of fabulous choices of premier inns offering guest rooms with all the amenities for romance plus warm, inviting innkeepers and plenty of extra amenities.
Distinctive Inns of New England
Historic Inns of Rockland, Maine
BedandBreakfast.com
Additional ideas for B&B directories offering the finest in inn choices for romance are BnBFinder.com and Select Registry.
Craving more romance? Check out: