We're well into the dog days of summer, and soaring temperatures and long hours of daylight also means we're right in the middle of peak travel season in France. Since more people travel to France (and more French travel in France) in the months of July and August than the rest of the year, navigating the crowds (and learning how to avoid them) may be a little tougher that it would be in November. However, as a frequent visitor to France in the summer months when I was growing up, I've put together a list of my summer travel tips for those traveling to France this summer.
1. What to pack for your summer trip to France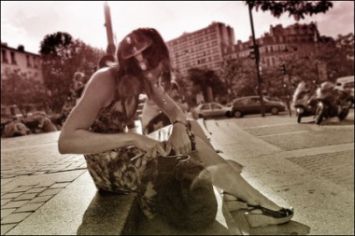 Well before you'll set foot in the country, you are going to have to decide what to pack for your trip to France. Even if you don't find yourself spending much time in the fashion Mecca of Paris, keep in mind that France is a fashionable country, where what you wear and how you present yourself matters.
While trying to keep up with the latest trends coming out of Paris or dressing yourself in designer duds from head to toe isn't something most of us can do, there are a few tips to keep in mind when trying to figure what to wear in France in the summer—especially if you want to attempt to not look like quite so much of a tourist.
While it's tough to give specific tips on what exactly to wear in France (styles and trends change constantly), there are a few general rules of thumb that can help you look fabulous and maybe even a little French when you are on your vacation.
First off, it's important to know there is definitely such thing as too casual in France. While you may feel perfectly comfortable rolling to the grocery store in your sweats and flip-flops at home, most French wouldn't be caught dead out in public with their pjs on (or anything that resembles pjs). The French tend to dress for occasions, even if that occasion is a trip to the market or going out for a coffee.
For ladies, I am a big fan of the sun dress while traveling in France in the summer. Not only will they keep you cool, dresses take up less room in your suitcase, you look fabulous with minimum effort, and you won't have to think about putting together a whole outfit when you get dressed in the morning.
However, whether you follow my tips on what to pack for France or not, remember that if you want to go into most of the churches in France you'll need to make sure your shoulders, knees, and midriffs are covered. You really don't want to be the people walking through Notre Dame in paper coverall pants you had to buy outside to go into the church. Those just aren't a cute look on anyone.
If you don't plan on packing much and would rather stock up on some great new French duds while you are on vacation, there are set sales times in France—with one summer sale season and one sale season in the winter. These annual sale periods in Paris (and the rest of France) bring big discounts to stores nationwide, making for some great opportunities to get marked down items.
2. Know that August is vacation month in France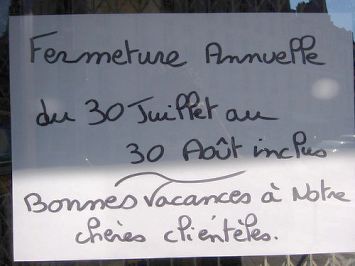 Unlike most work obsessed Americans who get 2 weeks of vacation a year, many French take a whole month off in the summer months. Especially during August in Paris, when many people flee the city in the summer to enjoy vacations on the beach in the countryside, many tourists are surprised to find so many museums/shops/restaurants closed for weeks at a time in the summer.
While you may feel annoyed when the restaurant you've been told to has a sign hanging in the door that says "closed til August," this is normal, and you have to admire (and perhaps envy) the French appreciation for time away from work.
However, since there are still many tourists in France, you should have no problem finding a place to eat or things to do in these summer months. Since the weather is usually beautiful in the summer (albeit a little hot and muggy), park cafes and restaurants with large terraces are popular dining spots in the summer months. There are plenty of great options for summer dining in Paris, where you can sip your café or citron pressée in the sunshine and participate in the national French pastime of people watching.
3. You won't be the only one who wants to spend time at the beach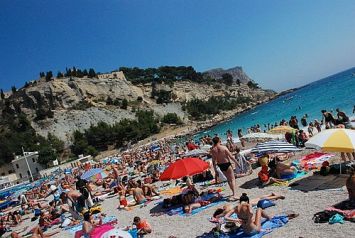 With coastlines on the English Channel, Atlantic Ocean and Mediterranean, there are many great beaches in France where you can work on your tan (sans bikini top if you'd like) and enjoy the often spectacular scenery.
However, summer is not only when foreign tourists flood the best beaches in France, but it is also when French nationals head for the shore as well. While the beaches along the French Mediterranean can get jam packed with tourists in the peak season summer months, there are some lesser known beach spots where you can avoid the serious congestion and still enjoy the beach and sunshine.
If you are in Paris, but just dying to get a little color and hang out on the sand, August does bring the Paris Plage to the City of Lights. The Paris Plage (or Paris beach) takes over the right banks of the Seine, where sand, umbrellas, beach chairs and even potted palm trees are brought to the banks of the river. While it's not quite the French Riviera, it's a pretty nice to place to catch a few rays in the city.
4. Take advantage of the markets and many festivals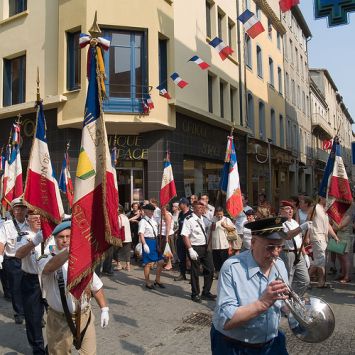 Summer, like in most places with marked seasons, is a celebratory time when many festivals and special events take place around France. This is also a time when you'll find the many great local markets bursting with fresh and colorful summer produce.
Markets, in any season actually, have long been my preferred way to shop for food in France. You can easily stock up on fresh fruit and vegetables, bread, cheese, meats and wine for a fabulous French picnic, though you'll also find a plethora of other great stuff at most markets—from clothing to antiques to crepe stands.
>>Read more about Shopping at France's markets
There are also many great festivals happening around France in the summer time. July 14 marks Bastille Day, the French independence day, and you will find celebrations for the national holiday around the country.
There are many other great festivals and events that happen in different regions during July in France and during August in France. Depending on what part of the country you plan to visit, you can either enjoy bull-fighting and Basque culture at the Bayonne festival not far from St. Jean de Luz, or watch the Tour de France festivities as the best cyclists in the world battle for the yellow jersey (going to be in France during the Tour? Read the Tour de France Visitor's Guide).
5. Avoid lines and crowds (though expect them) at museums and cathedrals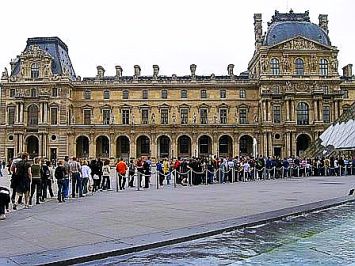 Because summer time is peak travel season in France, it is likely that you'll find more than just the beaches full of people. With tourists streaming in from around the world, there is also a good chance that you'll find lots of people at many of the major tourist attractions—whether it be Mont Saint Michel, one of the many famous cathedrals of France or the walled Medieval city of Carcassonne.
While there is no real way to avoid these summer crowds, there are a few tips for how to avoid standing in long lines trying to get in a museum or church.
A good general tip is visit these places earlier or later in the day. If you head to popular museums like the Musee d'Orsay in Paris, you'll often find long lines in the summer if you go late in the morning, but may be able to walk right up to the ticket counter if you go just a few hours before closing or right at opening time in the morning. Midweek tends to be better than weekends, Mondays or Fridays as well.
I am also a huge fan of going to the Rodin Museum in Paris during the summer months. The sprawling beautiful gardens dotted with impressive sculptures, the garden cafe (where you can lazily sip a French aperitif), and the general lack of crowds year round make it one of my very favorite spots in Paris–especially in the summer.
About the Author
Being raised in a part-French household, BootsnAll staff writer Julie Blakley grew up with an appreciation for soft, stinky cheeses as well as with opportunities to take many summer trips to France. While she credits her francophilia mostly to her Grandmere, stints living in Paris and the Alps only intensified her love for the country (and cheese) and helps give her insipiration when writing for the France Travel Guide and contributing to the travel guide to Paris.
Photos from top to bottom by: Alain Bachelier, Cali Parisien , Alden Sebolt, DJof , Christine592