The weather is cooling down and many North Americans are grudgingly trading in their teeny two-piece for a wool coat and gloves-but just because the seasons are changing doesn't mean there is no more spring. Hot spring, that is. So grab your bathing suit and get ready to warm up because here are six great hot springs that are the perfect solution to cold weather woes.
Mammoth Hot Springs in Yellowstone National Park, USA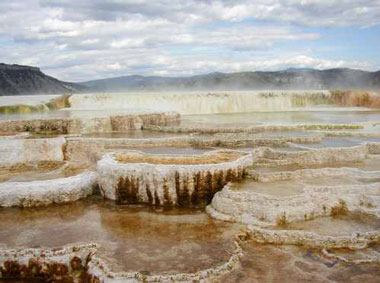 Heat, water and limestone create the magic combination that makes Mammoth Hot Springs in the Yellowstone National Park one of the most famous hot springs in the region. The water feeds from Norris Geyser Basin and while the colors range from bright white, to tan to orange depending on the microorganisms of the day, the temperatures remain a sultry 160° F.
The main attractions are the travertine terraces that are divided into two sections-Lower Terraces and Upper Terrace Loop. The Minerva Terrace is the most popular of the lower terraces and can only be reached on foot, while the Overlook Terrace in the Upper Terrace Loop is accessible by car and provides panoramic views of the area.
Swimmers can head to the Gardner River, also known as the Boiling River to take a dip in daylight hours.
>> Read about budget travel to Yellowstone
[social]
Atami Onsen in Shizuoka Prefecture, Japan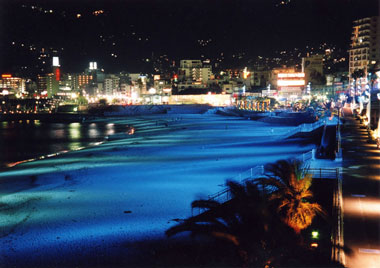 More than 3.5 million visitors a year travel to Atami Onsen in Shizuoka Prefecture in Japan to dip their toes in the waters that once nourished Tokugawa Shogun Ieyasu-the 17th Century general who established the Edo shogunate in Japan.
Atami, meaning hot sea in Japanese, lives up to its name with its 113° F waters that lie on the remnants of an ancient volcanic crater. The Atami Onsen Hot Springs Resort town features accommodations that range from modern hotels to cozy mountain lodges to intimate Japanese inns, with the famous Oyu Geyser standing proudly in the heart of the city.
Just south of Atami, Chikurin-an-mizuno hot springs offer guests a chance to relax in a private bath for two that is constructed from Japanese cypress and is nestled in the resort's four-acre forest.
>> Find out how to save money on your trip to Japan
Deildartunguhver Thermal Spring near Borgarnes, Iceland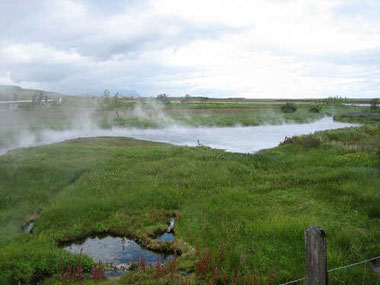 Deildartunguhver hot spring is the highest-flow hot spring in Europe and provides a steamy reprieve from Iceland's bitter climate. At the source, the water-an unbelievable 206° F-gushes 180 liters of blistering water per second and is pumped by pipeline to supply water and heat nearby towns and greenhouses.
The bright green skollakampi fern, a plant easily found in other countries, can only flourish in Iceland on the grounds surrounding the Deildartunguhver hot springs.
The Glanni Waterfalls, Paradise Hollow oasis and Grabrok Crater are located near the springs and are often included, along with Iceland's other natural attractions, on tours and excursions.
>> Check out hot springs in Iceland
Ainsworth Hot Springs in British Columbia, Canada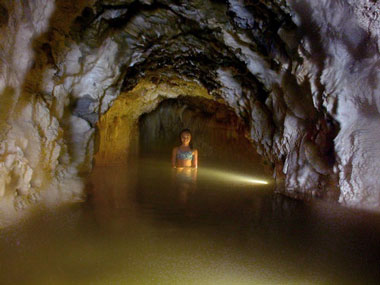 First discovered by native Indians and later used by silver and lead miners, Ainsworth Hot Springs in British Columbia, Canada is a mountainside village overlooking Kootenay Lake and the Purcell Mountains.
Ainsworth's horseshoe-shaped cave showers visitors with water that falls from the top of the grotto and collects in a waist-deep pool that is consistently between 104°-114°F. Just outside of the cave, the slightly cooler water in the pool is filtered twice and is between 96°-101°F, while more daring visitors can enjoy a frosty dip in the 40°-50°F waters of the Cold Plunge.
Considered to be the best commercial hot springs in British Columbia, Ainsworth Hot Springs is popular with families and travelers who enjoy visiting the cave's stalactites or relaxing in a natural sauna.
>> Check out our British Columbia travel guide
Jigokudani Hot Springs in Nagano Prefecture, Japan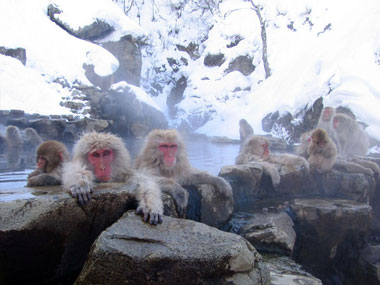 It is all monkey business at the Jigokudani Hot Springs in Nagano Prefecture where hundreds of Japan's famous snow monkeys can be found warming up in the toasty waters of their very own hot springs.
Sometimes called "Jigokudani Monkey Park," the area is characterized by steam and boiling water that can be seen oozing from the ground and is sometimes called "Hell Valley" for the volcanic activities that have been observed there.
Just don't try sticking your toes in these springs – they are monkey-exclusive, or in other words – no humans allowed. Hot springs for humans can be found a little farther down the valley, most notably Yudanaka and Shibu Onsen or in any of the 80 nearby hotels or resorts.
>> Book flights to Japan
Travertine Hot Springs, Bridgeport, California, USA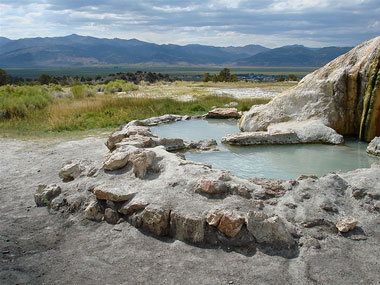 There is no monkeying around at the Travertine Hot Springs located in the California State Park near Bridgeport, California. Travelers of all varieties flock to Travertine to relax in what is often referred to as California's best-kept hot spring where searing water flows into a series of concrete pools that gradually cools as it descends.
Although they are officially "clothing optional" hot springs, many visitors choose to wear a bathing suit as they relax in the nourishing 105° F water while absorbing panoramic views of the Sierra Mountains. Travertine is one of the easiest hot springs to reach and like all of the other springs in the Sierras-is free of charge.
>> Get tips for being comfortable at clothing-optional hot springs
Read more about cold-weather travel:
Read about author Cherrye Moore and check out her other BootsnAll articles.
Additional photo credit: Travertine by Victor Hanson Smith at Flickr