Valentine's Day isn't until February, but that doesn't mean you can't plan a romantic getaway before then. Christmas, and winter as a whole, is a great time of year to cuddle up with a loved one in a foreign destination. Typical vacation spots would include popular ski resorts if you enjoy exercising in the cold, or if you want to get away from freezing temperatures, the standard is to head to a warm weather destination. But there are plenty of other places where you can embrace the cold. Here are seven alternative places to consider traveling to this winter and what to do in each one of them.
Quebec Winter Carnival  – Quebec City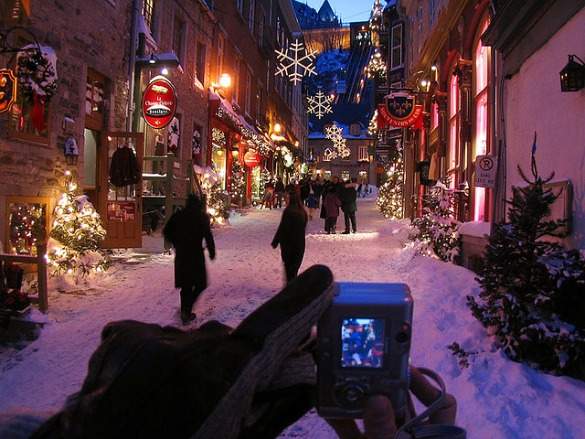 The Quebec Winter Carnival is known for being the biggest winter carnival in the whole world. It dates all the way back to 1824, after the New French colonized Quebec. The New French were notorious for coming together prior to Lent, and the winter carnival became one of these get-togethers. Each year, the activities offered have consistently topped that of the previous celebration. In 2012, you can enjoy another series of snow-related events from January 27 to February 27. Whether you're in the mood for a snow bath or want to go on a sleigh ride, there are countless options. The Ice Palace is a unique place to cuddle up with that special someone. Visit the official website for more details. Quebec is a popular winter destination, so make sure to take care of hotel booking beforehand.
Malt Whisky Trail  – Scotland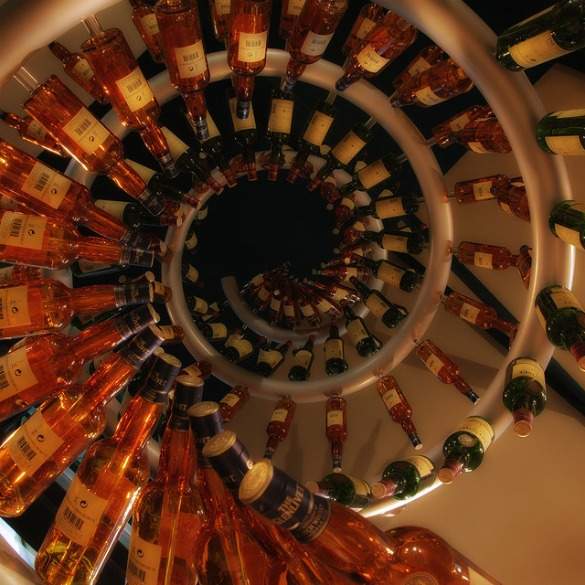 Drinking alcohol has long been known as a way to heat up in winter. However, instead of going to yet another common bar, why not do something a bit more special this year? If you enjoy whisky, you can travel along the only malt whisky trail in the world, located in Scotland. Specifically, it covers the following destinations and distilleries: Benromach, Cardhu, Dallas Dhu History Distillery, Glenfiddich, Glen Grant, the Glenlivet, Glen Moray, Speyside Cooperage, and Strathisla. You can visit only one or various. At each of them, you can warm up with tastings, and at the same time learn more about the history of whisky as well as the region. Did you know that the name "whisky" comes from "uisge beatha"? At first sight, this might seem hard to imagine. But if we trace the etymology, we will find that uisge beatha was used as a medicine. For example, it used to be prescribed by doctors as a cure for diseases such as smallpox. This is only one fact you can share with a loved one. The best part is that after the tasting, the two of you can cuddle up at one of the picturesque hotels.Visit the official website for more details.
Onsen or hot springs  – Japan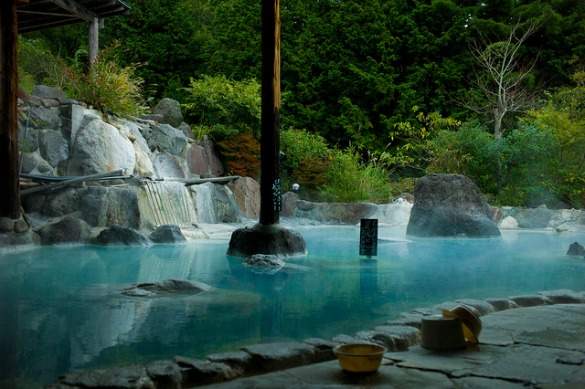 "Onsen" means "hot spring" in Japanese, but the word is also frequently used to describe the bathing facilities and inns located around the hot springs themselves. Japan is a volcanically active terrain, and thus there are thousands of onsen scattered around the island. Traditionally, they were used as public bathing places. Nowadays, they form a central part of Japanese domestic tourism, but also welcome international visitors. Depending on your prefers, you can choose from outdoor (rotenburo) or indoor baths. For your romantic getaway, you can choose a private onsen part of a hotel. Especially those onsen located in the countryside will provide an ideal place to relax and unwind from hectic and stress back home. Japanese often speak about the virtues of "naked communion" as a method of breaking down barriers and getting to know people better in a relaxed, homey atmosphere. As a couple, you can undoubtedly take advantage of this relaxing quality as well! Click here to view a selection of onsen throughout the country.
Maple Syrup festivals – New England, U.S.A.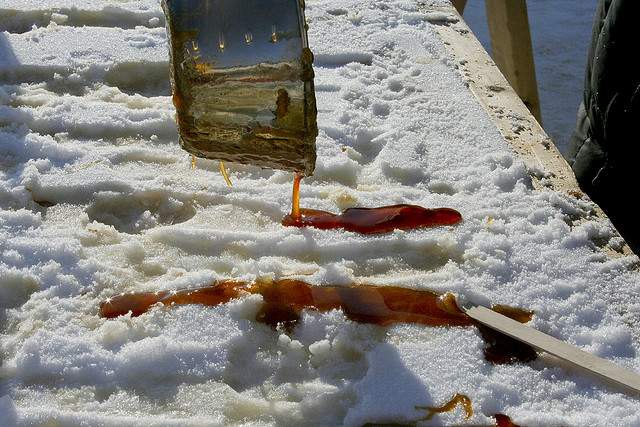 An especially delicious way to enjoy the winter is to splurge on maple syrup from New England. Vermont, Massachusetts and New Hampshire all host numerous events related to their maple syrup production, which is famous all over the world. Tasting the food right from the source in New England is entirely different than buying a container from the market. You can even taste fresh syrup as its poured over snow, cooling to a sweet hard candy.  As a couple, you can take a New England Maple Syrup tour. March brings in the New England maple syrup season, and is an ideal time to visit one of the plethora of maple sugar farms, such as Moose Hill Wildlife Sanctuary (Sharon, MA), the Maple Museum (Rutland, VT), or the Parker's Maple Barn (Mason, NH). If you are still around in April, you can continue filling up at the official Vermont Maple Festival. Embrace your sweet tooth with a loved one at any of the above.
Reindeer safari  – Scandinavia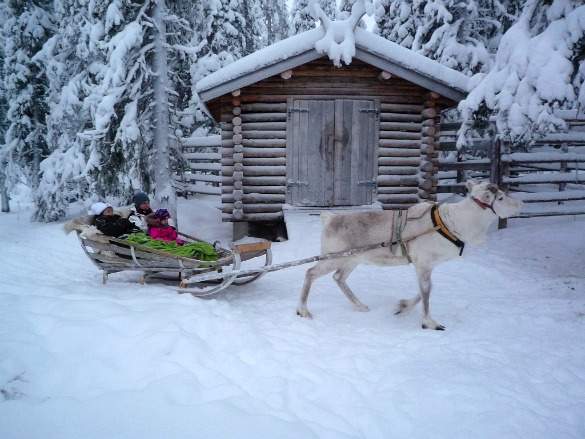 Have you seen the lions, zebras and elephants on a recent safari in Africa? If so, you can witness a very different kind of safari this winter. Be sure to put on warm clothes when you head to Lapland. Here, you can hug and kiss your loved one as a reindeer pulls you across a romantic snow-capped landscape. If you're in town for longer, you can also combine a reindeer safari with other winter activities, such as sighting Northern Lights, ice sculpting or staying at an ice hotel. The Ice Hotel in the Swedish village Jukkasjärvi has numerous winter activities to choose from, for example.
Christkindlmarkt – Nürnberg, Germany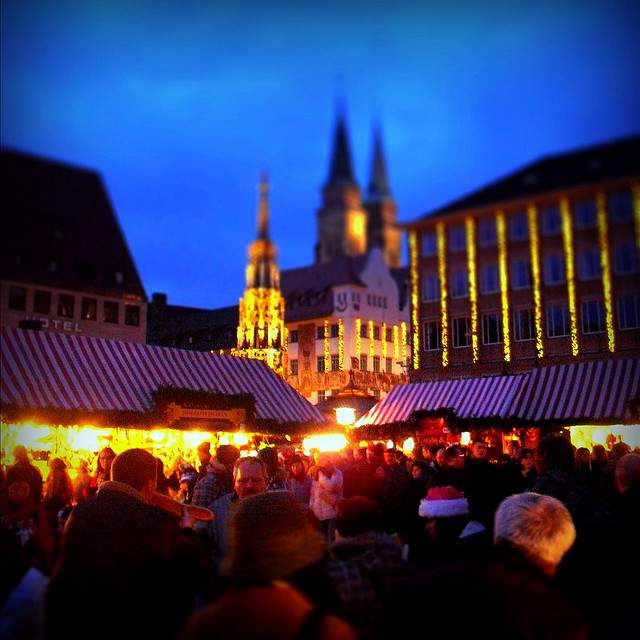 Germany is famous for its Christmas markets, which in German are known as "Christkindlmarkt" or "Weihnachtsmarkt." The central market in Nürnberg is one of the oldest and most traditional in the country. This year, it will be open from November 25 to December 24, 2011. During this time, you can stroll hand in hand with your loved one, stopping and browsing all of the stalls. At some of them, you can admire the typical Christmas decorations, such as artisanal figures cut meticulously from wood. At others, you can stock up on energy, drinking a Glühwein (hot winter wine) or trying a typical GermanLebkuchen, meaning gingerbread. Visit the official website for details.
Thermal health spa – Slovenia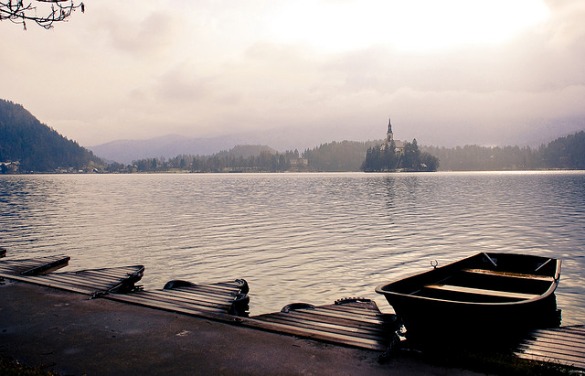 During the summer, Slovenia has become a popular bathing destination, especially since the prices are lower than throughout the rest of Europe. During the winter, you can still enjoy a bath, but the best bet is to do so inside. There are countless thermal health spas to choose from. Here, you can sit in a Jacuzzi with your loved one, or get a massage treatment for couples. After that, end the evening by cuddling up in bed as you see snowflakes falling outside. You will surely come back home relaxed and refreshed.
Photos: matstc, lambda_x, ebtokyo, Yukon White Light, timo_w2s, Bjorn Geisenbauer, ejbevan