Krakow (and Poland in general) is somewhere I didn't know too much about. It was close to the Auschwitz concentration camp and that's about all I had really looked into before arriving as part of the Eastern loop with the tour company Busabout. I knew I wanted to go and see Auschwitz and sample some of the local cuisine that I had heard bits and pieces about, including the Polish flavored vodka. Over the next three nights that's pretty much what I did.
Arriving in Krakow
When I arrived in Krakow, I checked into the backpackers hostel, which was very conveniently located close to the main square of Krakow. If I were to suggest one thing, it would be to stay somewhere nearby this square. After checking in, I headed out for my first look at Poland. It wasn't long before I discovered that I had arrived in Krakow at the perfect time, as it was currently the Pierogi festival. For those that don't know, these are similar to Asian dumplings and can be filled with almost anything from sweet to savory. I wasted no time in lining up and ordering a good selection of different flavors. They were a very tasty snack indeed and I could have eaten more, but I was saving room for dinner at a place our Busabout guide had suggested to us on our arrival into town. With this in mind, I decided to venture further into the city and check out some of the amazing buildings that form the main square of Krakow.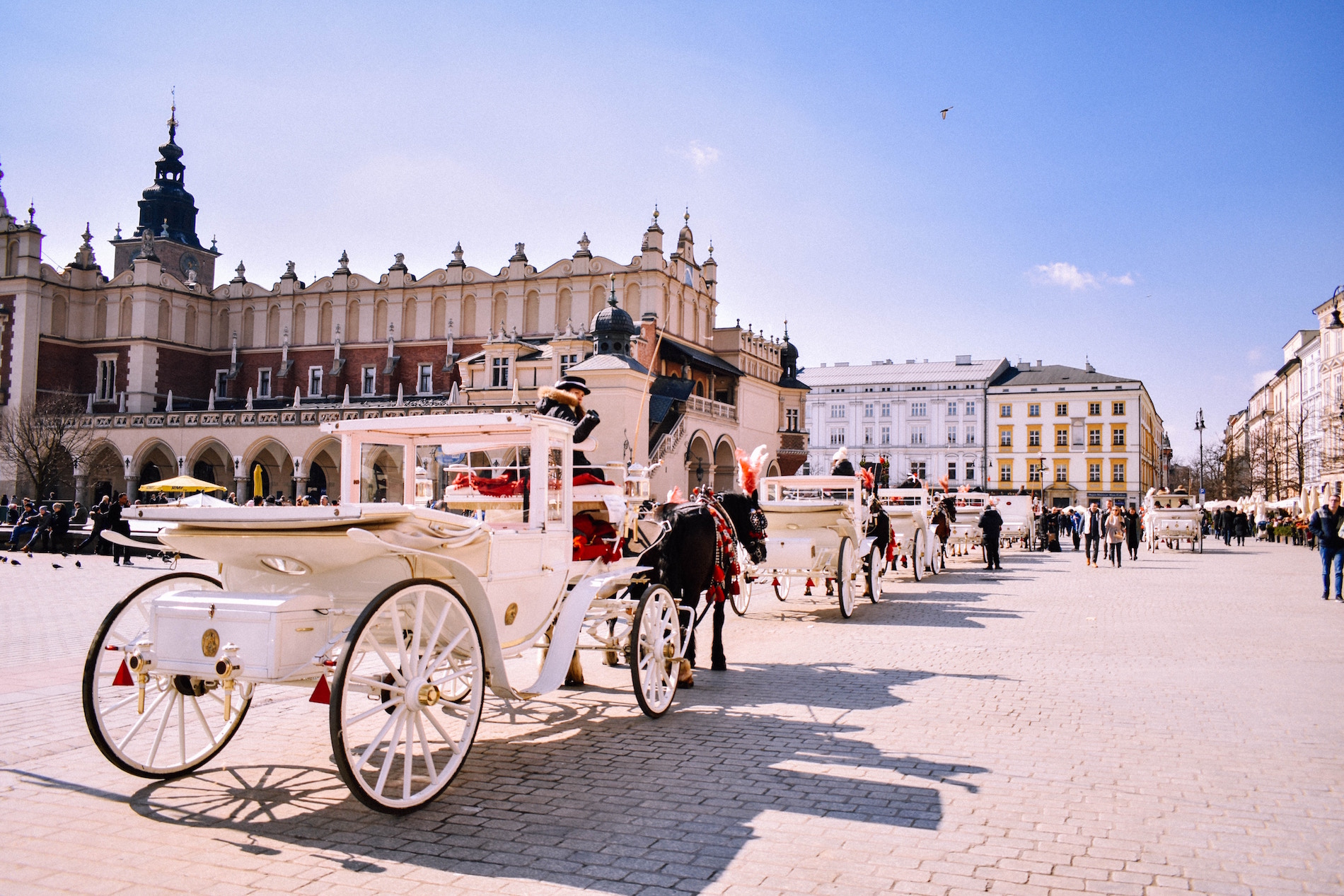 Photo by Lucas Albuquerque on Unsplash
Krakow's Main Square
Lonely Plant has voted this as the number 1 Most Beautiful Square in Europe and once you are standing there it's very hard to disagree. The square is one of the largest medieval squares in Europe and dates back to the 13th century. It surrounds the famous Cloth Hall which dominates the center of the square, with the Town hall tower on one side and the 10th century Church of St. Adalbert and 1898 Adam Mickiewicz statue on the other. Everywhere you look there are restaurants to sit down at and enjoy a meal or drink while soaking it all up. Once I'd finished walking through the square, which included checking out the markets and cool novelty shops selling your typical touristy collectables like postcards, small figurines of famous landmarks and fridge magnets, I went and booked a time to visit the highest priority thing on my list while in Krakow: Auschwitz concentration camp.
That evening we met up as a group in the bar that our Busabout guide had suggested and enjoyed some delicious Polish food. I couldn't look past the pork knuckle and slaw salad. It was a huge feed but one that was super delicious. The meat was practically falling off the bone. We got to wash this down with flavored vodka shots (smoothest vodka I had ever tasted) and local beer. It was a very enjoyable evening and a nice way to welcome ourselves into Poland.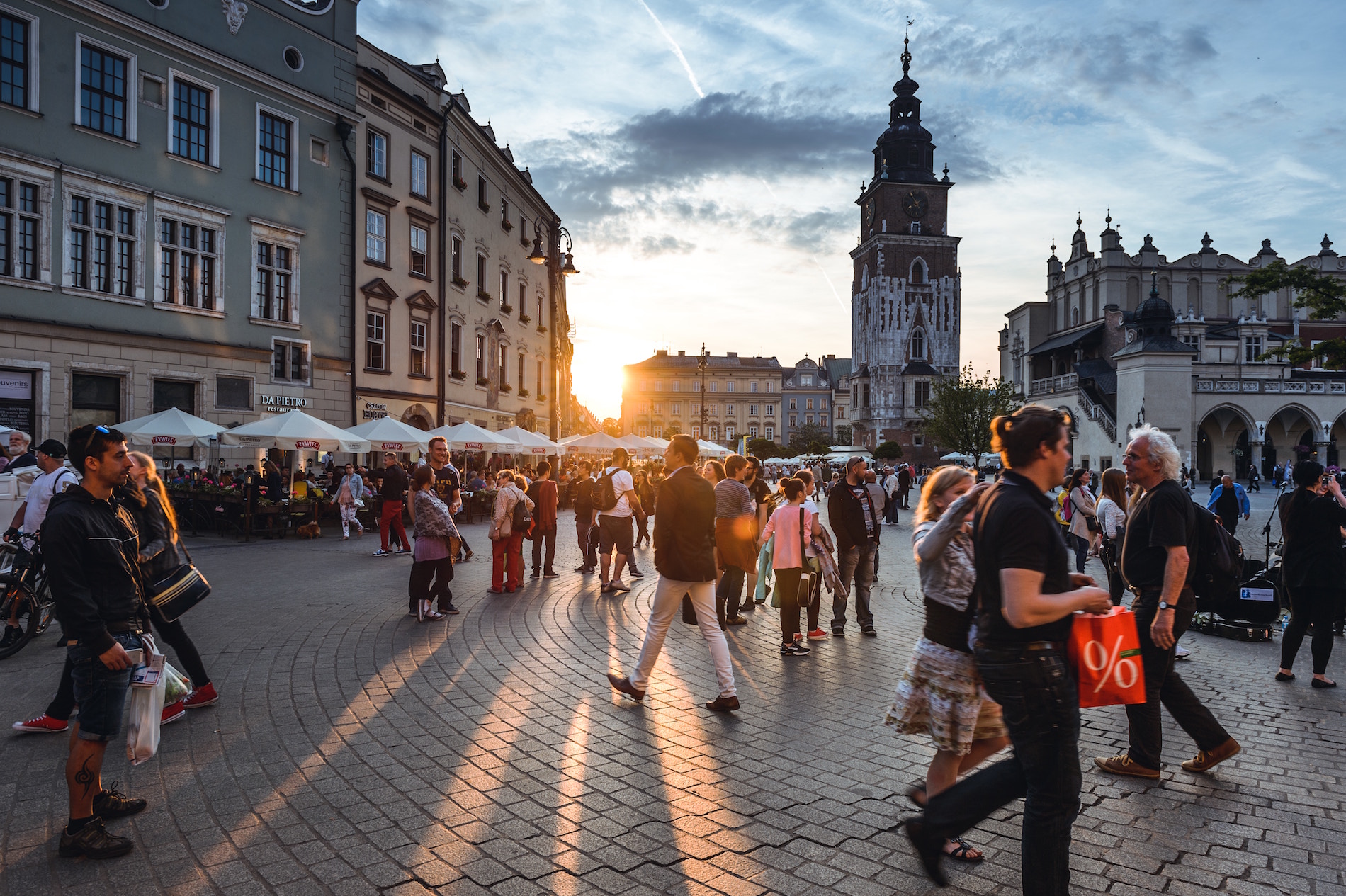 Photo by Jacek Dylag on Unsplash
Old Town Krakow
The next day I decided to do the free walking tour of Old Town Krakow (these tours are very popular throughout Europe). If you've never done one of these before, they're a great way of seeing lots of city landmarks in a short time, as well as learning information about the city's past and certain important moments that have helped shape the city into what you are visiting now.
On this particular tour we got to see and visit St. Mary's ( Mariacki) Church, the Medieval city walls and the Barbican, the Town Hall Tower, John Paul II's window, Grodzka Street, Kanonicza Street, and finally the Wawel Castle which is a residency castle. This castle is one of the largest in Poland and has 3 of the main architectural styles of Europe, medieval, renaissance, and baroque periods. The castle was declared a UNESCO world heritage site in 1978 as part of the historical center of Krakow. It takes a little over 2 hours to complete the tour, but you leave feeling like you have achieved lots during this time. Even though they are called "free walking tours" the idea is to tip your guide at the end of the tour what you think it was worth.
Zapiekankas
From there I decided it was close enough to lunch time and there was only one thing I had my heart set on for lunch. A zapiekanka. What the bloody hell is this you might think… well it's another one of Poland's famous food options. It's an open faced sandwich of goodness, topped traditionally with sauteed mushrooms and cheese. Today, it can come with all sorts of crazy toppings combinations like sausage, vegetables and cheese smothered in garlic or ketchup sauce. It's a must try for anyone visiting the area. I got mine from one of the vendors at Plac Nowy's in Okraglak.
Schindler's Factory
After lunch I visited Schindler's factory, an amazing museum that tells the moving story of Oscar Schindler and his factory employees bravery during a horrible time in history. The museum itself is very popular, so booking online in advance is suggested. Visit on a Monday when entry is free. Allow 2-3 hours out of your day to see all the museum has to offer.
The rest of the day I spent exploring the quirky streets of Krakow and soaking in the amazing architecture on offer. I ended the day with a quick trip back to the Pierogi festival to sample a few more flavors and had an early night, ready for my upcoming day at Auschwitz.
Visiting Auschwitz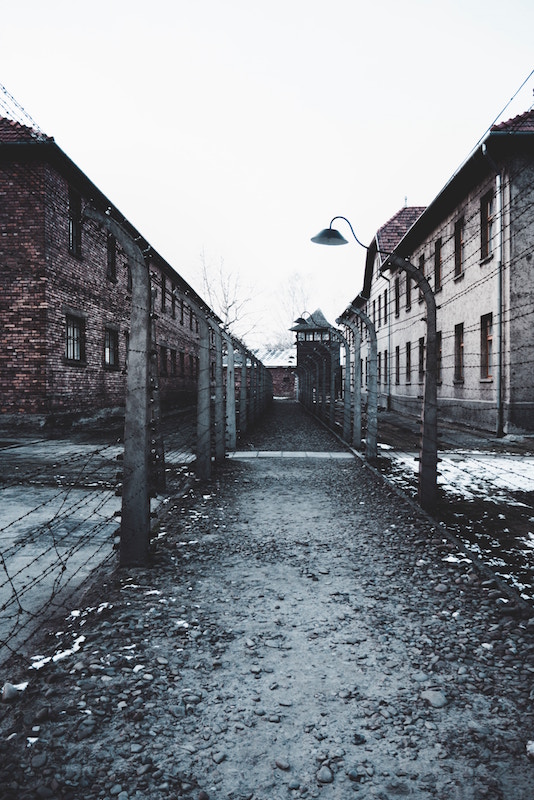 Photo by Erica Magugliani on Unsplash
I was up pretty early on this morning and was feeling a little anxious at exactly what I might be confronted with today at the camp. I had breakfast on the run and met the group to start the hour-long drive from Krakow to the concentration camp. Auschwitz camp was packed full of tourists and it took a few moments to get through the gates and be introduced to our guide for the day. We were given earpieces and radios so we could hear the guide and then started our tour.
As expected, this was an experience like no other. It is hard to put into words exactly what you feel when you hear and witness the atrocities that these people were subjected to. A numbing experience is one way to describe it. I'm honestly not sure what emotions you could list… shock, anger and disbelief would all be appropriate at certain times throughout the tour. After visiting the concentration camp, you head out to the largest of the camp areas called Birkenau. This is where the majority (around 90%, 1 million) of the people kept at Auschwitz died. It's an incredibly eerie place to be standing and I never felt completely comfortable in my surroundings while visiting. Once finished there, we drove back into Krakow. The mood in the car was very strange. Each individual was trying to process and handle what they had just witnessed in their own way.
A Krakow Pub Crawl
Once back at Krakow I went back to the backpacker's and freshened up, but on the way back I couldn't help but grab myself another half a dozen pierogies of different fillings just to line the stomach. I thought this was a very smart decision as my next port of call after the backpackers was meeting up with some fellow Busabout travelers and joining the famous Krakow pub crawl. I had heard lots of great things about this particular pub crawl and it did not disappoint. The night got off to a frantic start and at the first pub we enjoyed 2 hours of free drinks and shots. I know what you're thinking – all these pub crawls are the same and just give you free drinks but they are all just watered down.
Well, not this one. It's the real deal. This pub crawl is very popular and starts off with a very high number of people and as a result they aren't able to fit everyone into the future pubs on the trip unless they manage to get some people drunk enough that they either leave early or get lost between pubs. It's truly the survival of the fittest by the end of the night and no doubt whatsoever that you'll get your money's worth on this night. The next morning was a very slow and painful morning. Waking up with traces of leftover kebab in your room and your mouth so garlicky that you yourself can't stand your own breath is never the ideal start, but the memories and friends made the night before were well worth it.
I left Krakow a short time after with lots of fond memories and a desire to explore more of Poland in the future. It's an amazing place and I couldn't recommend Krakow highly enough. It's perfect for a short trip but has enough on offer to keep you entertained on a longer visit if you have the time.
Please feel free to follow me along my travels via my Instagram page, @travel_pics_bjdeverell and be sure to keep an eye out for my next blog
post.
Happy Travels – Brodie