Pumping beats, lively atmosphere and fine sand under your feet always set you in the mood for some partying on the beach. From Rio de Janeiro to Ibiza, these stunning beaches not only sizzle with heat during the day, but also dazzle you with bright lights and cocktails by night.
Many of them have gained worldwide fame, attracting travelers from all over the world, grooving to the sounds of the waves and music fused into one harmonious rhythm. Let your hair down, soak in some sun and get ready to party!
Boracay, the Philippines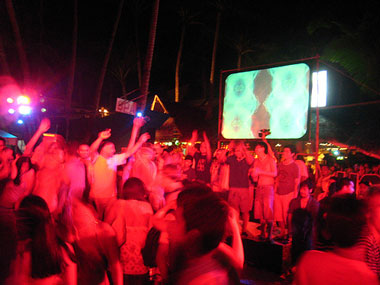 With some of the most gorgeous beaches in South East Asia, the island of Boracay is the latest hotspot and it oozes sensuality and relaxing grooves.
Unlike some overcrowded islands, Boracay is still relatively uncovered and that alone makes the island even more alluring.
White Beach is home to a few hippy reggae bar and zen cocktail lounges sprawled over the white sand, exuding a soothing ambience like no other.
Cocomangas is the palpitating heart of the island's night scene as its dance floor gyrates with energy on the otherwise peaceful island.
Ibiza, Spain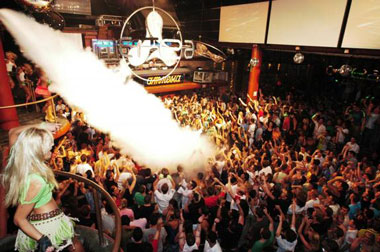 The European capital of summer parties and beautiful people, Ibiza has years of history as the rowdiest and funkiest island in the world.
Flooded with British holidaymakers, Ibiza is barely recognizable as a Spanish island especially with an all-English crew of bartenders and waitresses everywhere.
Despite its lack of local flavor and culture, it is still a stunning island boasting of turquoise bays, rocky cliffs and chill-out vibes.
San Antonio is where all the hip and trendy reside, and where streets come alive at night. Amnesia holds the biggest foam parties that attract thousands, while Café del Mar is the soul of the island with its eclectic island beats.
Zanzibar, Tanzania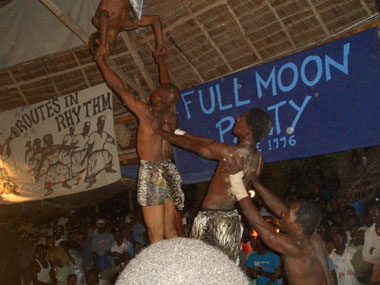 What used to be a spice island is now a tranquil isle teeming with unspoiled beauty and wilderness. This gem of East Africa is authentic, breathtaking and full of character.
Expect to find locals fishing in the turquoise waters instead of tourists baking under the sun, especially in low season. That said, nightlife here can go wilder than you can imagine!
Kendwa Rocks, a dive resort in the northern coast of Zanzibar, holds full moon parties that include sumptuous Zanzibari barbeque buffet and entertaining African Acrobatic performances.
With rustic wooden furnishing and hammocks as décor, along with international music, this full moon party definitely rocks!
Koh Phangan, Thailand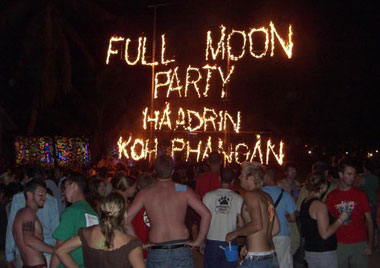 The crescent-shaped beach of Haad Rin is home to one of the world's most famous Monthly Full Moon Party event. Travelers from all over the world come to this island for the thumping music, cheap booze and all-night-long partying.
With different genres of music playing at various bars, and entertainment from jugglers and fire-eaters, you are guaranteed a crazy night on the beach. Except that, who's going to clean up the mess the next morning?
Some parties attract up to 20,000 partygoers, so don't be surprised by the crowd and the chaos. Beware of pickpockets and drunkard brawls!
Rio de Janeiro, Brazil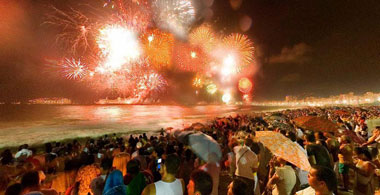 Where else can you find sexier bikini-clad ladies and sassier party atmosphere than Rio de Janeiro? From samba clubs to baixos (gathering of cafes, restaurants and bars) and mega dance clubs, the entire stretch of coastal beach has so much to offer for every type of traveler.
With some of the world's most famous beaches such as Ipanema and Copacabana, this city epitomizes partying on the beach.
New Year's Eve at Copacabana is one of the most important festivities in Rio de Janeiro and around the world.
Surfer's Paradise, Australia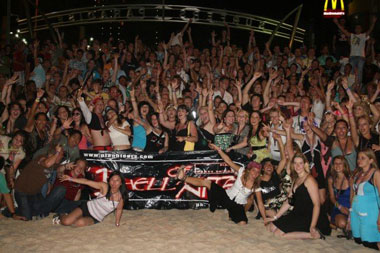 Even its name sounds like pure heaven – Surfer's Paradise is Australia's pride and joy, especially for a nation that loves big waves, sunshiny weather and trendy parties.
Besides riding the waves in the day, sun-kissed beach-goers love to gather along Orchid Avenue, the nocturnal hub of the beach town.
Modern joints such as The Bedroom and Sin City draw in the fashion-forward clubbers who want to party in style. Join in the Wicked Club Crawl that will bring you around the hottest nightspots in town!
Tel Aviv, Israel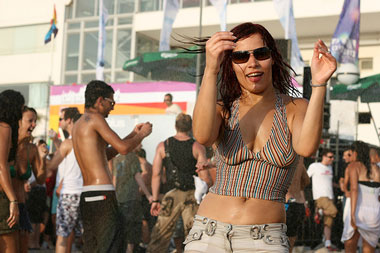 A surprise for many as this coastal city in the Middle East boasts of beaches with some of the most vibrant nightlife in the world.
As Israel's wealthiest city, Tel Aviv resembles Miami with its high-end clubs, posh restaurants and affluent locals.
Stretching from the Tel Aviv Port to the Old Jaffa, the pumping music continues through the night in 'the city that never sleeps'.
TLV is one of the biggest dance clubs at the Tel Aviv Port, while Café Barzilay showcases performances from alternative Israeli artistes.
South Beach, Miami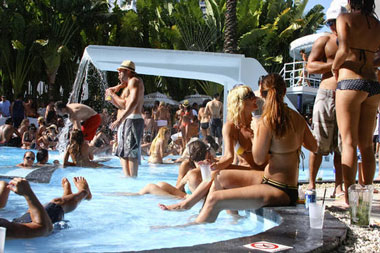 Of course, how could we forget the crème de la crème of party beaches – South Beach?
Not only will you spot the rich and famous like J.Lo and Ricky Martin, many college students also flock to the paradisiacal beach for spring break.
Expect to see voluptuous topless ladies, as some of the most beautiful people in the world are on display here in the Southern tip of the USA.
Partying at South Beach can be expensive, but with glamorous settings at Nikki Beach, Delano and Mansion, you won't feel the pinch.
Read about author Nellie Huang and check out her other BootsnAll articles.
Photo Credits:
Ibiza Amnesia Foam Party, Boracay Cocomangas: Anna d Kendwa Rocks Full Moon Party, Koh Phangan Full Moon Party, New Year's at Rio de Janeiro, Surfer's Paradise Wicked Pub Crawl, Tel Aviv Wet Dance: Giorgio Montesino, Miami Pool Fun