Once you've seen one walking trail you've seen 'em all? Not in these eight cases, where you'll tramp on unusual surfaces and wander through some curious lands.
1. Plitvice Lakes National Park, Croatia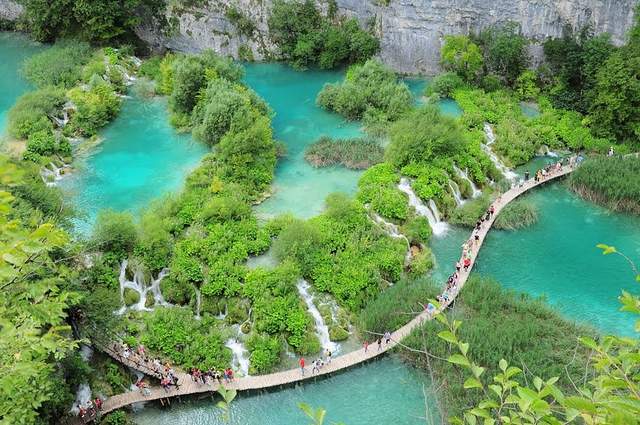 Once a battle site in the Croatian War of Independence, Plitvice Lakes National Park is an enchanting forestland sprinkled with cascading waterfalls and a placid string of 16 luminescent lakes. (It's dissolved limestone that helped create this UNESCO World Heritage site over some 10,000 years.)
[social]
A network of trails, mostly on wooden boardwalks, traverses the tumbling waters. Spending five hours walking the "H" itinerary — one of several that the tourist office at the Ulaz 2 entrance suggests — captures all of the park's key features.
The Upper Lakes, including the highest, Jezero Kozjak, are nestled in woods dense with beech and fir, while the Lower Lakes sit within a limestone canyon hollowed by caves that you can explore. The waterfall that perhaps attracts the most attention in the Lower Lakes region is the thundering Veliki Slap where the water tumbles some 230 feet.
>> Plan your trip with our Croatia travel guide
>> Read about beaches in Croatia
2. Cappadocia, Turkey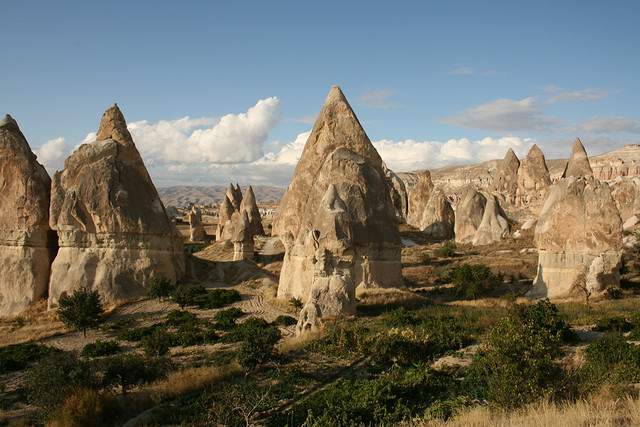 You don't have to close your eyes and daydream to be transported to a fantastical land. Just hike the myriad paths that weave through the valleys slicing through the Cappadocia region and you'll feel like you just dropped into a Salvador Dali painting.
Standing sentinel all about are curious monoliths — appropriately termed "fairy chimneys." Many are undeniably sexually charged — phallus-shaped, to be exact. Centuries of erosive forces have also sculpted the soft volcanically-derived tufa into more PG-rated shapes, including mushrooms and cones seemingly wearing top hats.
Penetrating these spectacular columns are hand-carved portals into cave churches, houses, pigeon coops — the droppings were prized as a fertilizer — and even bee hives. Some of the richest array of fairy chimneys in this land that's deemed a UNESCO World Heritage site can be found in the Love and Honey valleys. Mehmet Gungor is a one-man operation guiding authentic hikes in this region.
>> Find hostels in Istanbul
>> Search for cheap airfare to Istanbul
>> Read about 10 experiences not to miss in Turkey
3. Great Wall, China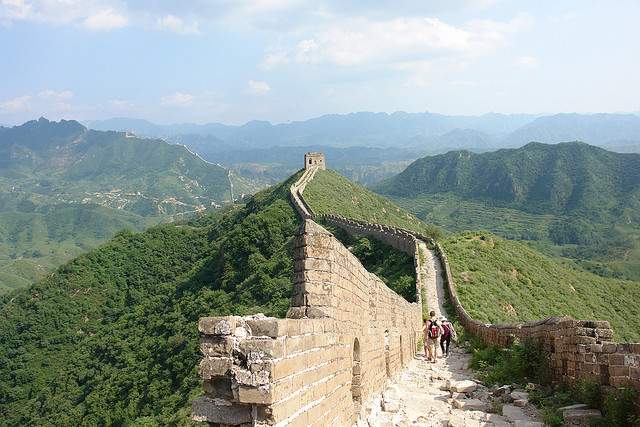 China's Great Wall no longer stretches along its 4,200-mile-length that dated to the Ming Dynasty — some 30% has almost vanished. But the remaining sections — some within day trip access of Beijing — present walkers with varying states of preservation, from the overdeveloped Badaling portion with its museum, shops, and bathrooms to those wilder, dilapidated portions with no facilities.
One of the more authentic paths atop this serpentine wall wanders from Jinshanling to Simatai, a five-hour hike along mostly derelict ribbons encrusted with storied watchtowers and crenellated ramparts. Meandering over undulating peaks, the route often requires scrambling, sometimes on all fours, up and down tall decrepit stone steps and around gaping holes. But the sweeping vistas of the mostly forested hills, lush valleys and snake-like wall make the effort worth every step.
William Lindesay, an ardent Wall activist in terms of its preservation, organizes day and multi-day hikes on the crumbled sections.
>>  Search for cheap flights to China
>> Learn about temples in China
>> Check out some lesser-known places to visit in China

4. Madeira, Portugal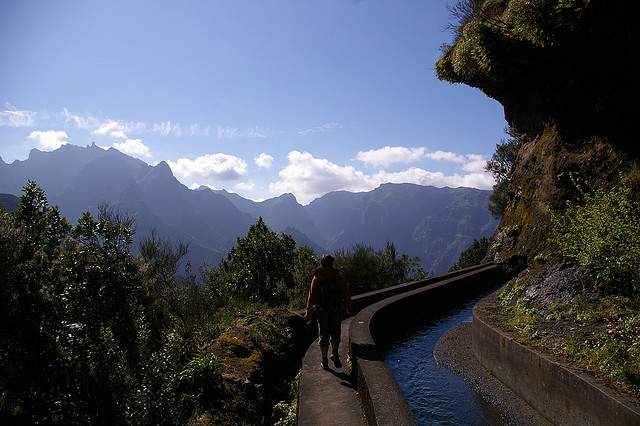 Set some 600 miles from Lisbon, the leafy island of Madeira has a reputation among acrophobes as having some of the most vertiginous trails around.
This rugged isle is networked with some 1,000 miles of irrigation channels (or levadas) that are bordered by a narrow level-walking path. These aqueducts have been hewn into cliffs and solid rock producing claustrophobic tunnels and paths clinging at times to the edge of sheer chasms.
However, there are also plenty of more gentle levadas, including those coursing through Madeira's native laurisilva forest. Even families can walk Levada dos Balcoes that starts in the mountain hamlet of Ribeiro Frio and terminates at a dizzying overlook of jagged high peaks and deep verdant valleys. Another levada starting from the same hamlet takes slightly more adventurous walkers to Portello, a four-hour trek past heather, lily of the valley trees and wild orchids. Madeira Explorers leads myriad levada walks.
>> Find Lisbon hotels
>> Search for cheap airfare to Portugal
>> Read about what to drink in Portugal
5. Negev, Israel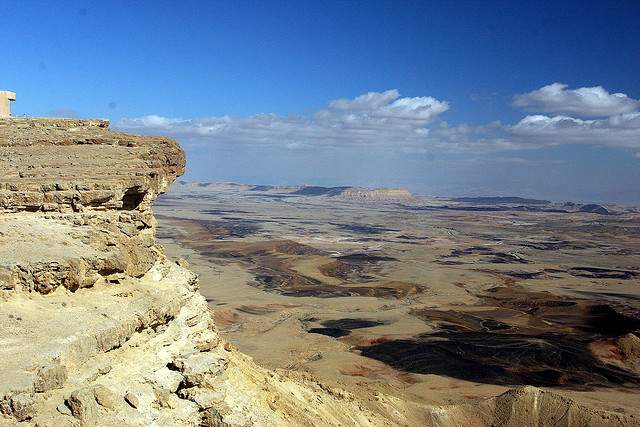 In the Negev, a vast triangular-shaped swath of land where Abraham and other Old Testament notables once wandered, a network of walking wadis or dry streambeds veins this arid scape. After a rain, desert flowers bloom in these beds, but this innocent landscape can turn deadly in an instant should there be a flash flood.
Many wadis are aptly named: Along Wadi of the Tree, the broad canopy of a lone acacia provides welcome shade. The radiant shades of sandstone are conveyed by the name Wadi of the Gevanim or Shades of Color. The eponymous spring along the Ardon Wadi — another wadi laden with views of brilliant-hued sandstone walls — is an oasis for ibex and other animals.
One of the most interesting findings: the stone ruins of a caravansary or ancient motel of sorts for traders and their camels along the old Nabatean-run Spice Route. Adam Sela arranges hikes for all skill levels in the Negev.
>>  Look for flights to Tel Aviv
>> Check out Israel adventure trips
6. Westmann Islands, Iceland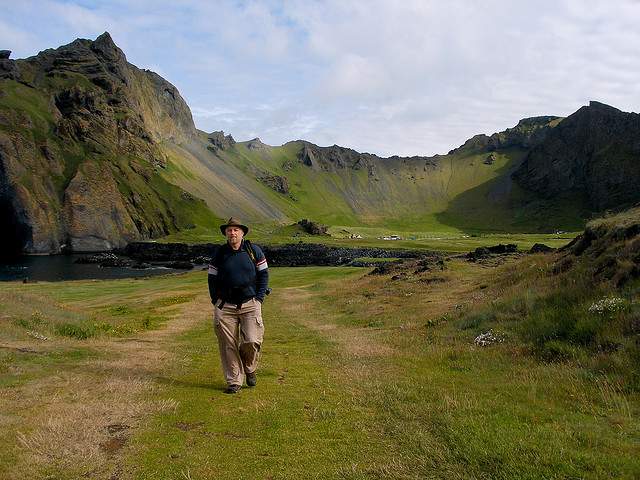 Heimaey, the only inhabited isle among Iceland's Westmann Islands, shows off its volcanic origins wherever possible.
A four-mile path threads atop the towering cliffs on the island's west side, starting at the 18-hole golf course where the lava fields are out of bounds. Flanked by the crashing sea and a conglomerate of black lava and verdant farmland, the trail provides plenty of close-ups of puffins, the island's signature birds, as well as guillemot, oystercatchers and others.
The trail wanders near some curious features, including wooden racks hung with dried fish heads, and a 1940s ship's motor beached on a stretch of black sand that also harbors plant fossils. Once the trail climbs to the island's southern tip, you'll be standing near an old weather station that's recorded winds as high as 110 knots. Ruth Barbara Zohlen takes hikers along this and other trails on Heimaey.
>> Plan your trip with our Iceland travel guide
>> Book flights to Iceland
>>  Read about more incredible things to do in Iceland

7. Pico Island, Azores, Portugal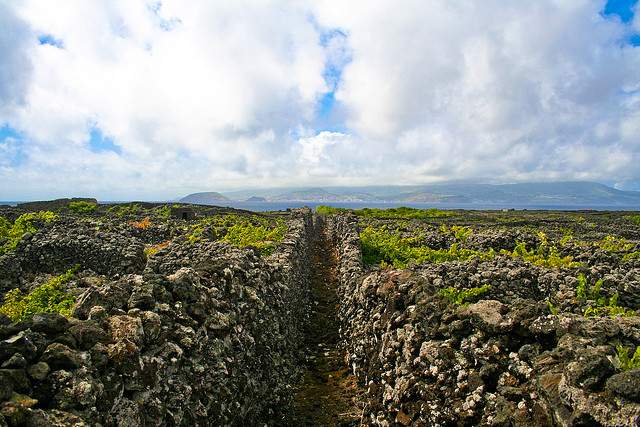 In the Azores archipelago, Pico Island's most famous commodity is wine. But the island's vineyards are hardly ordinary. On this volcanic isle, a maze of black lava stone walls shields the grapes from salt and wine.
The five-mile Vinhas da Criacao Velha trail slices through this landscape where waves tumble against coastal jagged rocks and natural pools, while small sandy beaches break up the desolate volcanic scape. The grapes responsible for Pico's notable aperitif wine, Verdelho, grow along the latter part of the trail providing views of a seemingly endless expanse of vineyards that are a patchwork of lava stone walls. This landscape, where the grapes are cultivated on mineral-rich volcanic soil, is so unique, it's designated a UNESCO World Heritage site.
Also visible along the path are the rocky profiles of the Islets of Madalena, stately old manor houses, and curious tracks, evidence of where wagons once transported grapes and wine barrels. Organized hikes can be arranged through Turispico.
8. Dubrovnik, Croatia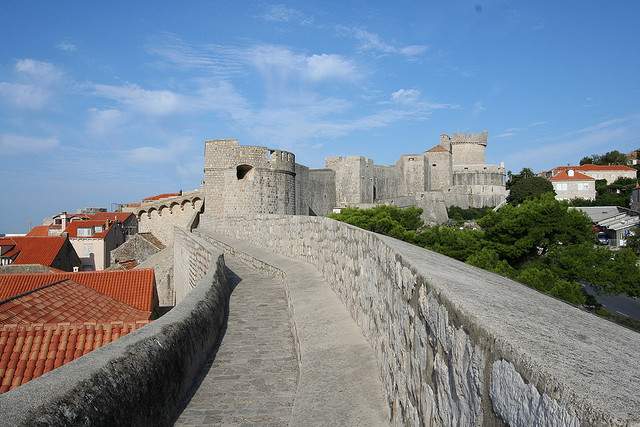 The defining feature of the medieval city of Dubrovnik is its defensive walls. And walking atop these slightly more than one-mile battlements that surround the city provides a commanding perspective of the city's key historic details.
Beginning your walk when the wall first opens may help you avoid the prerequisite crowds. But come armed with the audio guide that can be rented at the beginning near the Pile Gate. (It provides a wealth of historical and architectural details).
With some sections not even two-feet wide and others towering some 80 feet high, the wall walk may cause some acrophobes to break out in a sweat.The series of towers, bastions and fortresses are surely an impressive testament as to why the ramparts were never breached. Protecting the southeast side of the old port, crenellated Fort St. John was considered the most powerful fortification. (This is where the city's residents sought shelter during the Croatian War of Independence.)
This article was originally post in January 2010.
Read more about walking and hiking around the world:
Photos by: David THIBAULT, simaSan, Liz Wong, gromgull, Nir Nussbaum, quinet, Ulrich Thumult, weegolo,