I arrived in Buenos Aires with two culinary goals: eat steak and drink red wine. My knowledge of the city's full food range was limited, but I was sure that there would be wine and steak. Once I started exploring, I realized that I'd set the bar too low. Yes, meat plays a central role in Buenos Aires' cuisine, but so do sweets. And bread. And cheese.
When I walked past people eating at sidewalk cafés, I didn't just salivate but openly gawk at the food on their plates. The low point was probably when I hit my head on the window of a panadería, trying to get a better look at the cakes inside. Yes. This happened.
I soon amended my goals, because there's more to Buenos Aires than meat and Malbec. Let's get one thing straight – in this city, you are not on a diet. Food is an integral part of travel; it reflects the way people live and reveals insights about a culture. I would be remiss to turn down the chance to sample a local delicacy, because eating is part of why I travel. With only six weeks in Buenos Aires, I had a lot of work to do. Taking my cue from the porteños (Buenos Aires locals), who often have sugary pastries for breakfast, I started with the desserts.
Dulce de leche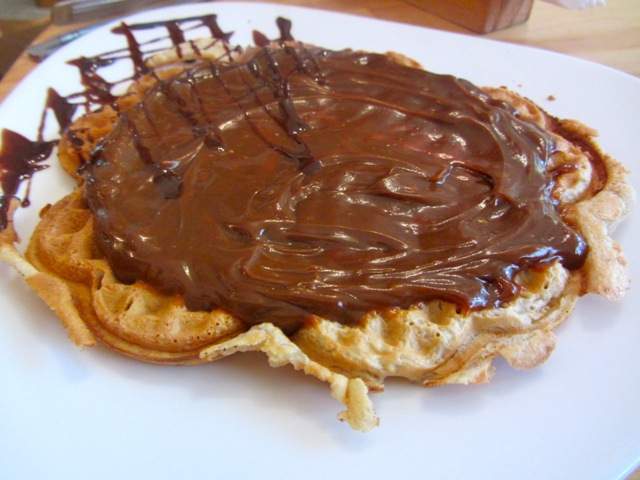 Although it looks like caramel, smells like caramel, and has a similar consistency, dulce de leche is patently not caramel. It's as thick as honey but tastes even sweeter. And in Buenos Aires, it complements nearly everything. I haven't seen it as a steak topping, but let's just say that it wouldn't surprise me. The literal translation for dulce de leche is "sweet of milk," which comes from its two main ingredients: milk and sugar, fused together over a low heat.
When I walked past people eating at sidewalk cafés, I didn't just salivate but openly gawk at the food on their plates.
"This stuff is too sweet," my fiancé said when he first bit into an alfajor, a sandwich cookie filled with dulce de leche. "I'm not sure it's for me." Yet as the weeks passed, I watched him order a slice of dulce de leche cheesecake, a dulce de leche waffle, and dulce de leche ice cream. We even bought dulce de leche liqueur and barely resisted buying a jar of dulce de leche from the supermarket. When I threw an alfajor into our shopping basket, he hesitated for only a second.
"Better put one of those in there for me, too, then."
Dulce de leche might seem like too much at first, but persist and your sweet tooth will adapt.
Tip: There are an overwhelming number of alfajores pre-packaged and sold in kiosks, but bakery-fresh is the way to go. They're usually half the price and taste much better. Just try not to hit your head on the window.
Helado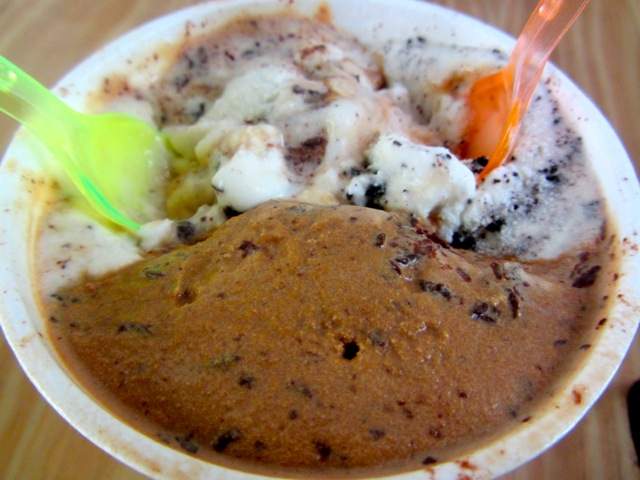 "Hey, like the gelaterias in Italy," I said, lighting up when I first saw the word Heladería written above a Buenos Aires ice-cream shop. There's a good reason for this similarity; nearly fifty percent of the city's original immigrants came from Italy. The Italian influence is apparent in the food, architecture, and even the accents, leaving a permanent stamp on Buenos Aires. This explains the influx of pizza, pasta, and gelato in Buenos Aires, or as they say in Spanish, helado.
The primary difference between the Italian gelaterias and Buenos Aires' heladerias is the display. In Italy, ice cream is eye-catching, with heaping swirls of colorful flavors showcased behind glass-fronted freezers. In Buenos Aires, the ice cream is hidden from view, forcing you to use your imagination as you choose from flavors like mango, dulce de leche, tomate, and cerveza.
That's right. Tomato and beer ice cream.
In Italy, I ordered ice cream by the cup or cone. In Buenos Aires, I ordered it by weight. You can choose a cup, cone, quarter-kilo, half-kilo, or, for the bold, a full kilo. A quarter-kilo is typically the best value; you can choose three flavors, and it's a good size for sharing between two.
Tip: For delicious helado at great value, skip the chains and visit independently owned shops like Nonna Bianca's in San Telmo, located on Estados Unidos between Defensa and Bolivar.
Submarino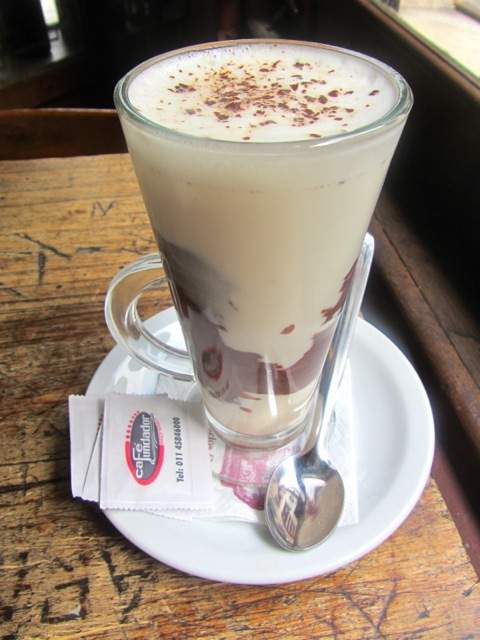 When I first heard about the submarino during a free walking tour, I instantly became anxious and distracted. This was hot chocolate on crack, and I needed to try one now. After the tour, I dragged my fiancé to a tiny café in Recoleta, where we forked over $24 pesos ($5USD) for a submarino. The waiter brought me a tall glass of hot, frothy milk, a long, thin spoon, and a plate piled with shredded chunks of dark chocolate: a do-it-yourself hot chocolate.
Some cafés prepare their submarinos with a chocolate bar on the side, and some put the chocolate in for you. I think this is cheating, as half the fun is mixing it up on your own. But either way, you're winning.
Tip: Café Tortoni on Avenida de Mayo is renowned for its submarinos, especially because they come with – wait for it – submarine-shaped chocolate bars.
After the sweets came the street food, an area where Buenos Aires excels. This is a city that knows the rules: street food should be quick, easy, and steaming hot.
Empanadas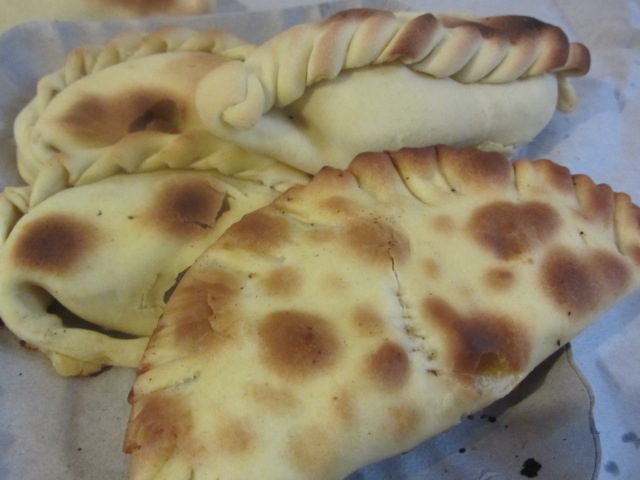 Empanadas are little pockets of pastry stuffed with meat, cheese, or vegetables. They can be oven-baked or fried in lard – remember, in Buenos Aires you are not on a diet. Empanadas aren't exclusive to Buenos Aires, but they're sold citywide at bakeries, specialty shops, and supermarkets.
I started with the flavors I knew, like ham and cheese or beef. Then I got adventurous (not to be confused with gluttonous) and selected flavors at random: humita (creamed corn), Roquefort (indulgent cheese), and caprese (tomato, basil and mozzarella). In theory, each empanada flavor has a unique pattern around the edge of the dough so you can tell them apart. I never figured it out, but preferred to eat at random, not knowing what I would bite into next.
Tip: The best shops heat their empanadas in the oven, not the microwave. I once bit into a microwaved empanada that turned out to be frozen in the center…yum. Try El Gauchito in San Telmo, on Independencia between Bolívar and Defensa.
Choripán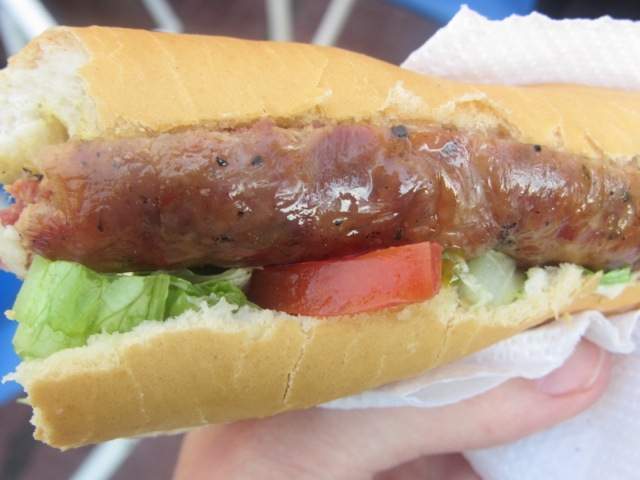 A choripán is a sausage sandwich with a straightforward name (chori = chorizo sausage, pan = bread), and you can usually smell a choripán stand before you see one. Fat sausages are cooked on an open grill, split in half, slapped on a crispy white bun, and handed over in a napkin. Once I got a fancy choripán with lettuce, tomato, and fried onion, but usually they're simple and satisfying: bread and meat. Eat it with chimichurri sauce, an oily mix of garlic, parsley, oregano, and vinegar. Go ahead and wipe your fingers on your t-shirt afterwards. Nobody's judging you.
Tip: Visit the food carts on the promenade in front of the Reserva Ecológica in Puerto Madero for cheap, delicious choripán .
Mate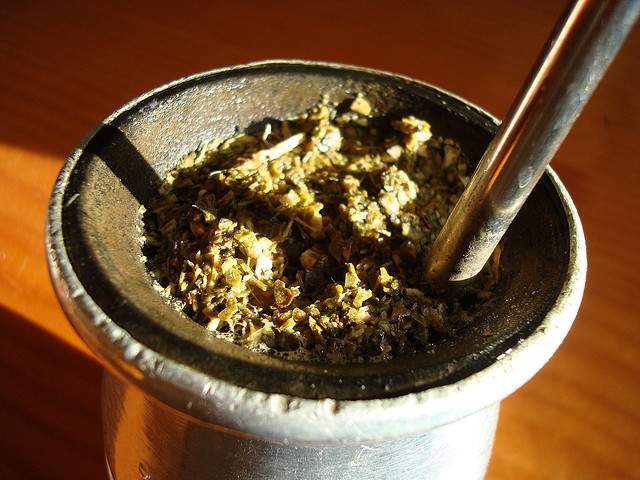 People in Buenos Aires have a tendency to carry around a large, silver thermos, especially in the morning. The thermos is a key component of a national addiction to mate. Pronounced mah-tay, this bitter tea has complicated rules for preparation. Start with a gourd-like cup, also called mate. Fill it roughly 2/3rds of the way with yerba mate, the leafy tea itself. Gently shake the mate cup until the tea rests at a 45-degree angle. Next, pour in some hot water from your thermos, filling the empty side of the gourd. Some of your mate will be dry, some wet. Finally, take a bombilla, a special metallic straw, and plunge it into the mate with two movements: straight down, then angled.
I can't pretend to understand the rules of mate or the reasons behind them. I can't even pretend to understand the appeal, because mate is – how can I put this delicately – an acquired taste. Tastes a lot like grass, but it's got a powerful ability to bring people together. Porteños often share mate as a group, with everyone drinking out of the same mate cup.
Tip: When drinking with a group, always pass the mate to your right.
Eventually, I ate my way to a restaurant, where I finally achieved my original culinary goals.
Bife de chorizo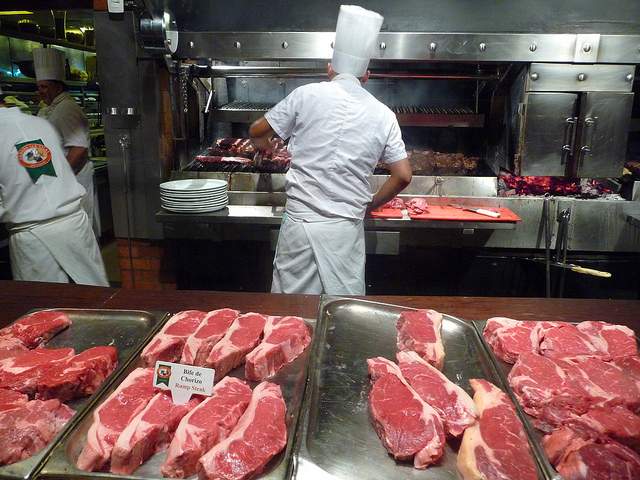 I assumed that bife de chorizo had something to do with sausages; it doesn't. Both are a variety of meat, but that's where the similarities end. Bife de chorizo is basically a slab of cow, the fattest strip steak I've ever seen. Our first steak in Buenos Aires weighed 600 grams, was at least two inches thick, and oozed blood. It was daunting, and in the end, the steak defeated us. With two bites remaining, my fiancé and I were firmly in the clutches of a powerful meat coma, unable to persist.
For the next week I could hardly even look at a parrilla, restaurants that specialize in cooking cuts of beef on a huge grill. There are parrillas everywhere you turn, constantly reminding you that in this city, meat is king. I never attempted one of these steaks on my own because I would have lost every time.
Tip: Between Tuesday and Thursday, La Cabrera in Palermo runs an unadvertised happy hour from 7-8PM. The menu is half-price because it's tourist hour – still far too early for porteños to eat dinner. There are two locations within a stone's throw of each other, at 5127 and 5099 Cabrera. The happy hour shifts between both restaurants, so arrive 30 minutes early to be safe.
Malbec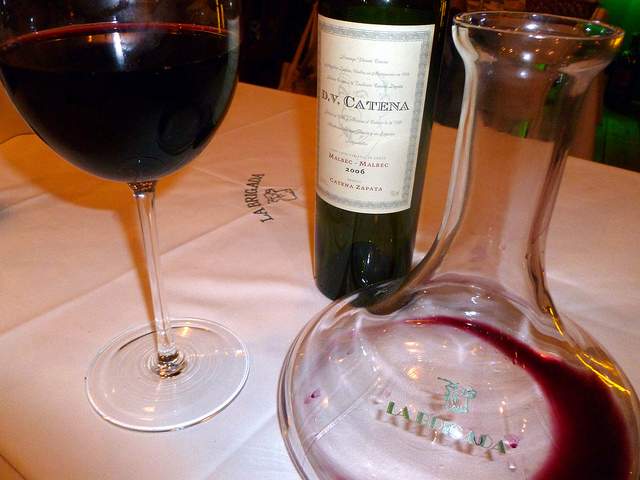 I had never heard of Malbec before I got to Argentina. Red wine was red wine, and as long as it didn't come out of a box, I wasn't too fussy. But in Buenos Aires, Malbec is everywhere you turn, and with good reason. This grape was originally grown in France, where it struggled under the occasional frost. But the vine came to Argentina and found its niche in the valleys of Mendoza, where it thrived. Argentinian Malbec is unique in that it's typically not blended with other kinds of wine.
Malbec is the house red on most restaurant menus, and it pairs best with – surprise, surprise – red meat. Be advised that the waiters are often very generous with their pours, so a glass is pretty good value if you're not up for a whole bottle.
Tip: My Spanish teacher, a porteña, advised me to pay a minimum of $22 pesos (less than $5USD) for a decent bottle of Malbec from the supermarket. Anything cheaper and you sacrifice quality.
By the end of my stay in Buenos Aires, things started to change. When I passed bakeries, I only gave a halfhearted glance at the window. I continued ordering helado, but my heart wasn't in it. The thought of tackling another steak exhausted me, and I craved vegetables and rice. The key to enjoying food in Buenos Aires is moderation, not consistency. After a few days of cooking in the apartment, I was ready to get back on the horse. And, sitting at an outdoor café with a glass of Malbec and a plate of empanadas, I noticed something: passers-by were looking at my plate with hunger and longing in their eyes.
They had a lot of work to do.
Add Buenos Aires to a Foodie RTW Trip
If you're interested in traveling to Buenos Aires, check out the following articles and resources to plan your trip:

Photo credits:  juanpol, marissa_strniste, all other photos courtesy of the author and may not be used without permission.