One of the most popular tourist destinations in the world, Italy has few, if any, unexplored corners. Places like Capri or Taormina can sometimes seem like a caricature of themselves, their natural beauty suffocating amidst tourist hoards and souvenir shops.
Yet, many spots are still as authentic and pristine as they were some 50 years ago. Italian islands that have escaped the trap of mass tourism are fascinating in their rugged beauty. Some of these islands have only limited tourist facilities, and you may find yourself the only English-speaking person around. Others are more developed, have their own airports, and can get very busy in August – the peak season. Their popularity ranges from unpolished and virtually unknown to non-Italians to those that are frequented by the rich and the famous. What these unique islands have in common is unspoilt nature – and total absence of package tourists.
[social]
Giglio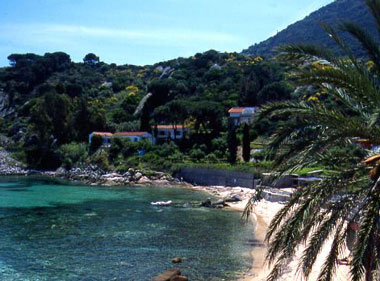 The island of Giglio belongs to the Tuscan Archipelago, famous for the bigger and much more crowded Elba and the uninhabited Montecristo Island. Giglio is basically a granite rock with only a few patches of cultivated land and a wild untouched feeling about it.
It has a handful of hotels and restaurants, which are quite modest, but offer very good value for money. Giglio is a good base to explore other Tuscan islands. However, keep in mind that the Tuscan archipelago is a marine reserve and access to some islands, notably Montecristo and Pianosa, is restricted to protect the environment. Besides, the island of Gorgona is a site of a penal colony, and no tourists are allowed to disembark on it.
Getting there: By ferry from Porto Santo Stefano in Tuscany. Ferries run several times each day throughout the year.
Pantelleria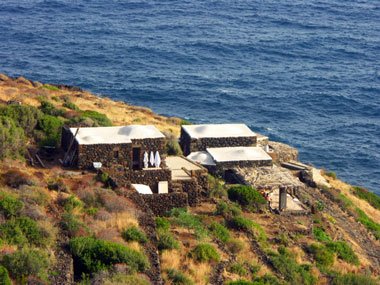 This arid and incredibly windy volcanic island has been a favourite retreat of many celebrities, including Gérard Depardieu, Sting and Madonna. Pantelleria is an enchanted place, with steam spraying from the rocks, with mud baths and sauna caves, fumaroles and thermal sources. The emerald Specchio di Venere lake has healing waters that are fed by thermal springs.
Pantescan dammusi, unique lava stone houses with whitewashed cupola roofs, have been converted into chic hotels or solitary rented homes. A visit to Pantelleria is also a gastronomic delight. Highly recommended is the local Passito wine and dishes such as bitter ravioli, stuffed aubergines, fish couscous and the famous capers.
Getting there: Daily overnight ferries run from Trapani year round, with faster hydrofoil services available in the summer months. Planes fly in daily from Palermo and Trapani, with additional direct flights from Rome and Milan in the summer.
Lampedusa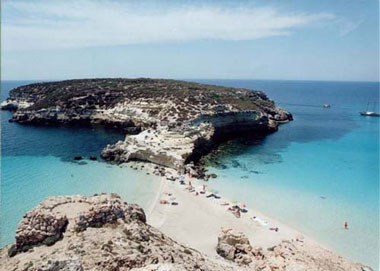 Of all the Italian islands, Lampedusa is perhaps the most notorious due to its illegal immigrant problem. This southernmost Italian territory is situated just 113 km from Tunisia and is geographically in Africa rather than Europe.
It could have been described as bleak and arid, had it not been for some of Italy's most beautiful beaches and lagoons. One of the cultural highlights of the island is on the 22nd of September, when a festival of Madonna di Lampedusa is celebrated with fireworks, processions, games and concerts.
Getting there: Siremar ferries from Porto Empedocle near Agrigento run all year, on most, but not all, days of the week.
Ponza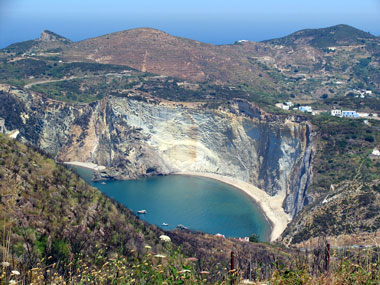 Ponza is a beautiful, narrow and long island with ragged coast, cliffs, hidden coves and beaches, and picturesque houses lining the slopes of the hills. It is a well known and well-visited, yet largely unspoilt island where life seems to flow as it always has, untouched by the rush of meodernity.
The downside of Ponza's popularity is a certain lack of privacy, but the facilities are many and the hotels good. The most dramatically beautiful spot of the island is the beach of Chiaia di Luna, which can only be reached through a Roman tunnel.
Getting there: The easiest way to reach Ponza is from Naples by SNAV hydrofoil with a connection at Ventotene.
Panarea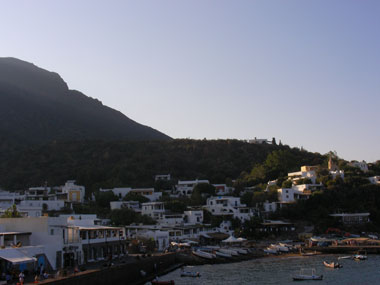 The smallest of the fabled Aeolian islands, Panarea is the favourite of the jet-set crowd. However, this island with a population of just over 200 is too small to accommodate any substantial number of tourists, and has only a handful of unique hotels and rented homes. Boasting views of Stromboli, Panarea is a paradisical get-away-from-it-all island with a lifestyle as laid-back and relaxed as it can get in Italy. No cars are allowed, and the only modes of transportation are the electric golf buggies and a few scooters.
Watching the stars is a truly magical experience on Panarea. There is no electric street lighting, only Moroccan lamps and lanterns to light up outside stairs and terraces in the dark.
Getting there: Siremar and Ustica Lines have daily hydrofoil services from Milazzo and Messina. There is also a hydrofoil and ferry connection from Naples, Palermo and Cefalú several times a week.
Favignana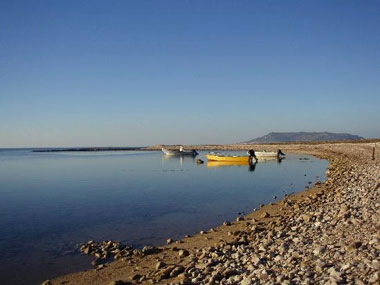 Favignana, off Trapani in Sicily, is a smooth, sun-drenched and wind-blown island. Accommodation is simple and family-run and the lifestyle is unpretentious. Favignana's western part is dominated by Montagna Grossa which, despite its name, rises to a mere 302m.
The eastern part of the island, is flatter and the jagged coastline is interrupted, here and there, with short stretches of sandy beach. You can take a boat from Favignana to other Egadi islands, of which Levanzo is particularly beautiful, even if somewhat unkempt.
Getting there: there are ferry and hydrofoil services from Trapani every day, operated by Siremar and Ustica Lines, as well as additional ferry services from Naples during the peak summer months (June to September)
La Maddalena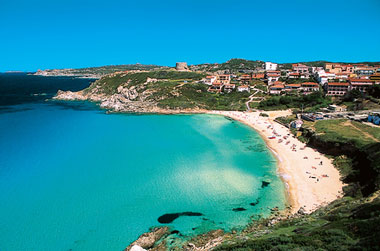 Off the north-east coast of Sardinia, La Maddalena islands boast pink sandy beaches and crystal clear waters. The main and the largest island that gave the name to the archipelago has a population of about 11 000.
La Maddalena is linked to the island of Caprera by a 600 metre long dam and together they are the only inhabited islands of the archipelago. The US Navy has a submarine tender stationed on the island of Santo Stefano, and consequently you will find many Americans living on La Maddalena. It is worth visiting the minor islands – Budelli, Razzoli and Santa Maria, which together form a beautiful lagoon of Porto Madonna.
Getting there: Year-round ferries from Palau in Northern Sardinia run frequently, up to four times an hour, 24 hours a day.
San Domino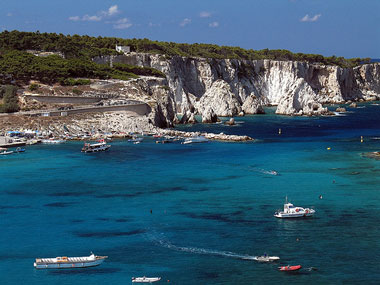 The biggest of the Tremiti Islands off the Adriatic coast of Italy, San Domino is one of those hidden gems few people have heard of. Because of its isolated nature, in the year 1000 it was chosen as an hermitage for Benedictine monks, who subsequently moved to the neighbour island of San Nicola.
San Domino has a rugged coastline with secluded coves and beaches, where fragrant pine woods go right to the water's edge. It is a diver's paradise with rich marine life, underwater caves and even a Roman shipwreck. San Domino is the only of the Tremiti islands with tourist accommodation, even though San Nicola is the official administrative centre.
Getting there: Tirrenia Ferries operates daily services from Termoli year round (one hour by train from the nearest airport of Pescara in Abruzzo).
More Italy resources to help you plan a trip:

Top photo by @Michael