A country's food is intricately linked to its culture and for many travelers, food is one of the favorite ways to get a better "taste" of a place. Traditional dishes are created using the ingredients that are available in a region and recipes are handed down from generation to generation over hundreds of years. Taking a cooking class while traveling can give you an inside look at a culture's cuisine and provide you with a tasty meal.
The best part: you can recreate the dish in your own kitchen any time you want and be instantly transported (if only in your mind) back to the country of its creation. Here are some of the best traditional dishes to learn to cook on the road and then make on your own at home. Even if you can't travel to each of these places, you can still take your taste buds on a journey by following the recipes below.
[social]
Empanadas – Argentina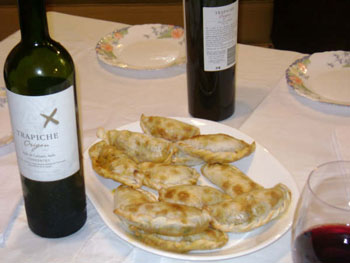 Empanadas may have originated in Spain (the Spanish verb empanar means to wrap or coat in bread) but it was in South America that their popularity grew, particularly in Argentina. Essentially a small semi-circular pastry stuffed with various fillings, empanadas are deceptively easy to make.
Fillings vary from province to province based on the meats and produce that were historically available and include chorizo and cheese; beef with paprika, onion, eggs and olives; and sweet corn. In Buenos Aires, you can find many more varieties at restaurants, which designate each pastry's filling with a different pattern baked into the dough.
Empanada Recipe
To make the traditional beef filling, melt 1 tablespoon of butter with 2 tablespoons of corn oil and sauté 1 large onion until transparent. Add 1 pound of ground beef, 2 tablespoons of raisins, 1 tablespoon ground hot and sweet paprika, 1 tablespoon ground red dry spicy peppers, 1 tablespoon cumin and salt and freshly ground black pepper to taste. Sauté until meat is cooked and then put the mix the refrigerator over night, or for at least 1 hour. Just before cooking, add 2 cups of chopped hard boiled eggs and ½ cup of chopped green olives.
Make the crust by mixing 4 ounces of butter or lard and 1 2/3 cups of flour in a bowl.  Add a brine solution (1 cup of water with salt) until the dough can be easily formed into a ball.  Let the dough rest about 30 minutes and then roll sections into balls the size of half an egg. Roll the dough out into a circular shapes about 1/8 of an inch thick.
Spoon the filling onto half of the rolled out dough and use a drop of water to fold the ends of the dough together, making a crescent shape. Press the edges with the tip of a fork or twirl the dough by hand to seal it. Place on a non-stick baking pan and bake at 350 degrees until the crust turns light brown. You can also fry the empanadas in sunflower oil and then sprinkle with sugar.
>> Discover 8 reasons to go to Argentina now
Pasta – Italy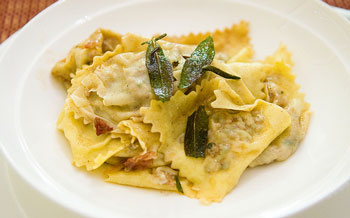 Pasta has been one of the main staples of the Italian diet for centuries. With over 3000 noodle varieties to choose from, the options are endless. At its most basic, fresh pasta is easy to make and requires just flour and eggs.
Once the dough is made you can choose which kind of noodles to make based on your preferences for fillings, toppings or sauce. One traditional Tuscan variety is ravioli stuffed with spinach and ricotta cheese, served with a browned butter and sage sauce.
Pasta Recipe
On a flat, nonporous surface, make a mountain out of one cup of flour. Make a well in the mix and drop one egg into it. Using a fork, slowly mix the flour into the egg until it is thick enough to work with your hands. Knead the dough for about 5 minutes, adding water if necessary to achieve the correct consistency, which should be smooth and supple.  Let the dough rest for half an hour while you prepare the filling.
To make the filling, mix one cup of cooked spinach and ½ cup of ricotta cheese with a few pinches of ground nutmeg. Roll out the dough and cut into very thin squares. Put a teaspoon of filling on each square and run a fingertip of water over the edges. Top each square with another and press the edges with a fork to close. Cook the raviolis in boiling water for 2-3 minutes – fresh past cooks much quicker than dried. Melt ¼ cup of butter and sauté with 4 sage leaves. Add the cooked ravioli and top with a few slivers of grated parmesan.
>> Learn more about what to eat in Italy and discover great cooking schools in Italy
Bouillabaisse – France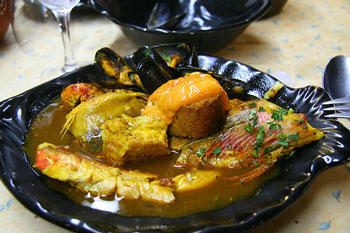 Bouillabaisse, a French stew, was created in the port city of Marseille.  The soup contains a variety of fish and shellfish, along with leeks, onions, tomatoes, celery and potatoes, and is seasoned with garlic and saffron.
Variations exist among families, but most agree that traditional bouillabaisse contains scorpionfish, sea robin and conger. Shellfish used often includes sea urchins, mussels, spider crab and octopus. Bouillabaisse is best prepared and served in large portions, making it a perfect dish for family gatherings.
Bouillabaisse Recipe
Clean and scale 9 pounds of fish, including sea robin, scorpionfish, gurnard, conger, monkfish, John Dory, and 10 sea urchins (substitute the fish with what you can find at your local market). Cut the fish into large pieces with the bone in and wash the octopus and cut it into pieces. Put 1 cup of olive oil in a large casserole dish and add 3 sliced onions, 6 crushed cloves of garlic, the pieces of octopus, and 5 seeded, peeled and quartered tomatoes. Cook on low heat for about 5 minutes.
Add the sliced fish, starting with the largest pieces. Cover with boiling water, add salt and cayenne pepper, 1 branch of fennel, a bouquet of garni and 8 pistils of saffron. Boil at a low heat, stirring occasionally until done, which is when the cooking juice blends with the oil and the water (about twenty minutes). Mix 2 cloves of crushed garlic with 1 egg yolk and 10 pistils of saffron, blend with olive oil little by little to make a mayonnaise and then add to the broth.
Boil 2 pounds of peeled and sliced potatoes for 20 minutes in salted water. Add the sea urchins into the broth and then serve it in a side bowl. Remove the fish from the broth and serve it and the potatoes on a separate platter.
>> Find cooking classes in France and learn more about French food
Paella – Spain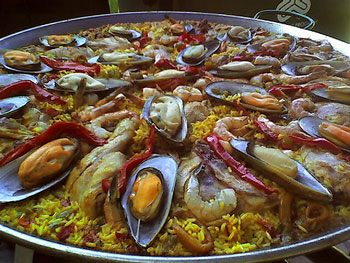 Paella was created near Valencia, where it was made with rice, vegetables, meat, snails, beans and seasoning. Paella's popularity has spread throughout Spain and now you can find it at restaurants around the country.
Regional variations exist and many people substitute fresh seafood for the meat and snails or use both meat and fish to create mixed paella. It's an easy dish to make for a big group. Substitute fish available in your area and serve with Spanish white wine or Sangria.
Paella Recipe
Heat ¾ of a cup of olive oil in a paella pan (or large sauté pan) over medium to high heat. Lightly fry 24 ounces of cut monkfish and then transfer to a platter. Fry a chili pepper and a slice of bread in the oil and then mash then together with a mortar and pestle to make a paste. Sauté 5 cloves of minced garlic and 2 skinned, seeded and chopped tomatoes and then add ¼ cup of oil and 2 cups of bomba rice. Put the monkfish on top, add 4 cups of fish stock, the mashed chili and bread paste, and ¼ teaspoon of saffron. Cook for 20 minutes, stirring often.
Add 1 pound of shrimp and 1 pound of mussels. Cook another five minutes, or until shrimp is pink, mussels have opened (discard any that do not open), the rice is tender and all the liquid has been absorbed.
>> Find cooking classes in Spain and learn more about what to eat in Spain
Shepherd's Pie – England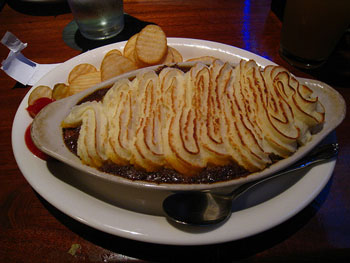 An English meat pie topped with mashed potatoes, Shepherd's Pie is also called Cottage Pie. The dish originated in rural areas of the country as an economical means of using up leftover meat.
Traditional Shepherd's Pies are made of cooked ground or diced meat (lamb, mutton, or beef) mixed with vegetables and topped with mashed potatoes and then baked until a crust forms on the top. The perfect dish to warm and fill you on a cold winter's night, Shepherd's Pie is also cheap and easy to make, and of course goes well with a nice English ale.
Shepherd's Pie Recipe
Peel and quarter 2 pounds of potatoes and boil in salted water for 20 minutes. Melt 4 tablespoons of butter in a frying pan and sauté 1 chopped onion until tender. Add 1-2 total cups of carrots, corn and peas and sauté with 1 ½ pounds of ground beef (or any leftover meats) until cooked.  Add 1 teaspoon Worcestershire sauce, half a cup of beef broth, and salt and pepper to taste.
Mash the potatoes with butter and season to taste. Place the beef and veggie mixture in a baking dish and top with mashed potatoes. Bake at 400 degrees for about 30 minutes, or until the mashed potato topping is beginning to brown.
>> Read about popular foods named after places
Pierogi – Poland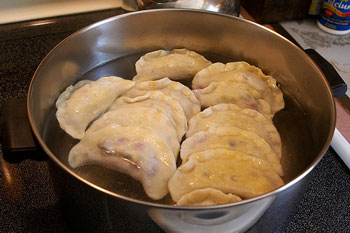 Pierogi are to Poland what empanadas are to Argentina though this Polish spin on stuffed dough is made with unleavened dough and boiled instead of baked. Though they began as a cheap and filling peasant food, they are now dressed up and sold at restaurants all over Poland.
Common fillings include mashed potatoes, farmer's cheese, cabbage, sauerkraut, meat, and sweet fillings like cherry and blueberry, consumed for dessert. Onions, mashed potatoes and cheese is the most common combination in Poland, though there are endless variations you can try.
Pierogi Recipe
Mix 2 ½ cups of flour with 1 teaspoon salt, 1 egg, ½ cup of water and 2 tablespoons of sour cream until the dough is sticky. Let the dough rest for ½ an hour while you make the fillings. Finely chop 2 pounds of onions and fry in butter until golden brown. Peel 5 pounds of potatoes, cut into thirds and boil until tender. Mash the potatoes with the onions, ½ cup of cheddar cheese, and salt and pepper to taste. Roll out the pierogi dough to 1/16 of an inch thick. Use an inverted glass to cut circles in the dough about 3-4 inches in diameter.
Boil a large pot of salted water. Spoon 1 tablespoon of filling onto each dough circle and use a wet finger to bring the edges together and close into a crescent shape. Boil the pierogi for 10-12 minutes, rinse quickly in warm water, and serve.
>> Discover 11 delicious street foods around the world
Tamales – Mexico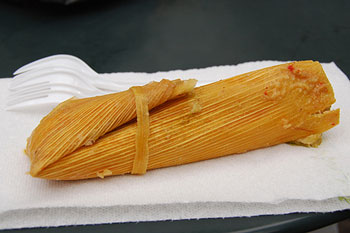 Tamales were created by the Aztecs centuries ago and are now one of the most-popular dishes in Mexico. A steam-cooked corn mixture (masa) is filled with meat like pork or chicken and a sauce like salsa or mole, wrapped in a dried corn husk, and steamed.
There are reputed to be over 500 varieties of tamales in Mexico with each region putting its own twist on the tradition. Tamales can be made savory or sweet and are consumed as breakfast, dinner, dessert (stuffed with raisons or dried fruit) or a snack. You can find them in restaurants or sold from street vendors all over Mexico.
Tamale Recipe
Cooking tamales is notoriously difficult and time-consuming. To save a little effort, buy pre-made corn masa at your local market. Cut a 6-8 pound pork roast into large chunks. Put the chunks into a pan, cover with water and boil until tender (about 2 hours). Remove the meat and save the broth. When the meat is cool, shred it by hand, discarding any fat. Warm ¼ cup of corn oil, 1 tablespoon salt, ½ tablespoon pepper, 2 tablespoons garlic power, 2 tablespoons ground cumin, and 3 tablespoons chili powder in a pan and then mix thoroughly into the meat.
Mix one pound of the masa with 2 tablespoons paprika, 2 tablespoons salt, 2 tablespoons chili powder and 2 tablespoons garlic powder.  Slowly add in 1 cup of corn oil and 1 cup of the reserved meat broth until the mix has the consistency of peanut butter. Soak the corn husks for about 2 hours, dry and then spread about ½ cup of the masa mixture onto each husk. Cover 2/3 of the corn husk vertically and 2/3 horizontally with masa. Layer 1 tablespoon of the meat mix on top. Roll the tamales closed and tie with string. Fold over the top and bottom edges and then tie lenght-wise with string. Place the tamales in a steamer pot over simmering water, and steam for about 2 hours until the masa is soft and thoroughly cooked.
>> Learn more about real Mexican food
Baklava – Turkey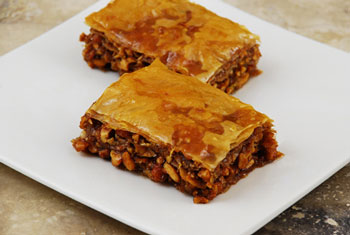 Baklava is a dessert pastry made of phyllo dough filled with chopped nuts (usually pistachios) and sweetened with honey. While it is popular in many Middle-Eastern countries, it is believe to have originated in Turkey.
In fact, baklava was a favorite food of many of the Turkish Sultans who believed in the aphrodisiac properties of the nuts and honey. Originally reserved for the rich and for special occasions like weddings, baklava is now an everyday treat sold at bakeries, markets and cafés. It's also incredibly easy to make at home.
Baklava Recipe
Dedicated chefs can make their own phyllo dough, but it's much easier to pick up some pre-made dough from the frozen-foods aisle of the grocery store. Place a sheet of phyllo on a buttered baking pan. Brush phyllo with butter and add another layer, continuing until you have used ½ pound of dough. Sprinkle pastry with 2 cups of chopped pistachios (walnuts can be substituted) and then cover with alternating layers of phyllo brushed with butter. Brush the top layer with butter and then cut the dough into triangles. Bake at 350 degrees until golden brown.
Melt 1 pound of sugar with the juice of 1/2 a lemon and 1 liter of water over medium heat to make a syrup. Pour the syrup over warm baklava, allow to cool, and serve.
These are but a few of the options for dishes you can learn to cook while traveling and then recreate at home. Every country or region has its own specialties – roll sushi in Japan, make gumbo in Louisiana, and bake samosas in India or cannoli in Sicily. Check out a professional cooking school or just spend an afternoon watching a local family create their favorite meals. When you learn to make a special native dish, revisiting its place of origin can be as easy as entering your own kitchen.
>> Check out 15 incredible desserts you should try on the road
Learn more about foodie travel:
Additional photo credits:
Empanada by Katie Hammel, Ravioli by mary.w.e on Flickr, Bouillabaisse by diluvienne on Flickr, Paella by ANOXLOU on Flickr, Shepard's Pie by j3ku on Flickr, Pierogi by parl on Flickr, Tamales by food_in_mouth on Flickr, Baklava by foodistablog on Flickr