Alone, hiding in the lee of a ceiba tree's giant buttresses, you're sweaty/tired/nervous, and can't believe you've gotten yourself into this mess. Or you can't wait to tuck into a sumptuous meal of unknown origin in an unlikely impromptu picnic, and you find yourself half waiting for Indiana Jones and one of his lithe co-protagonists to go swinging by on vine when, unexpectedly, the phone rings.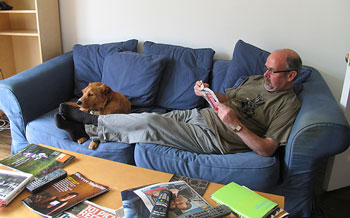 You're not in the desert, you're not being devoured by "possibly malarial mosquitoes" (with a nod to Tim Cahill). You're at home, on the couch, in the backyard, on an interminable bus ride or at the doctor's office waiting to get some pre-trip jabs.
Travelogues offer an escape while we're piling our pennies, an advance on a trip you'll make later. They also let us enjoy the adventurousness (or folly) of people who've made decisions we would never—in our right minds—make.
Below you'll find descriptions of 9 travel books/authors that you'll read with fascinated aplomb, as you shake your head and say to yourself "not me, not me, not me." The first category is trips that are just too long and punishing for most mortals, and the second are trips you either couldn't or wouldn't want to take, no matter how good a story they'd make, should you happen to survive. These books are written by authors that you'd love meet at a dinner party or while waiting to have your oil changed, but you'd probably let their call go to voicemail if you knew they were trying to get you to actually go somewhere with them.
[social]
1 – The extra-long journey-type trips
Of the many kinds of trips, one that makes for potentially good travel book is the long, long trip. It's not enough that these authors have winnowed down their goods to the sparse essentials for an unknown period of time, they're also planning on traversing (or circumnavigating) a continent before they come back home. As you and I ponder what to pack for a three-day camping trip to the beach, they're packing less than that for what seems like forever.
By kayak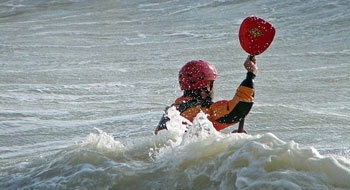 Eric Stiller, a professional fitness trainer with more than 20 years kayaking experience decided to try to circumnavigate Australia in a collapsible Klepper kayak he brought as part of his luggage, and he describes his trip in Keep Australia on Your Left.
Stiller trained before his trip by circumnavigating Manhattan in kayak, which it turns out doesn't have quite as crashing surf as the rocky shores of Australia. He eats his weight in local roasted chicken and tells the story of a particularly harrowing bathroom-aboard-kayak experience before finally realizing that his dream is not meant to be.
Lucky for us, he then came home and wrote the book which he titled for his Aussie paddling mate's Tony Brown simple explanation for why nautical charts were superfluous for navigation. Though that nugget turned out not to be enough for this paddling duo, it happens to be excellent advice for paddling a smaller landmass in what they'd call an anti-clockwise direction.
>>read about the 7 Wet and Wild Ways to Experience Costa Rica
By raft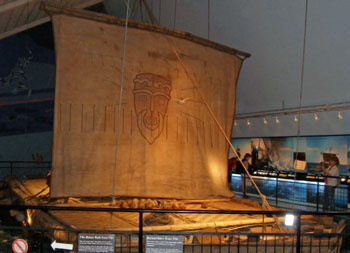 Thor Heyerdahl's book Kon-Tiki: Across the Pacific in a Raft which recounts his 1947 trip from Peru to Polynesia on a raft is a sure hit for anyone interested in the South Pacific, ocean navigation or how a Norweigan came to such an endeavor.
Heyerdahl theorized that there was no reason that ancient Peruvians might not have traveled to Polynesia by raft. He defied convention as well as reason by showing that his theory was possible. With five crewmates and a parrot, surviving on fish they found aboard and atop the raft, they sailed off American coast and made land, thousands of miles later and 101 days later on Raroia, Polynesia.
No GPS nor emergency beacon accompanied them, though they did have a radio, sextant and metal knives, which would not have been available to their predecessors. Heyerdahl's writing is detailed and literary, and the only thing that could make it more exciting would be if you didn't know that they'd made it before you started reading the book.
On foot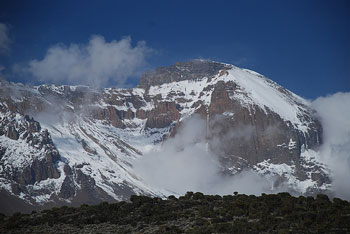 Alexandre and Sonia Poussin wrote two books on their walk up Africa, from the Cape of Good Hope to Mount Kilimanjaro (Africa Trek 1) and then from Mount Kilimanjaro to the Sea of Galilee (Africa Trek 2).
To talk about their trip in terms of kilometers only skims the surface, since their journey measured more in experiences than in footsteps.
They do not clock distance, so much as they collect people, personalities, stories for themselves (and us), and names to carry to Jerusalem on behalf of the people that receive them, mzungus (whites) who speak Swahili and who move in a manner (by foot) and at a speed that makes them more human than many of their hosts would have expected.
>>read about the 8 of the Most Unique Walking Paths in the World
By bike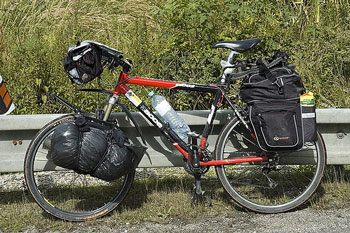 Dedicated long-distance cyclists and wannabes will want to read Miles from Nowhere: A Round the World Bicycle Adventure by Barbara Savage, in which she and her husband Larry eschew the idea of a down payment on a house, realizing that they'd soon be tied to a mortgage were they to take that step.
Instead they set out to fifteen-speed it around the world in the late '70s. 23,000 miles and 25 countries later, they arrive back to the United States to write up the story.
After having survived thousands of miles on unknown roads, Ms. Savage was killed shortly after their return to the United States in a cycling accident while training for a triathlon. Her writing voice is strong and funny, and knowing that she died doing what she loved is a pitiful consolation.
By train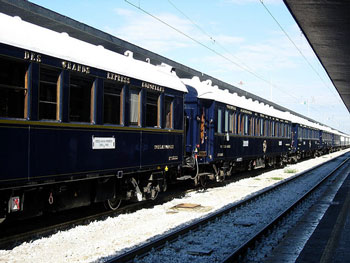 Paul Theroux's classic The Great Railway Bazaar: By Train Through Asia is a travel classic, chronicling his journey across Asia on trains such as the mythic Trans-Siberian Express as well as the Golden Arrow and the Mandalay Express, all the while observing his fellow passengers, the passing landscape and the trains themselves.
Because the book was written years ago, his humor is often described as "wry" though current readers may find it nothing short of snarky. Bad meals, unlikeable seatmates and a cranky view of traveling don't prevent this from being a travelogue that many think defines the genre. Theroux recently retraced his steps and wrote a follow-up to this book called Ghost Train to the Eastern Star.
>>read about the 7 Best American Train Trips Less Than $100
On the road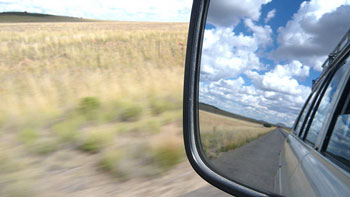 In Road Fever, Tim Cahill writes about his land speed record-setting trip by truck up from the end of the road at Argentina's Ruta 3 at Lapatía Bay near Ushuaia, Argentina up to Prudhoe Bay, Alaska and the squashed strawberry tetrapack milkshakes he and professional driver Garry Sowerby consumed and gave away on the trip.
Partway through the trip, they fully admit to having become roto, which they interpret to mean somewhat brain-addled. They set the land speed record, though there is no word on how long it takes them to recover from their endeavor. Tim Cahill could make a root canal hilarious, and while this trip occasionally sounds as painful, he seldom loses his sense of humor in recounting it.
After the trips which we'll discount because we have no crew, nor the calves to walk a continent, nor the desire to traverse much of one by train, there is a second category of trips worth gawking at. These could also be described as "too likely to die" are a set of books about things that you would probably never do, which makes them just that much more enjoyable to read about, particularly from this side of the manuscript.
>>read about the Ultimate U.S. Road Trips for Nature Lovers
2 – No regard for safety-type trips
Tim Cahill has made many laugh and gasp and stare wide-eyed at his prose as though doing that will make it any less true that he's just gotten goosed by (he thinks) a bat in a hand-dug latrine or is drinking coffee paste out of a cup while driving up the highway that runs north-south through the Americas. He's daring and hilarious, and does things that you couldn't, wouldn't and probably wouldn't do. Among his excellent story collections are books called Pecked to Death By Ducks, A Wolverine is Eating my Leg, and Jaguars Ripped My Flesh, the names being one small stitch in the hilarious fabric that is his sense of humor.
Mountaineering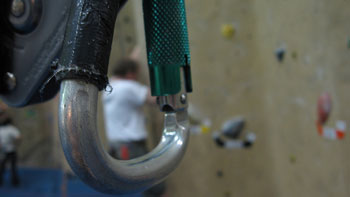 Jon Krakauer's first person account of his experience on Mt. Everest during the deadly 1996 season has sold millions of copies, and garnered criticism from the mountaineering community for confusing eyewitness reports of what and who he saw when and where. Despite a few reporting errors, Krakauer's clear prose takes you right up to the low-oxygen atmosphere to a place where common sense, a lack of high-altitude climbing experience and probably the lack of the hefty chunk of change one needs to climb Everest will probably never find you.
Lovers of climbing and the travel writing genre sometimes referred to as "explornography" should also consider Heinrich Harrer (of Seven Years in Tibet fame)'s The White Spider which gives a frightening, detailed account of the summit of the Swiss peak Eiger, along with a heavy philosophical background of climbing and details of various failed and fatal attempts at this north face climb, as well as character assassinations of people who sip coffee and watch the colored specks scaling the peak from afar. This is another classic that's well read from the comfort of your own home, especially if you use a caribiner as a keychain but have little idea what it's actually for.
>>read about the 10 of the Best Places to Hike in the United States
Solo expeditions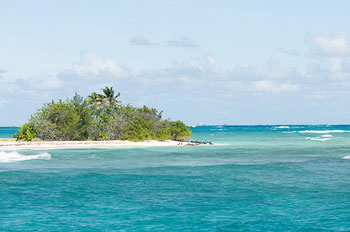 An Island to Oneself tells the long story in a short book of a variety of trips that author Tom Neale purposely took to a coral atoll in the South Pacific to be stranded alone. Here he learned (and explains) a variety of fish preparations, and also his Lord of the Flies-type altercation with wild boars that tore up his gardening attempts.
He also eats a lot of canned meat and is saved from starvation after a bad back muscle pull by a happenstance visitor who nurses him back to health. His crowning glory and worst defeat is probably the six months he spent rebuilding a pier by hand, out of local materials such as rocks and coral, and which was unceremoniously ripped from the island by a single storm a day after its completion.
>>Question: Are You Afraid To Be Alone on Your Solo Trip?
Poor planning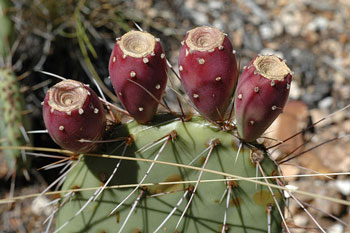 Dan White's The Cactus Eaters: How I Lost My Mind-and Almost Found Myself-on the Pacific Crest Trail (PCT), is named in part for his ill-advised bite into the prickly pear cactus fruit and his girlfriend's subsequent tweezing of the monofilament-thin prickers out of his tongue.
In this book, the author demonstrates his lack of plannng, and disregard for seasonal constraints on the PCT, in addition to a serious knee condition his girlfriend is showing signs of early in the trip. In all, White stumbles, and misses many a watering hole, but ultimately comes up clean. I still wouldn't go anywhere with him, not that he's asked.
>>read about the 50 of the Best Smartphone Apps for Indie Travelers
The joy of perusing these epic tales of anguish, folly, woe and even grace is that we can fast forward them to reading speed, going from place to place in the turn of a page. And we can armchair (or sofa) travel, or we can glean bits of wisdom from the various writers who've bared their souls with us, and make decisions about our next destination, how to prepare before we go, and most importantly, who to go with.
We're sure we've missed some of your favorite epic and crazy writers. Tell us about it in the comments!
Check out BootsnAll's recently compiled list of Top 101 Books for Independent Travelers.
Read more about:
Read about author Eileen Smith and check out her other BootsnAll articles.
Photo credits:
Sofa by by Menage a Moi on Flickr, kayaking by sjdunphy on Flickr, Kontiki by China Crisis/wiki commons, Kilimanjaro by by advencap on Flickr, bike by pl_jakub on Flickr, Orient Express by Jean-David et Anne-Laure on Flickr, road trip by pashasha on Flickr, mountaineering by caseywest on Flickr, desert island by Björn Söderqvist on Flickr, cactus by John Morton on Flickr