Whether you're teaching or volunteering in Guatemala, you can't help but notice the famous chicken buses (camionetas to the locals). These retired U.S. school buses are wildly painted, blasting reggaeton beats, and absolutely packed with people.
Their quirky character makes chicken buses great conversation pieces, but they're also a testament to something Guatemala has done extremely well: establish a cheap, efficient transportation system.
Sadly, most visitors to the area prefer to experience chicken buses from afar. Guatemala's recent rise in tourism has created an explosion of tourist shuttle services connecting all of the country's hot spots. That ease, combined with a handful of scary bus stories, has steered many a traveler away from Guatemala's signature mode of transportation.
Chicken buses, however, are not to be feared. Cheaper, faster, and more frequent than tourist shuttles, chicken buses are generally safe methods of hopping from city to city. (Note: Inner city buses are different. This article and the author's recommendations do not apply.)
You really won't "see" Guatemala until you see it through the window of a camioneta, so follow this 10-step guide, and start seeing things.
Wait patiently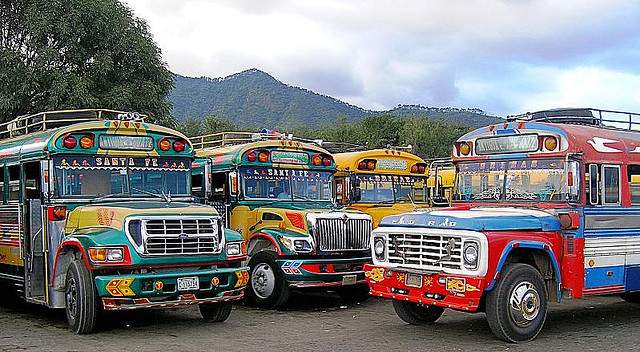 These buses don't run on any kind of timetable. You can usually nail down the first and last bus of the day, but that's it. In heavily populated cities, buses come frequently. If you're in a more isolated area, ask a local shop owner when the next bus arrives. Find out where the bus stops, and for safety, try to wait with others. Avoid using buses after dark.
Research price
There will be no sign on the bus telling you how much to pay, and gringos are often overcharged. Your fee to ride will depend on where you are going, so do your homework. Consult a guidebook, ask your host family, or ask the old man also waiting for the bus. Just make sure to have a general idea of what you should be paying before you get on the bus.
When the bus arrives, confirm that it's going where you want to go
Every bus has an ayudante – an assistant – helping people board and exit the bus. Ask him, or ask the driver. Say the name of the place you are going, and make sure they give you an unmistakable YES.
Climb on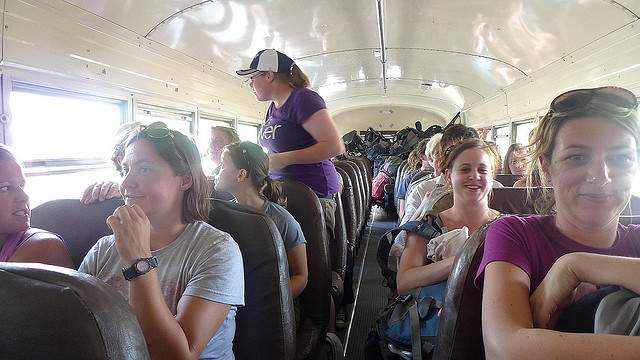 You'll pay later. You can board and exit the bus through both the main front door and the emergency exit at the back. It makes no difference, and there's often more room in the back. If traveling with an oversized backpack, remove valuables in advance and allow the ayudante to put your backpack on top of the bus. Remember to get it later.
Use the overhead racks for luggage
If your backpack won't fit nicely on your lap, it's probably going to be in the way. Do not place items on the floor or in the aisle. If it's standing room only, definitely place your bag in one of the racks. If there are valuables in your bag, use common sense and keep an eye on your belongings.
Find a seat
Expect to sit 3 (or more) to a seat. Don't be afraid to squish in, and don't refuse to scoot over. In standing room only, use the luggage racks or the metal bars along the ceiling for support. If standing, be especially mindful of your purse and pockets.
Hold on
Chicken buses are known for being fast, jerky, bumpy rides. Enjoy the people watching, and enjoy the scenery. Getting there is half the fun!
Pay the ayudante when he comes to collect money
Tell him you are paying for one person, and say the name of the place you are going. Confirm with him the price you researched beforehand. You're already on the bus – so you'll pay whatever he asks you to pay – but appearing educated on chicken bus prices will lessen your likelihood of getting ripped off.
If you have no idea when to get off the bus, let the ayudante know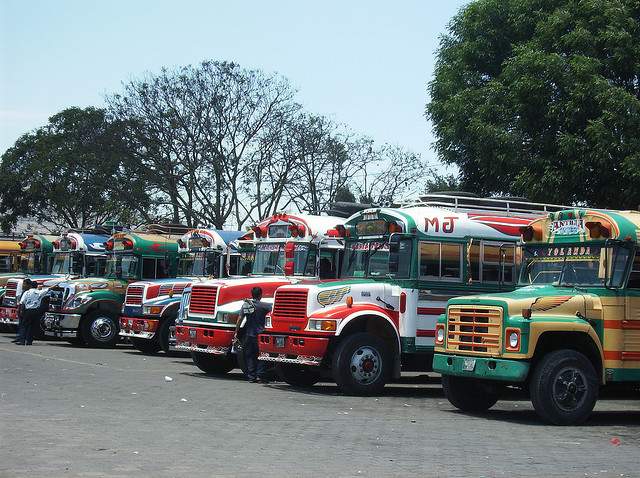 Ayudantes are known for looking out for their passengers, especially gringos who look lost. Politely ask him (or your neighbors) to signal when you should exit, and they'll take care of you.
When your stop is nearing, stand up and move toward a door
U.S. school bus rules don't apply here; you can move around while the bus is in motion. Don't forget your bags from the luggage racks, and if you have an oversized bag on top of the bus, remind the ayudante about it before exiting the bus.
And that's it! You've arrived! Now, enjoy your time in beautiful Guatemala.
Author's personal rule of thumb: Chicken bus rides are best for short trips. Anything under 4 hours away, and I'll always choose the chicken bus. Over 4 hours, and I start debating whether the extra money is worth the extra comfort of a shuttle.
Carrie Daut is currently living in Honduras after previously spending a year in Guatemala. She blogs at You Only Live Once and is a regular contributor to GoOverseas.com.
Photos by: the-roaming-planet, Beth and Anth, J. Stephen Conn