Quebec is undoubtedly unique in its culture and lifestyle. Its notable 'joie-de-vivre' attracts many visitors every year. A vacation in Quebec suits everyone's needs and tastes, whether you are a sports enthusiast, culture buff, or food lover.
The largest province of Canada, and the second largest in terms of population (approximately 7 million), Quebec is a top tourist attraction. Its capital, Quebec City, boasts old architectural beauty, historical sites and cultural events, while its largest city, Montreal, suggests the essence of Europe, and has an undeniably exciting night life.
French is the predominant language; however, the province is a perfect example of a cultural melting pot. A vacation in Quebec is a veritable experience in diversity!
Weather
Many think that a vacation in Quebec will be a vacation in the cold – it is not the case. The province enjoys all four seasons, promising visitors various sports and activities.
The summer months are from the end of June to August, and they can be hot – it is the ideal time for Quebec's numerous outdoor festivals. From September to October, Autumn brings the changing colours of the leaves, a breathtaking phenomenon, and an unforgettable experience when viewed from the gondola ride in Mont-Tremblant. Winter is typically from November to March.
The pristine snow of the Laurentian Mountains offers exhilarating outdoor activities such as skiing, snowboarding, and even dog sledding! And finally, Spring, from April to June, produces gentle rains, blooming trees and flowers, and gradual warmth. It is also 'sugar shack' season!
Things to do while on vacation in Quebec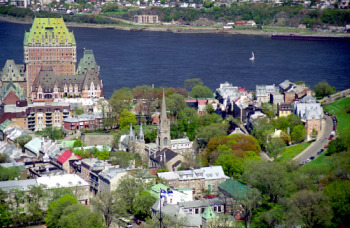 No matter the time of year, you will never run out of things to do in Quebec!
You can take a cruise around the island of Montreal, and continue east to Quebec City. There are a number of beautiful gardens for the green-thumb to enjoy – the Botanical Gardens in Montreal or the International Garden Festival in Gaspesie. Your vacation in Quebec would not be complete without a visit to La Ronde theme park and the Granby Zoo, two sites loaded with fun activities for kids and adults alike.
If culture is what you are looking for, the province of Quebec has over 400 museums to tickle your fancy. St. Joseph's Oratory and the Basilique Notre-Dame-de-Quebec are notable for their astounding architecture- typically a must for all visitors. And no one can resist a leisurely day spent browsing in the Old Port of Montreal or walking the streets of Old Quebec.
The province is known for its abundance of festivals. Each year, Quebec holds over 400 festivals that span the range of themes and celebrations, drawing tourists from all over the globe. Here are some of the most popular ones:
Montreal International Jazz Fest: Draws some of the top talent in Jazz music including the likes of Stevie Wonder, Norah Jones, Harry Connick, Jr., and Tony Bennett, just to name a few. End of June to beginning of July.
Just for Laughs Festival: The largest comedy festival in the world has launched the career of many well-known comedians today. Month of July.
Francofolies de Montreal: The greatest Francophone music festival of its kind. End of July to beginning of August.
International Fireworks Festival Loto-Quebec: Various countries compete in a 30 minute fireworks display that is set to music – guaranteed to leave you speechless. End of June to end of July.
Quebec Winter Carnival: A big celebration of winter held in Quebec City every year with plenty to see, do, and experience. End of January to mid-February.
Festival de montgolfieres de Gatineau: A spectacular display of colourful hot-air balloons in every imaginable shape, a family weekend packed full of fun activities. End of August or beginning of September.
Gastronomical experience
If you love food, a vacation in Quebec should be on your to-do list. No matter what you are craving, there is a restaurant to satisfy you. The province boasts some of the best restaurants in North America, offering food of the highest quality.
A visit to the sugar shack, usually referred to as the 'cabane à sucre', is a traditional event that occurs during March and April when the maple trees are ready for harvesting. Every imaginable dish can be prepared with maple syrup. It is customary for families to enjoy breakfast at the sugar shack, and a common sight to see someone douse their plate in pure maple syrup! And, kids love the syrup on the snow! Visitors often buy the syrup, maple butter, taffy, and/or cookies to bring back home.
Quebec is also famous for some unique, traditional dishes such as the popular poutine – something all tourists must try at least once when visiting Quebec. It consists of a plate of French fries drowned in gravy and topped off with cheese curds. Of course, some places go the extra mile and will add your choice of topping, be it chicken or chili, to make it a complete meal.
There are many other delicious Quebec foods, including sugar pie, meat pie, cretons, and pouding chômeur, which is a sponge cake drenched in maple syrup. The province also produces a wide variety of award-winning local cheeses.
Photo by David Paul Ohmer