"Please fasten your seat belts, we are approaching Barcelona. As a special service on this flight, we'd like to give you a warning: Barcelona has been appointed the most dangerous city in the world when it comes to pickpocketing, so take care of your belongings."
A taxi from the airport is my first challenge, although I play it safe by asking the price from the uniformed lady directing people to the cars. "Ask driver!" An ultra short eye contact between the lady and the driver, as we pull out, reveals I am in trouble already. My hotel is supposed to be near, but does not appear in the driver's list of Barcelona hotels, so he keeps making fake phone calls to establish the address. "Idiot!" is my word of goodbye, aimed at both of us, after a long and expensive drive.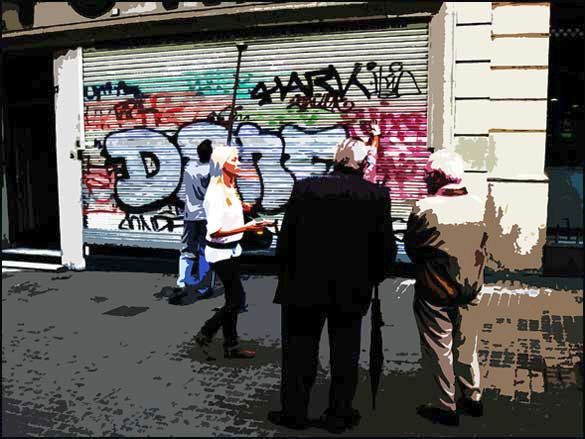 I wouldn't mind a more pompous arrival, something like "Barcelona" as sung by Montserrat Caballé and Freddie Mercury, marking the opening of the 1992 Olympic Games and ever after a melodious trademark for Barcelona. The Olympics triggered a rebirth of the Catalan capital. New buildings and infrastructure were made for the future as well, a future labeled tourism, much of it taking place in the huge harbor area. Barcelona opened toward the sea and was blessed with waves of tourists.
With the tourists came parasites, pickpockets, whose disrespect for private property was almost romanticised. Their slyness and presence of mind could be studied while you were seated on a bench in La Rambla – seeing bags change owners or just relieved of valuable contents, hands gliding into tourist pockets to snatch a wallet, sudden commotion to avert attention, all of it happening so fast that you hardly believed your own eyes.
The authorities seem to have adjusted themselves to the increasing amount of pickpocketing and thefts. Special police phone numbers and websites are awaiting calls from unfortunate tourists, the questioning of whom is partly automatized to speed up the production of police reports for the insurance. The perpetrators became too many for serious investigation, which they in turn may have interpreted as a recognition of their own efforts. They certainly do increase general spending, since most tourists have resources to draw on in case of emergency.
Rested and Fresh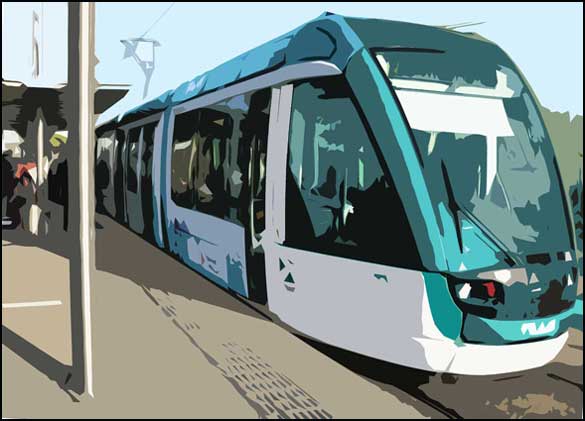 With their hard work, the pickpockets help maintaining Barcelona's special image – beautiful but dangerous. My own strategy is to keep the problems at arm's length, by picking a hotel outside Barcelona, in the village of Sant Joan Despí – more like a suburb with a mix of homes and businesses. The fastest way to the city is a combination of tram and metro. However, after hanging one hour in a strap, you arrive in the city exhausted and inattentive when you need to be rested and fresh.
The choice of a village is no solution, but broadens my own ideas about thieves. Early one morning on my way to the station, a well dressed gentleman shows me a piece of paper with an address on it. While doing my best to assist him, it dawns on me that the whole thing is a trap and shows him my heels. It could be his clumsy first attempt, possibly inspired by the prevalence of thefts, stealing as a way of life. The effect on me was to change my own carefulness to paranoia; everybody became a suspect.
Being constantly alert drains your energy, ruins your fun and makes you, in the worst case, inattentive to what is going on. This puts you in a weak position, mind you the pickpockets mainly use their eyes, the rest of their bodies at rest. If you do become a victim, joining an imaginary group may have a therapeutic effect – there are groups for victims reacting with surprise, for those blaming themselves, also for those playing down what happened, not forgetting those who claim a medal for their contribution to the Spanish economy.
Plaza Catalunya is the heart of Barcelona – spacious, beautiful, busy, in the middle of everything – crowded with tourists and their faithful shadows, the pickpockets. Two-storied buses, usually red or blue, are fed with tourists obediently waiting in lines. The buses take the northern or southern part of the city, you can get on and off as you like and change color where the routes intersect. Upstairs is more popular, so the crowd is constantly moving to occupy any free seat on the top. You really need to hold on tight to what is dear to you.
Havens of Peace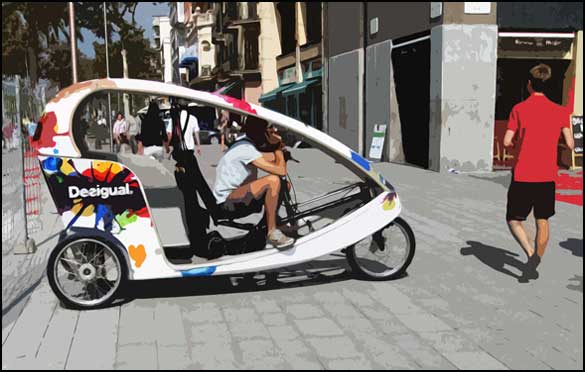 La Rambla also begins at Plaza Catalunya, taking you down to Plaza Colon with Columbus in the sky. You need an eye on each finger in La Rambla. The only safe creatures are the birds locked up in huge cages, too small for housing thieves though. Everybody – including themselves – seems to be warning you against the pickpockets. Organized in cliques and couples or in the shape of prostitutes, they scan the crowd, analyze possibilities and prepare strategies, in between consulting partners via mobile phones. Reinforcements seem to come from nowhere.
There are of course havens of peace and honesty in Barcelona too, one of them on Plaza Catalunya, that is El Corte Inglés, the local branch of a leading department store chain. Pickpockets and other thieves seem to avoid it, presumably due to the guards and the overall security level. Thereby, they miss a grand sight though, the panorama view from the top floor, enjoyed over a tasty meal – the dangerous aspects of Barcelona are forgotten awhile.
Water has a great attraction for tourists, in few places more elegantly wrapped up than in Barcelona, with marinas, boat excursions, brave architecture, the beach of Barceloneta, pieces of art, restaurants, Maremagnum shopping center, ample space enough to make pickpockets agoraphobic. They appear a bit lost in this openness, which they remedy by sticking together and the frequent use of mobiles. An elderly man – stark naked – approaches on a bike, his broad smile communicating that this is the only safe dress code around here.
La Sagrada Familia, the Gaudi church, seems to be encircled by thieves. One of them, a dark boy, speeds up his moped, aims at me but fails to create the confusion that should facilitate his work. In case he and his colleagues ever take a day off, I would suggest to them the Historical Museum of Catalonia, where escalators will take them backward into local history, so pedagogically that it could inspire them to another future, not as angels exactly, but more in the grey zone than in the black perhaps.
For all we know, the pickpockets might be pleased with their present occupation, taking into account what and where they came from, obviously not from Spain. The money they give out, although stolen, does create extra demand in a period of economic crisis. And they are truly part of Barcelona's image, giving it an element of danger. If crisis and tougher competition, however, lead to more violence, tourists could change their minds about Barcelona: "Too risky!"
Illustrations by Zofia Hedvard