Wearing a lime green ski jacket on a February night in a decade now gone, I trudged half a mile in the snow (certainly uphill) with a posse of Swedish-speaking students to a small country bar outside of Eau Claire, Wisconsin, where the neon Leinenkugel sign lit up the small parking lot and beckoned headlights along the winding wooded road.  We drank Leinenkugel's by the pitcher as my friends stood on tables, waving beers and singing Swedish songs, the words of which I could never recall.  But I vividly recall this moment every time I see a Leinie's, and even moreso on the rare occasion I drink one.
With the increase in microbrews and the accessibility of travel, beer drinking and memories have become more intertwined than ever.  I don't remember every Bud Light I have opened across the miles, but a special beer can bring back special memories. While I may only drink one beer a week at home, I always ask for the local beer when I travel.  And this has blessed me with many memories, so many that I cannot disconnect the beer from the destination.  A walk down the aisle of the import liquor store is like reading an airport departure board of both my memories and my desires:  Munich, Prague, Dublin, Mexico City.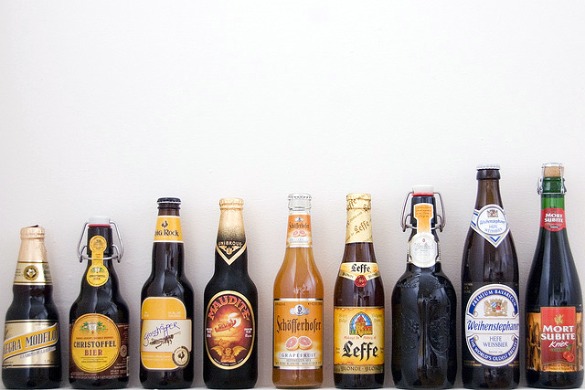 I sat with my brother in a Chinese restaurant in Champaign, Illinois, a location far from exotic, nearly seven hundred bird-miles from the coast.  Perched on the bar beside the usual suspects, (Budweiser, Bud Light, and Miller Lite) sat a bottle of Tiger beer.  I was no longer in a Midwest college town; we were now in plastic chairs at a hawker centre in Singapore, eating nasi goreng from a food stall, in the brutal humidity of June, sweating as we watched storm clouds roll in with a welcome rain.  I ordered one, but the restaurant was out.  It didn't matter.  Just seeing it reminded me of a picture I took in Singapore. A memory, courtesy of a bottle of beer.  I picked up a six pack of Tiger at the Asian grocery on the way back to his house, where we drank and spoke of other places.
How is it that a beer can carry us to places far away and long forgotten?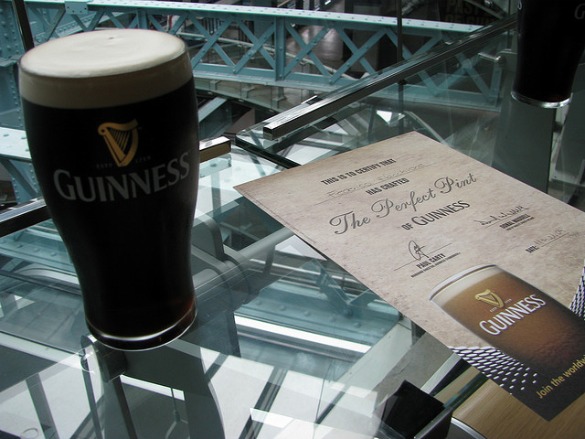 Is it because our senses are piqued when we travel?  We see more vividly, we hear more astutely, we taste more intensely.  We try new things.  We seek memories, and often it is something as simple as a beer that can bring it all back.  Who could ever separate the memory of a trip to Dublin, Ireland with a visit to a "genuine" pub, where they pour Guinness as it is meant to be poured, slowly, delaying your pleasure as the bartender let the suds settle?  After that magical trip to Ireland, each time you see a Guinness you will remember the sights and the smells.  You will remember the framed Guinness poster with the toucan balancing beers on his bill. You will remember the conversation of the men sitting near you, the t-shirt you wore, and the Kings of Leon song on the jukebox that inspired the Irishmen to sing along.  When you order a Guinness at the bar in Chicago or Omaha, you will want to describe that story to your drinking buddy before realizing that it is your personal story, so you will keep it to yourself.
In a friend's closet, I spied a box of books stored in an old box, labeled Paulauner Weissbier.  To him, it is just a box, but it took me on a journey.  I was transported back to my first day in Munich.  For the first time in my life, I walked through a genuine biergarten, struggling to balance a granddaddy super pretzel in one hand and my liter of Paulaner Weissbier in the other as I walked to the picnic table for lunch. The sun was shining in the Englischer Garden, and we watched the swans in the lake as we enjoyed the perfect May afternoon with the perfect refreshment.  Our wobbly wander back to our hotel revealed the improbable juxtaposition of nudists picnicking in the park and surfers catching a wave (or perhaps it should be "the" wave) on the River Iser.
All the beers of the world are not rosy, as we learned when drinking the uninspiring Hansa draft beer in Bergen, Norway.  We chose it because it was the only beer offered at less than $10 a glass, and it quickly revealed to us why it was the cheapest beer on tap.  Yet, given the opportunity to order one again, I probably would.  I would want to remember the sun setting at quarter till 11 at night, the chill of the June breeze blowing in through the open door.
A beer represents its source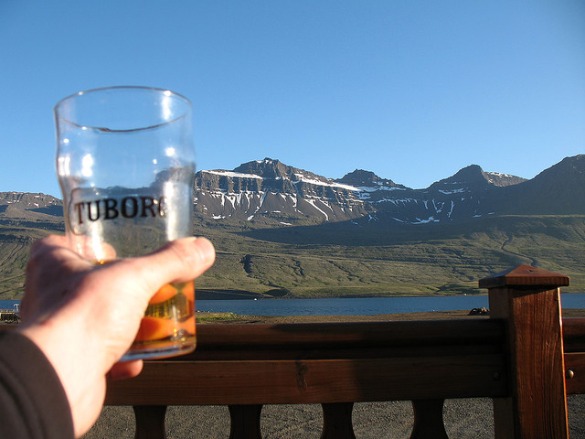 I am not a connoisseur.  No matter how much I try, I don't quite appreciate the nuances of beer.  But I know that they all taste better where they're from, where the place and the product coincide.  Anyone who has had a Heineken in Amsterdam, a Stella Artois in Belgium, or a Flying Dog in Frederick can agree.   Even in the lobby bar of a chain hotel, I can taste the essence of a city by asking the simple question, "What is your local beer?"
There is one beer memory that I may never repeat.  In Luang Prabang, Laos, with nearly every meal we drank a Beerlao, downing the bottle quickly so that it would cool us before 90-degree heat warmed the brew.   I have only seen a Beerlao on a menu once since then, at a strip mall fusion café in Durham, North Carolina.  There I sat on the patio overlooking the parking lot, imagining the tuk-tuks rumbling past the chickens along the potholed roads beside the Mekong River in a sleepy rhyming city in a faraway country.
Next time you are in Columbus, drink a Columbus Apricot Ale and think of me. Think of me with your Löwenbräu in Munich and Staropramen in Prague.  Then drink one for yourself in Singapore, Portland, Brooklyn, Chicago, and anywhere a cold brew brings you a memory.
Beer experiences not to miss
Amsterdam, Netherlands: Heineken, of course
Brussels, Belgium: St. Louis Kriek Cherry Lambic Belgian Ale at a Grand Place cafe
Houston, Texas: A St. Arnold beer (Texas's oldest craft brewery) at La Carafe, the oldest bar in Houston
Strasbourg, France: Kronenbourg, the best selling beer in France
Koh Samui, Thailand: Chang Beer, preferably while eating pad thai outdoors on plastic furniture
Munich, Germany: Paulauner or Löwenbräu, perhaps at Oktoberfest
Singapore: Tiger Beer with street food in a hawker centre
Luang Prabang, Laos: Beerlao, anywhere and everywhere
Montego Bay, Jamaica: Red Stripe with jerk chicken on the beach (cliché, but oh so good)
Greece: Mythos, the best selling beer in Greece
Still thirsty? Check out the best selling beers around the world,  see the world's most expensive beverages, find six places in Europe you never thought to go wine tasting,  or go beyond beer and wine and read about eight famous local drinks to taste around the world.
What other great beer experiences do you recommend?
Learn more about author Matthew Stone and check out his BootsnAll articles here.

Photos by: Smaku, glamismac, foreverdigital, Hello I am Bruce