The tourism board of California's wine country knows how to play us. Show us pictures of rolling green hills and idyllic vineyards stretching as far as the eye can see, blissful couples dining by candlelight or relaxing with a massage, and diners enjoying an epic meal at the famed French Laundry restaurant, and we're hooked. We want that image to become our reality, and we're convinced we need to spend big to make it happen.
Not true. A wine country getaway can be had at a surprisingly small cost. Here's how to do it.
Pick a lesser-known valley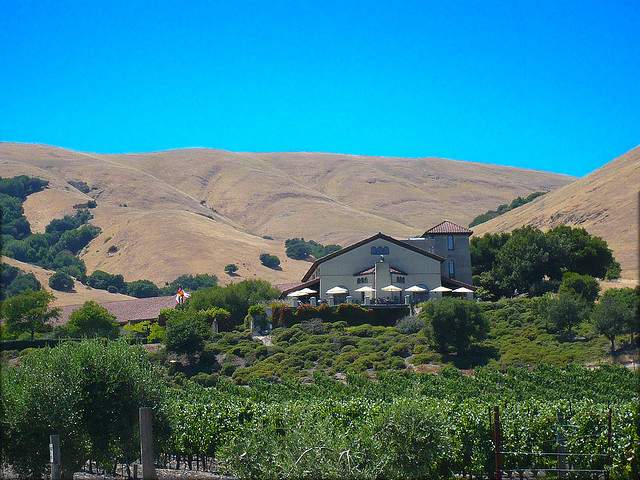 Napa Valley is the best known of California's wine producing regions, and the most expensive. Basing yourself in a lesser-known area like the Sonoma Valley  or the Russian River Valley will help you save money.
[social]
Just like Napa, these valleys have plenty of excellent wineries worth visiting (over 60 in Sonoma and over 100 in the Russian River), many of which offer free tastings. Fewer crowds also mean less traffic, less waiting to sample wine, and lower hotel rates.
Go in off-season
Who doesn't want to experience wine country under the heat of the summer sun and to see the ripe grapes waiting to be picked off the wine? But the height of summer and the weeks around harvest time are the busiest times of year in wine country. Hotel rates skyrocket, tasting rooms are crowded, and traffic on Highway 29 slows to a crawl.
Come in off-season and you'll not only save money, but you'll receive more personal attention from the staff at wineries and won't have to resort to throwing elbows to get a taste. Even in winter, temps are generally mild and range from 40 to 60 degrees. It's possible to visit in January or February and experience sunny, warm days that require only a light sweater.
>> Discover shoulder seasons around the world
When in Napa, stay in Calistoga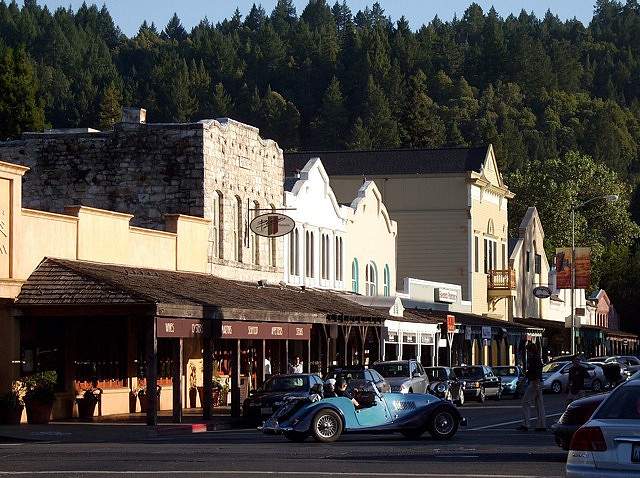 If you have your heart set on visiting some of Napa Valley's 230 or so wineries, make Calistoga your home base. While the city of Napa itself has grown to look like any other strip-mall filled American suburb and Yountville looks like the culinary version of Disneyland (impossibly clean streets, all new buildings designed to look "quaint"), Calistoga still looks like a small frontier town filled with famers – or farmers who drive Porsches, as is the case with some of the vineyard owners.
The main street is home to restaurants in every price range, from pizza parlors and diners to the fancier places you'd expect in Napa Valley. There are several bed and breakfasts offering rooms under $150 per night, and rooms at the elderly and rustic (in the truest sense of the word) Calistoga Inn start at $75 per night in low season.
>> Check out 20 wine hotels and wineries where you can stay the night
Go for the free tastings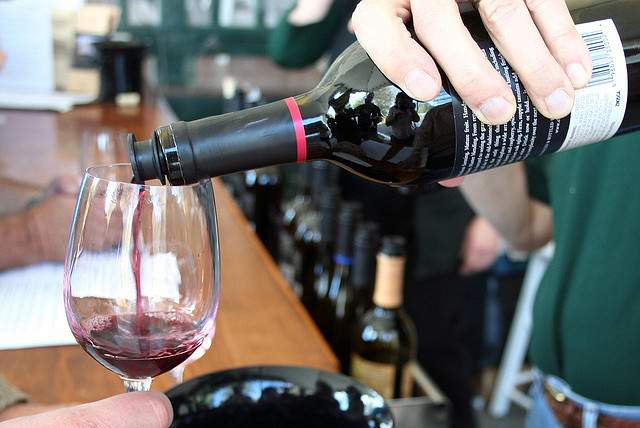 Most wineries offer a lengthy tour that explains the wine-making process and take you through their production facilities before letting you sample the wines. The tours are fun and informative, but really, after you've seen one tour, you've probably seen enough. Skip out on the hour-long tours and $30 per person sit-down tastings and go for the free tours instead.
The number of wineries offering free tastings is dwindling, but there are still enough to fill a long weekend full of sampling. Some wineries will waive the tasting fee if you buy a bottle, and you would probably do that anyways, right? You can also check your chosen winery's webpage for coupons that allow two tastings for the price of one. The Napa Tourist Guide website is a great resource for locating free tastings and coupons.
Pack a lunch
Many wineries offer a wine-tasting lunch – an hour or two of enjoying wines paired with multiple courses served at the winery restaurant or alfresco among the vineyards. It's a memorable experience, but a pricey one.
Save money by stopping for a picnic lunch instead. The venerable Dean and Deluca is always a great choice for gourmet sandwiches, meats, cheeses and prepared foods, as is the Oakville Grocery, which has been operating in the Valley for over 100 years.
Pack a lunch to enjoy between tastings (you'll need it) or to dine on alfresco at a vineyard stop. Only certain places allow picnicking so check before you go and build a break into your itinerary. V. Sattui has an on-site deli and is usually recommended in tourist guides, but it's often overrun with crowds and kids.
Bike your way around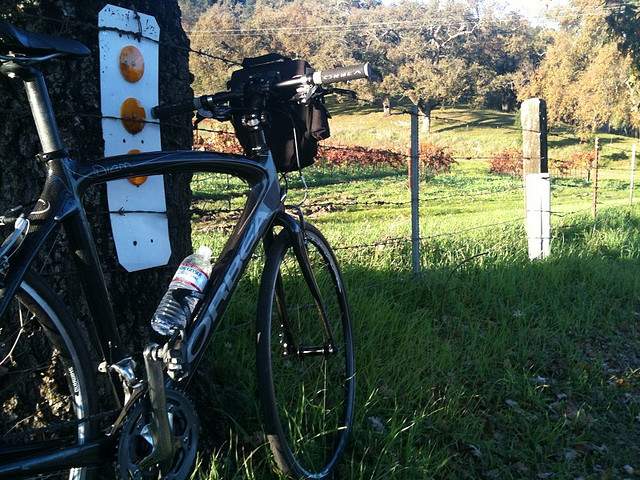 For the ultimate in cheap transportation, rent a bike and pedal your way from winery to winery. Full day guided bike tours from Wine Country Bikes start at $129 per person, but you can rent a bike and set out on your own for as little as $33 per day.
On Napa's Highway 29, the wineries are pretty close together so it's possible to visit several places without having to ride too far.
Spa for less
Countless luxury spas in wine country offer services ranging from wine baths to chocolate scrubs, all at a premium price of course. In Calistoga, mud baths and hot spring treatments are popular.
For a budget spa experience, make an appointment at the Golden Haven Hot Springs Resort and Spa. This aging institution offers mud baths for couples at around $100. Be warned though, it's not an activity for new couples or the modest – you'll need to contort into some pretty unflattering positions to get in and out of the mud. You will however, have an experience to remember and come out with soft, smooth skin.
Pick your culinary battles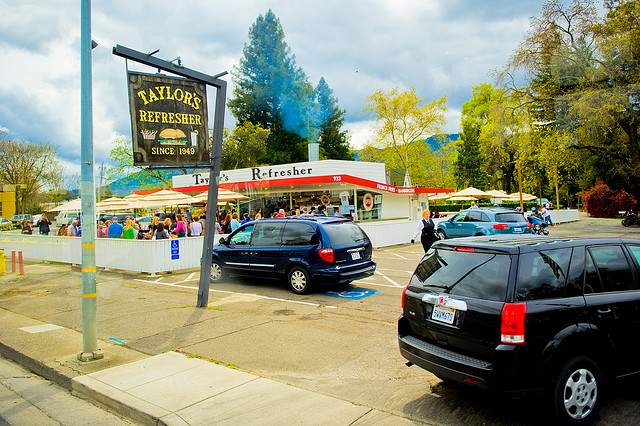 Dinner at Thomas Keller's French Laundry restaurant will easily cost several hundred dollars per couple. . .if you can even get in (you can't). Save your cash and endless hours spent calling the reservation line and opt for dinner at his more casual spot, Bouchon, instead.
If that's still out of your range, just grab a light lunch or some pastries at Bouchon Bakery, but be prepared to wait in line. There are plenty of mid-range options, like Mustard's, where you can bring wine you've bought at local vineyards on your trip. Corkage fees vary but are usually around $10-$15. For a quick, casual meal with old-school ambiance, check out Taylor's Refresher, a drive-up burger joint where the average meal is under ten bucks.
One thing not to skimp on
If biking doesn't interest you and you plan on visiting several wineries, hire a driver for the day. Police do patrol the streets around the wineries heavily and you don't want to take a chance. A drunk driving ticket, or worse, a crash, will cost far more than you'll spend for a designated driver. Chauffeured town cars with guides cost around $250 for 4 hours, but you can find drivers on Craigslist offering to transport you between wineries for as low as $20 an hour.
The first step to planning a trip to wine country on a smaller budget is to get those tourist brochure images out of your head. Decide what aspects of the trip are most important to you, and use these tips to scale back on everything else. Prioritize and make a few small sacrifices, and you'll be able to enjoy an unforgettable wine country experience within your budget.
Book tickets to San Francisco, look for hostels in San Francisco or read more about wine tasting travel:
Photos: designer.eb, septillion, Megan Mallen, Hugger Industries, star5112