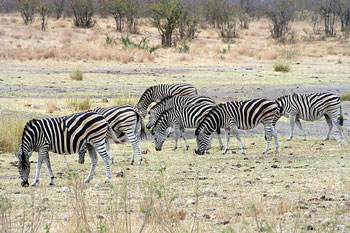 Flip through any travel magazine for safari inspiration and you'll likely start to give up hope that you can ever afford it. Sure, staying in a luxurious tented camp with plush bedding, plunge pools and every amenity you could wish for, your own personal guide, sundowner drinks in the bush, and meticulously prepared gourmet meals, all sounds pretty good.
But unless you want to spend a large portion of your annual income on a few sure-to-be-amazing nights, you can pretty much forget about it. However, just because you can't live the luxury safari dream, doesn't mean you can't experience the wonders of the South African bush on your own terms, and on your own budget.
Here's how to do it in one of the county's best game parks, Kruger National Park.
Getting there
You have two main options for arrival at Kruger. You can fly into Johannesburg, rent a car and drive the 7-8 hours to the park, or you can connect to Kruger Mpumalanga International Airport in Nelspruit, which is less than an hour from the park. This option will cost a bit more, but is worthwhile if you are on a limited time frame.
[social]
High season is during the dry winter months from about May – August. Going in off season (November to February, with the exception of Christmas and New Year's) may help bring the cost of your flights down. It'll be rainy season, which means the animals won't be queuing up at the watering hole for your viewing pleasure, but with a little effort you'll still see plenty of action. November and December and also good times to see young animals, as most babies are born in the spring.
Ground transportation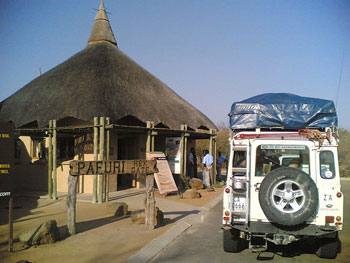 Whether you fly into Johannesburg or Nelspruit, you'll need to rent a car. Kruger offers guests the options of doing a self-drive safari, so why pay someone else to drive you around when you can do it yourself, for much less.
The roads in Kruger are quite good and no special 4-wheel drive vehicles are necessary. Just get the cheapest car you can, which should cost under US$30 a day.
Be prepared though, if you don't have a credit card, very few companies will rent to you. One that will is Car Hire WP, which will charge a hefty deposit to your debit card (refunded upon return of the car).
What to bring
At the very least, you'll need to pack sturdy hiking boots, loose, lightweight clothing, a sleeping bag, camera, and binoculars. A guide to the animals of South Africa will also help you identify what you see.
What not to bring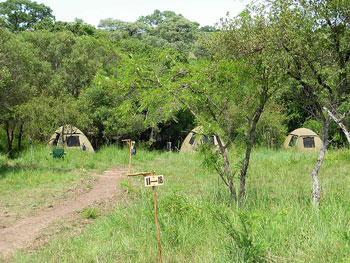 Once you get to South Africa, you can pick up everything else you'll need. Head to a local supermarket to stock up on camping supplies and provisions. You'll need just the basics – a pot and pan, dish soap, sponge, and enough groceries and bottled water to get you through your stay.
You can also pick up a basic two-person tent for around US$30 if you plan on camping.
Should you run out of supplies, you can always leave the park and come back. Most camps don't have refrigerators, so buy a cooler and don't bring too many perishables.
Arrival at Kruger
There are several gates through which to enter Kruger National Park. Many people chose one of the northern gates like Phalabora, to start their safari experience with animals like elephants and giraffes and build up to the big game that is more often in the south.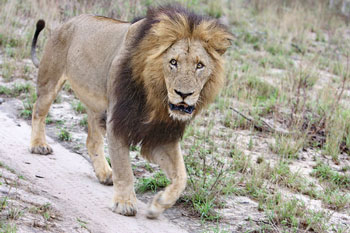 If you'd rather jump right into lion and other big cat sightings, head south first, entering at Crocodile Bridge Gate. Admission to the park is around US$14 per person, per day. If you'll be staying more than a six days, the Wild Card pass is a great deal, at around US$160 for two. The Wild Card allows you free admission after the sixth day and also gets you into 80 other parks in South Africa and Swaziland. The card is valid for one year and can be purchased online.
If you are camping, you don't need to make reservations (unless it's high season or you want to stay at a particular camp). Just pull into whatever camp you are closest too and stake out a pot. Campgrounds have communal kitchens with modern cooking facilities, clean bathrooms (with hot water!), outdoor grills, and convenience stores, and some have pools and even restaurants where you can score a meal for around $10.
A tent space costs under US$15 a night with your own tent; a fully-equipped safari tent for two is around US$46. If you don't feel like roughing it, most camps also have communal huts with dorm beds for around US$30 a night, private rondoval accommodations for US$40-$70 and even family cottages for under US$100 a night. Private accommodations often have full kitchen facilities and private bathrooms as well.
Planning your safari days
At each Kruger gate, you can pick up a map of the park, and get the scoop on what animals have been sighted where in the last day. A large map will be visible at each gate, which people will mark with color-coded magnets to denote where they've seen game recently, and what animals they've seen. There's no guarantee that you'll find exactly the same thing in a certain spot, but it can help you narrow down your search.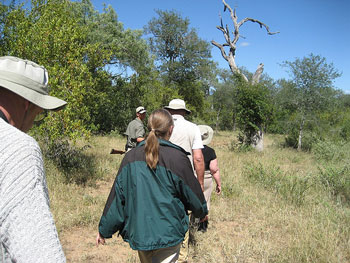 Map out a route, but don't try to cover too much in one day. Remember, a safari isn't about covering as much ground as you can, it's about finding and viewing animals in their natural habitat. Allow yourself enough time so you don't feel rushed. Try to plan to be out at different times each day. Get up early (as early as 5 a.m.) to see nocturnal animals before they head in for the day, and to see other animals just waking up.
If you're having trouble finding animals on your own, or just want the expertise of a guide, you can hire one for morning or evening walks and sunrise, sunset, and nighttime game drives for under US$50. The services of the guides book up quickly though, especially in high season, so be sure to arrange a guide in advance if you are sure you want one.
Even if you splurge on private accommodations, hire a guide a few more times, and eat all your meals at the camp restaurant, you'll have a hard time spending more than US$700 for 3 days in Kruger. When you compare that to the US$500-$800 per night charged by most luxury camps, it's a downright bargain.
Sure, having your own butler and chef to attend to you every need would be nice after a long day of scouting for animals in the bush, but for a priceless experience on a small budget, seeing Kruger on your own is the way to go.
Ready to go?
Photo credits: Zebras by smin on Flickr, Pafuri gate by sara.atkins on Flickr, tents by Yuen-Ping aka YP on Flickr, lion by michielvw on Flickr, trekking by Corvair Owner on Flickr